Advisory: Be careful of what you read on social media. The algorithms used by these platforms have no regard for Biblical truth. They target your emotions to keep you engaged on their site so their advertisers can drop more ads. These platforms exist to enrich their stockholders. Consider God's promise to Believers in James 1:5, "If any of you lacks wisdom, you should ask God, who gives generously to all without finding fault, and it will be given to you."
Lake Charles, Louisiana, Take Cover, All the So-Called Experts and Computer Models Was Wrong and People Will Die Because of Mankind's Stupidity, Laura Has Grown Into "Large" Category 3-4 Hurricane She Will Devastate Those Areas Mentioned–Looks Like (Laura) Has Intensified Her Approach, Looks Like the American Politicians Are Under a Strong Delusion, Her Approach (Laura) Will Only Get More Intense, GOD's Talking Not Many Listening
Hurricane Laura cuts power to over 650K Texas, Louisiana customers as storm barrels toward Arkansas
Thousands in southeastern Texas were without power early Thursday, as a catastrophic storm surges and extreme winds battered coastal areas under evacuation orders, and a weakening Hurricane Laura continues on its path through Louisiana. FoxNews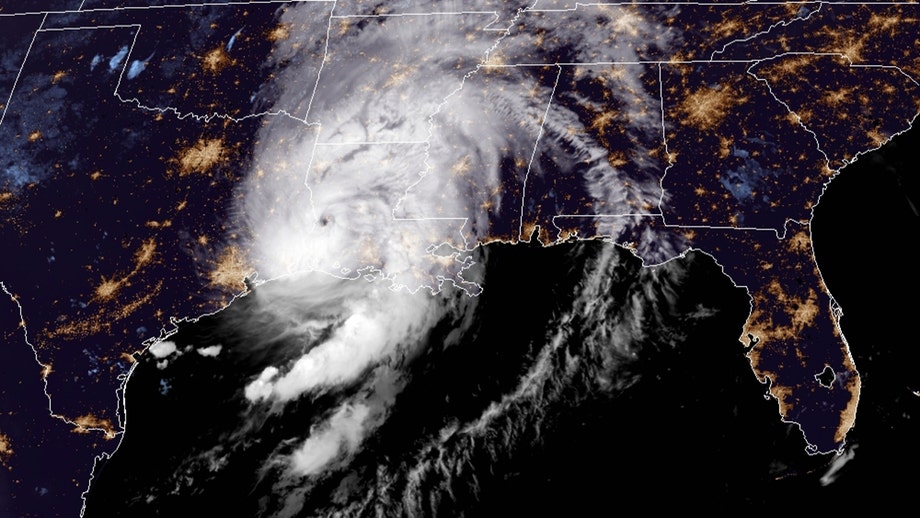 Hurricane Laura Makes Landfall As "Extremely Dangerous" Category 4 Storm
First light in Lake Charles, Louisiana, reveals widespread damage:
The 'extremely dangerous' Hurricane Laura made landfall early Thursday morning as a Category 4 near Cameron, Louisiana, with maximum sustained winds of 150 mph. The eye of the storm pushed inland across southwestern Louisiana around 3:00 ET, with "catastrophic storm surge, extreme winds, and flash flooding," the National Hurricane Center (NHC) said.
Around 0500ET, the NHC downgraded Laura to a Category 3 storm with winds up to 120 mph. The storm is moving northward through Louisiana as an "unsurvivable storm surge with large and destructive waves" batters the region.
NHC's Latest Update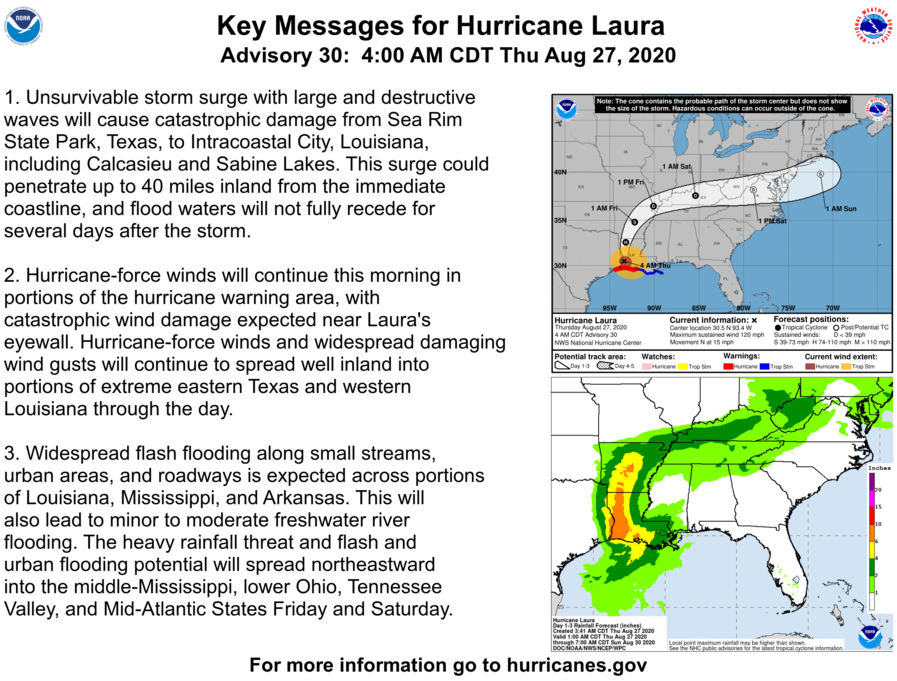 It's too early to speculate the total dollar amount of damage caused by Laura. Still, with floodwaters expected to penetrate 40 miles inland and take "several days" to recede, it could be in the billions of dollars, like other major storms to hammer the region in recent years.
Storm Surge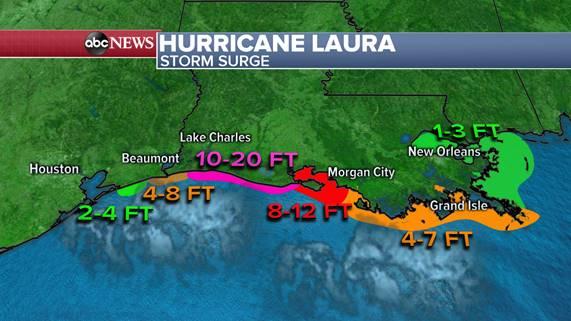 Storm Surge Map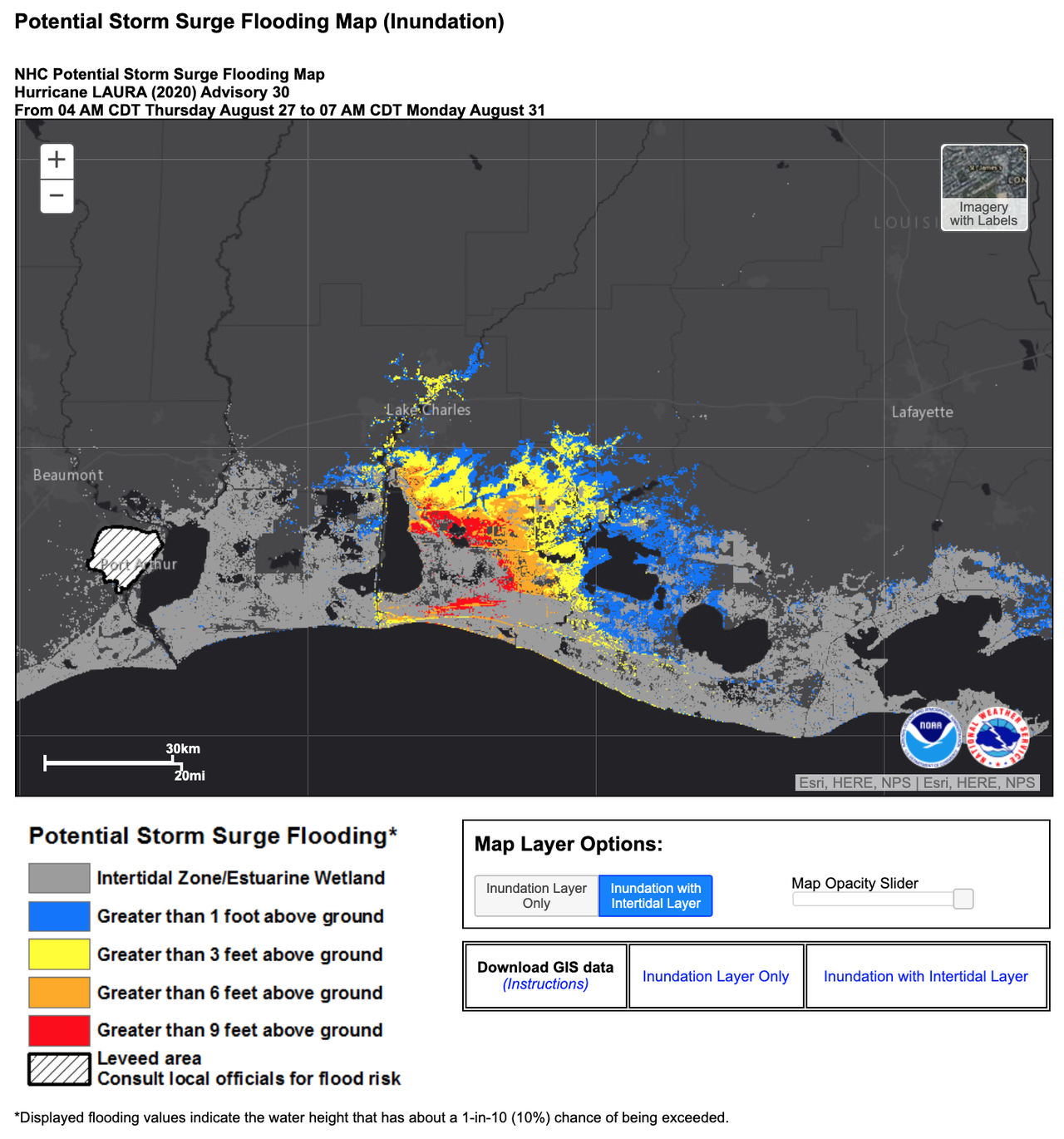 "Hurricane-force winds and widespread damaging wind gusts will continue to spread well inland into portions of extreme eastern Texas and western Louisiana through the day," NHC said.https://platform.twitter.com/embed/index.html?dnt=false&embedId=twitter-widget-5&frame=false&hideCard=false&hideThread=false&id=1298918795923386368&lang=en&origin=https%3A%2F%2Fwww.zerohedge.com%2Fcommodities%2Fdamage-mounts-hurricane-laura-makes-landfall-extremely-dangerous-category-4&siteScreenName=zerohedge&theme=light&widgetsVersion=223fc1c4%3A1596143124634&width=550px
PowerOutage.US shows more than 300,000 customers are without power in Louisiana and a little more than 75,000 in Texas.
Power Outages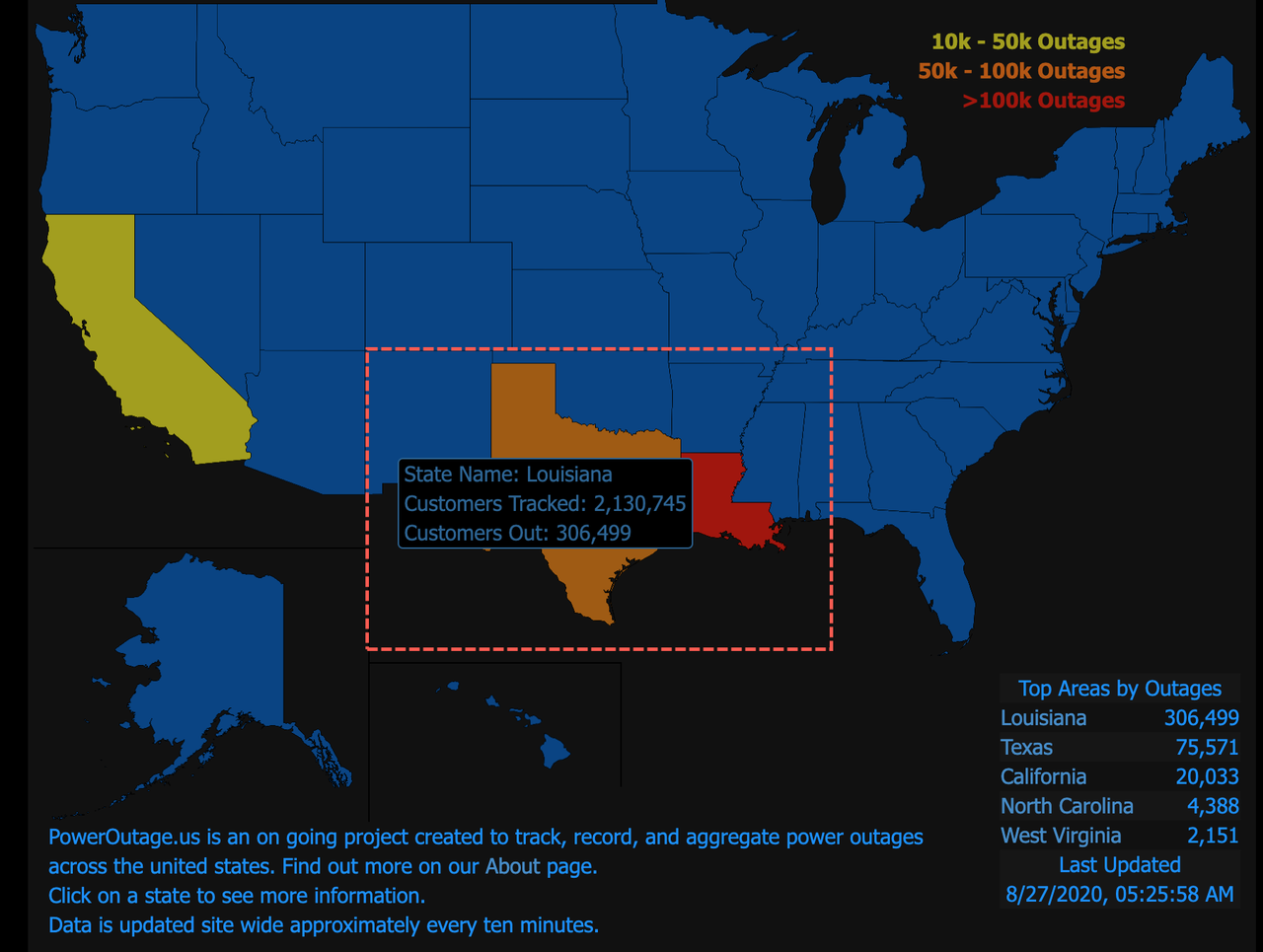 The storm is just north of Lake Charles and is moving north at 15 mph.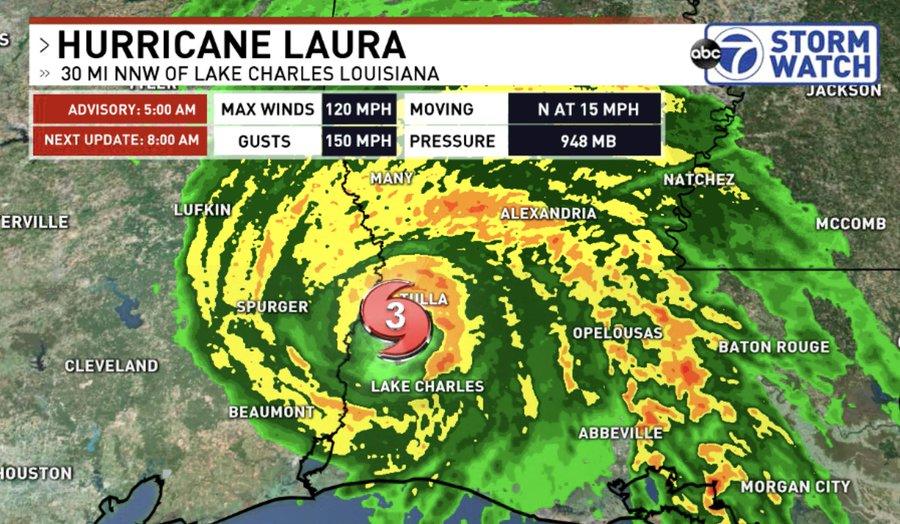 This coronavirus abundantly fulfills the prophecy in Matthew 24:4-8 and Revelation 6:6 that plagues/pestilences will strike the world in the time just prior to the end of our age when, divine intervention will end our age and usher in a millennium ruled by Jesus Christ and the saints (Revelation 20:3-4. As a point of clarification, the King James Version of the Bible does not use the word "plague" or "pestilence" in verse 6 although the Revised Standard Version and the Jewish New Testament do. The KJV uses the word "death" in the last sentence of verse 6 while the other two translations include the word "pestilence" or "plague." Wars and food shortages are both clearly mentioned in Matthew 24:6-8 and Revelation 6:1-8 being present on earth during the latter-days of our age. Anyway you look at it, I think the Four Horsemen of the Apocalypse are beginning their climactic ride.
"The LORD will make the pestilence cling to you until He has consumed you from the land where you are entering to possess it. "The LORD will smite you with consumption and with fever and with inflammation and with fiery heat and with the sword and with blight and with mildew, and they will pursue you until you perish.
Plagues are also a sign, along with hostility to Christians, that we are and have been in the End Times, as Jesus Himself says:
10 Then he said to them, "Nation will rise against nation, and kingdom against kingdom. 11 There will be great earthquakes, and in various places famines and pestilences. And there will be terrors and great signs from heaven. 12 But before all this they will lay their hands on you and persecute you, delivering you up to the synagogues and prisons, and you will be brought before kings and governors for my name's sake. 13 This will be your opportunity to bear witness. (Matthew 24)
And the Book of Revelation describes the judgments of the apocalypse in terms of pestilence and plagues:
7 When he opened the fourth seal, I heard the voice of the fourth living creature say, "Come!" 8 And I looked, and behold, a pale horse! And its rider's name was Death, and Hades followed him. And they were given authority over a fourth of the earth, to kill with sword and with famine and with pestilence and by wild beasts of the earth. (Rev. 6:7-8)

15 Then I saw another sign in heaven, great and amazing, seven angels with seven plagues, which are the last, for with them the wrath of God is finished. (Rev 15:15)
But, along with this terrifying judgment of the Law, we also see the Gospel expressed in an Intercessor who stands between us and the plagues.
Update: 8/27/2020
Update: 8/25/2020 Laura Strengthens To Hurricane Status, Forecast To Strike Gulf Coast With 'Violent Devastating Punch' Take Cover Texas, Especially Houston, Corpus Christi TX, Laura Will Wreak havoc
The National Hurricane Center (NHC) published a tropical cyclone update Tuesday morning for Laura, indicating the storm strengthened from a tropical storm to hurricane status in the overnight hours and could deliver a devastating punch to the Gulf Coast late Wednesday.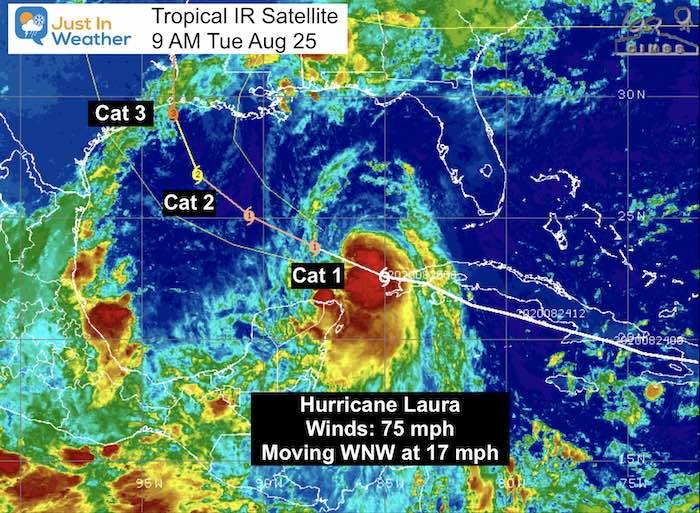 "NOAA Hurricane Hunter reports that Laura has become a hurricane," NHC's statement read, adding that data from the hurricane hunter aircraft showed maximum sustained winds of 75 mph, with higher gusts.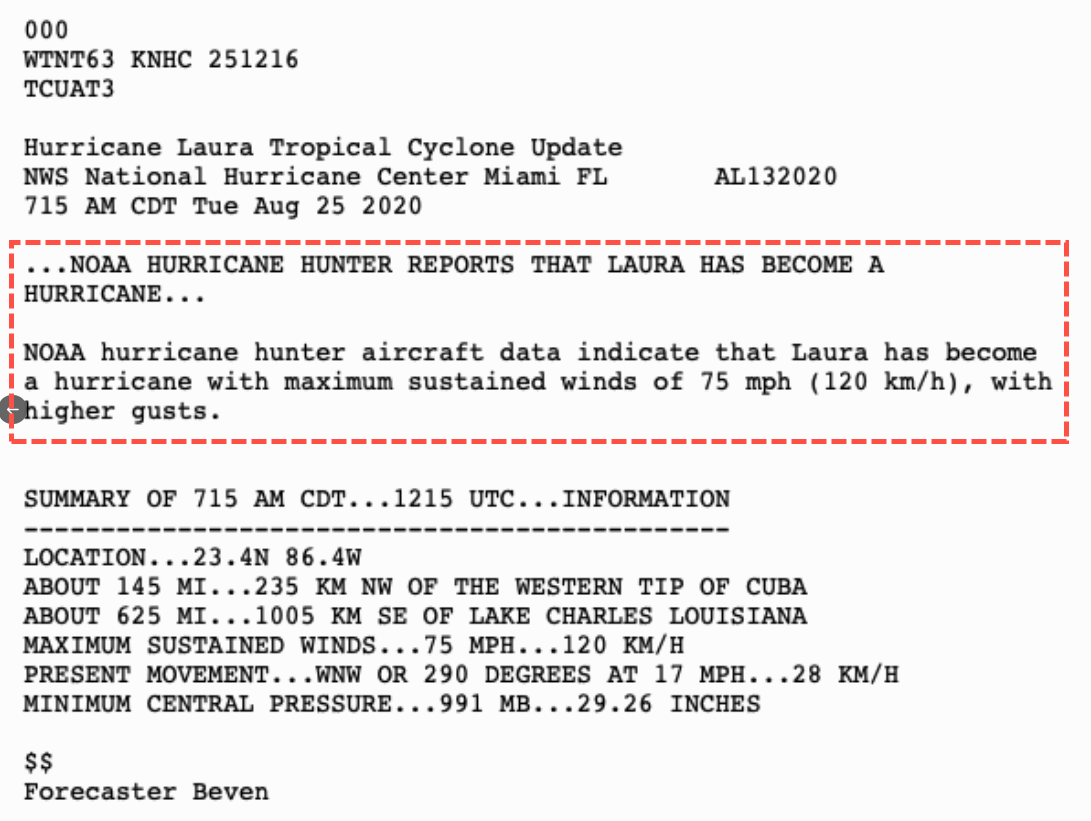 "Significant strengthening is forecast during the next 48 hours, and Laura is expected to be a major hurricane at landfall," NHC warned.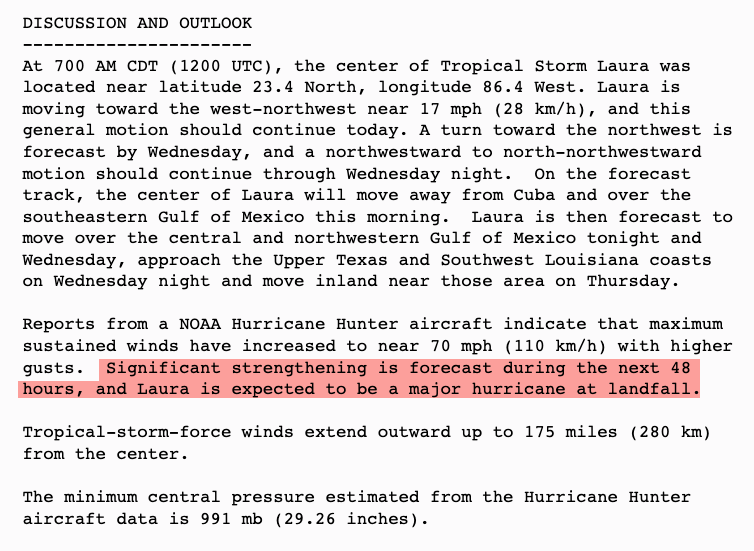 "Residents along the Texas and Louisiana coasts should anticipate the possibility that Laura will rapidly intensify right up until landfall," said meteorologist Jeff Masters of Yale Climate Connections, who was quoted by AP News.
Tracking models already suggest landfall will be along the upper Texas coast or southwest Lousiana late Wednesday or Thursday morning.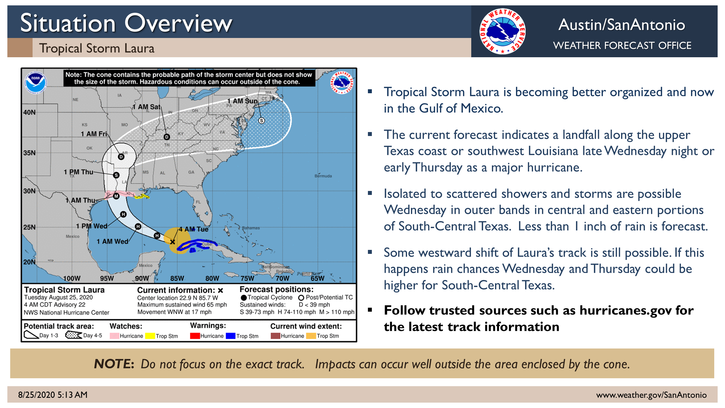 "In addition to the fierce winds, the hurricane is expected to bring a huge storm surge of Gulf seawater ashore, forecasters warned, potentially as high as 11 feet near the Texas/Louisiana border. On top of that, up to 15 inches of rain could fall in some spots in Louisiana," AP said.
Port Arthur, Texas, Mayor Thurman Bartie issued mandatory evacuations for the metro area's 54,000 residents ahead of the landfall.
Louisiana Gov. John Bel Edwards told reporters Monday:
"We're only going to dodge the bullet so many times. And the current forecast for Laura has it focused intently on Louisiana."
State emergencies have already been announced in Louisiana and Mississippi as Laura continues to churn in the Gulf of Mexico. Tropical Storm Marco struck the Gulf Coast on Monday has been downgraded to a Tropical Depression.
The 2020 Atlantic hurricane season has been a record-breaking year so far. Laura is the earliest L-named storm in the Atlantic Basin. At the start of the season, we outlined how there could be "above average" storms, "with 13 to 19 named storms."
Update: 8/24/2020 Two tropical storms, Marco and Laura, are traversing the Gulf of Mexico Monday morning with both expected to make landfall in Louisiana early this week.
According to the National Hurricane Center (NHC), Marco, which strengthened Sunday to a Category 1 hurricane, weakened in the overnight with sustained winds of 70 mph, just under the threshold of hurricane status. Marco will make landfall on the Louisiana coast on Monday night or early Tuesday morning.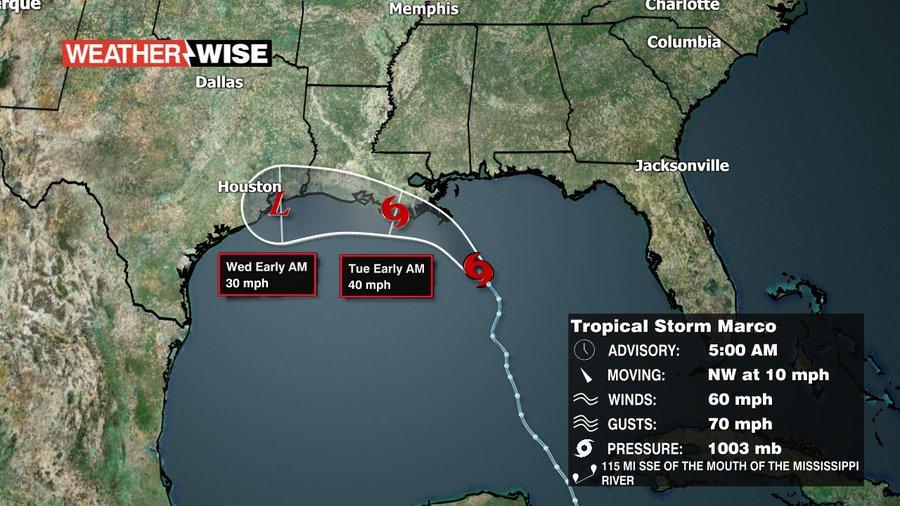 Laura was dumping torrential rain on Cuba and Jamaica on Monday morning. The storm is expected to trigger mudslides and urban flash floods in both countries. The death toll in the Dominican Republic and Haiti was at least 11 over the weekend following tropical storm conditions.
Laura's long-range track and intensity remain uncertain as the storm is expected to make landfall somewhere between Louisiana and Texas coastlines by Wednesday.
"The unprecedented kind of thing here is that it's the same state within 48 hours of each other," National Weather Service (NWS) meteorologist Benjamin Schott told CNN.
"In modern meteorological history … there's never been anything like this before where you could have possibly two hurricanes hitting within miles of each other over a 48 hour period," Schott said.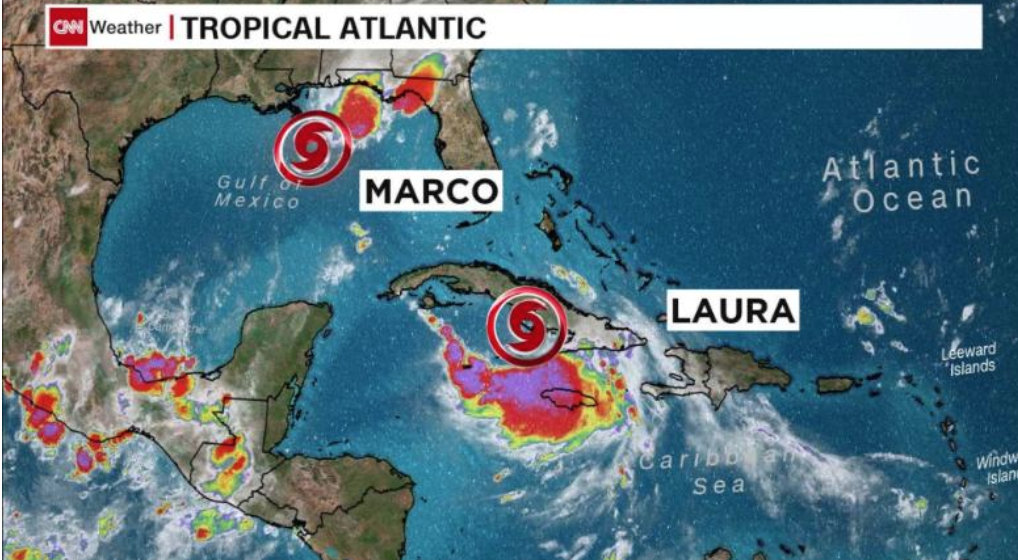 NHC's latest Marco update: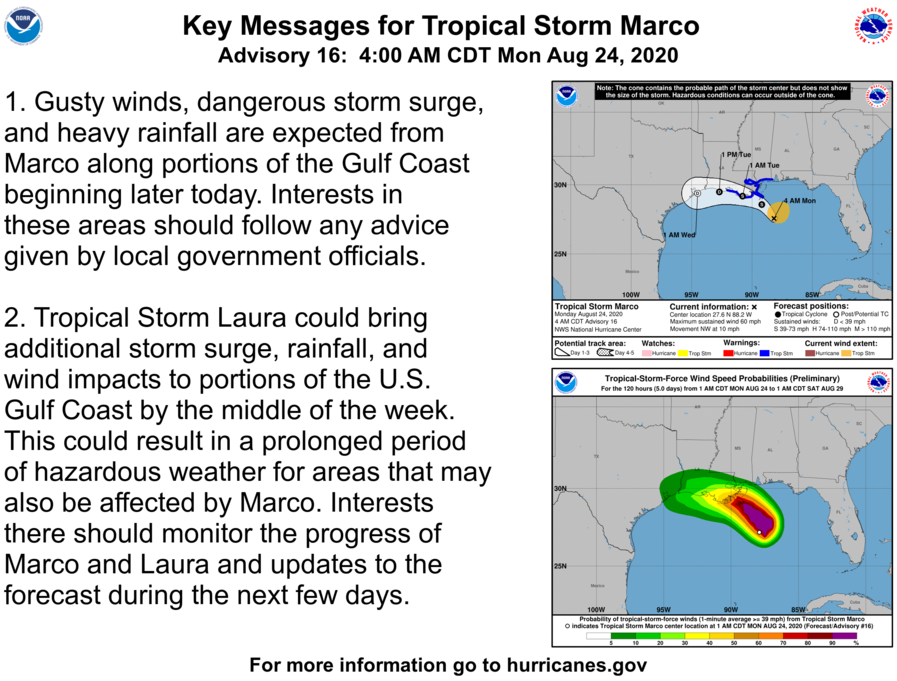 NHC's latest Laura update: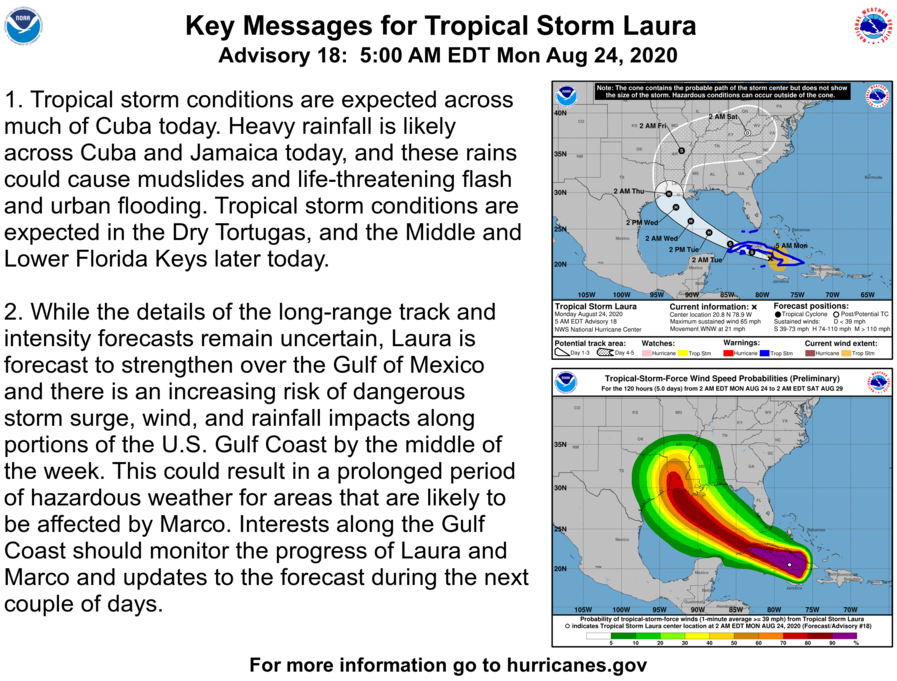 President Donald Trump signed an emergency declaration on Sunday for Louisiana's "federal assistance to supplement State, tribal, and local response efforts due to the emergency conditions resulting from Tropical Storms Laura and Marco beginning on August 22, 2020, and continuing," a statement from the White House read.
Update: 8/22/2020 Double Tropical Trouble Brewing For US Gulf Coast
The National Hurricane Center's (NHC) latest update (Saturday morning) on two tropical storms swirling in the Gulf of Mexico, with crosshairs both pointed at the Gulf Coast of the US, is that both storms are set to strengthen through the weekend.
Readers may recall, Tropical Depression 13 (upgraded to Tropical Storm Laura) and Tropical Depression 14 (upgraded to Tropical Storm Marco), are two systems positioned in different locations of the Gulf of Mexico, with long-term tracking models both forecasting the storms could make landfall in very similar areas within, or a little more than a day apart.
"It is really unprecedented to have two storms make landfall within 24 to 36 hours in essentially the same spot," Aaron Carmichael, a meteorologist with the commercial forecaster Maxar, told Bloomberg.
The last time two storms simultaneously traversed the warm waters of the Gulf was in 1959. The current forecast suggests Marco could strike south Texas to western Louisiana, on Tuesday, while Laura could make landfall on Wednesday evening into Thursday from Houston, Texas, to Mobile, Alabama.
The NHC released a statement at 11:00 ET about new updates on Laura, indicating the system is moving across the Virgin Islands and Puerto Rico.
Another statement was released by NHC detailing Marco could become a hurricane on Saturday night.
Long-term track models of both systems suggests, if both are upgraded to hurricane status before landfall, there could be widespread coastal damage from Texas to Alabama.
Carmichael said, "there's still a lot of uncertainty with the forecast because the two storms could interact, with one sapping the other of its strength."
The prospects of two storms slamming into the Southern US early next week comes as President Trump signed an executive order to redirect the Department of Homeland Security's Disaster Relief Fund to support weekly unemployment checks for tens of millions of broke Americans.
Oh, and yes, there's also a coronavirus pandemic ravaging Sun Belt states, along with depressionary unemployment – a perfect storm to say the least…
Allegiance to Satan…
I personally believe that the "Mystery of Iniquity" spoken of in the Scriptures refers to the New World Order, i.e., the beast system of the coming Antichrist. It is clear from the second chapter of Thessalonians that the context of the passage is the coming Antichrist. Even going back as far as the Tower of Babel in the Old Testament, we see men trying to unite against God, and so it is today. I also believe that the "Synagogue of Satan" mentioned by Jesus in Revelation 2:9 refers to the Illuminati, i.e., a demonically-inspired occult group of men and women sworn and committed to bringing to fruition a New World Order—a Global, Godless, Totalitarian, Communist Police State, whose ultimate leader will be the Man of Sin himself!

For those of you who care, Google and your favorite social media platforms have misled you, and now we all pay a heavy price for trusting the ungodly, Google and company knew exactly what they were doing, removing our history while preparing you to accept the New World Order playbook, Enjoy
'Rare' Double Tropical Threat
The National Hurricane Center (NHC) is forecasting two tropical depressions (Tropical Depression 13 and 14) to strengthen into Tropical Storm Laura and Marco on Friday. By Monday, both storms could strengthen into Category 1 hurricanes and take aim at the Gulf Coast of the US on Tuesday or Wednesday.
The Balm Peach Post quoted Colorado State University researcher Phil Klotzbach, who said if the NHC forecast of two hurricanes simultaneously traversing the Gulf of Mexico holds up, then it would be the first time in history.
At the start of the 2020 hurricane season, we noted how this year's season was going to be very busy. If both depressions strengthen into named storms in the coming days and take aim at the US, it would break the record of 6 tropical cyclone landfalls before the end of August.
For the first time since the Great Depression, it's possible that two tropical systems could make landfall in the mainland United States at virtually the same time. There will be a lot to keep track of, on both tropical systems.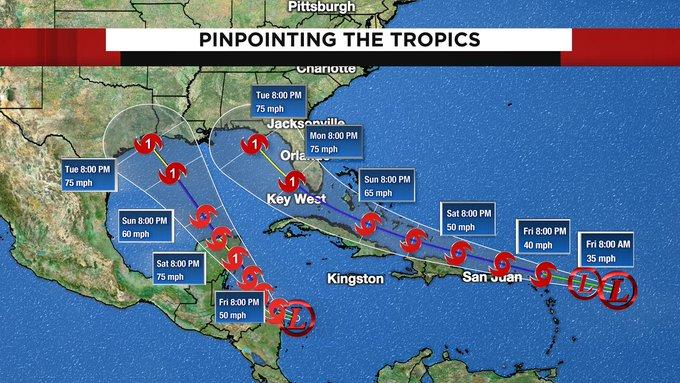 Hurricane track models can easily change over the coming days. Nothing is certain but if NHC's forecast is correct, that is, two storms are about to simultaneously cross the warm water's of the Gulf of Mexico and take aim at the US next week, then this could be particularly dangerous for Southern states, already dealing with surging coronavirus cases and depressionary unemployment.
More recently, we said the hurricane season is about to go "from bad to worse with La Nina odds up."
The odds the equatorial Pacific will remain neutral, or even spin up a La Nina, have risen in the last month, the U.S. Climate Prediction Center said. In either state, the weather patterns over the Pacific actually decrease hurricane-killing wind shear across the Atlantic, allowing more storms to form and strengthen. –Bloomberg
NHC's latest update on Tropical Depression 13 and 14 was released on Friday, at about 5:00 ET, with indications 13 is "approaching the Northern Leeward Islands," and 14 is"approaching Honduras/Nicaragua border coast."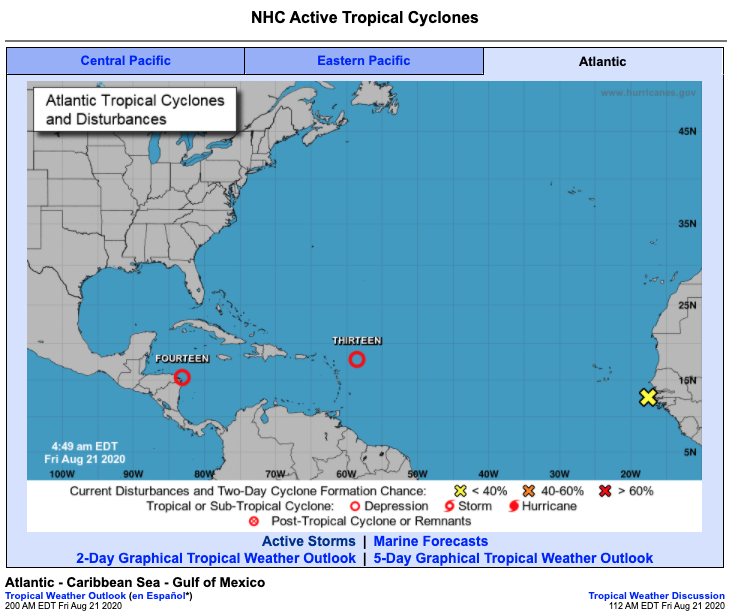 Long-term model tracking of both storms forecasts landfall could be possible early next week across Gulf Coast states, including Texas, Louisiana, Mississippi, Alabama, and Florida.
God can still reveal the future through a person today if He chooses to do so. However, it is clear that prophesying was more than just telling the future and that there was much caution concerning how prophets operated in the early church due to the threat of false prophets. Today, the gift of prophecy may operate in the sense of giftedness in proclaiming God's Word, yet God's Word has provided sufficient revelation for today. No further predictive prophecy is necessary to understand His will or teachings. Source
Extreme weather is everywhere, but perhaps nowhere more dramatically than the scorching heat recently reported over Iran, where the heat index has been as high as 164℉ (73℃). Similar temperatures are being recorded in Iraq.
Where do we find this extreme weather in Biblical prophecy? In the tiny, three chapter-long Book of Malachi, we find a clear reference "to a day that will burn like a furnace." (Malachi 3:19)
The Word of God clearly teaches that in the very Last Days, one of the main SIGNS of the TIMES to look for will be the great FALLING AWAY of those who profess to be Christians. Jesus clearly teaches that in the very Last Days, the lost will become more and more blinded from hearing Biblical truth, because many who claim to be God's anointed will NOT be preaching the whole truth! Jesus clearly teaches that He will come back one day. However, it will only happen when many within the mainline church stop looking for Him to come (1 Tim 6:3-15, 2 Tim 4:1-8, Rev Ch's 2-3). Could we be living at that time? "Let no one deceive or beguile you in any way, for that day will not come except the APOSTASY comes first [unless the predicted great falling away of those who have professed to be Christians has come]" (2 Thess 2 :3 Amp, Amos 8:11-12). It appears that many who have eliminated the last days' message of the soon coming of our Lord from their Sunday sermons have been devastated.
Even Secular Mainstream Media News outlets are finding it hard to describe 2017's recent wildfire outbreak without headlines and phrases depicting Biblical JUDGMENT. Among those that caught my eye were "Apocalyptic Scenes", "Hell on earth", "It's like Armageddon is on", "An inferno like we've never seen before", and "Is the world ending or something?" None of these phrases were taken from Biblical News Sites, but all were found on secular news sites that normally mock God. The LORD certainly has a way of getting even the most hardened skeptic's attention.
While there are wildfires every year in the United States and across the globe, this year's outbreaks have been described as "unusual" and "unprecedented". Most of the country has found it hard to ignore the current disaster in California, but other States have endured long bouts with fiery flames this year as well. As of October 11th, nearly 9 MILLION acres of land have been burned in the U.S., namely in Oregon, Washington, Montana, and California. This greatly eclipsed the last decade's average of 6 million per year, which was already extremely high, to begin with.
In September, an estimated 1,300,000 acres were burned up throughout Montana. Thus far, over 770,000 acres have been burned across the state of California. Over 170,000 of that acreage has been scorched in just the past THREE DAYS. Since October 8th, there are at least 17 Cali wildfires burning, which have destroyed over 3,500 structures and forced the evacuation of over 25,000 residents. The fires have burned out of control due to hurricane-force winds, with wind gusts as high as 50-80 mph.
Two of the largest fires, the "Tubbs" and "Atlas" fires, have burned around 55,000 acres of land in Sonoma and Napa counties in just three days. In Anaheim, one blaze has burned over 6,000 acres and destroyed at least 25 homes and businesses. More than 5,000 structures are threatened by those flames. The area burned thus far in Napa and Sonoma is 3-times larger than Washington, D.C.. Over 20,000 acres were burned in only a 12-hour period on Monday, meaning that the fires were advancing at a rate of more than a football field EVERY 3 SECONDS.
California's Governor, Jerry Brown, declared a State of Emergency for Napa, Sonoma and Yuba counties. President Donald Trump declared a major disaster in California, freeing up federal funding and resources to help fight the deadly wildfire outbreak. Authorities have not yet determined the cause of the fires. Plumes of thick smoke and ash from the fires have also ruined the area's air quality. On Tuesday, the federal AirNow map showed a large portion of Northern California with "Unhealthy" air.
An interesting tidbit for Holy Bible believers is that the wildfires have done significant damage to America's "Wine Country" and Marijuana farms. At least 12 wineries have reported "significant to total losses", and at least 7 "pot farms" have been completely destroyed (just months before sales of "legal marijuana" begins in the state). Two things to notice here… First, the numbers 7 and 12 are two of the 3 most significant numbers in the Holy Bible. Second, our God consistently condemns alcohol and recreational drug use in His Word, so it is hard to not see His Hand at work here.
The World Is In Big Trouble, for Those That Believe We Will Go Back to Some Sense of Normal Life Here on Earth, You Will Be Sadly Disappointed, Seven and Half Years of Hell on Earth Which Began January 1, 2020
"Our courts oppose the righteous, and justice is nowhere to be found. Truth stumbles in the streets, and honesty has been outlawed" (Isa. 59:14, NLT)…We Turned Our Backs On GOD, Now We Have Been Left To Our Own Devices, Enjoy…
While Mainstream Media Continues to Push a False Narrative, Big Tech Has Keep the Truth From Coming out by Shadow Banning Conservatives, Christians, and Like-Minded People, Those Death Attributed to the Coronavirus Is a Result of Those Mentioned, They Truly Are Evil…
Source: HNewsWire ZeroHedge HNewsWire ZeroHedge
StevieRay Hansen
Editor, HNewsWire.com
Watchmen does not confuse truth with consensus The Watchmen does not confuse God's word with the word of those in power…
In police-state fashion, Big Tech took the list of accused (including this site), declared all those named guilty and promptly shadow-banned, de-platformed or de-monetized us all without coming clean about how they engineered the crushing of dissent, Now more than ever big Tech has exposed there hand engaging in devious underhanded tactics to make the sinister look saintly, one of Satan's greatest weapons happens to be deceit…
The accumulating death toll from Covid-19 can be seen minute-by-minute on cable news channels. But there's another death toll few seem to care much about: the number of poverty-related deaths being set in motion by deliberately plunging millions of Americans into poverty and despair.
American health care, as we call it today, and for all its high-tech miracles, has evolved into one of the most atrocious rackets the world has ever seen. By racket, I mean an enterprise organized explicitly to make money dishonestly.
All the official reassurances won't be worth a bucket of warm spit. The Globals are behind the CoronaVirus, It Is a Man-Made Bioweapon.
The 127 Faith Foundation Has Been Overwhelmed With Request to Accept New Orphans Aging Out of the Child Protective Custody Program, in Our Continued Quest to Take These Children in We Are Asking That You Please Help Us, We Need Your Financial Support. Our Prayer Is That the Good People of This Country Continued Support of the 127 Faith Foundation, Please Help Us So We Can Help the Least Among Us, These Orphans. Thank You for Your Support.
StevieRay Hansen, Founder 127 Faith Foundation
2. Corinthians 4:8-11 New King James Version (NKJV)
8. We are hard-pressed on every side, yet not crushed; we are perplexed, but not in despair; 9 persecuted, but not forsaken; struck down, but not destroyed 10. always carrying about in the body the dying of the Lord Jesus, that the life of Jesus also may be manifested in our body. 11. For we who live are always delivered to death for Jesus' sake, that the life of Jesus also may be manifested in our mortal flesh.
We make every effort to acknowledge sources used in our news articles. In a few cases, the sources were lost due to a technological glitch. If you believe we have not given sufficient credit for your source material, please contact us, and we will be more than happy to link to your article.