Among the various forms of judgment that God brings upon the unrighteous and rebellious is pestilence. Not every epidemic is the direct judgment of God, but the Bible indicates that some instances of pestilence in history have been a punishment for sin. God sent pestilence to punish the Israelites for their ongoing idolatry and disobedience (Deuteronomy 32:24; Jeremiah 42:22), and during the tribulation He will send pestilence to punish the unrepentant: "The first angel went and poured out his bowl on the land, and ugly, festering sores broke out on the people who had the mark of the beast and worshiped its image" (Revelation 16:2; cf. Revelation 18:8; Matthew 24:7). We never have to experience God's pestilential judgment if we will accept His protection through faith in Jesus Christ (John 1:12; 2 Corinthians 5:21).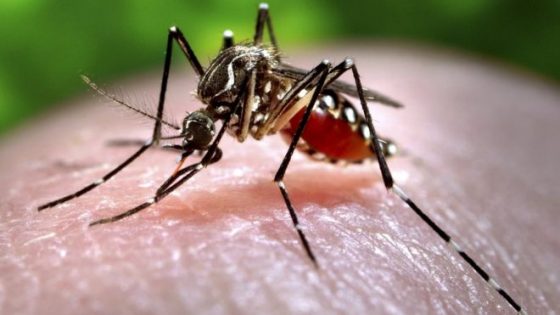 Health officials in New York and Massachusetts have confirmed that the potentially life-threatening Eastern Equine Encephalitis (EEE) virus has been found in mosquitoes. Two mosquitoes taken from a field station at Toad Harbor Swamp in West Monroe tested positive for the virus.
[bsa_pro_ad_space id=2]
On Tuesday, the Massachusetts Department of Public Health revealed EEE-carrying mosquitoes were identified for the first time this summer in mid-July, The Boston Globe reported. The bugs were found in the towns of Easton, Freetown, and Fairhaven, as well as the city of New Bedford.
Oswego County Public Health Director Jiancheng Huang told CNY Central: "We are working closely with state Department of Health to monitor mosquito activity around the county and will take actions as deemed appropriate based on consultations with state and regional partners."
According to the Centers for Disease Control and Prevention (CDC), the EEE virus can cause a rare brain infection called encephalitis. Around 30 percent of individuals who catch the virus die. Those that survive can suffer mild to severe brain damage.

Each year, between 5 to 10 cases are reported the CDC states. These mostly occur during the late spring to fall in subtropical areas, such as the Gulf States. The insects lay their eggs in or around water, so EEE-carrying mosquitoes most often lurk in swampy areas. –Newsweek
Once a person is bitten and becomes infected with EEE, it can take between four to 10 days for symptoms of the virus involving encephalitis (EEEV) to emerge. These symptoms include headache, chills, vomiting and a high fever. They may then feel disorientated, experience seizures and fall into a coma. Doctors can diagnose EEE with a blood test.
As there is no vaccine or drug to prevent EEE, Huang told CNY Central residents of Oswego County heading outdoors should use bug spray and insect repellents, and avoid going out between dusk and dawn. The best way to prevent from contracting EEE is to make sure you don't get bitten.
How to Prepare Your Home (Quarantine) For A Pandemic
If you have a lot of mosquitoes in your area, measures should be taken to help prevent the reproduction of the bugs. This advice also helps reduce infections from mosquitoes carrying West Nile Virus and Zika. You should dispose of used tires; drill holes in recycling containers left outdoors and ensure your roof gutters are draining properly. Source
StevieRay Hansen
Editor, HNewsWire.com
"And it shall come to pass afterward, that I will pour out my spirit upon all flesh; and your sons and your daughters shall prophesy, your old men shall dream dreams, your young men shall see visions." (Joel 2:28.)
John Wesley who said that what we tolerate in our generation, will be embraced by the next. Wesley is 100% correct! We are living in sick times.
Usually, the Lord doth no great thing for or against his people, without giving warning of it before it comes.
They perverted justice among themselves (v. 7): "You turn judgment to wormwood, that is, you make your administrations of justice bitter and nauseous, and highly displeasing both to God and man.'' That fruit has become a weed, a weed in the garden; as nothing is more venerable, nothing more valuable, than justice duly administered, so nothing is more hurtful, nothing more abominable, than designedly doing wrong under color and pretense of doing right. Corruptio optimi est pessima —The best, when corrupted, becomes the worst.
It is impossible to find anyone in the Bible who was a power for God who did not have enemies and was not hated.
2 Corinthians 4:8-11 New King James Version (NKJV)
8 We are hard-pressed on every side, yet not crushed; we are perplexed, but not in despair; 9 persecuted, but not forsaken; struck down, but not destroyed— 10 always carrying about in the body the dying of the Lord Jesus, that the life of Jesus also may be manifested in our body. 11 For we who live are always delivered to death for Jesus' sake, that the life of Jesus also may be manifested in our mortal flesh.
"Pedophile" has reverberated throughout America. But beneath our anger and revulsion, a fundamental question pulsates: Are those who abuse their positions of trust to prey upon children—a category certainly not limited to those in religious orders—sick … or are they evil? We need the answer to that fundamental question. Because, without the truth, we cannot act. And until we act, nothing will change.
My job is protecting children. It has taken me from big cities to rural outposts, from ghettos to penthouses, and from courtrooms, into demonic battlefields. But whatever the venue, the truth remains constant: Some humans intentionally hurt children. They commit unspeakable acts—for their pleasure, their profit, or both.
The number of Orphans aging out of Child Protective Custody has grown at an alarming rate. The 127 Faith Foundation receives many requests each week to house them at our ranch. Our prayer is that the good people of our country will step up to the challenge and offer financial support for "the least among us." We need your help! StevieRay Hansen, Founder, The 127 Faith Foundation
We make every effort to acknowledge sources used in our news articles. In a few cases, the sources were lost due to a technological glitch. If you believe we have not given sufficient credit for your source material, please contact us, and we will be more than happy to link to your article.
in Africa and India Now Turns His Attention on America's Population… His Rhetoric Has Been Increasingly Intolerant of Any Other Views Than Bill Gates. In…
Read More