Advisory: Be careful of what you read on social media. The algorithms used by these platforms have no regard for Biblical truth. They target your emotions to keep you engaged on their site so their advertisers can drop more ads. These platforms exist to enrich their stockholders. Consider God's promise to Believers in James 1:5, "If any of you lacks wisdom, you should ask God, who gives generously to all without finding fault, and it will be given to you."
There are three accounts in the Gospels in which Jesus states that a kingdom divided against itself is laid waste or a house divided cannot stand (Luke 11:17; Mark 3:25; Matthew 12:25). All three instances of this statement are spoken in response to the Pharisees' accusation that Jesus was casting out demons by the power of Satan—a blasphemy that Jesus said would not be forgiven them.
Jesus' argument to the Pharisees was logical: a kingdom that is at cross-purposes with itself will fall. Any household riven by infighting will tear itself apart. Jesus was obviously casting demons out of people. If Jesus was in league with Satan, or if Satan was somehow working through Jesus, it is unlikely that exorcisms would be a priority, because why would Satan cast himself out? Satan has more practical wisdom than to allow his demonic underlings to group themselves into warring factions.
By saying that a house divided cannot stand, Jesus, is illustrating the fact that success relies on congruency. This is something we see in daily life all the time. Whether it is a machine, a sports team, a government party, or one's own mind, things have to work together if anything is to be accomplished. The Bible says that a double-minded man is unstable in all his ways (James 1:8), and Paul appeals to the churches that there be no divisions among the believers (1 Corinthians 1:10). In fact, churches should be unified in their purpose and judgment, avoiding people who cause divisions and create obstacles contrary to sound doctrine (Romans 16:17). Christians are not to quarrel but to be unified around a common understanding of truth. "How good and pleasant it is when God's people live together in unity!" (Psalm 133:1).
Yesterday, the Democratic Congress had their big moment – the testimony of Russiagateprobe figurehead Robert Mueller, whose 448-page report detailing the findings of his nearly-two-year-long investigation into alleged "Trump-Russian collusion" and alleged "Russian interference" in the US 2016 elections.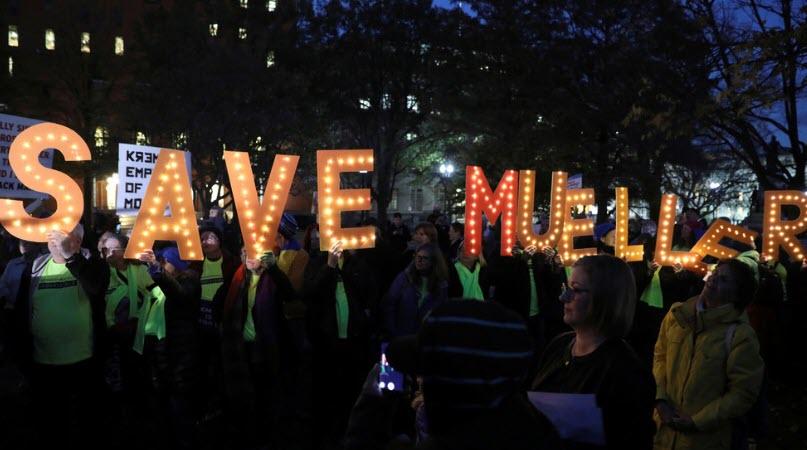 After no evidence of collusion or interference could be found, the remit was then shifted over to "possible obstruction of justice. " And when no evidence of obstruction could be unearthed, the Democrat and Mueller position then became, 'the Mueller Report has not cleared Trump of obstruction,' or the report does not exoneration of the President. Here they are trying to prove a negative, something which could be said about any unproven accusation leveled against anyone – which makes that spurious declaration meaningless.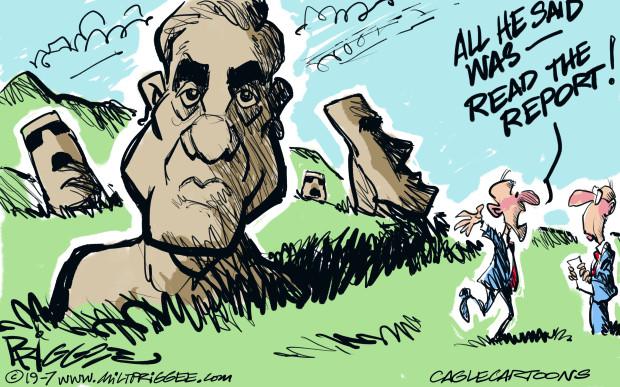 Even the most ardent Never Trump partisan journalists, like NBC News political director Chuck Todd, admitted that the former special counsel Robert Mueller's performance in front of the House Judiciary Committee hearing was a "disaster" and did nothing to advance the cause for impeachment.
As the dust subsides from yesterday's debacle, the real issues are finally coming into focus.
Former US Congressman Dr. Ron Paul highlights some of the deeper,  fundamental problems with the Russiagate fiasco. RT International reports…
The Democrats' dream of impeaching President Trump over the Russiagate scandal has "totally failed," its fate confirmed by special counsel Robert Mueller's disastrous showing in Congress, former congressman Ron Paul told RT.
The utterly anticlimactic hearing saw the ex-special counsel serving up reheated details of his two-year probe into alleged Russian interference in the 2016 presidential election, reminding both the House Judiciary and Intelligence Committees that there was no proof that members of the Trump campaign conspired with Russia.
"Hopefully, this will end it all, because Mueller did not have any evidence," Paul said.

"I think we should never use the word Russiagate again. I think we ought to use the FBIgate because there was a conspiracy to try to frame Trump."
"If they have impeachment hearings next year, it is going to backfire on them, just as I think this hearing today backfired on the Democrats," Paul said, suggesting that lawmakers should instead investigate the origins of the Russia probe – in particular, the Steele dossier, which was partially funded by Hillary Clinton's campaign and the Democratic Party. The document, produced by Fusion GPS, was full of unsubstantiated tales about Trump and helped to kick off the FBI probe, yet when pressed on the key role of the opposition research firm, Mueller didn't even appear to be familiar with the organization.
Both parties have much bigger problems, Paul pointed out, marveling at how Democrats and Republicans are "bosom buddies," marching in lockstep on "more debt, more interference, more involvement overseas, more welfare-ism," yet "they hate each other's guts when it comes to power."
"The empire's broke, the empire's in trouble, yet [both parties] don't want to talk about that." Source
StevieRay Hansen
Editor, HNewsWire.com
"And it shall come to pass afterward, that I will pour out my spirit upon all flesh; and your sons and your daughters shall prophesy, your old men shall dream dreams, your young men shall see visions." (Joel 2:28.)
John Wesley who said that what we tolerate in our generation, will be embraced by the next. Wesley is 100% correct! We are living in sick times.
Usually, the Lord doth no great thing for or against his people, without giving warning of it before it comes.
They perverted justice among themselves (v. 7): "You turn judgment to wormwood, that is, you make your administrations of justice bitter and nauseous, and highly displeasing both to God and man.'' That fruit has become a weed, a weed in the garden; as nothing is more venerable, nothing more valuable, than justice duly administered, so nothing is more hurtful, nothing more abominable, than designedly doing wrong under color and pretense of doing right. Corruptio optimi est pessima —The best, when corrupted, becomes the worst.
It is impossible to find anyone in the Bible who was a power for God who did not have enemies and was not hated.
2 Corinthians 4:8-11 New King James Version (NKJV)
8 We are hard-pressed on every side, yet not crushed; we are perplexed, but not in despair; 9 persecuted, but not forsaken; struck down, but not destroyed— 10 always carrying about in the body the dying of the Lord Jesus, that the life of Jesus also may be manifested in our body. 11 For we who live are always delivered to death for Jesus' sake, that the life of Jesus also may be manifested in our mortal flesh.
The 127 Faith Foundation: We do not solicit donations from "those on disability, on a fixed income, or those who cannot afford to give." Please Pray!
Or, make checks payable to:
The 127 Faith Foundation
PO Box 127
Pontotoc, TX 76869
The number of Orphans aging out of Child Protective Custody has grown at an alarming rate. The 127 Faith Foundation receives many requests each week to house them at our ranch. Our prayer is that the good people of our country will step up to the challenge and offer financial support for "the least among us." We need your help! StevieRay Hansen, Founder, The 127 Faith Foundation
We make every effort to acknowledge sources used in our news articles. In a few cases, the sources were lost due to a technological glitch. If you believe we have not given sufficient credit for your source material, please contact us, and we will be more than happy to link to your article.