Advisory: Be careful of what you read on social media. The algorithms used by these platforms have no regard for Biblical truth. They target your emotions to keep you engaged on their site so their advertisers can drop more ads. These platforms exist to enrich their stockholders. Consider God's promise to Believers in James 1:5, "If any of you lacks wisdom, you should ask God, who gives generously to all without finding fault, and it will be given to you."
— the Ungodly Have Finally Taken Over and America Is Almost Completely Turned Over to Satan OUR Supreme Court Is the Core of Satan Soldiers…
They perverted justice among themselves … "You turn judgment to wormwood, that is, you make your administrations of justice bitter and nauseous, and highly displeasing both to God and man.'' That fruit has become a weed, a weed in the garden; as nothing is more venerable, nothing more valuable, than justice duly administered, so nothing is more hurtful, nothing more abominable, than designedly doing wrong under color and pretense of doing right. Corruptio optimi est pessima —The best, when corrupted, becomes the worst.
When Judge Amy Coney Barrett came before the Senate Committee on the Judiciary for her nomination to the Court of Appeals for the Seventh Circuit, Senator Diane Feinstein generated considerable controversy when she said to Barrett:
"The dogma lives loudly in you."
This was a reference to Barrett's deep Catholic faith. Under our Constitution, Senator Feinstein's statement crossed the line. Ours was the first Constitution in history to provide that "no religious Test shall ever be required as a Qualification to any Office or public Trust under the United States."
Although Feinstein did not explicitly impose a religious test, she suggested that personal religious views — which she called dogma — might disqualify a nominee from being confirmed.
Our Supreme Court Perverted Justice the Watchman Has the Duty to Deliver the Sobering Message: Unless the Citizens of America and the World Acknowledged Their Sins, Turned From Them, Repented and Began Again to Obey God's Law, They Would Die in Their Sins. Regardless of How Individuals or Corp Responded to the Warning, If They Heard the Message, the Watchman Had Done His Job and Was No Longer Responsible. Only If the Watchman Did Not Deliver the Admonition Would He Be Judged Along With the Wicked. Srh…
That would clearly be unconstitutional.
When Justice Louis Brandeis was nominated to the United States Supreme Court in 1916, numerous leaders of the bar and prominent Americans, including the president of Harvard, opposed his nomination, sometimes implicitly, sometimes explicitly, on the ground that he was Jewish. That was wrong then, and it is equally wrong today with regard to a nominee of the Catholic faith.
Indeed, today's Supreme Court has five justices who are Catholic, two who are Jewish, and one who is Protestant. Religious tests have no place in America. But what does have a place in the confirmation process are questions about whether a nominee will put faith before the Constitution and refuse to apply the Constitution if it conflicts with his or her faith. That issue would be true of any nominee regardless of their faith or faithlessness. President John F. Kennedy assured us that his Catholicism would not determine the nation's policy. Justice Antonin Scalia said the same about his Catholicism and his jurisprudence.
It is impossible, of course, to psychoanalyze a nominee or justice to determine what role if any their faith may play in their jurisprudence. We are all influenced by our personal views, including but not limited to religious views. When Justice Pierce Butler issued the sole dissent in the notorious case of Buck v. Bell — in which the Supreme Court, led by Justice Oliver Wendell Holmes, permitted the sterilization of supposed "mental defectives" — many speculated that his dissent, which is now seen by most historians and lawyers as the correct view, may have been motivated consciously or unconsciously by his deep Catholic faith. The Catholic Church was inalterably opposed to sterilization of the mentally disabled, whereas the "progressive view," centered at Harvard University, strongly favored such "eugenic" procedures to "improve" the "race." The church was right and Harvard was wrong on this one, and it was a good thing that there was a religious Catholic on the high court to register a dissent to what we have now come to believe was an outrageous violation of human rights.
The role of religion in judicial decision-making is complex, nuanced and sometimes difficult to discuss. There is no sharp line between ideology and jurisprudence, but a line must be drawn nonetheless, especially when questioning a candidate for the Supreme Court.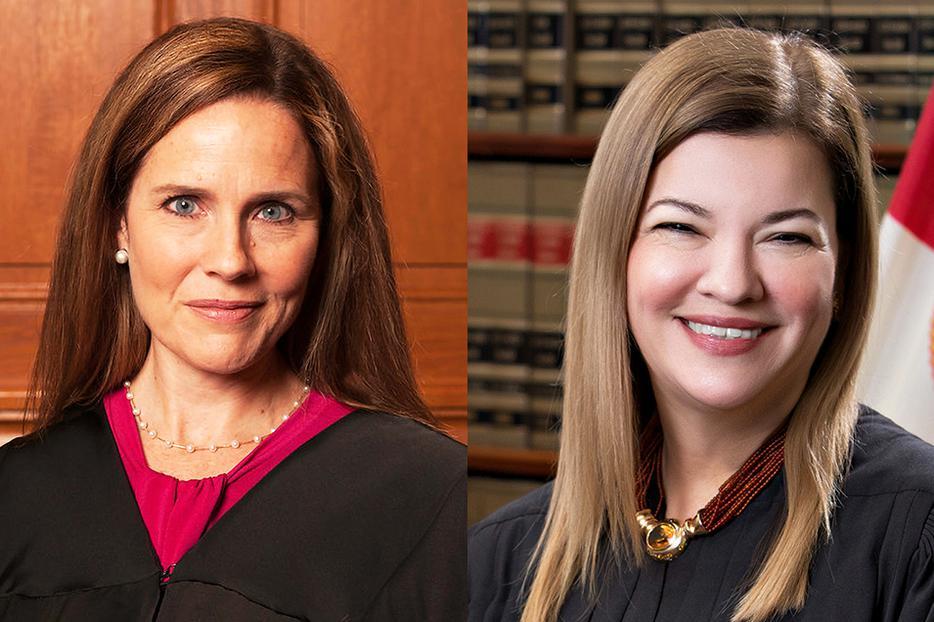 Judge Amy Coney Barrett is now the leading candidate, followed by Judge Barbara Lagoa, who is also a deeply religious Catholic woman of Cuban American background. So, the issue of religion is likely to come up at any confirmation hearing. It must be handled with delicacy and sensitivity to the Constitution's prohibition against religious tests, as well as to the respect we must all pay to people of faith.
Several years ago, a United States Senator declared that he would never vote to confirm an atheist to the Supreme Court. Such a position is in direct conflict with the Constitution. But because questions about religion are generally not asked of candidates, it is highly likely that several atheists and agnostics have served on the high court. Oliver Wendell Holmes publicly acknowledged his disbelief in religion and several other justices have privately acknowledged their lack of religious faith. One's religion is a private matter, but one's judicial philosophy is highly relevant in the confirmation process.
The confirmation process has become so politicized, so personal, and often so unfair, that it is especially important to draw careful distinctions with regard to religious beliefs and observance. Let us hope the Senate handles this nomination better than they have handled other recent nominations.
The Catholic Man-Made Institution (Not Church) is a force for evil in the world
History, as well as a careful analysis of their current doctrines, practices, and traditions, demonstrate without a shadow of a doubt that Catholicism is very evil. As a matter of fact, I cannot think of any other man-made institution other than the catholic institution that has done more harm than it. I pray that Jesus opens the eyes of all the deceived followers of the catholic institution, which is 100% a force of evil in the world. Srh…
The World Is In Big Trouble, for Those That Believe We Will Go Back to Some Sense of Normal Life Here on Earth, You Will Be Sadly Disappointed, Seven Years of Hell on Earth Which Began January 1, 2020
"Our courts oppose the righteous, and justice is nowhere to be found. Truth stumbles in the streets, and honesty has been outlawed" (Isa. 59:14, NLT)…We Turned Our Backs On GOD, Now We Have Been Left To Our Own Devices, Enjoy…
While Mainstream Media Continues to Push a False Narrative, Big Tech Has Keep the Truth From Coming out by Shadow Banning Conservatives, Christians, and Like-Minded People, Those Death Attributed to the Coronavirus Is a Result of Those Mentioned, They Truly Are Evil…
StevieRay Hansen
Editor, HNewsWire.com
Watchmen does not confuse truth with consensus The Watchmen does not confuse God's word with the word of those in power…
In police-state fashion, Big Tech took the list of accused (including this site), declared all those named guilty and promptly shadow-banned, de-platformed or de-monetized us all without coming clean about how they engineered the crushing of dissent, Now more than ever big Tech has exposed there hand engaging in devious underhanded tactics to make the sinister look saintly, one of Satan's greatest weapons happens to be deceit…
The accumulating death toll from Covid-19 can be seen minute-by-minute on cable news channels. But there's another death toll few seem to care much about: the number of poverty-related deaths being set in motion by deliberately plunging millions of Americans into poverty and despair.
American health care, as we call it today, and for all its high-tech miracles, has evolved into one of the most atrocious rackets the world has ever seen. By racket, I mean an enterprise organized explicitly to make money dishonestly.
All the official reassurances won't be worth a bucket of warm spit. The Globals are behind the CoronaVirus, It Is a Man-Made Bioweapon.
You do recall, don't you, that the governors and mayors who imposed the lockdowns never asked their citizens about their views about instantly getting rid of all rights and freedoms. They didn't consult legislatures. They didn't consult a range of expert opinion or pay attention to any serious demographic data that showed how utterly preposterous it was to force non-vulnerable populations into house arrest while trapping vulnerable populations in nursing homes that became Covid-soaked killing fields. Google that and see what response you get, I can tell you Google hides the truth, as they do on their YouTube platform…
They thought nothing of shattering business confidence, violating contractual rights, wrecking tens of millions of lives, prohibiting freedom in the association, tanking the stock market, blowing all budgets, shutting down international travel, and even closing the churches. Amazing. Every government executive except a few became a tin-pot dictator and so we will give credit where credit is due, mainstream media, and especially high tech, Twitter, Facebook, you know the list of tyrants that are turning this country into hell on earth. Enjoy…
Our Supreme Court Perverted Justice the Watchman Has the Duty to Deliver the Sobering Message: Unless the Citizens of America and the World Acknowledged Their Sins, Turned From Them, Repented and Began Again to Obey God's Law, They Would Die in Their Sins. Regardless of How Individuals or Corp Responded to the Warning, If They Heard the Message, the Watchman Had Done His Job and Was No Longer Responsible. Only If the Watchman Did Not Deliver the Admonition Would He Be Judged Along With the Wicked. Srh…
The 127 Faith Foundation: We do not solicit donations from "those on disability, on a fixed income, or those who cannot afford to give." Please Pray!
Or, make checks payable to:
The 127 Faith Foundation
PO Box 127
Pontotoc, TX 76869
The number of Orphans aging out of Child Protective Custody has grown at an alarming rate. The 127 Faith Foundation receives many requests each week to house them at our ranch. Our prayer is that the good people of our country will step up to the challenge and offer financial support for "the least among us." We need your help! StevieRay Hansen, Founder, The 127 Faith Foundation
We make every effort to acknowledge sources used in our news articles. In a few cases, the sources were lost due to a technological glitch. If you believe we have not given sufficient credit for your source material, please contact us, and we will be more than happy to link to your article.