Advisory: Be careful of what you read on social media. The algorithms used by these platforms have no regard for Biblical truth. They target your emotions to keep you engaged on their site so their advertisers can drop more ads. These platforms exist to enrich their stockholders. Consider God's promise to Believers in James 1:5, "If any of you lacks wisdom, you should ask God, who gives generously to all without finding fault, and it will be given to you."
It Be Rioting in the Streets, or Blatant Corruption by the Government, Big Tech, and corporations…
In a shocking collection of interviews from the George Floyd memorial in Minneapolis, far-left extremists admitted to wanting another civil war and implied that white people need to be killed.
Gonzo journalist and filmmaker Ami Horowitz interviewed several people who were attending the memorial to get their take on things like… burning the city down and using violence against white people. Their responses will surprise no one.
"Burn the whole city down, what does it matter?" one of the women asked. "I say burn the city down, y'know? So they can see that we're here," another woman asserted.
One of the women went on to say that Derek Chauvin should not have received a trial at all. "There shouldn't even be a trial, he should be convicted just as is," she said.
The extremists were all in agreement that if he was not convicted they would support "street justice" for him, meaning murder.
One of the women said that she believed that "thousands" of unarmed black men were killed last year in the United States.
They all also seemed to agree that there is a "genocide" happening to African Americans — and "anyone who isn't white."
When asked about a second Civil War, one young woman said "if that's what it takes, then we have to do it."
Another responded, "if that's what it takes, then I believe so."
Asked if it will happen, yet another woman said "probably."
"I don't want to say we need to start killing all white folks, but it's like…" one of the militant extremists said.
"But…?" Horowitz asked.
"Maybe they need to feel the pain and the hurt," she continued.
---
HD Editor's Note: Why Is This News Biblically Relevant?
When Jesus' disciples came to Him and asked, "What shall be the sign of thy coming, and of the end of the world?" Jesus explained to them that one of the signs that would precede His coming would be "nations" rising against "nations."
The word "nations" found in this verse (Matthew 24:7) is from the Greek word "ethnos," where we get our English word for "ethnicity." Therefore, this verse can also be read that "ethnicity shall rise against ethnicity" in the last days.
Racism is not new. However, what is new to our generation is the fabricated racism taught in schools, espoused by the media, and canceled by 'culture.' This stoking of division will, in the not too distant future, lead to genuine widespread racism. Racism is a sin. Creating division and hatred is a sin (Prov. 6:16-19, Luke 11:17, 1 John 2:9). All of these things are deeply rooted in a rebellion against God, His Word, and His design.
We can also see Lawlessness reining in the land, whether it be rioting in the streets, or blatant corruption by the government, Big Tech, and Corporations.
Hal Lindsey, in his article "Lawlessness Spreading Across the Land," revealed why the rampant violence and corruption the Bible says would characterize the last days before the return of Christ seems to be describing our day:
The Bible foretold that the time near the return of Christ would be marked by lawlessness. In Luke 17:26-30, Jesus compared those days to the times of Noah and Lot. Genesis 6:11 tells us that in the time of Noah, "The earth was corrupt in the sight of God, and the earth was filled with violence."
That sounds like today-rampant violence and corruption. Lot lived in a time and place of violent mobs. In both stories, we see that people lacked empathy, and thought mostly of themselves and their pleasures. Several places in the Bible warn us that the end times will be times of "lawlessness." That, along with so many other signs, seems to be describing our day.
Minneapolis BLM Icon Arrested For Failing To Register As Child Sex Offender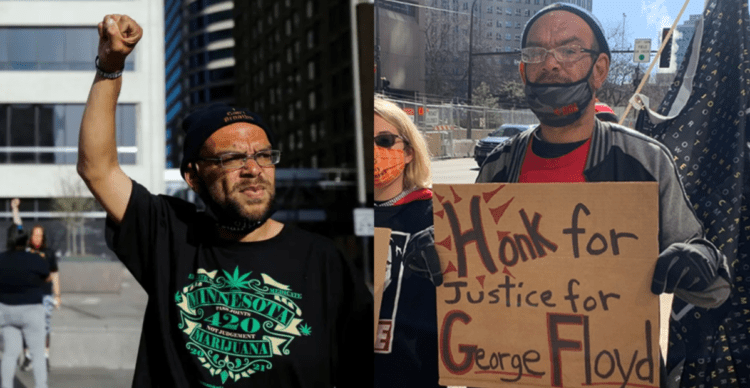 Chaz Neal, a prominent BLM activist in Minnesota who has been promoted by the media, was arrested earlier this month after failing to register as a child sex offender.
First broken by Red Voice Media, we now know that Neal, a prominent Black Lives Matter activist, 44, was arrested on April 9 in Hennepin County over a complaint issued in 2018 stating that he had failed to register as a sex offender when making his apartment in Preston his primary address. The warrant executed earlier this month was granted by a Fillmore County judge, where he is currently in custody. Neal has been convicted three times for failing to register as a sex offender.
According to court records, Neal was convicted in 1998 of one count of "Criminal Sexual Conduct In The Third Degree." To be found guilty of such a charge, the person accused must have "engaged in sexual penetration," when one of the listed circumstances, such as when "the complainant is at least 13 but less than 16 years of age and the actor is more than 24 months older than the complainant," or "the actor uses force or coercion to complete the penetration," and a number of other offenses.
On his Facebook page, "Chaz Neal for Human Rights Commission," he admits he is a "registered sex offender," but claims not to be a "child molestor [sic] or a pedophile." It is true that the charge he was convicted of includes other sexual offenses, however, given that along with prison time, Neal was also ordered not to have any contact with children under 18, or possess or use pornography, it seems rather unlikely that he was convicted under any of the other offenses under the crime, such as claiming that "the penetration is for a bona fide medical purpose."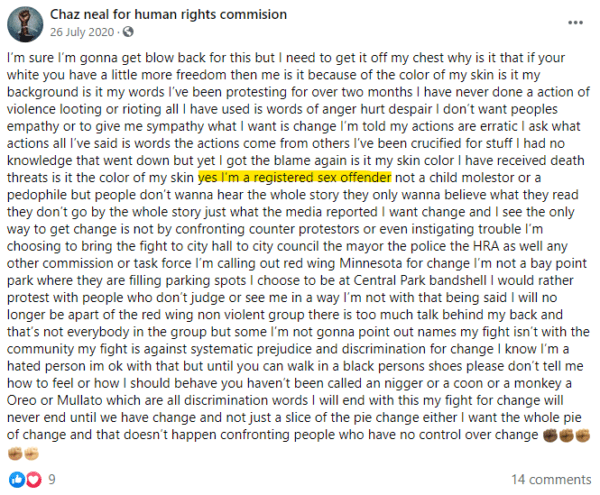 Despite being a registered child sex offender, Neal has received national media attention as a darling of the BLM movement in Minnesota. Neal has received flattering coverage from multiple media outlets, including The Guardian, Vice, Yahoo News, Axios, the Minnesota Post, and USA Today, where he is portrayed as a brave community activist protesting outside the courthouse where Derek Chauvin is currently on trial for the alleged murder of George Floyd.
Neal spends most of his time as a "community activist" for BLM attacking local Minnesota police leaders, accusing them of racism, and has made multiple appearances at Pine Island City Council meetings demanding that they establish a "human rights commission" to investigate alleged racism. A recent campaign of Neal has been to get the police chief of Red Wing, where he currently lives, fired, claiming that Chief Roger Pohlman is a "hate-monger."
Being a child sex offender isn't the only crime that Neal has on his rap sheet. His other criminal convictions include damage to property, theft, domestic assault in the 5th degree, and financial card fraud. He regularly boasts about his arrests on social media, claiming that the police just simply like to "keep violating [the] first amendment rights" of BLM protestors.
This "mystery" of lawlessness is the force of evil, working through financiers, governors, majors, and other politicians. There is a demonic force at work behind all of this – – the hijacking of the Covid-19 virus to create a pandemic of fear, the destruction of economies around the world to remove security and life support from millions, and now the violent protests designed to flame the fires of hatred among people.
This is the work of the evil one, pure and simple. As Jesus said, he is a liar and the father of lies. He is the destroyer, and wants to rule the world through the power of an "anti-Christ" – a one-world ruler. He knows that his time is short, and that the Messiah Jesus is coming and will one day consume him with the "breathe of His mouth". He will soon be revealed as a calm and confident individual, charismatic even, one who promises to restore order and bring peace to the nations. This is the "great deception" that is spoken of in the Bible: see 2 Thessalonians 2:11, which predicts that God will, in an end-times judgment, send "a powerful delusion so that they will believe the lie."
2 Thess 2:11: 11 "Therefore God sends them a strong delusion, so that they may believe what is false,
in order that all may be condemned who did not believe the truth but had pleasure in unrighteousness."
This great deception is associated with the satanic work of the Antichrist and his "displays of power through signs and wonders that serve the lie" (verse 9).
Source: HNewsWire harbingersdaily HNewsWire HNewsWire nationalfile
PLEASE DO NOT POST HNEWSWIRE ARTICLES ON PARLER, FACE BOOK, REDDIT OR TWATTER SOCIAL MEDIA PLATFORM, WE ARE NOT COMFORTABLE WITH THEIR ANTI-CHRISTIAN — ANTI-AMERICAN NAZI PHILOSOPHY…STEVIERAY HANSEN
StevieRay Hansen
Editor,
HNewsWire.com
Watchmen does not confuse truth with consensus The Watchmen does not confuse God's word with the word of those in power…
In police-state fashion, Big Tech took the list of accused (including this site), declared all those named guilty and promptly shadow-banned, de-platformed or de-monetized us all without coming clean about how they engineered the crushing of dissent, Now more than ever big Tech has exposed there hand engaging in devious underhanded tactics to make the sinister look saintly, one of Satan's greatest weapons happens to be deceit…
MY MISSION IS NOT TO CONVINCE YOU, ONLY TO INFORM…
Jesus come quick, there is nothing left in society that's sacred….
HNewsWire: Imagine a future when earth's inhabitants are not humans, but cyborgs-robot like beings with both biological and mechanical components. With exosuits for added strength,…
Read More
We make every effort to acknowledge sources used in our news articles. In a few cases, the sources were lost due to a technological glitch. If you believe we have not given sufficient credit for your source material, please contact us, and we will be more than happy to link to your article.