Fair to Say That This Country's People Are on Their Own, All Hell Is About to Break Loose …
This "mystery" of lawlessness is the force of evil, working through financiers, governors, majors, and other politicians. There is a demonic force at work behind all of this – – the hijacking of the Covid-19 virus to create a pandemic of fear, the destruction of economies around the world to remove security and life support from millions, and now the violent protests designed to flame the fires of hatred among people.
This is the work of the evil one, pure and simple. As Jesus said, he is a liar and the father of lies. He is the destroyer, and wants to rule the world through the power of an "anti-Christ" – a one-world ruler. He knows that his time is short, and that the Messiah Jesus is coming and will one day consume him with the "breathe of His mouth". He will soon be revealed as a calm and confident individual, charismatic even, one who promises to restore order and bring peace to the nations. This is the "great deception" that is spoken of in the Bible: see 2 Thessalonians 2:11, which predicts that God will, in an end-times judgment, send "a powerful delusion so that they will believe the lie."
2 Thess 2:11: 11 "Therefore God sends them a strong delusion, so that they may believe what is false,
in order that all may be condemned who did not believe the truth but had pleasure in unrighteousness."
This great deception is associated with the satanic work of the Antichrist and his "displays of power through signs and wonders that serve the lie" (verse 9).
A federal judge presiding over a major election lawsuit in Georgia on Sunday issued and then reversed an order directing the state to cease and desist wiping or resetting election machines.
"Defendants are ordered to maintain the status quo & are temporarily enjoined from wiping or resetting any voting machines in the State of Georgia until further order of the court," Judge Timothy Batten wrote in an emergency order issued Nov. 29.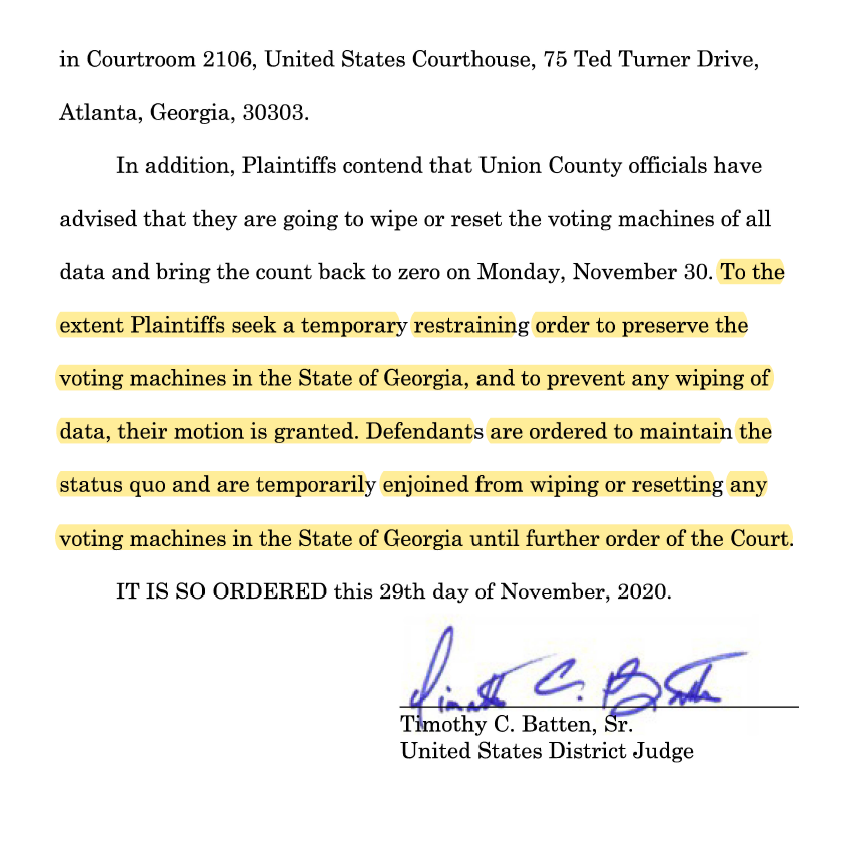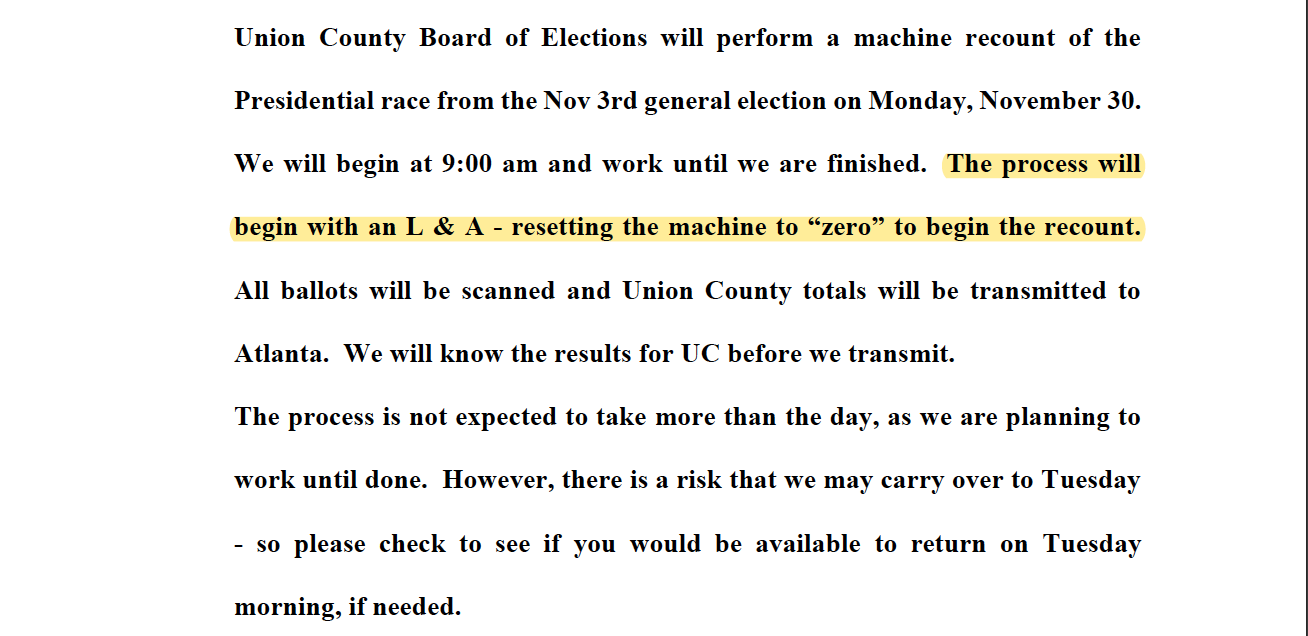 The judge has now reversed the order. PDF via @themarketswork :
The change of course by the judge drew a flabbergasted response from Lin Wood, an attorney associated with the Trump campaign.
"What??? Judge reversed order based on Defendants' claim that GA Counties control voting machines," Wood wrote on Twitter, adding that the machines are owned by the state and that the Georgia secretary of state administers elections.

"Why are GA officials determined to wipe these machines clean [by] resetting them?"
The plaintiffs in the lawsuit on Sunday filed an emergency motion which included an affidavit featuring a Nov. 25 message from an election official stating that the ballot-counting machines would be reset to zero on Monday, Nov. 30, before performing a recount.
"The process will begin with an L & A – resetting the machine to 'zero' to begin the recount," the text of the message stated before describing the specifics of the recount process.
The affidavit was written by a GOP poll worker who says he or she addressed concerns about wiping the machines to the election manager.
"Because the plan on Monday is to wipe the voting machines clean, and start from 0 so that we can recount using those machines, I'm concerned by what I am reading online," the poll worker wrote, according to the affidavit.

"I am seeing lots of notices from lawyers about possibly impounding the machines. Lawyers are now saying that the machines should be confiscated immediately before this happens to protect forensic data. They are saying those machines need to be impounded ASAP. Yikes. Maybe I'm being overly paranoid but let's be sure this is what we're supposed to be doing."
The supervisor responded, "It's what we are supposed to do. It will take a court order to stop this process—so I guess we need to keep watching the news. If we get a court order to stop, we will see it in our SOS information. The issue is, the Atlanta area has already started," the elections manager wrote.
When the poll worker asked if the reset will wipe the forensic info from the machines, the manager said that "Atlanta already did it."
The lawsuit in question is being litigated by Sidney Powell, an attorney who defended former national security adviser Lt. Gen. Michael Flynn. President Donald Trump pardoned Flynn earlier this week. The Trump campaign has said that Powell is not part of its legal team.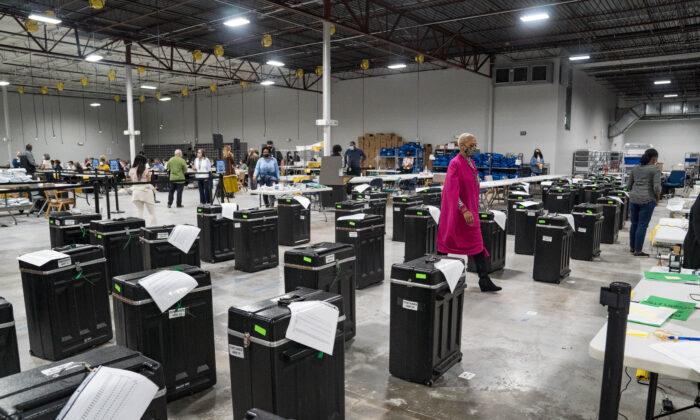 Georgia Republican Party Chairman David Shafer wrote on Twitter after the judge issued the order that election officials in Fulton County were updating the software on voting systems earlier the same day.
"Our Republican recount monitors at the World Congress Center waited today for four hours while Fulton County elections officials 'updated the software.' The explanation given to me—'just the usual Fulton County incompetence'—is completely unacceptable," Shafer wrote on Twitter.
"It is outrageous that we cannot rely on Fulton County elections officials to do their jobs without unexplained four hour delays, interventions by private attorneys and federal court orders."
Receive a daily recap featuring a curated list of must-read stories.
The lawsuit makes a number of allegations regarding the voting machines and software supplied by Dominion Voting Systems, which is used in Georgia and many other states.
The lawsuit cites an affidavit written by a former electronic intelligence analyst under 305th Military Intelligence Battalion, who testified that the software used by the Dominion machines was accessed by agents of malicious actors, such as China and Iran, "in order to monitor and manipulate elections," including the 2020 election.
The suit further alleges that the machines are connected to the internet, even though they aren't supposed to be, and are easily hacked, based on multiple expert declarations. The machines have built-in functions that allow operators to manipulate the results, several experts cited in the lawsuit said.
Dominion has vehemently denied that its machines were used to manipulate vote counts.
"Servers that run Dominion software are located in local election offices, and data never leaves the control of local election officials," the company's website states.
"All U.S. voting systems must provide assurance that they work accurately and reliably as intended under federal U.S. EAC and state certifications and testing requirements. Dominion's voting systems are certified for the 2020 elections."
The truth is, capitalism and free enterprise have proven to be the key to prosperity and reducing Global poverty and inequality… not socialism and welfare.
We've got high courts defying the federal government and constitutionality of the president. This is lawlessness.
Standing up against the Constitution and saying, "no we will not comply"……… we've got state Governors saying, "no we will not comply… we will not obey your law or the constitutional laws." This again is just plain lawlessness.
This supreme act of rebellion against everything that's lawful and everything that's constitutional according to America's founders, shows you the level of lawlessness against a once law abiding people and country that rejected lawlessness and evil, for a higher society of respect and decency.
The facade of a democratic country founded on Democratic principles has now been "unveiled and exposed" for what it really is…. a country that was controlled by the globalists and the corporate elites. Their efforts to move it in that direction even more, was quickly and suddenly derailed when a man named Donald J. Trump was elected to do the will of the American people.
Mainstream media are some of the guiltiest parties, working endlessly in collusion with this new world order globalist mindset to stifle and conceal the evil behind the scenes of these "pedophiles, perverts and luciferian occult members."
Their goal of regaining control they recently had is reaching a point where, even creating a war may be necessary. They have no problem with geoengineering to depopulate this earth and make it more manageable in their opinion. This is so far beyond most people's comprehension.
What does the bible say about lawlessness in the last days? Jesus said, "And because lawlessness will abound, the love of many will grow cold." Matthew 24:12
As we look around us during the first half of 202, we are starting to see lawlessness "abound" How did this happen? A number of log term factors have contributed:
Taking God and His Word (the Bible) out of our schools, public meetings – over the last few decades, there has been a concerted effort to remove the name of God, and to prohibit the name of Jesus being spoken in classrooms across the land.
Educational institutions have been teaching a form of Godless human centered secularism, where law is defined as relative to the individual – "whats right for me, may not be right for you"; and "if it feels good, do it:, or "follow your heart". As a result, people growing up have become self-centered, selfish, and "the love of many has grown cold".
The society has transformed itself into a society of "materialism", where value is determined by the things which one posses. The more one possesses, the more valuable they are – this is what kids are growing up with. And heir parents have become the role models of the religion of materialism The worship of things (idols), instead of the worship of the One True God.
It will end in much sorrow, many deaths and ultimately a planet nearly unlivable for most people with any conscience or heart. We are truly living in a time when lawlessness is increasing and Evil is abounding…..
Source: HNewsWire thinkaboutit HNewsWire HNewsWire HNewsWire HNewsWire
StevieRay Hansen
Editor, HNewsWire.com
Watchmen does not confuse truth with consensus The Watchmen does not confuse God's word with the word of those in power…
Those who pledge their allegiance to the one world ruler will take "the mark of the beast" upon their hard or forehead, so that they will be able to buy & sell and participate in the one-world economic system. There is already some evidence that this "mark" is being prepared and TESTED, so that without this "mark", you will not be able to buy or sell.
Once these things are in place, the "anti-Christ" will have arrived, and all the nations will bow down to him. A final 7 years – the "Tribulation" period – of man's history upon the earth will ensue. A time that Jesus spoke about, which will come upon the whole earth,
The 127 Faith Foundation: We do not want donations from "those on disability, on a fixed income, those that cannot afford to give" Please Pray!
The number of Orphans aging out of Child Protective Custody has grown at an alarming rate. The 127 Faith Foundation receives many requests each week to house them at our ranch. Our prayer is that the good people of our country will step up to the challenge and offer financial support for "the least among us." We need your help! StevieRay Hansen, Founder, The 127 Faith Foundation
We make every effort to acknowledge sources used in our news articles. In a few cases, the sources were lost due to a technological glitch. If you believe we have not given sufficient credit for your source material, please contact us, and we will be more than happy to link to your article.