Advisory: The editorial board of HNewsWire adopted the official policy to bypass many social media platforms. Some of these include: Facebook, Instagram, Twitter, Parler, and YouTube. We believe these companies are responsible for many of the spiritual ills our world faces today. In some cases, however, we have allowed our guest contributors to include content from their YouTube channel while we search for alternatives.
The People You Trusted, You-tube, Facebook, Twitter, and the Majority of Mainstream Media and the Elected Officials Are Now the Enemy With-In, They Are Working Hand in Hand With Your New Handlers, The New World Order…
Summary:
Illinois reports record jump in deaths
WHO's Ryan says virus risks becoming 'endemic'
Spain says 5% of population infected by the virus
NJ gov says state will partially reopen Monday
Washington DC reopening pushed to June 8
NY reports jump in new cases for first time in 5 days
NY deaths decrease slightly day-over-day
US set to extend travel restrictions on Canada & Mexico borders
UK releases latest figures
Mexico plans to reopen Monday
Spain won't reopen borders to most foreigners until at least July
VW 'pauses' manufacturing of VW Golf, SUVs
China imposes 'partial lockdown' on northeastern border city
SK's 'Itaewon' cluster climbs to 120
Germany, Austria agree to reopen mutual border
Global cases: 4.22 million
Global deaths: 291,519
Poland reports record jump in new cases
Russia sees numbers start to slow after shocking record run of confirmations
* * *
Update (1700ET): A day after news out of LA County about an extension of its reopening timeline sent stocks sliding into the close, the LA Times reports that LA County has issued a new "Stay at Home" order with no end date.
However, Los Angeles County businesses on Wednesday continued to reopen as officials eased restrictions by allowing thousands of retail shops and manufacturing companies to reopen with certain limitations. The extension of the order really means that the timeline for a return to "normal" – the long-term end date for when consumption and productivity at certain businesses can rebound closer to full capactiy – could potentially be expanded for months.
Though, if NJ Gov Murphy's big U-turn from earlier today is any indication, LA County might be offering some caveats and clarifications offering a more expeditious timeline for reopening.
* * *
Update (1530ET): As data showing state pension funds booked their worst quarter of losses ever during Q1, Illinois Gov. JB Pritzker, the latest in a line of billionaire governors who have tried – and failed – to rectify the state's myriad financial problems, announced that the state saw a record number of deaths yesterday, according to data released Wednesday afternoon by state public health officials.
ILLINOIS SEES 192 MORE VIRUS DEATHS, LARGEST 1-DAY INCREASE
Watch the rest of his briefing below:
Governor JB Pritzker✔@GovPritzker
5/13: COVID-19 Daily Briefing https://twitter.com/i/broadcasts/1BRJjQQRelwGw …COVID-19 Daily BriefingGovernor JB Pritzker @GovPritzker72Twitter Ads info and privacy206 people are talking about this
* * *
Update (1430ET): During Wednesday's press briefing, the WHO's Dr. Mike Ryan warned that the coronavirus might become "endemic", bouncing around the population like HIV or a supercharged version of the common cold until a vaccine can be mass produced. He added a warning against all predictions about how long the virus will keep circulating.
Dr. Ryan also urged the world to undertake a massive effort to eradicate it, to which we say…dude, really?
"It is important to put this on the table: this virus may become just another endemic virus in our communities, and this virus may never go away," WHO emergencies expert Mike Ryan told an online briefing.

"I think it is important we are realistic and I don't think anyone can predict when this disease will disappear," he added. "I think there are no promises in this and there are no dates. This disease may settle into a long problem, or it may not be."

[…]

WHO Director General Tedros Adhanom Ghebreyesus added: "The trajectory is in our hands, and it's everybody's business, and we should all contribute to stop this pandemic."

Ryan said "very significant control" of the virus was required in order to lower the assessment of risk, which he said remained high at the "national, regional and global levels".
There are currently more than 100 vaccines in development, including projects like Moderna's that seem to have found favor at the FDA.
Dr. Ryan's comment – which isn't exactly a new theory – is really only notable because it follows Dr. Fauci's warning before the Senate that a premature reopening risks igniting a second-wave of the virus.
In other news, South Korea just confirmed 26 new cases of coronavirus, 4 of which were imported, on Wednesday, with 18 of them purportedly linked to the nightclub cluster.
Seoul has ordered more than 2,000 clubs and bars to close again after the cluster of roughly 140 cases was discovered.
In Japan, Shinzo Abe said the country is making great progress as the number of new infections as plunged in recent days. The PM signaled that he could lift the country's state of emergency order within a week.
* * *
Update (1340ET): As more states and countries conduct random testing using the notoriously unreliable antibody tests that are flooding the market, the Spanish government has just announced the results of its first test, which found that 11% of the Madrid residents tested came back positive for virus antibodies.
Testing positive for the antibodies means you were likely infected by the virus (unless it's a false positive, which are rarer unfortunately than false negatives), or were infected, but didn't show any symptoms of COVID-19 (the disease caused by the novel coronavirus).
INITIAL DATA FROM SPAIN'S NATIONAL CORONAVIRUS ANTIBODY STUDY SHOWS ABOUT 5% OF POPULATION HAVE BEEN EXPOSED TO VIRUS, WITH MADRID AT 11%, SORIA AT 14%
We were surprised: Considering initial rounds of antibody surveillance in NYC found that more than 1/5th of residents have been infected.
* * *
Update (1310ET): Less than a day after he whined during his daily press briefing about having the worst mortality rate from the virus in the country (he doesn't), NJ Gov Phil Murphy has on Wednesday seemingly taken a major u-turn, moving ahead with a plan to partially reopen the state on Monday after pledging to wait for more testing.
Specifically, the state will allow construction workers and more 'non-essential' retail workers to report to work, with shoppers able to shop via 'curbside' pickup. We'll let the governor tell you more himself:Governor Phil Murphy✔@GovMurphy
Holding a COVID-19 briefing. WATCH:
https://www.pscp.tv/w/cYrNsDFvTlFscGRXQVd6UXd8MW5BS0VkWURSRVh4TEVwSJh7ZFZvt3WY6WRbbGNQ9o2jhIy7CXyFdrfzcbKY …Governor Phil Murphy @GovernorPhilMurphyHolding a COVID-19 briefing. WATCH:pscp.tv45Twitter Ads info and privacy74 people are talking about this governor Phil Murphy✔@GovMurphy
Today, I will sign an Executive Order, effective 6:00 AM Monday, May 18, 2020:


Allow the restart of non-essential construction


Allow non-essential retail stores to reopen for curbside pickup only


Permit drive-through and drive-in events under social distancing guidelines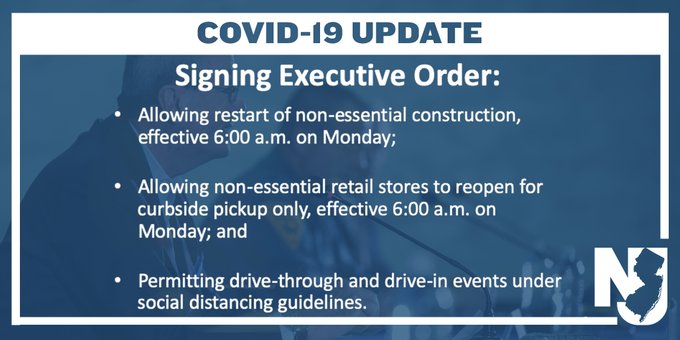 1,463Twitter Ads info and privacy704 people are talking about thisGovernor Phil Murphy✔@GovMurphy
Data shows that we are ready to begin to restart our economy. From the peak:


New hospitalizations down 2/3


Total hospitalizations down nearly 1/2


Patients in ICU are down


Patients on ventilators down


Positive cases down nearly 70%


Deaths have decreased more than 1/3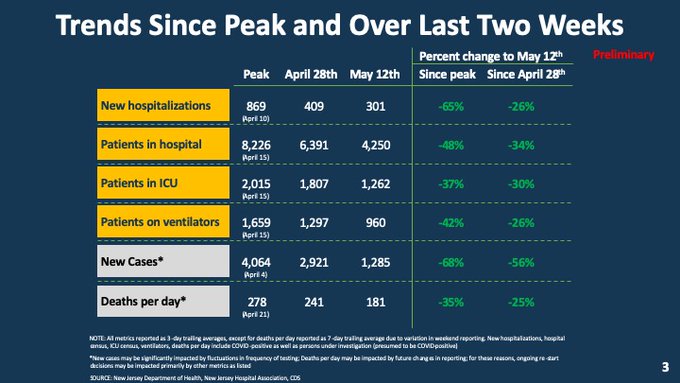 441Twitter Ads info and privacy191 people are talking about thisGovernor Phil Murphy✔@GovMurphy
LOOK: Let's not forget where we were only six weeks ago, when we first shared our worst-case projections. We were preparing for upward of 36,000 hospitalizations, 9,000 New Jerseyans in the ICUs and 7,500 on ventilators. Because of your hard work, reality never came close.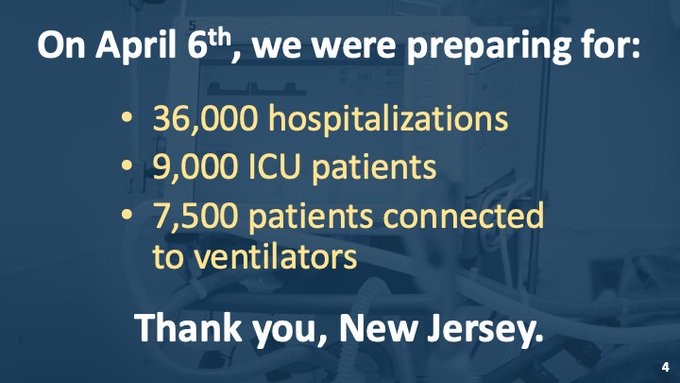 214Twitter Ads info and privacy73 people are talking about thisGovernor Phil Murphy✔@GovMurphy
DATA DETERMINES DATES. The data we are seeing gives us confidence that we can begin the restart of our economy – to get people back to work, and set the stage for the steps to come.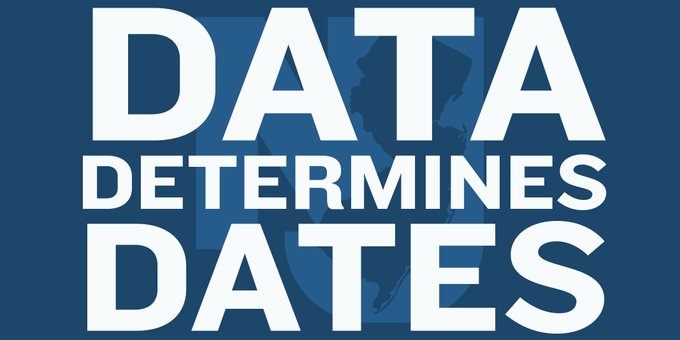 174Twitter Ads info and privacy99 people are talking about this
Yesterday, Murphy laid out a plan to use state money to significantly boost its testing and tracing capacity as he faces mounting pressure from the state's business community to start the reopening process sooner rather than waiting out of what critics said was a misguided sense of caution. The state has already hired nearly 1k contact tracers.
Murphy also reported a slowing in deaths in long-term care homes, as well as a slowdown in deaths and hospitalizations overall.Governor Phil Murphy✔@GovMurphy
Sadly, today we report another 197 deaths from COVID-19 complications. Our statewide total now stands at 9,702.

Together, we mourn each of these losses, members of our New Jersey family, and our hearts are with their friends and loved ones.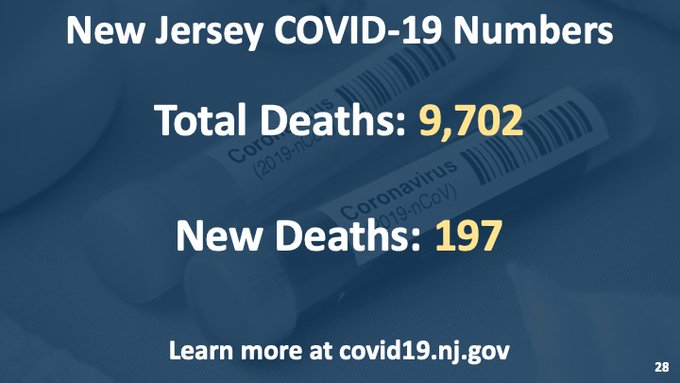 97Twitter Ads info and privacy65 people are talking about this
Meanwhile, Washington DC is extending its lockdown until June 8 as Mayor Muriel Bowser insists that more testing is needed before the city can reopen. With markets deep in the red thanks to reopening anxieties stoked by a couple of "big rich guys", will NJ's reopening push have the opposite effect of Tuesday afternoon's report about LA County's reopening plans?
Additionally, NJ has reported nearly 2 dozen cases of the mysterious respiratory syndrome seen in patients in NYC and UK. Fortunately, none of the children have died, though only 4 have tested positive for COVID-19.
FOUR OF YOUNG KAWASAKI DISEASE PATIENTS HAVE COVID-19
N.J. CONFIRMS 18 CHILDREN WITH INFLAMMATORY DISEASE
DISEASE IN N.Y. CHILDREN NOW TAKING HOLD IN NEW JERSEY
* * *
Update (1300ET): The rest of NY's daily data have been released, and they offered evidence that the number of new cases accelerated for the first time in 5 days, after deaths moved marginally lower.
NEW YORK ADDS 2,176 VIRUS CASES, UP AFTER FIVE DAY DECLINE
NEW YORK GOVERNOR CUOMO SAYS 14 OTHER U.S. STATES ARE NOW INVESTIGATING CASES OF RARE INFLAMMATORY SYNDROME IMPACTING CHILDREN LINKED TO COVID-19
CUOMO: NOT READY TO SAY WHAT SCHOOLS SHOULD BE DOING IN SEPTEMBER
* * *
Update (1145ET): France is one of the slower-moving western European states when it comes to reopening. But in a sign of just how desperate Europeans are for outdoor exercise, the AFP shares a video of the streets of Paris flowing with bikers, skateboarders and others on the third day of gradually lifting the lockdown.
Privacy fears: Washington State will force restaurants to keep customer logs to help with virus contact tracing | Just The News
Washington State will force restaurants to keep customer logs to help with contract tracingThe establishments will have to keep the logs for 30 days.justthenews.com
This Is All They Got
They thought nothing of shattering business confidence, violating contractual rights, wrecking tens of millions of lives, prohibiting freedom in association, tanking the stock market, blowing all budgets, shutting down international travel, and even closing the churches. Amazing. Every government executive except a few became a tin-pot dictator and so we will give credit where credit is due, mainstream media and especially high tech, Twitter, Facebook, you know the list of tyrants that are turning this country into hell on earth. Enjoy…
The World Is In Big Trouble, for Those That Believe We Will Go Back to Some Sense of Normal Life Here on Earth, You Will Be Sadly Disappointed, Seven and Half Years of Hell on Earth Which Began January 1, 2020
"Our courts oppose the righteous, and justice is nowhere to be found. Truth stumbles in the streets, and honesty has been outlawed" (Isa. 59:14, NLT)…We Turned Our Backs On GOD, Now We Have Been Left To Our Own Devices, Enjoy…
While Mainstream Media Continues to Push a False Narrative, Big Tech Has Keep the Truth From Coming out by Shadow Banning Conservatives, Christians, and Like-Minded People, Those Death Attributed to the Coronavirus Is a Result of Those Mentioned, They Truly Are Evil…
StevieRay Hansen
Editor, HNewsWire.com
Watchmen does not confuse truth with consensus The Watchmen does not confuse God's word with the word of those in power…
In police-state fashion, Big Tech took the list of accused (including this site), declared all those named guilty and promptly shadow-banned, de-platformed or de-monetized us all without coming clean about how they engineered the crushing of dissent, Now more than ever big Tech has exposed there hand engaging in devious underhanded tactics to make the sinister look saintly, one of Satan's greatest weapons happens to be deceit…
The accumulating death toll from Covid-19 can be seen minute-by-minute on cable news channels. But there's another death toll few seem to care much about: the number of poverty-related deaths being set in motion by deliberately plunging millions of Americans into poverty and despair.
American health care, as we call it today, and for all its high-tech miracles, has evolved into one of the most atrocious rackets the world has ever seen. By racket, I mean an enterprise organized explicitly to make money dishonestly.
All the official reassurances won't be worth a bucket of warm spit. The Globals are behind the CoronaVirus, It Is a Man-Made Bioweapon.
The 127 Faith Foundation: We do not solicit donations from "those on disability, on a fixed income, or those who cannot afford to give." Please Pray!
Or, make checks payable to:
The 127 Faith Foundation
PO Box 127
Pontotoc, TX 76869
The number of Orphans aging out of Child Protective Custody has grown at an alarming rate. The 127 Faith Foundation receives many requests each week to house them at our ranch. Our prayer is that the good people of our country will step up to the challenge and offer financial support for "the least among us." We need your help! StevieRay Hansen, Founder, The 127 Faith Foundation
We make every effort to acknowledge sources used in our news articles. In a few cases, the sources were lost due to a technological glitch. If you believe we have not given sufficient credit for your source material, please contact us, and we will be more than happy to link to your article.