Advisory: The editorial board of HNewsWire adopted the official policy to bypass many social media platforms. Some of these include: Facebook, Instagram, Twitter, Parler, and YouTube. We believe these companies are responsible for many of the spiritual ills our world faces today. In some cases, however, we have allowed our guest contributors to include content from their YouTube channel while we search for alternatives.
to Submit to the Ungodly One World Government…
Summary:
LA County will drag out reopening for 3 months…
Germany, France agree to open mutual border
NY reports surprising jump in deaths
Cali reports jump in cases, deaths
NYC says more children infected with mysterious syndrome
Italy, UK report latest numbers
IMF to cut global outlook again
Russia overtakes UK to become world's 2nd-biggest outbreak
South Korea uses surveillance tech to confirm 100 cases linked to gay bar outbreak
UK finds 4/10 COVID-19 deaths linked to care homes
Wuhan begins latest mass testing push
China Health Commission says Wuhan cluster shows "prevention and control measures cannot be relaxed"
57k students return to school in Wuhan
Moderna wins approval for expedited testing, review from FDA
Aussie Treasurer tests positive as reopening continues
Treasury releases details on $150 billion fund to reimburse states for 'rona-related expenses
* * *
Update (1520ET): Los Angeles County's stay-at-home order will likely remain in effect through July until early or even mid-August, public health director Barbara Ferrer said Tuesday.
Amid a raging debate over extending the county's eviction moratorium, public health director Ferrer told the county's Board of Supervisors Tuesday that officials are eyeing "with all certainty" an extension of stay-at-home efforts for at least another three months, the Los Angeles Times reports.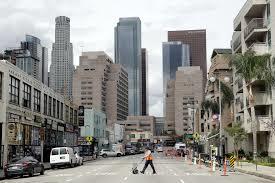 Los Angeles County last week loosened some stay-at-home rules, reopening some trails and allowing some retail stores to begin curbside services with social distancing. But Ferrer warned Tuesday that further loosening of the rules will be slow.
Ferrer said that would only change if there was a "dramatic change to the virus and tools at hand."

"Our hope is that by using the data, we'd be able to slowly lift restrictions over the next three months," she said. But without widely available therapeutic testing for the coronavirus or rapid at-home tests that would allow people to test themselves daily, it seems unlikely that restrictions would be completely eased.

Ferrer's comments came shortly after Dr. Anthony Fauci, the nation's top infectious disease expert, warned Congress that states that push too quickly to ease orders could undo progress that would trigger an outbreak. Fauci said a 14-day decline in cases is the major checkpoint that states should be using as a guideline for reopening efforts.

In L.A. County, confirmed cases and deaths have continued to rise, even as other regions have seen a decline. However, on Wednesday, beaches in the county are set to reopen, just days after the county lifted restrictions on hiking trails, parks and golf courses and allowed curbside pickup at nonessential businesses.
So while they're not taking a step back, LA County has signaled it will reopen as slowly and cautiously as the mood of the public would probably allow. No doubt, millions of Angelenos just groaned at the sight of that headline.
The news certainly didn't help assuage the market's anxieties.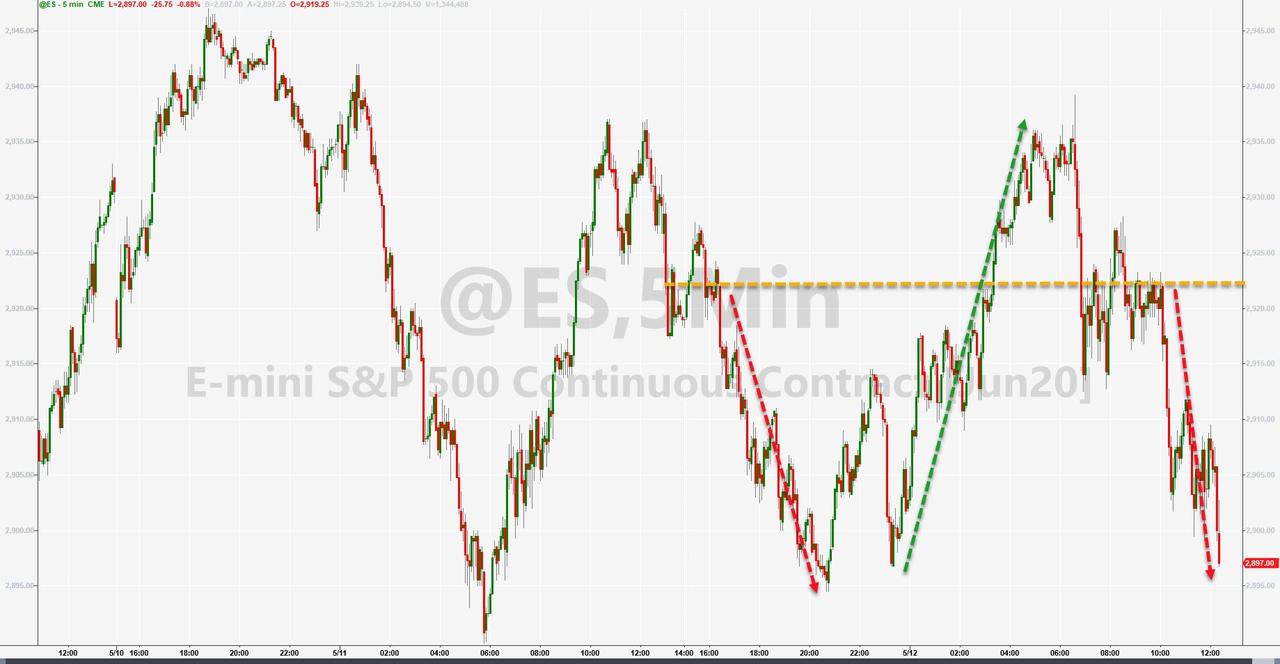 * * *
Update (1450ET): In a gesture of solidarity as Germany presses forward with reopening while France treads ever-so-carefully forward, the two European heavyweights agreed to open their mutual border, even as Brussels remains on track to leave the EU's external borders – blocking all who are not EU citizens living in the Schengen zone.
* * *
Update (1430ET): NJ has reported fewest new cases in six weeks as Gov Phil Murphy whines that his state has the worst outbreak in the country.
N.J. SEES FEWEST NEW VIRUS CASES IN MORE THAN SIX WEEKS
Governor Phil Murphy✔@GovMurphy
NEW: We've received 898 new positive #COVID19 test results, bringing our statewide total to 140,743.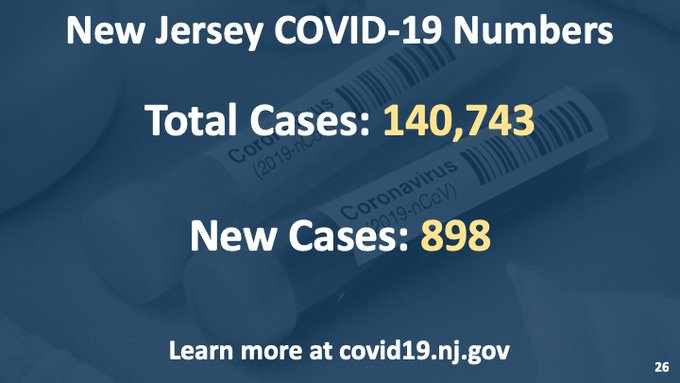 201Twitter Ads info and privacy114 people are talking about thisGovernor Phil Murphy✔@GovMurphy
Sadly, we've lost 198 more New Jerseyans to #COVID19.

We've now lost 9,508 blessed souls to this virus.

In their honor, we will battle this virus and win.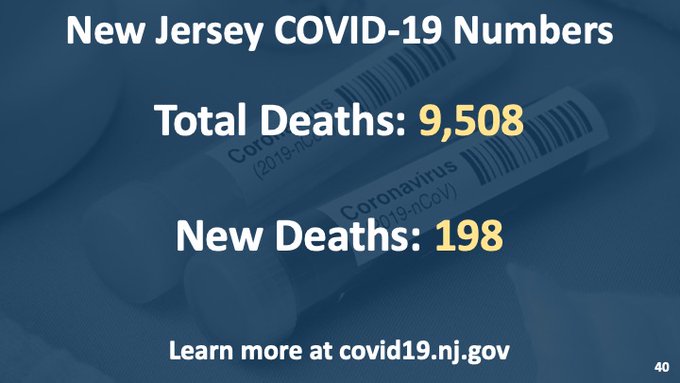 108Twitter Ads info and privacy99 people are talking about this
Overall hospitalizations are on the decline.Governor Phil Murphy✔@GovMurphy
Yesterday there were 360 new #COVID19 hospitalizations and 164 live discharges.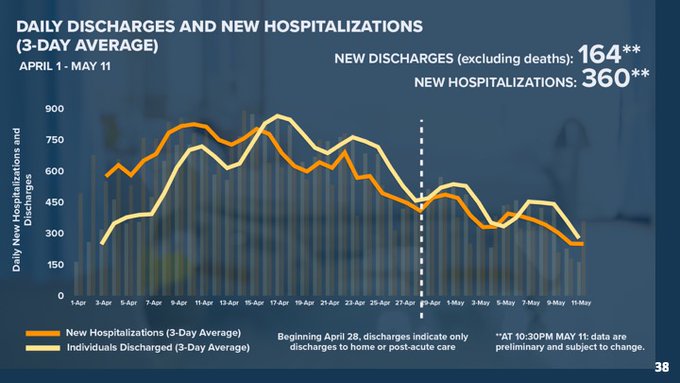 68Twitter Ads info and privacy33 people are talking about this
Though the number of the patients in critical condition increased slightly overnight, the trend remains unequivocally lower.Governor Phil Murphy✔@GovMurphy
LOOK:


The number of patients reported in either critical or intensive care increased by 51 over Sunday to 1,306


Ventilator use currently stands at 982 – an increase by 12 from Sunday
69Twitter Ads info and privacy44 people are talking about this
Funny, we always hear Democratic governors bash Trump when they're complaining about how dire the situation has become, but we never hear them mention the president when they're celebrating major milestones while they push to delay a reopening.
Murphy has been making a big deal about being "still the most impacted state in America" and insisting that the city delay its reopening even further.
* * *
Update (1400ET): Here we go.
NY Cuomo as expected bashed the White House during Tuesday's press briefing, claiming that NY alone will require more than $60 billion in federal aid to help offset the immense cost of the coronavirus outbreak in what has been America's most hard-hit state.Andrew Cuomo✔@NYGovCuomo
Holding a briefing with updates on #Coronavirus. Watch Live: https://www.pscp.tv/w/cYmEhTIyNjcxMDN8MWxER0xncGxWUXZLbYVB9Nhj3z2ZA2XYJFEOkuhSHQhEoNhAXe4EgADT9ndn …Andrew Cuomo @NYGovCuomoHolding a briefing with updates on #Coronavirus. Watch Live:pscp.tv1,056Twitter Ads info and privacy492 people are talking about this
The White House earlier said it would approve roughly 3x that number in funds to be divided among all 50 states as well as the US territories.
Meanwhile, NY reported a surprising jump in deaths. New York State COVID-19 deaths were +0.9% (+195) to 21,834 (Prev. +0.7% (+161) at 21,640). And while NJ Gov Phil Murphy whined about NJ having the worst outbreak in the US, the data showed deaths per million in NY=1,388. In NJ=1,052. Average for US ex-NY+NJ? 150.
Even still, more parts of the state met more criteria for reopening.Thomas Dimopoulos@thomdimopoulos
One step closer #Saratoga. Gov. #Cuomo Tues: The Capital Region in New York changed overnight.
The metric hit is 14-day decrease in hospitalizations o/r <15 new hospitalizations.
(The one metric that remains is 14-day decline in hospital deaths o/r < 5 deaths).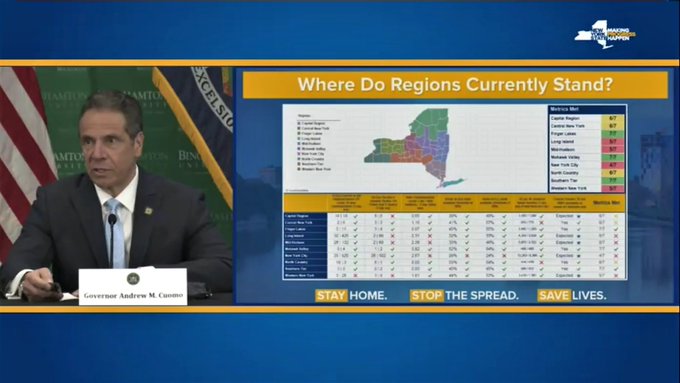 1Twitter Ads info and privacySee Thomas Dimopoulos's other Tweets
This follows a CDC report claiming deaths in NYC alone might have been undercounted by 5k. Cuomo also said NY lawmakers would proposal a law requiring large companies receiving federal bailout money must rehire the same number of employees they had before the virus arrived.
Cuomo added that the State Health Department would prioritize testing for children with symptoms of a mysterious COVID-19 linked syndrome.
Cali saw new cases and deaths climb as well as more businesses in LA County reopen and Riverside County lifts its stay at home order.
CALIFORNIA VIRUS CASES CLIMB 2.1% TO 69,382; DEATHS RISE 2.8%
Were most of today's cases in Freemont?
* * *
Update (1210ET): Italy and the UK have reported their numbers for Tuesday.
Italy reported a drop in ICU patients below 1k for the entire country, while the number of new deaths cases and hospitalizations continued to decline.Mark Lowen✔@marklowen
Today's #Italy numbers (delayed – so here's a pic of Rome's palm trees to keep you happy): 172 deaths, lower than yesterday. Current infections fall by 1222, total cases up by 0.64% (a bit higher than y'day but 27k more tests). ICU occupancy down again, 2452 recovered. Progress.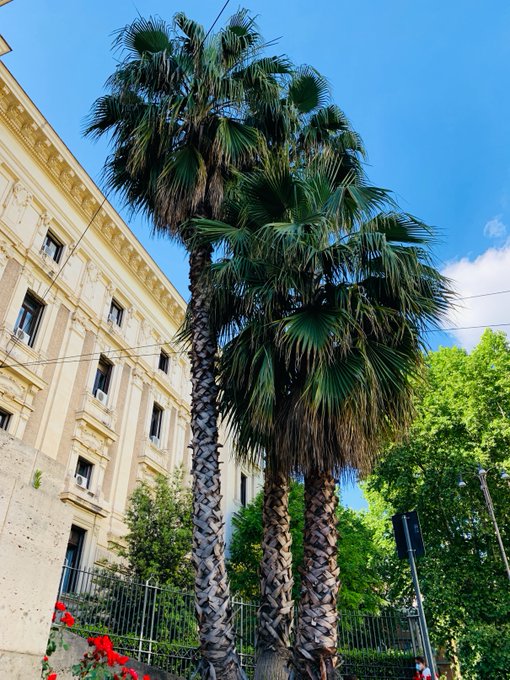 140Twitter Ads info and privacy31 people are talking about this
TOTAL NUMBER OF CONFIRMED CASES OF CORONAVIRUS IN ITALY RISES BY 1,402 TO 221,216 – OFFICIAL
ITALY DEATH TOLL FROM CORONAVIRUS OUTBREAK RISES BY 172 (VS 179 ON MONDAY) TO 30,911 – OFFICIAL
Watkanjijdoen@Watkanjijdoen1Replying to @VanderEijk
NEW: NYC now has 52 confirmed cases of multi-system inflammatory syndrome;
*10 more children being evaluated
*25 tested positive for coronavirus
•22 positive for antibodies
* 1 child has died.

"They continue to grow, & that's why we are really concerned," Mayor de Blasio2Twitter Ads info and privacySee Watkanjijdoen's other Tweets
And the UK reported a still-uncomfortably-high 600+ deaths.Department of Health and Social Care✔@DHSCgovuk
As of 9am 12 May, there have been 2,007,146 tests, with 85,293 tests on 11 May.

1,460,517 people have been tested of which 226,463 tested positive.

As of 5pm on 11 May, of those tested positive for coronavirus, across all settings, 32,692 have sadly died.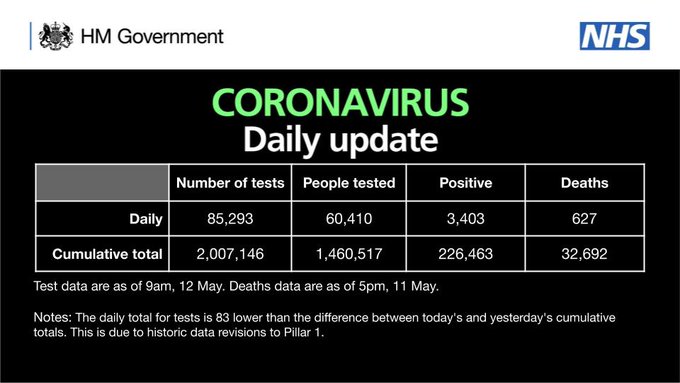 815Twitter Ads info and privacy827 people are talking about this
NYC Mayor Bill de Blasio also released some more disheartening info on the mysterious new syndrome plaguing children in Europe and the New York area.Watkanjijdoen@Watkanjijdoen1Replying to @VanderEijk
NEW: NYC now has 52 confirmed cases of multi-system inflammatory syndrome;
*10 more children being evaluated
*25 tested positive for coronavirus
•22 positive for antibodies
* 1 child has died.

"They continue to grow, & that's why we are really concerned," Mayor de Blasio2Twitter Ads info and privacySee Watkanjijdoen's other Tweets
California reported a jump in new cases and deaths as LA County opens more beaches and Riverside County reports a rise in cases after allowing a 'Stay at Home' order to expire.
The LA Times described Southern California and LA County specifically as taking "small steps" back toward normalcy.
CALIFORNIA VIRUS CASES CLIMB 2.1% TO 69,382; DEATHS RISE 2.8%
Are all of those in Fremont?
* * *
Update (1100ET): The IMF is preparing to downgrade its forecast for global growth once again, saying the picture over the near term has deteriorated further since its last update a month ago. According to the FT, Kristalina Georgieve, managing director of the IMF, said on Tuesday that the IMF would release "sometime in June" a downward revision of its outlook for the global economy published on April 14, which predicted a contraction of 3% in global GDP, with emerging and developing economies contracting by 1% and advanced economies by a whopping 6%.
"With the crisis still spreading, the outlook is worse than our already pessimistic projection," she said in an interview during the FT's Global Boardroom online conference. "Without medical solutions on a global scale, for many economies a more diverse development is likely."
Unsurprisingly, the downgrade comes as more member states reach out to the IMF for help as falling commodity prices and the immense burden of dealing with the virus sink their economies.
* * *
Update (1050ET): Dr. Fauci's testimony before the Senate "HELP" Committee is the big coronavirus news of the morning, along with comments from GOP Senator Lamar Alexander, who became the first GOP lawmaker to break with Trump over-testing. Alexander insisted the US doesn't yet have enough testing capacity to accelerate reopening.
The World Is In Big Trouble, for Those That Believe We Will Go Back to Some Sense of Normal Life Here on Earth, You Will Be Sadly Disappointed, Seven and Half Years of Hell on Earth Which Began January 1, 2020
"Our courts oppose the righteous, and justice is nowhere to be found. Truth stumbles in the streets, and honesty has been outlawed" (Isa. 59:14, NLT)…We Turned Our Backs On GOD, Now We Have Been Left To Our Own Devices, Enjoy…
While Mainstream Media Continues to Push a False Narrative, Big Tech Has Keep the Truth From Coming out by Shadow Banning Conservatives, Christians, and Like-Minded People, Those Death Attributed to the Coronavirus Is a Result of Those Mentioned, They Truly Are Evil…
Whatever dangerous practices you allow the government to carry out now—whether it's in the name of national security or protecting America's borders or making America healthy again—rest assured, these same practices can and will be used against you when the government decides to set its sights on you.
The war on drugs turned out to be a war on the American people, waged with SWAT teams and militarized police.
The war on terror turned out to be a war on the American people, waged with warrantless surveillance and indefinite detention.
The war on immigration turned out to be a war on the American people, waged with roving government agents demanding "papers, please."
This war on COVID-19 will be yet another war on the American people, waged with all of the surveillance weaponry at the government's disposal: thermal imaging cameras, drones, contact tracing, biometric databases, etc.
StevieRay Hansen
Editor, HNewsWire.com
Watchmen does not confuse truth with consensus The Watchmen does not confuse God's word with the word of those in power…
In police-state fashion, Big Tech took the list of accused (including this site), declared all those named guilty and promptly shadow-banned, de-platformed or de-monetized us all without coming clean about how they engineered the crushing of dissent, Now more than ever big Tech has exposed there hand engaging in devious underhanded tactics to make the sinister look saintly, one of Satan's greatest weapons happens to be deceit…
The accumulating death toll from Covid-19 can be seen minute-by-minute on cable news channels. But there's another death toll few seem to care much about: the number of poverty-related deaths being set in motion by deliberately plunging millions of Americans into poverty and despair.
American health care, as we call it today, and for all its high-tech miracles, has evolved into one of the most atrocious rackets the world has ever seen. By racket, I mean an enterprise organized explicitly to make money dishonestly.
All the official reassurances won't be worth a bucket of warm spit. The Globals are behind the CoronaVirus, It Is a Man-Made Bioweapon.
The 127 Faith Foundation: We do not solicit donations from "those on disability, on a fixed income, or those who cannot afford to give." Please Pray!
Or, make checks payable to:
The 127 Faith Foundation
PO Box 127
Pontotoc, TX 76869
The number of Orphans aging out of Child Protective Custody has grown at an alarming rate. The 127 Faith Foundation receives many requests each week to house them at our ranch. Our prayer is that the good people of our country will step up to the challenge and offer financial support for "the least among us." We need your help! StevieRay Hansen, Founder, The 127 Faith Foundation
We make every effort to acknowledge sources used in our news articles. In a few cases, the sources were lost due to a technological glitch. If you believe we have not given sufficient credit for your source material, please contact us, and we will be more than happy to link to your article.