Red Horse In Play: Mandatory Kill Shots (Vaccines) Are Coming 2022, and People Are Going to Get Nasty Real Nasty. New COVID Bill Fines Parents for Unvaxxed Kids and Doubles Income Taxes — Mayhem
HNewsWire: Residents who reject the vaccination and its booster doses would be subject to penalties and will pay extra income tax unless they qualify for an exemption under COVID-19, a ridiculous measure introduced by extreme communist Road Island Senator Samuel W. Bell.
On March 1, Bell presented Senate Bill S2552 in the state of Rhode Island. At the time of writing, the bill has not yet been signed into law, but it is now being reviewed by the Senate Committee on Health and Human Services.
S2552 mandates that qualified Rhode Island citizens be immunized against the COVID virus before they may vote. They risk a $50 monthly fee as well as twice the state income tax if they refuse the offer. There are additional sanctions that may be enforced on parents of unvaccinated children under the age of sixteen who fail to vaccinate their children. The following is the text of the bill:
Residents sixteen (16) years of age and older would be required to get vaccinated against COVID-19 under the terms of this legislation. It would be necessary for a resident to be inoculated against COVID-19 if the resident is under the age of sixteen (16), with the burden for ensuring compliance resting on all parents or guardians who have medical consent powers.
In addition, anybody who breaches this chapter will be subject to a monthly civil penalty of fifty dollars ($50.00) and will owe double the amount of personal income taxes that they owed in the previous year.
In an interview with the Boston Globe, Bell discussed the legislation:
"The reason I presented the bill is because we are in a state of emergency due to the epidemic."
"There have been tens of thousands of deaths in Rhode Island. I've had a number of heartbreaking phone calls from people who are unable to go to the shop because they are immuno-compromised, who have lost loved ones as a result of the epidemic, who are really sick and have not completely recovered, and who are suffering long-term consequences."
Adults being subjected to penalties and increased taxes for not getting vaccinated, or even for not vaccinating their children, is a tremendous overreach by the government. Furthermore, the vaccination does not come without risks, particularly for youngsters.
The virologist and immunologist Dr. Robert Malone, who has made significant contributions to the development of mRNA vaccines, has stated: "Think again before you immunize your children. Because if anything awful occurs, you can't go back and say, "oops, I made a mistake, I want a second chance."
Bell has received a great deal of criticism for introducing the legislation. He shared an email he got from a disgruntled Rhode Islander on Twitter.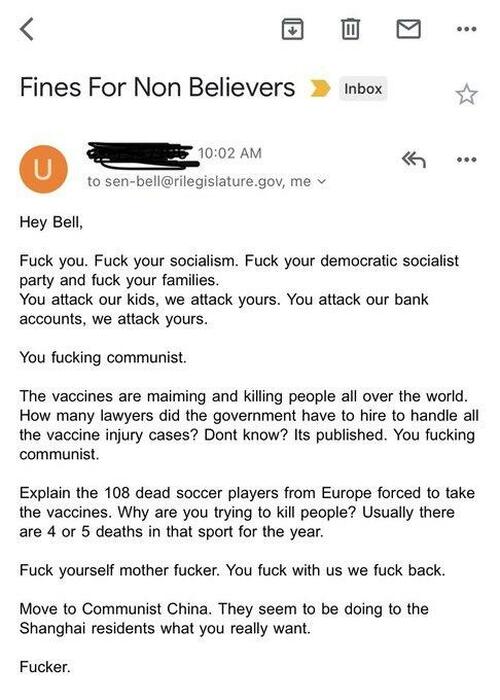 SRH: Hard Lockdown Coming This Fall, Mandatory Kill Shots Vaccines: Satan Soldier Known Lair Fauci Says It's Likely U.S. Will See a Surge in Coronavirus Cases in the Fall.
The U.S. is likely to see a big rise in Coronavirus cases in the fall, says Dr. Fauci. Coronavirus cases are likely to rise in the fall again this year, says Fauci, President Biden's chief medical adviser and head of the National Institute of Allergy and Infectious Diseases, on Bloomberg TV on Wednesday. He says that's likely to happen again.
A transcript looks like this:
DAVID WESTIN: I don't know what to say. It looks like the last few falls. I didn't even know about falls and pandemics until COVID came along. Then I learned that you have to be careful because we all go back inside and the transmissibility goes up when we do that. No, we don't think so. Should we be ready for October?
There is a good chance that we will see a big rise in the fall. Again, when we talk about these things, this virus is new to us. Someone who has had a lot of experience with the flu or other infections for a long time can figure out what they might see. I think we're going to see a rise in the number of cases as the fall comes around.
Will Putin Fulfill Biblical Prophecy and Attack Israel?