Threshold Against Covid-19 May Be Lower Than Believed: Researchers…
Herd immunity to COVID-19, the disease caused by the CCP virus, could be achieved with fewer people being infected than previously estimated, new research suggests.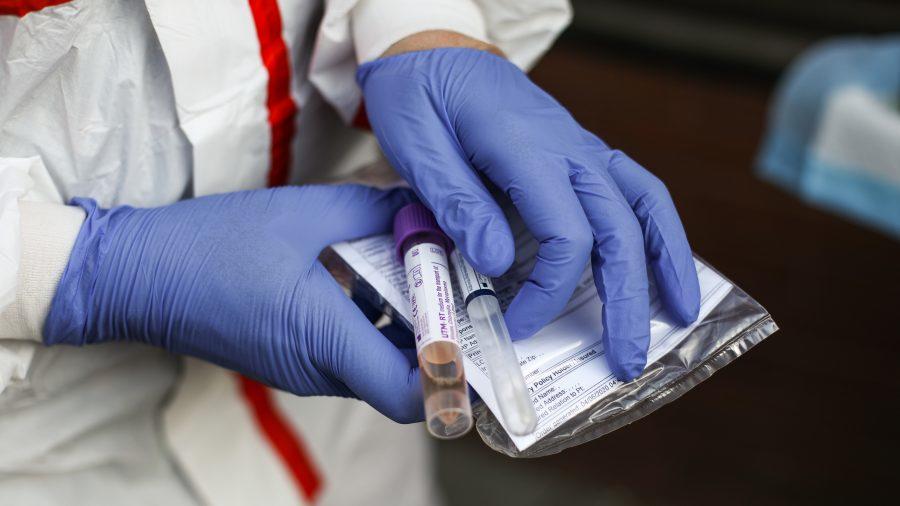 According to an Oxford University study (pdf), the herd immunity threshold (HIT) may be lower than previous estimates because many people may already be innately immune to COVID-19—without ever having caught the disease.
A team of researchers from the University of Oxford's Zoology Department, led by Professor Sunetra Gupta, produced a model that suggests as little as 20 percent of the population may need to be resistant to the virus to prevent a resurgence of an epidemic.
The study, which was published on July 16, is yet to be peer-reviewed.
"It is widely believed that the herd immunity threshold required to prevent a resurgence of SARS-CoV-2 is in excess of 50 percent for any epidemiological setting," the paper says.
The researchers suggest that many people may have already built up some degree of resistance to the virus from exposure to seasonal coronaviruses, such as the common cold.
Herd immunity is achieved when enough people in a population have immunity to an infection to be able to effectively stop that disease from spreading. It lowers the chances of the virus being transmitted from person to person and reaching those who haven't been infected yet.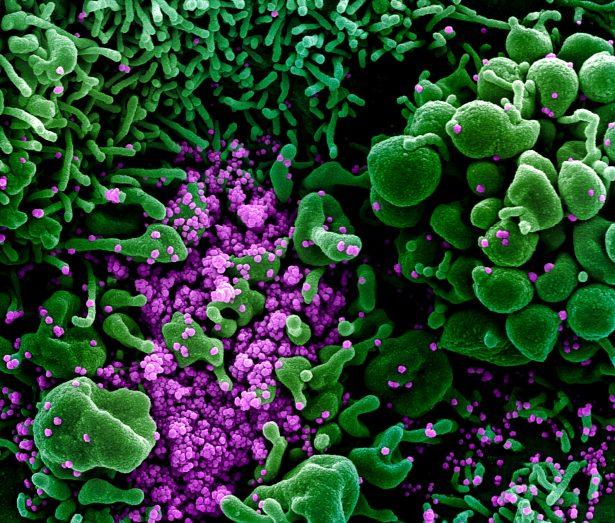 Colorized scanning electron micrograph of cell (green) heavily infected with coronavirus particles (purple), commonly known as SARS-CoV-2 or novel CCP virus, isolated from a patient sample, photo published on March 16, 2020. (NIAID)
People can become immune to certain viruses after surviving infection or being vaccinated. Typically, at least 70 percent of a population must be immune to achieve herd immunity. But how long immunity lasts varies depending on the virus.
"Here, we demonstrate that HIT may be greatly reduced if a fraction of the population is unable to transmit the virus due to innate resistance or cross-protection from exposure to seasonal coronaviruses," wrote study authors Jose Lourenco, Francesco Pinotti, Craig Thompson, and Gupta.

"These results help to explain the large degree of regional variation observed in seroprevalence and cumulative deaths, and suggest that sufficient herd immunity may already be in place to substantially mitigate a potential second wave," they added.
The researchers said that when people who are resistant to a virus mix with non-resistant people, the HIT drops significantly.
"Given the mounting evidence that exposure to seasonal coronaviruses offers protection against clinical symptoms, it would be reasonable to assume that exposure to SARS-CoV-2 itself would confer a significant degree of clinical immunity," the researchers suggest.

"Thus, a second peak may result in far fewer deaths, particularly among those with comorbidities in the younger age classes."
More than 14.7 million people have been reported to be infected by the CCP virus worldwide and at least 610,000 have died, according to a tracking map by Johns Hopkins University, although the figures are believed by some experts to be unreliable owing to inaccurate data from China.
Connecticut State Lab Finds 90 False Positives Out Of 144 Coronavirus Tests Administered In Mid-June
90 people in the state of Connecticut were found to actually have been negative for coronavirus after receiving positive tests, MSN reported on Tuesday.
The state's Department of Public Health said that its state laboratory found a "flaw" in one of its testing systems and that 90 of 144 people who were tested for the virus between June 15 and June 17 received false positive tests. 161 specimens were collected and a total of 91 of those showed false positives.
Many of those who received the false tests were nursing home residents.
The state said that it reported the flaw to the test manufacturer and the FDA. It has taken "immediate steps" to make sure patients have been notified – hopefully more than just forwarding them a copy of this article.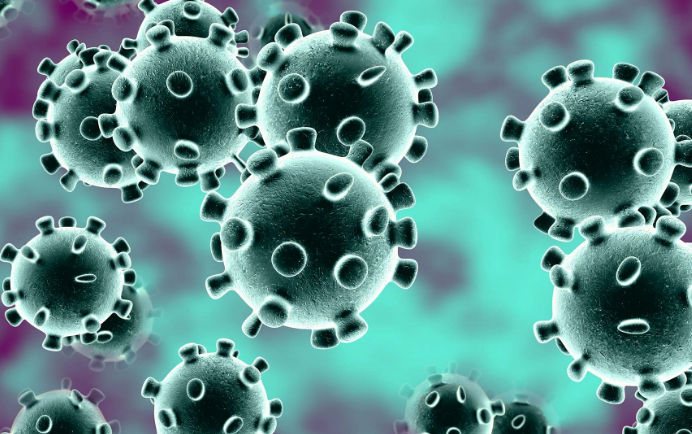 Even more alarming, the State Department of Health said the flawed numbers came "from a widely-used laboratory testing platform that the state laboratory started using on June 15."
Acting Commissioner Deidre S. Gifford said: "We have notified the healthcare facilities for everyone who received a false positive test result from our state laboratory. Accurate and timely testing for the novel coronavirus is one of the pillars supporting effective response to the COVID-19 pandemic."
Adjustments have been made to ensure the accuracy of future tests, she said. Additionally, she said all positive tests will be further reviewed by "multiple laboratory scientists" and retested using another method.
We wonder how many other states are administering tests from the same "widely-used" platform…
The World Is In Big Trouble, for Those That Believe We Will Go Back to Some Sense of Normal Life Here on Earth, You Will Be Sadly Disappointed, Seven and Half Years of Hell on Earth Which Began January 1, 2020
"Our courts oppose the righteous, and justice is nowhere to be found. Truth stumbles in the streets, and honesty has been outlawed" (Isa. 59:14, NLT)…We Turned Our Backs On GOD, Now We Have Been Left To Our Own Devices, Enjoy…
While Mainstream Media Continues to Push a False Narrative, Big Tech Has Keep the Truth From Coming out by Shadow Banning Conservatives, Christians, and Like-Minded People, Those Death Attributed to the Coronavirus Is a Result of Those Mentioned, They Truly Are Evil…
Source: HNewsWire ZeroHedge ZeroHedge
StevieRay Hansen
Editor, HNewsWire.com
Watchmen does not confuse truth with consensus The Watchmen does not confuse God's word with the word of those in power…
In police-state fashion, Big Tech took the list of accused (including this site), declared all those named guilty and promptly shadow-banned, de-platformed or de-monetized us all without coming clean about how they engineered the crushing of dissent, Now more than ever big Tech has exposed there hand engaging in devious underhanded tactics to make the sinister look saintly, one of Satan's greatest weapons happens to be deceit…
The accumulating death toll from Covid-19 can be seen minute-by-minute on cable news channels. But there's another death toll few seem to care much about: the number of poverty-related deaths being set in motion by deliberately plunging millions of Americans into poverty and despair.
American health care, as we call it today, and for all its high-tech miracles, has evolved into one of the most atrocious rackets the world has ever seen. By racket, I mean an enterprise organized explicitly to make money dishonestly.
All the official reassurances won't be worth a bucket of warm spit. The Globals are behind the CoronaVirus, It Is a Man-Made Bioweapon.
For those of you who care, Google and your favorite social media platforms have misled you, and now we all pay a heavy price for trusting the ungodly, Google and company knew exactly what they were doing, removing our history while preparing you to accept the New World Order playbook, Enjoy
The number of Orphans aging out of Child Protective Custody has grown at an alarming rate. The 127 Faith Foundation receives many requests each week to house them at our ranch. Our prayer is that the good people of our country will step up to the challenge and offer financial support for "the least among us." We need your help! StevieRay Hansen, Founder, The 127 Faith Foundation