Advisory: Be careful of what you read on social media. The algorithms used by these platforms have no regard for Biblical truth. They target your emotions to keep you engaged on their site so their advertisers can drop more ads. These platforms exist to enrich their stockholders. Consider God's promise to Believers in James 1:5, "If any of you lacks wisdom, you should ask God, who gives generously to all without finding fault, and it will be given to you."
Down Society Has Drifted — Second Major California Sheriff Openly Rebels Against Newsom Lockdown…
And the brother, who believeth not, shall deliver up the believing brother to death, and the father the child, — As if he had said, All the wisdom and justice of your apologies, though divinely inspired, will not disarm the malice of your unreasonable enemies, which shall prevail to such a degree as even to triumph over natural affection, and break asunder the strictest bonds of social life: for the nearest relations shall betray one another, not only to some slighter punishments, but even to violent and tormenting deaths. And fathers shall thus become the murderers, instead of being the guardians and protectors, of their children: and children, on the other hand, forgetting all the obligations of filial duty and affection, shall rise up, as witnesses, against their own parents, and cause them to be put to death. And ye shall be hated of all men — Namely, of all that know not God. You, my apostles, notwithstanding all the humanity of your character, and benevolent design of your office, shall be the objects of general aversion, censure, and persecution, and all this for my name's sake — That is, for your attachment to me and my cause, though it be the cause of righteousness and truth, of the redemption and salvation of the human race. But he that endureth to the end shall be saved — But be not discouraged at the prospect of these trials, for he that perseveres in the faith and practice of the gospel, and who bears constantly and with invincible patience these persecutions, (which my grace is sufficient to enable you all to do,) shall be finally and eternally saved from all sin and misery, into the kingdom and glory of God: whatever extremities he may be called to suffer in this world, God will not only deliver him from the destruction which shall come upon the wicked, but will repay his fidelity with unspeakable and everlasting felicity in the next.
The same industry that spews out the garbage, propagandist television shows and movies we now have today is considered an "essential" business to California Governor Gavin Newsom.
Last week, Newsom announced a new stay-at-home order which requires "generally that non-essential work, movement and gatherings stop between 10 PM and 5 AM in counties in the purple tier." This, as Yahoo points out, affects almost every county in Southern California and 94 percent of the state's total population.
Because the film industry encompasses many cast and crew members who oftentimes work at night, Newsom exempted the group from his totalitarian stay-at-home orders.
Of Course! They are all in this together. The leftist elites think they are above us all. Including Hollywood. Tyranny at its finest folks. We await the glorious day that they all go down in flames together. Justice is coming! Fight Back
Americans Will Not Surrender Willingly to The (NWO) Hell on Earth Plandemic, We Have a Right to Worship Freely, Speak Freely, and Live in a Free Republic, It's Our God-Given Birth Right, StevieRay Hansen…
Just a day after Riverside County Sheriff Chad Bianco told California Governor Gavin Newsom that his department won't be "blackmailed, bullied or used as muscle" against residents during the pandemic, The Epoch Times reports that Orange County Sheriff Don Barnes announced that deputies would not enforce the regional stay-at-home order that was scheduled to go into effect Dec. 6 throughout Southern California.
"Compliance with health orders is a matter of personal responsibility and not a matter of law enforcement," Barnes said in a Dec. 5 news release.

"Orange County Sheriff's deputies will not be dispatched to, or respond to, calls for service to enforce compliance with face coverings, social gatherings, or stay-at-home orders only."
It is not the first time the sheriff has declared deputies would not enforce a state order over coronavirus restrictions. When Gov. Gavin Newsom ordered a curfew in November for all California counties in the purple tier amid climbing coronavirus cases, Barnes said deputies would not be enforcing that order either.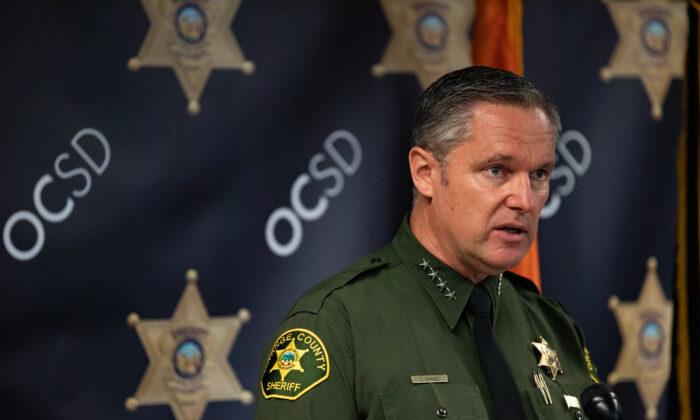 A state-mandated, regional stay-at-home order was scheduled to go into effect at 11:59 p.m. on Dec. 6. The mandate was triggered when intensive care unit (ICU) bed availability remained below 15 percent after the Southern California region's Dec. 5 daily COVID-19 case-rate update, according to the California Department of Public Health.
In his statement, Barnes said deputies would continue to respond to calls for potential criminal behavior and the protection of life and property, actions he said remain "consistent with the protections of constitutional rights."
But he said the "ever-changing nature" of Gov. Gavin Newsom's stay-at-home orders and the increase in COVID-19 case numbers "bring additional uncertainty and stress to California residents."
"To put the onus on law enforcement to enforce these orders against law-abiding citizens who are already struggling through difficult circumstances, while at the same time criticizing law enforcement and taking away tools to do our jobs, is both contradictory and disingenuous," he said.
He cautioned that people should remain diligent in preventing the spread of the disease, and should take the recommended public health precautions like wearing face coverings and practicing social distancing.
"Conversely, policy makers must not penalize residents for earning a livelihood, safeguarding their mental health, or enjoying our most cherished freedoms," Barnes stated.
Citing rising COVID-19 hospitalizations and deaths over the past month, Newsom on Dec. 3 announced plans for regional stay-at-home orders that would be triggered when ICU bed availability in select areas fell below 15 percent.
Full Statement below: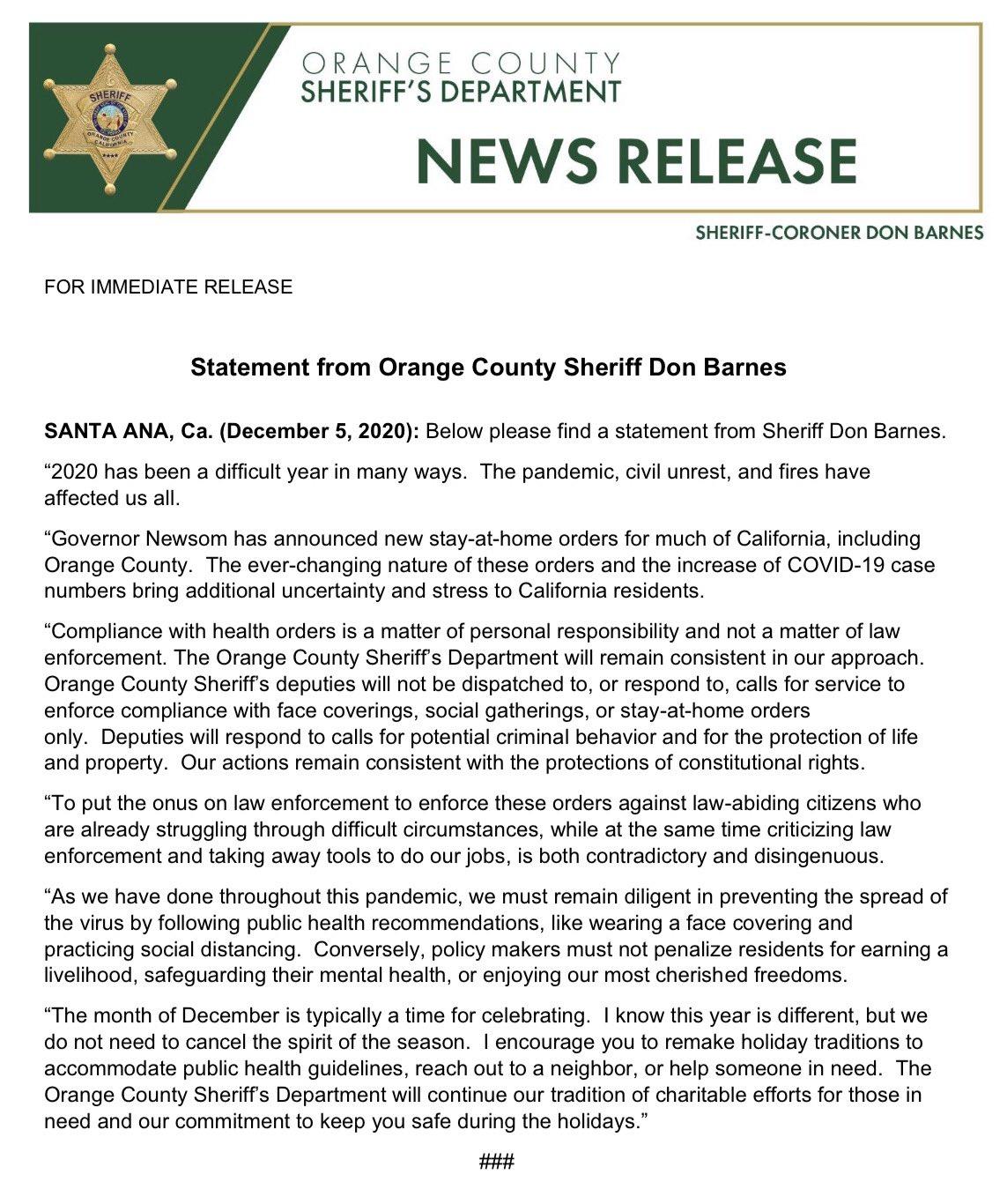 California Sheriff's Departments Reject Newsom's Lockdown Order
Two California counties are refusing to enforce Gov. Gavin Newsom's (D.) new lockdown orders, which one county sheriff said are "disastrous."
"While the governor's office and the state [have] threatened action against violators, the Riverside County Sheriff's Department will not be blackmailed, bullied, or used as muscle against Riverside County residents in the enforcement of the governor's orders," Riverside County Sheriff Chad Bianco said Friday.
Bianco criticized Newsom's "dictatorial attitude" toward Californians, requiring police to arrest, ticket, or close the businesses of violators, lest counties be punished with funding cuts. The sheriff also accused Newsom of attempting to distract from his own hypocrisy and irresponsibility, since the governor has dined out, kept his own winery open, and sent his children to private school.
"It appears part of the new goal is to shift attention away from his and others' personal behavior with a 'do as I say, not as I do' attitude by turning public opinion against California sheriffs," Bianco said.
The Orange County Sheriff's Department also rejected Newsom's order. Sheriff Don Barnes on Saturday said compliance with the lockdown is a "matter of personal responsibility and not a matter of law enforcement" and said his deputies will not respond to calls about face coverings, social gatherings, or stay-at-home orders.
"To put the onus on law enforcement to enforce these orders against law-abiding citizens who are already struggling through difficult circumstances, while at the same time criticizing law enforcement and taking away tools to do our jobs, is both contradictory and disingenuous," Barnes said in a statement.
The California lockdown was announced on Thursday, weeks after Newsom was caught dining with at least 12 individuals at the French Laundry, a high-priced Napa Valley restaurant. The governor claimed he and his wife had followed social-distancing guidelines, but photos released following his initial statement show him violating numerous rules by talking maskless and in close proximity to people from various households, including California Medical Association officials.
The sheriffs' statements come two weeks after several county sheriffs told Newsom they would not enforce his curfew order, while San Bernardino County officials announced they are planning a lawsuit against the governor's "one-size-fits-all" restrictions.
The World Is In Big Trouble, for Those That Believe We Will Go Back to Some Sense of Normal Life Here on Earth, You Will Be Sadly Disappointed, Seven Years of Hell on Earth Which Began January 1, 2020
As Time Goes on There Will Be a Lot of Politicians, Police Officers, Judges That Will Take Cover in Other Words They Are Going to Remain Neutral Out for Fear for Their Lives. You Are On Your Own, Prepare For The Worst, Pray for the Best –Tribulations Will Be Very Ugly
I Want Everyone to Know, Never Take Anyone's Word for the Gospel, Especially Revelations, Here's How It Works. When You're in the Word God Will Speak to You Through His Holy Spirit He Will Move You in the Direction He Wants You to Go. Please Stop Looking For That Individual Here on Earth That Has All the Answers, They're Not Here and That Confuse You.. That Includes Anything I Say, Always Test Every Spirit. Every Word That Is Uttered Out of Any Man's Mouth Must Be Verified Through the Holy Spirit… Stevieray Hansen
I Have Never Seen The Righteous Forsaken or Begging For Rain…
Source: HNewsWire ZeroHedge freebeacon HNewsWire HNewsWire HNewsWire HNewsWire HNewsWire
StevieRay Hansen
Editor, HNewsWire.com
Watchmen does not confuse truth with consensus The Watchmen does not confuse God's word with the word of those in power…
This is what their New World Order looks like, Democrats Lawmaker in California: 'legalize child prostitution' SACRAMENTO – Beginning on Jan. 1, police cannot arrest child prostitutes in the streets of California, except under limited circumstances. And dumb down people wonder why California is burning to the ground, poke God in the eyes enough times and his anger will start to show…
HNewsWire: Watchman Says Dr. Mandy Cohen, the New Director of the CDC, Is a Master Liar, Has Demonic Problems, and Indicates Satan Directs Her Thoughts…
Read More
We make every effort to acknowledge sources used in our news articles. In a few cases, the sources were lost due to a technological glitch. If you believe we have not given sufficient credit for your source material, please contact us, and we will be more than happy to link to your article.