Advisory: The editorial board of HNewsWire adopted the official policy to bypass many social media platforms. Some of these include: Facebook, Instagram, Twitter, Parler, and YouTube. We believe these companies are responsible for many of the spiritual ills our world faces today. In some cases, however, we have allowed our guest contributors to include content from their YouTube channel while we search for alternatives.
Breaking News…
Update (3/14/2020 @ 10:35 PM CST) President Trump Tests Negative For The Coronavirus…
Summary:
Spainish impose 15-day lockdown effective immediately
President Trump tests negative
Spanish first lady test positive
France announces national lockdown
Mayor of Teaneck NJ asks residents to self-quarantine
NYC confirms 1st coronavirus death
Trump says he was tested for Covid-19, White House expands travel ban to UK and Ireland
US death toll hits 51
Louisiana declares first death
Mississippi becomes 32nd state to declare emergency
Newly diagnosed cases jumped by +3,000 in Italy
Latin American states follow US with travel bans of their own
Utah Jazz guard Donovan Mitchell updates world on his condition
10 US servicemembers test positive
2nd presumptive case confirmed in Stratford, Conn.
UAE suspends tourism industry
De Blasio refuses to close schools
Israel limits gatherings to 10 and closes leisure businesses
ireland reports 2nd death
North Carolina becomes latest state to close schools for 2 weeks; more than a dozen states have done so
India case total hits 84
White House virus task force delivers update
Switzerland total climbs to 1,359
Airlines cancel flights to Spain
South Carolina issues emergency medical licenses for out-of-state practitioners
Dallas municipal court suspends jury duty
Chile quarantines 2 cruise ships, Bahamas refuses ship entry
Seattle halts evictions
Apple closes stores outside Greater China
Washington State re-takes lead in US case total
Gaming Commission shuts down Mass. casinos
1 man dies in New Jersey
Update (1930ET): In a major blow to the credibility of the gang of reporters who tried to corner President Trump during two press conferences on Friday and Saturday, the president has tested negative for the coronavirus, according to a statement from the White House.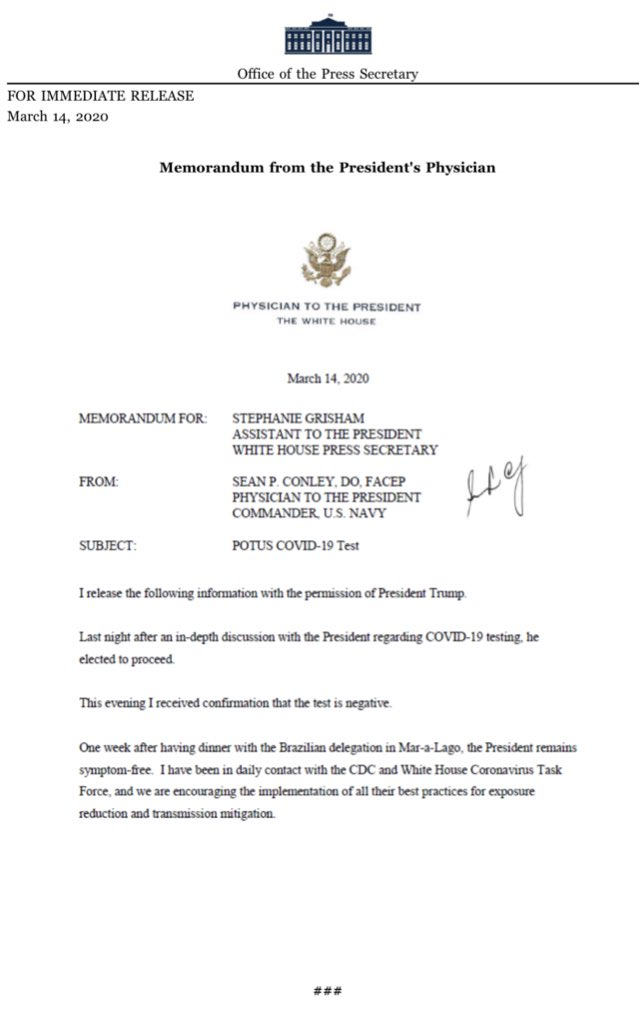 "One week after having dinner with the Brazilian delegation in Mar-a-Lago, the President remains symptom free," his physician, Sean P. Conley, said in a statement. "I have been in daily contact with the CDC and White House Coronavirus Task Force, and we are encouraging the implementation of all their best practices for exposure reduction and transmission mitigation."
Trump took the test on Friday and revealed that he had taken the test during a press conference on Saturday. As we head into the evening, yet another first lady of a major developed economy has tested positive for Covid-19.
María Begoña Gómez Fernández, the wife of Spanish PM Pedro Sanchez, has the coronavirus.
In New Jersey, which just reported its first death, the mayor of the city of Teaneck New Jersey asked residents to self-quarantine at hoe and only leave for food or medicine.
* * *
Update (1805ET): The first coronavirus death in the state of Louisiana has been reported Saturday, according to a news release from Gov. John Bel Edwards. The deceased was a 58-year-old Orleans Parish resident with underlying health conditions who was being treated at Touro Infirmary Hospital and Medical Center in New Orleans.
The state has 67 confirmed cases (well, 66 now).
Read the release below:
"Now more than ever, we must remain vigilant against the spread of this illness by taking care of ourselves and each other, avoiding going into public areas if you are sick, practicing social distancing and washing your hands frequently with soap and water."

"This underscores the fact that those with underlying health issues are most at risk from the coronavirus. Those with compromised immune systems and are older should be taking extra precautions to avoid becoming affected with the coronavirus."
Elsewhere, Utah Jazz guard Donovan Mitchell has made a video updating the world on his condition.
A message from @spidadmitchell34.8K12:56 PM – Mar 14, 2020Twitter Ads info and privacy5,866 people are talking about this
Mississippi Gov. Tate Reeves declared a state of emergency in response to coronavirus, bringing the total of states in the US who have declared a state emergency to 32, including Mississippi and Washington DC.
After the Pentagon announced new travel restrictions for all personnel earlier, it later confirmed that 10 US service members have tested positive for the novel coronavirus, along with 1 Defense Department civilian and two contractors, military officials said Saturday. This presumably doesn't include the servicemembers who tested positive abroad.
In Connecticut, officials from the town of Stratford said that they are monitoring a second presumptive case of coronavirus in a Stratford High School student. The town's first confirmed case was found in a school-age Stratford child earlier this week, according to WTNH.
* * *
Update (1720ET): As we previewed below, Spanish Prime Minister Pedro Sanchez has signed the emergency decree Spain under an Italy-style lockdown as more European countries suspend air travel to infected countries. The decision to declare the lockdown, effective immediately, followed an emergency cabinet meeting Saturday night. Even the White House has scrapped its travel-ban exemptions for the UK and Ireland.
The new measures announced by Sanchez during a news conference on Saturday banned all Spaniards from leaving their homes except for:
Going to work
Buying food or essential supplies
Going to a hospital
Supporting an elderly person or a minor under their care
As deaths, and ICU admissions, continued to skyrocket in Italy…



Whoa- Critical care ICU rate in Italy for #COVID19 556/3420 16%! In China, it was just 5%. We are now realizing the virus could be even worse than expected. Very concerning with these Italy data published in JAMA. https://jamanetwork.com/journals/jama/fullarticle/2763188 …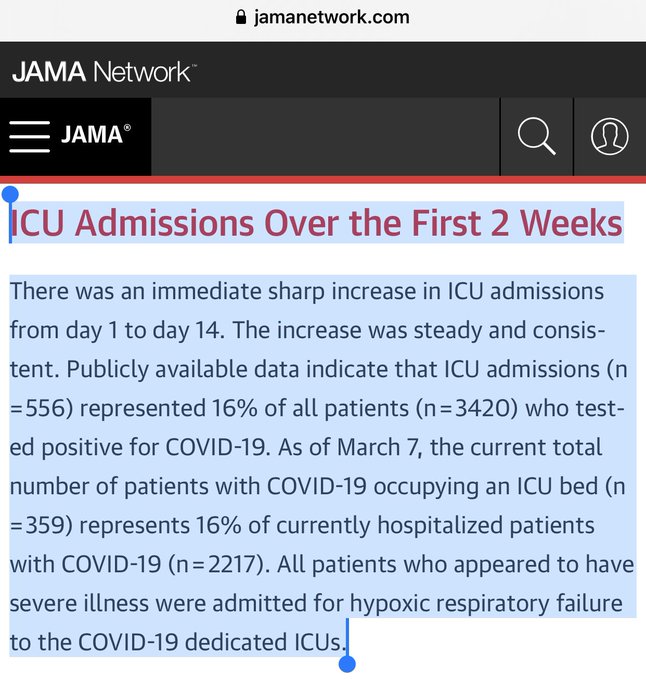 7783:47 PM – Mar 14, 2020Twitter Ads info and privacy750 people are talking about this
…Spain and France have joined in passing sweeping restrictions on movement and business. Late last week, several Latin American countries stepped up measures on to slow the spread of the coronavirus, halting flights to and from Europe, closing schools and canceling public gatherings. Brazil, Costa Rica, Argentina, Bolivia, Paraguay, Honduras. On Friday, Colombia followed the US and closed its borders to travelers from Asia and Europe.
Europe was an example to the world: Half-measures and open borders don't work to stop a pandemic. Quashing an outbreak like this requires a swift and heavy-handed response from federal authorities.
Health officials in Switzerland reported 234 new cases of coronavirus on Saturday, bringing the total to 1,359 cases, with 119 cases in Zürich, and 103 cases in Geneva.
In New York, Gov, Cuomo declared on Saturday that there are probably "thousands" of infected people walking around the state of New York.
"This is going to be everywhere," Cuomo said. "My guess is there are thousands and thousands of cases walking around the state of New York."
After French President Emmanuel Macron chastised citizens for not taking the outbreak seriously and ordered all cafes, bars, and restaurants to close as he imposed restrictions on movement and public life across France, as Bloomberg reports. Gatherings of more than 100 people have been banned. The Eiffel has been shut down.
Recently infected Utah Jazz center Rudy Gobert announced Saturday that he would be donating over $500,000 to Vivint Smart Home Arena hourly employees and coronavirus-related social services in Utah, Oklahoma City, and France, which is his home country. Gobert apologized for mocking virus-control precautions before being infected.
In Israel, a country that has been notoriously paranoid about the virus, resulting in exceptionally effective (if at times excessive) containment measures. On Saturday, Prime Minister Benjamin Netanyahu further tightened restrictions on Israelis by limiting gatherings to 10 people and closing all leisure and entertainment venues effective Sunday morning.
"We are at war against an invisible enemy," Netanyahu said. "Defeating it depends on the steps that each of you takes. We must do everything in order not to infect and not to become infected."
Elsewhere in the Middle East, Dubai has ordered all large events in March canceled and encouraged hotels to halt hosting weddings for the time being.
North Carolina Gov. Roy Cooper closed schools for two weeks, a decision he announced during a press conference on Saturday. He also banned gatherings of more than 100 people and chided citizens for not respecting earlier restrictions. In South Carolina, the state Board of Medical Examiners and the state's Board of Nursing said they would begin issuing temporary licenses to out-of-state medical professionals helping with the outbreak, according to a news release from Gov. Henry McMaster.
In what appears to be the first example of trials being rescheduled because of the outbreak, the Dallas Municipal Court has rescheduled trials and jury duty, according to a news release from the city of Dallas.
After dozens of countries banned cruise ships from arriving, the Bahamas said Saturday it would not be allowing the MS Braemar cruise ship, which has five confirmed coronavirus cases on board, to dock. Two cruise ships with a total of about 1,300 people on board are now quarantined off the coast of Chile as one passenger tested positive for coronavirus, said Chile's Health Minister Jaime Manalich.
In Seattle, the mayor has halted residential evictions during the outbreak.
As of Saturday evening on the east coast, at least 2,548 cases of the novel coronavirus had been confirmed in the US, according to the state and local health agencies, governments and the US Centers for Disease Control and Prevention. Around the world, more than 150,000 cases have been confirmed.
Coronavirus timeline:
– January 19: 100 cases
– January 24: 1,000 cases
– January 28: 5,000 cases
– February 12: 50,000 cases
– March 6: 100,000 cases
– March 14: 150,000 cases18.8K12:32 PM – Mar 14, 2020Twitter Ads info and privacy9,264 people are talking about this
Update (1445ET): As deaths and cases soar in Europe (4500 cases, 91 deaths), French PM Edouard Philippe has announced Italy-esque draconian measures to control the spread of Covid-19:
Update (3/14/2020 @ 2:35 PM CST) The press conference has concluded. VP Pence said the administration will make an announcement at 7pmET on Sunday regarding measures to speed up testing across the US.
Update (3/14/2020 @ 2:35 PM CST) As has become custom following every meeting of the White House coronavirus task force in the situation room, President Trump kicked off the press briefing, celebrating yesterday's "record" market rebound (we're not exactly certain about the record, but the market was clearly pleased), and insisting that the national emergency declaration and the new economic bill that has been passed by Congress and is awaiting Trump's signature would give the government all the tools it needs to combat the virus, and enough economic support to ensure that all Americans will receive paid leave and coverage for any treatments related to the virus.
In response to one of the first questions of the press conference, Trump said he was tested for the virus, and that he was awaiting the results, which are expected in two or three days. Before reporters could interrupt him with accusations that he was being inconsistent, Trump assured them that he would stop shaking hands, but hadn't done so yet out of force of habit, a problem that isn't unique to him but is part of a broader adaptation by all Americans. Trump insisted that he felt Americans should avoid shaking hands, and should follow the federal guidelines for greetings and 'social distancing'.
Trump delivered his remarks wearing a black 'USA' ball cap, which some found to be in poor taste. Dr. Fauci also confirmed that there 2,226 cases confirmed across the US, with 50 deaths.
Trump giving a press conference from the White House in a ball cap. He's a fucking joke. #TrumpPressConference1111:30 AM – Mar 14, 2020Twitter Ads info and privacySee Rhonda Lynn's other Tweets
VP Pence also announced that the travel ban had been expanded to include the UK and Ireland as of midnight on Sunday. As with the prior travel ban, US legal residents and citizens won't be affected. The VP also said that the White House was working with the Republican-controlled Senate to explain the House rescue package and get it passed "expeditiously."
The team also confirmed that "community-spread" has been confirmed in six states: Washington, Cali, New York, Oregon, Florida (though Gov. DeSantis reportedly disagreed with the fed's finding) and, of course, Ohio.
The fact that the outbreak has shifted from China to Europe is what motivated the US to expand its travel ban to focus on Europe, Dr. Fauci said (note: the ban is only set to last for 30 days from the date it was announced on Wednesday).
While the US will see more cases and "more suffering and death" among the "vulnerable" of our society, but built-in that is a "challenge" – the opportunity to influence the course of the curve, to make it flatters, and ensure that the US health-care system isn't overwhelmed by the outbreak
As an aside, one member of the CNN White House team was denied entry to the press conference because they had a temperature of 99.9.
CNN White House Team: A journalist was denied entry into the press briefing after having a 99.9 fever. He was trying to get access to the briefing and was turned away and is being held by the press office on the White House driveway1,28511:14 AM – Mar 14, 2020Twitter Ads info and privacy1,179 people are talking about this
* * *
Now that Democrats and Treasury Secretary Mnuchin have managed to strike a deal on the federal Covid-19 economic rescue package, which Trump said he fully supports, the White House task force is holding another press conference to update the public on the coronavirus containment effort.

Donald J. Trump✔@realDonaldTrump
News Conference at White House in 10 minutes. 52.2K10:57 AM – Mar 14, 2020Twitter Ads info and privacy15.5K people are talking about this
Notably, Trump announced the press conference shortly after the White House announced that it was implemented new procedures lie mandatory temperature checks for everybody coming into close contact with the president (including reporters in the briefing room).
Though, if this truly is another task force update, it's possible that Trump won't play a big role, though he has shown a penchant for stealing the spotlight from Pence and the team.
As the task force prepared for the press conference, an official with the White House physician's office went around the press workspace on Saturday morning and took the temperatures of reporters before they were ushered into the briefing room.
The coronavirus is hitting nations the world over, and facing a challenge unprecedented in recent history, officials are falling back on wartime tactics, and particularly rhetoric, with promises of grand emergency measures to try to keep things under control.
Emergency measures are mostly in the form of travel control, banning flights to and from certain places. There have been talks of mobilizing militaries, in practice, efforts are centered on enforcing quarantines that were already declared. Deeper measures as yet don't seem to be happening.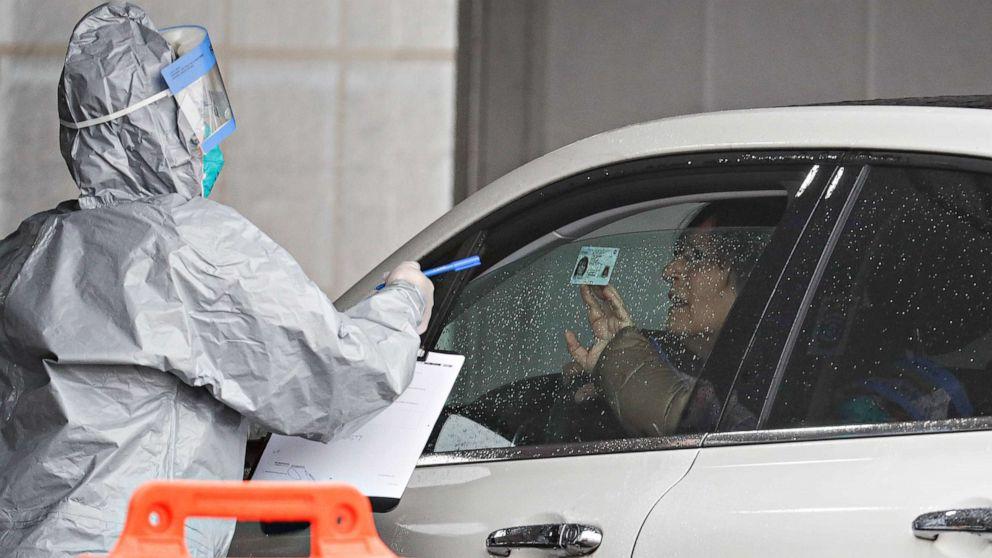 Watch live below:
StevieRay Hansen
Editor, HNewsWire.com
The Bill and Melinda Gates Foundation Have NOT Got The Memo Yet, "Pestilences" Has No Cure
Breaking News, HNewsWire
The 127 Faith Foundation: We do not solicit donations from "those on disability, on a fixed income, or those who cannot afford to give." Please Pray!
Or, make checks payable to:
The 127 Faith Foundation
PO Box 127
Pontotoc, TX 76869
The number of Orphans aging out of Child Protective Custody has grown at an alarming rate. The 127 Faith Foundation receives many requests each week to house them at our ranch. Our prayer is that the good people of our country will step up to the challenge and offer financial support for "the least among us." We need your help! StevieRay Hansen, Founder, The 127 Faith Foundation
We make every effort to acknowledge sources used in our news articles. In a few cases, the sources were lost due to a technological glitch. If you believe we have not given sufficient credit for your source material, please contact us, and we will be more than happy to link to your article.