Advisory: Be careful of what you read on social media. The algorithms used by these platforms have no regard for Biblical truth. They target your emotions to keep you engaged on their site so their advertisers can drop more ads. These platforms exist to enrich their stockholders. Consider God's promise to Believers in James 1:5, "If any of you lacks wisdom, you should ask God, who gives generously to all without finding fault, and it will be given to you."
"I hope this will be a memorable lesson for America," said Iranian Defense Minister Amir Hatami; Sen. Graham: "You continue this crap, you're going to wake up one day out of the oil business…"
Iranian President Hassan Rouhani told the United States on Wednesday that Washington might have "cut off the arm" of General Qasem Soleimani but America's "leg" in the region would be cut off in response. His comments came hours after Iran launched more than a dozen ballistic missiles and targeted US bases in Iraq on Tuesday night in retaliation for the killing last week of Soleimani, Iran's Quds Force commander.
US President Donald Trump responded, early morning Israel time, with a tweet saying: "All is well."

"Missiles launched from Iran at two military bases located in Iraq," the president tweeted. "Assessment of casualties & damages taking place now. So far, so good! We have the most powerful and well-equipped military anywhere in the world, by far! I will be making a statement tomorrow morning."
The Pentagon confirmed that more than a dozen ballistic missiles had been fired from Iran at a number of US military bases in Iraq, including the al-Assad airbase, which hosts both Iraqi and US soldiers. US officials also confirmed that the president was briefed on the situation.
"We are aware of the reports of attacks on US facilities in Iraq," White House spokeswoman Stephanie Grisham said in a statement immediately following the incidents. "The President has been briefed, and is monitoring the situation closely and consulting with his national security team."The Iranian Revolutionary Guards Corps also confirmed that it had carried out the missile attack against US forces as part of an operation named "Martyr Soleimani," saying in a statement that it was the first step of their retaliation for the killing of the Quds Force commander on Friday. He was buried Tuesday night after the attack. Hours later, there was still is no confirmation regarding casualties. According to CNN, Iraqi officials are reporting no casualties among Iraqi security forces, although earlier the same sources had said that military officials were injured. "We were initially hearing that there were casualties – it was unclear how many or if they were killed or wounded – on the Iraqi side," CNN's Arwa Damon reported from Baghdad. "Now we're hearing from two other sources that there may not be casualties; that does make sense given how chaotic the aftermath of these strikes can be."

Tasnim News is still reporting that there were casualties in the attack. British magazine The Spectator was also reporting casualties.
Israel's KAN News said that the attack was not carried out in an area heavily populated by American troops. However, according to Al-Mayadeen, there were confirmed American losses in a missile attack in Erbil. A US official said the country is not aware of casualties as of yet but is still assessing the situation.
The IRGC statement claimed that dozens of missiles had been fired at the al-Assad airbase. According to a Lebanese news report, a plane was destroyed on the runway at the base.
Iranian media reported that the second wave of missiles was also fired at US targets in Iraq, soon after the initial attack.
"Iran took & concluded proportionate measures in self-defense," tweeted Iranian Foreign Minister Mohammad Javad Zarif after the attacks. "We do not seek an escalation of the war, but will defend ourselves against any aggression."
Play VideoUS-Iran crisis: Missile attack timeline yet, hours later, Iraq's Prime Minister Adil Abdul-Mahdi al-Muntafiki warned that the current crisis threatens to inflict a "devastating all-out war" in Iraq, the Middle East, and the world. He has called on all sides to practice self-restraint, adheres to international agreements and respects Iraqi sovereignty, adding that he rejects any attacks waged on Iraqi soil."I hope this will be a memorable lesson for America," said Iranian Defense Minister Amir Hatami. "Iran's response [to any US retaliation] will be proportional to what America will do," he said, adding that Trump "has turned the [US] administration into a terrorist government."
Similarly, Hesameddin Athena, an adviser to Iranian President Hassan Rouhani, warned on Twitter that, "Any adverse military action by the US will be met with an all-out war across the region," adding that, "The Saudis, however, could take a different path – they could have total peace!"Security was increased around the White House, as the IRGC threatened to conduct attacks within the United States. The intense jet activity was reported over Baghdad.

The US Federal Aviation Administration said on Tuesday that it would ban US carriers from operating in the airspace over Iraq, Iran, the Gulf of Oman and the waters between Iran and Saudi Arabia. The organization said that it is closely monitoring events in the Middle East and coordinating with US airlines and foreign authorities about aviation safety after the attacks. The Philippines has ordered a mandatory evacuation for Filipinos in Iraq, its foreign ministry said on Wednesday after the attack. Vice President Mike Pence briefed Senate Minority Leader Chuck Schumer and Senate Armed Services Chairman Sen. Jim Inhofe about the attack, according to CNN. Secretary of State Mike Pompeo and Secretary of Defense Mark Esper also arrived at the White House for discussions. House Speaker Nancy Pelosi was briefed on the attack during a meeting with Democrats on Tuesday, according to CNN. Rep. Debbie Dingell stated that Pelosi told members of the meeting to "pray."Closely monitoring the situation following bombings targeting U.S. troops in Iraq," Pelosi said on Twitter. " We must ensure the safety of our service members, including ending needless provocations from the Administration and demanding that Iran cease its violence. America & the world cannot afford war."

Former vice president Joe Biden, another candidate for the Democratic nomination to take on Trump in November's presidential election, said at an event outside Philadelphia that the attack was predictable and faulted Trump's handling of the situation."I just pray to God as he goes through what's happening, as we speak, that he's listening to his military commanders for the first time because so far that has not been the case," he added. House Majority Leader Steny Hoyer, who attended the meeting with Pelosi, said that "Nobody laments the loss of Soleimani; he was a vicious terrorist that caused a lot of loss of life. But no one ought to be surprised that when you do that, there's a response."Senator Lindsey Graham called Iran's move an act of war while speaking to Sean Hannity on Fox News Wednesday morning Israel time.

"The President has all the authority he needs under Article II to respond, and how he responds is yet to be determined. But he has that authority to respond," Graham stressed. "Let me say tonight if you are watching television in Iran, I just got off the phone to the president: your fate is in your own hands in terms of the regime's economic viability."You continue this crap, you're going to wake up one day out of the oil business," he said. On Tuesday, Pompeo briefed Kurdistan Regional Government Prime Minister Masrour Barzani on the attacks, the State Department said in a statement. Japanese Prime Minister Shinzo Abe will cancel plans to visit Saudi Arabia, the United Arab Emirates and Oman this weekend, TV Asahi reported on Wednesday. On Sunday, Trump said that the US would strike back without hesitation if one of its bases was hit."We are the biggest and by far the BEST in the World!" the president tweeted.
"If Iran attacks an American Base or any American, we will be sending some of that brand new beautiful equipment their way… and without hesitation, "On Tuesday, Defense Secretary Mark Esper said that the United States should anticipate retaliation from Iran over the killing of Soleimani."I think we should expect that they will retaliate in some way, shape or form," Esper told a news briefing at the Pentagon, adding that such retaliation could be through Iran-backed proxy groups outside of Iran or "by their own hand."We're prepared for any contingency. And then we will respond appropriately to whatever they do."

Stock markets in Asia fell sharply on news of the rocket attack, while investor safe havens, including the Japanese yen and gold, shot higher. Oil prices rose by over 3.5% in the aftermath as well. The IRGC has warned that US allies that allow America to use their bases will be targeted and that "by no means" is Israel considered separate from the US. According to the Iranian Tasnim news agency, Hezbollah will attack Israel if the US responds to Tuesday night's attacks.
More than 5,000 U.S. troops remain in Iraq along with other foreign forces as part of a coalition that has trained and backed up Iraqi security forces against the threat of Islamic State militants. A NATO official told Reuters that it would move some of its several hundred trainers out of Iraq. Canada said on Tuesday that some of its 500 Iraq-based forces would be temporarily moved to Kuwait for safety reasons.
French President Emmanuel Macron, in a phone call on Tuesday to Iranian President Hassan Rouhani, urged Tehran to avoid any actions that could worsen regional tensions. Soleimani and Iraqi militia commander Abu Mahdi al-Muhandis, along with at least 10 other people, were killed in a US airstrike in Baghdad last week. Ali Shamkhani, secretary of Iran's Supreme National Security Council, has said that 13 "revenge scenarios" were being considered, Fars news agency reported. Even the weakest option would prove "a historic nightmare for the Americans," he said. Source: JP
We Are Entering the Time of "the Perfect Storm", and Most People Have Absolutely No Idea What Is Ahead of Us…
Tensions continued to climb in the Middle East Thursday evening as reports of another airstrike have been confirmed, but this time, it was the Israelis doing the shelling, According to reports by domestic and western media, the Israeli air force carried out an attack against an Iran-backed militia reportedly headquartered on the border between Syria and Iraq.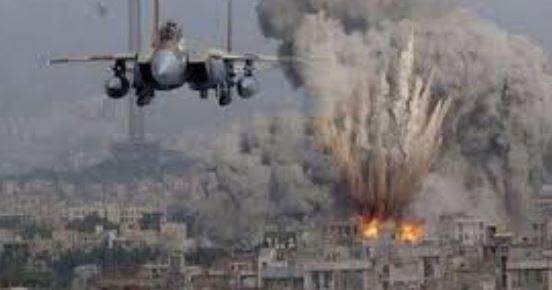 In the early hours of January 10, warplanes of the Israeli Air Force (IAF) targeted an arms shipment on the Syrian-Iraqi border, according to al-Mayadeen.
A security source told the Lebanese news channel that the airstrike targeted a truck that was shipping weapons. The source didn't clarify the destination of the targeted shipment, or to what side it belongs.
"The airstrikes near the Iraqi border were carried out by warplanes [flying] away from the border, they targeted a truck loaded with weapons," al-Mayadeen quoted the source as saying.
A few minutes later, the Lebanese channel confirmed that several individuals, likely Iranian-backed fighters, were killed or injured as a result of the airstrikes.
Iraqi sources claimed that the targeted arms shipment belonged to Kata'ib al-Imam Ali, the main member of the Popular Mobilization Units (PMU).
The Israeli airstrikes came two days after a missile strike by the Iranian Islamic Revolutionary Guard Corps (IRGC) on U.S. bases in Iraq. The strike was a response to a U.S. attack that claimed the life of Quds Force Commander Maj. Gen. Qassim Soleimani and PMU Deputy-Commander Abu Mahdi al-Muhandis.
The PMU also vowed to respond to the U.S. attack, which took place in Baghdad, by expelling U.S. forces from Iraq by all possible means.
Tribal sources in Iraq apparently told reporters that the Israeli shelling targeted trucks and individuals associated with Iranian-backed militias near the Iraqi-Syria border. Artillery and shelling were also reported, though it's unclear who fired those shots. The weapons are believed to have been destined for Hezbollah.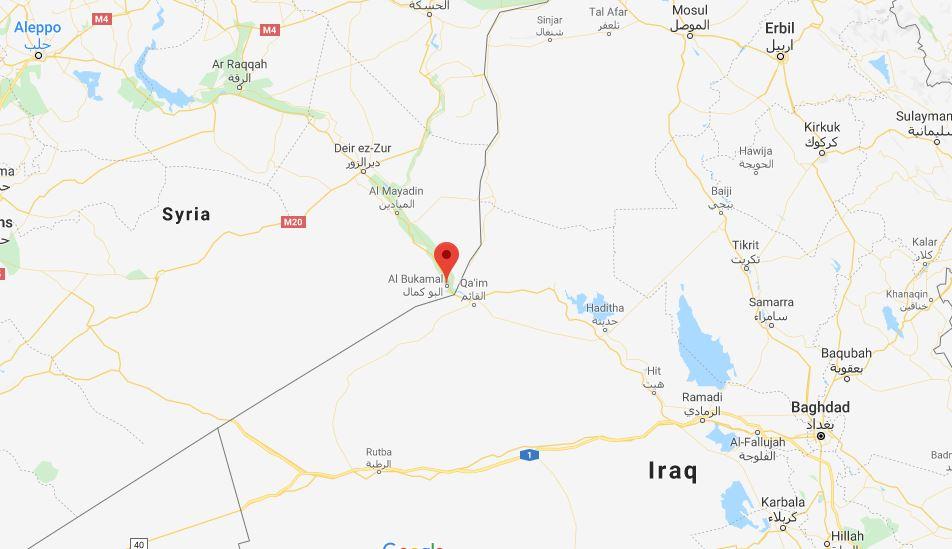 Sources claimed that the airstrikes were targeting weapons shipments, according to the Washington Post. The Kataib Imam Ali, an Iran-backed militia, was apparently moving weapons, possibly in preparation for a strike against US interests.
Al Mayadeen reported that the strikes targeted ballistic missile warehouses run by the group. The warehouse was situated outside of the city of Al Bukamal
THE TRUTH IS BEING KEPT FROM THE AMERICAN PEOPLE, THERE'S GOING TO BE A HARD LANDING AND THOSE THAT SUPPRESS THE TRUTH ARE RESPONSIBLE
StevieRay Hansen
Editor, HNewsWire.com
The Birth Pains Are Growing Stronger….
One of the signs of ruling class collapse is when they can no longer enforce the rules that maintain them as a ruling class. When the Romans started making exceptions to republican governance, it was a matter of time before someone simply decided the rules no longer applied to them. Perhaps the robot historians will consider Obama our Marius or Sulla. Maybe that person is in the near future. Either way, the rule of law is over and what comes next is the rule of men.
"Man will ultimately be governed by God or by tyrants." as in Nancy Pelosi (D-San Fran-feces)
Our government has been overthrown. As evidenced by Trump's capitulation on the border, his recent servitude to the GMO industry and his acquiescence to the warmongers, our President has been compromised. Our liberties are being eliminated one by one. Gun confiscation is next. The Constitution is gasping its last breaths. Our borders are destroyed and our culture has been turned upside down by every perversion known to man.
Julian Assange: The CIA director is waging war on truth-tellers like WikiLeaks By Julian Assange Opinions April 25 at 7:39 PM Julian Assange is editor of WikiLeaks. Mike Pompeo, in his first speech as director of the CIA, chose to declare war on free speech rather than on the United States' actual adversaries.
Tagged Under: tribulation, antichrist
The 127 Faith Foundation: We do not solicit donations from "those on disability, on a fixed income, or those who cannot afford to give." Please Pray!
Or, make checks payable to:
The 127 Faith Foundation
PO Box 127
Pontotoc, TX 76869
The number of Orphans aging out of Child Protective Custody has grown at an alarming rate. The 127 Faith Foundation receives many requests each week to house them at our ranch. Our prayer is that the good people of our country will step up to the challenge and offer financial support for "the least among us." We need your help! StevieRay Hansen, Founder, The 127 Faith Foundation
We make every effort to acknowledge sources used in our news articles. In a few cases, the sources were lost due to a technological glitch. If you believe we have not given sufficient credit for your source material, please contact us, and we will be more than happy to link to your article.