Advisory: Be careful of what you read on social media. The algorithms used by these platforms have no regard for Biblical truth. They target your emotions to keep you engaged on their site so their advertisers can drop more ads. These platforms exist to enrich their stockholders. Consider God's promise to Believers in James 1:5, "If any of you lacks wisdom, you should ask God, who gives generously to all without finding fault, and it will be given to you."
Our elected officials have turned on the American people, disarming the masses is the beginning of the end for freedom.
As Virginia lawmakers prepare to pass a draconian gun control bill that would make most guns in the state illegal, Tazewell County has formed an official active militia as per the Second Amendment to the Constitution.
A well regulated Militia, being necessary to the security of a free State, the right of the people to keep and bear Arms, shall not be infringed.
To all of those who like to mock gun owners and ask if they're going to fight tyranny in a militia, Virginia's answer is a clear and adamant "yes." That's exactly what they're planning to do.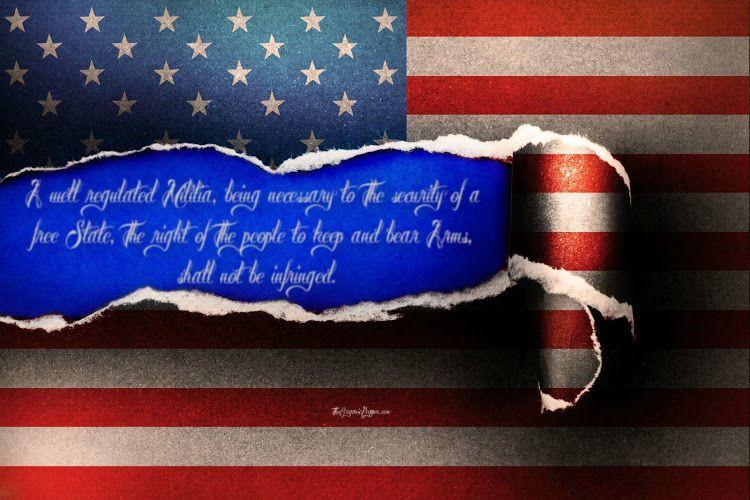 A Quick Recap of What's Happened So Far
Here's a little bit of background on the proposed weapons ban from my last article.
After the most recent election, the state's House and Senate are both Democrat majorities and they haven't wasted a moment in attempting to gut the gun laws in what has historically been a permissive state.

The so-called "assault weapon ban" is SB16 and has that perilously vague wording we all know to be incredibly dangerous. In some interpretations, this law, if it passes, could make illegal the ownership or transportation of any semi-automatic gun because extendable magazines are available for it – and you don't even have to have the extendable mags. (source)
Unsurprisingly, a lot of Virginians are outraged by the idea of this and discussion of a "grandfather clause" that allows you to keep your semi-autos as long as you register them has done nothing to assuage the ire of gun owners.
Counties across the state quickly organized into Second Amendment sanctuaries – as of Dec. 16, 89 counties, cities, or municipalities have passed "sanctuary" resolutions and 6 have passed resolutions to protect the Second Amendment rights of citizens, but refuse to use the word "sanctuary." Other locations are still debating their stances.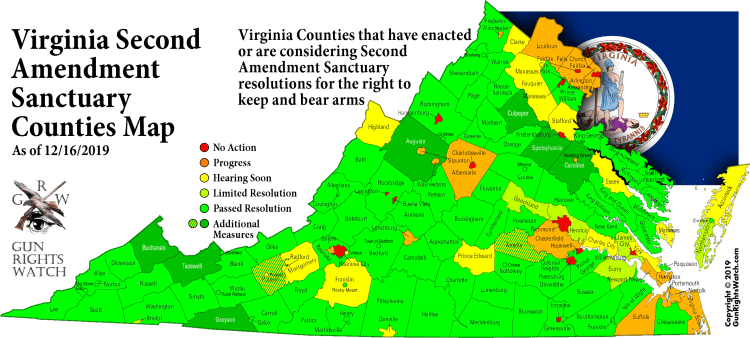 Then to really stir the pot, State Representative Donald MacEachin had the bright idea of calling up the National Guard to squelch the rebellion.
McEachin also noted that Democratic Virginia Gov. Ralph Northam could call the National Guard, if necessary.

"And ultimately, I'm not the governor, but the governor may have to nationalize the National Guard to enforce the law," he said. "That's his call, because I don't know how serious these counties are and how severe the violations of law will be. But that's obviously an option he has." (source)
As you can imagine, that didn't go over well.
The National Guard's Response
Maj. Gen. Timothy P. Williams, the Adjutant General of Virginia's National Guard responded rather vaguely via Twitter.
We have received multiple questions regarding proposed legislation for the 2020 General Assembly session and the authority of the Governor of Virginia to employ the Virginia National Guard in a law enforcement role.

We understand and respect the passion people feel for the U.S. Constitution and 2nd Amendment rights. We will not speculate about the possible use of the Virginia National Guard.

Va. National Guard✔@VaNationalGuard · Dec 13, 2019
From the Adjutant General of Virginia: "We have received multiple questions regarding proposed legislation for the 2020 General Assembly session and the authority of the Governor of Virginia to employ the Virginia National Guard in a law enforcement role.

Va. National Guard✔@VaNationalGuard
We understand and respect the passion people feel for the U.S. Constitution and 2nd Amendment rights. We will not speculate about the possible use of the Virginia National Guard.2838:50 AM – Dec 13, 2019Twitter Ads info and privacy366 people are talking about this
Based on the responses in the Twitter thread, folks found Maj. Gen. Williams' lackluster response less than comforting.
So now, a militia is forming in Virginia
Tazewell County is taking this threat to the Second Amendment very seriously. Not only did they pass a Second Amendment Sanctuary resolution, but they've also officially begun to form a militia. Law Enforcement Today reports:
Just this past Tuesday, on December 10th, the Board of Supervisors from Tazewell County passed two different resolutions in light of controversy circling those who are pro-gun. The first resolution declared the county to be a second amendment sanctuary. This is not at all surprising to see, as 76 out of 95 counties, 9 out of 38 independent cities, and 13 towns have adopted second amendment sanctuary resolutions.

The second item on the agenda was the proposition of establishing a militia in the county. When both of the resolutions passed, the crowd cheered loudly in support of the decisions. Also, the resolutions didn't exactly pass by a small margin; the votes were unanimous, with more than 200 citizens standing by in support. (source)
County Administrator Eric Young explained why the county has opted to form a militia.
"Our position is that Article I, Section 13, of the Constitution of Virginia reserves the right to 'order' militia to the localities. Therefore, counties, not the state, determine what types of arms may be carried in their territory and by whom. So, we are 'ordering' the militia by making sure everyone can own a weapon."

Thus, if anyone from the state tries to remove the Sheriff from their elected office because they refuse to enforce unjust laws, those state officials will be faced with a lawful militia composed of citizens within the state. (source)
This article explains the extensive training being offered by Tazewell County to its citizens in order to make sure everyone is acting safely and responsibly.
I suspect Tazewell County will not be the only one that forms an official militia. The legislature of Virginia may have bitten off more than it can chew when they decided to come after the guns of rural citizens.
"Coincidentally," there's an anti-paramilitary bill on the table.
It's probably no coincidence that at the same time militias are forming, there's also a bill to make them illegal. SB64 has caused a huge hullabaloo.
Here's some of the text of that bill.
§ 18.2-433.2. Paramilitary activity prohibited; penalty.

A person shall be is guilty of unlawful paramilitary activity, punishable as a Class 5 felony if he:

1. Teaches or demonstrates to any other person the use, application, or making of any firearm, explosive, or incendiary device, or technique capable of causing injury or death to persons, knowing or having reason to know or intending that such training will be employed for use in, or in furtherance of, a civil disorder; or

2. Assembles with one or more persons for the purpose of training with, practicing with, or being instructed in the use of any firearm, explosive, or incendiary device, or technique capable of causing injury or death to persons, intending to employ such training for use in, or in furtherance of, a civil disorder; or

3. Assembles with one or more persons with the intent of intimidating any person or group of persons by drilling, parading, or marching with any firearm, any explosive or incendiary device, or any components or combination thereof. (source)
Obviously, this is not a coincidence. They predicted how rural Virginians would respond to their gun-grabbing shenanigans. The plan all along was to confiscate guns and turn any organized resistance into a felony.
A Reminder for Virginia Legislators
There could hardly be anything more unconstitutional than SB64. I know I already quoted this, but just as a refresher for any legislator that might happen to be reading this:
A well regulated Militia, being necessary to the security of a free State, the right of the people to keep and bear Arms, shall not be infringed.
Our guiding doctrines are the Constitution and the Bill of Rights. At this point, everything the laughable Virginia Congress is proposing is an affront to the principles upon which this nation was founded.
Another reminder – this is the pledge these legislators swore:
"I do solemnly swear (or affirm) that I will support the Constitution of the United States, and the Constitution of the Commonwealth of Virginia, and that I will faithfully and impartially discharge all the duties incumbent upon me as ………. according to the best of my ability, (so help me God)." (source)
Every person in the government who has sworn this oath yet supports these unconstitutional bills should be immediately recalled and possibly even tried criminally to set an example that we will no longer tolerate the systematic dismantling of our rights. (Congressional privilege from arrest is only applicable in civil court, not in criminal court.)
This strategy was orchestrated by someone with a lot of money and power.
This is something that has been thought through, perhaps even by gun control advocate and presidential candidate Michael Bloomberg. The reason I'm suggesting Bloomberg specifically is that his PAC donated millions and millions of dollars to turn the legislatures of 24 states to a Democrat majority. His millions worked in 21 of those cases, and Virginia is one of them. Packing the state legislatures with allies would help his agenda should he actually become the next president.
Records filed so far show that organizations controlled and funded by Mr. Bloomberg spent more than $41 million on 24 House races, much of it on eye-catching ads rolled out on social media and broadcast on television in the crucial final days of the campaign.

And while it's impossible to conclude that any one factor tipped the balance in a race, Mr. Bloomberg appears to have reaped the benefits of his millions in giving. Democrats won 21 of the 24 races he sought to influence. Of those, 12 had been considered either tossups or in Republican districts.

"The mission was to flip the House. Success or failure would be defined by that," said Howard Wolfson, a senior adviser to Mr. Bloomberg. (source)
Bloomberg is rabidly anti-gun and has said that ending "the nationwide madness of U.S. gun violence" is the impetus behind his run for the White House. If he were to be elected, may God help America, because he will destroy everything for which our nation has ever stood.
Here's the summary on what's happening in Virginia
Let's look at all these facts together.
With Michael Bloomberg's help, the Democrats took over the Virginia state congress.
There's an anti-paramilitary bill that would disallow armed people to gather or teach others how to use firearms or any technique that could cause injury or death.
There's a bill that would make semi-automatic weapons illegal.
Nearly the entire state (aside from the highly populated areas that elected these yahoos) has balked and formed Second Amendment sanctuaries.
A legislator threatened the sanctuaries with the National Guard.
The sanctuaries responded by activating an organized militia.
The only real way to prevent bloodshed and save face for the congress and governor is for these bills not to pass.
That would be difficult, though, given the fact that Bloomberg dumped millions of dollars into getting people elected who promised to pass strict gun control bills. If they suddenly vote against the bill, they will have to face their angry constituents and the wrath of Bloomberg.
Rural Virginians seem unlikely to back down and are willing to fight. They have another month to get organized to defend their communities.
Remember that in situations such as these, the rumor mill works overtime. There are a lot of reports that are hysterical and exaggerated. The truth is bad enough that we don't need to add far-fetched theories to the mix. This article is a very good, common-sense breakdown of fact vs. fiction.
What will happen next remains to be seen, but it is no exaggeration to say that the future of our country is now riding on the response of Virginians, should these unconstitutional laws pass. Source
This is what happens when the God of peace, law, and order is rejected. In comes lawlessness and chaos. Our God told us this would happen 2,000 or so years ago. It is happening but we did not choose this. We who believe did not reject the Lord Jesus Christ or the Father.
The lawless, deranged Democrats have already launched a hot civil war against conservatives and Trump supporters by targeting them for physical violence in restaurants and other public places. They've published the home addresses of Trump donors, and they've called for the mass killing of all conservatives, Christians, Trump supporters, and gun owners.
Once Again Proves That Even in Places Where There Are No Guns, People Still Kill. Guns Don't Kill People, People Kill People.
London — A 41-year-old man was arrested on suspicion of terrorism Friday after injuring several people in a stabbing spree at a shopping center in Manchester, England. The man entered the Arndale shopping center Friday morning with a large knife and attacked people, Greater Manchester Police Assistant Chief Constable Russ Jackson said in a statement, BBC News reported.
Two unarmed police community support officers attempted to confront the attacker, but the man chased them with the knife as they were calling for assistance, Jackson said.
"The man attacked people around him and we understand five people were injured by him," Jackson said. "Although the injuries are nasty, we are told that, thankfully, none are life-threatening."
Video posted to social media showed a man being held on the ground by police. Jackson said the attack appeared to be random and the motive was unclear.
One person suffered "serious" injuries, according to England's North West Ambulance Service. Two women, one who is 19 years old, were hospitalized, along with a man in his 50s.
The Arndale Center was evacuated and authorities said it would remain closed for the rest of the day. Police said they did not believe anyone else was involved in the stabbings. Source
NBC Reported: Assistant Chief Constable Russ Jackson told a press conference that while the suspect was initially arrested for serious assault, he has now been arrested on "suspicion of the preparation, commission, and instigation of an act of terrorism."
Jackson said the attack began at 11.15 a.m. (6:15 a.m. ET) when the suspect entered the shopping center armed with a large knife and began "lunging and attacking people."
Two unarmed police community liaison officers were at the scene and were chased by the suspect as they called for backup.
"Although the injuries are nasty we are told that thankfully that none are life-threatening," Jackson said.
He said that within five minutes, the man had been challenged and arrested outside the shopping center in the city of Manchester, which is about 200 miles north of London.
Jackson added that the terrorism arrest would remind locals of the 2017 Manchester Arena bomb, in which an Islamist terrorist detonated a homemade explosive outside an Ariana Grande concert, killing 22 people and injuring dozens more.
"This is bound to bring back memories of 2017. At this time we do not believe that there is anyone else involved in this attack but we will be constantly keeping this under review," he said.
Police said one 19-year-old woman was taken to a local hospital with stab wounds, along with another woman whose age was not released. Both were said to be in a stable condition.
A man in his 50s was also taken to a local hospital with stab wounds, while a woman in her 40s who was not stabbed was assessed at the scene by paramedics and did not go to the hospital.
Unverified social media posts showed police detaining a man in the city's central shopping district by using a taser. A large police presence, including multiple cars and vans, could also be seen.
Peace is something everyone wants, yet few seem to find. What is peace? It can be defined as "tranquility, harmony, or security." Depending on the situation, it could mean "prosperity" or "well-being." Various forms of the word peace are found 429 times in the King James Version of the Bible. There are different types of peace, including false peace, inner peace, peace with God and peace with man.
In the Old Testament, the primary Hebrew word for "peace" is shalom, and it refers to relationships between people (Genesis 34:21), nations (1 Kings 5:12), and God with men (Psalm 85:8). Peace is a desired status in each of these areas, and shalom is often tied to a covenant or a promise kept. A familiar friend (literally, "friend of my peace" in Psalm 41:9) is one with whom you would be at ease, a trusted companion. "Peace" was the standard greeting (1 Samuel 25:6), still used in many cultures today.
Peace is directly related to the actions and attitudes of individuals; but it is ultimately a gift from God (Isaiah 45:7; Leviticus 26:6; John 14:27). The presence of peace indicates God's blessing on man's obedience (Isaiah 32:17; Malachi 2:5) and faith (Isaiah 26:3). There is no peace for the wicked (Isaiah 48:22).
An optimist views everything in the most favorable light possible. On the other hand, a pessimist sees things rather negatively. The optimist sees a silver lining in every cloud; the pessimist believes a dark cloud obscures every silver lining. The realist is somewhere between these extremes. Most of us would like to think that we are realists, and if anything, that we tip towards being more optimistic than pessimistic.
I really don't know where I fall in my perspective of our future. In the divine orchestration of earthly affairs, I am supremely confident. I know that the sovereign Creator of the universe will eventually bring his divine plan to fruition. The major lesson of the book of Revelation is this: The cause of Heaven will be triumphant ultimately. Victory will belong to the faithful because the Lamb of God has overcome by virtue of his death and resurrection (Revelation 5:6; 12:11). And all who stand in opposition to the King of Kings will be vanquished.
Watch this video to learn how to adapt and maintain your presence of mind, even as your nation is being deliberately ripped to shreds by lawless, treasonous criminals who call themselves "Democrats.
Stay informed about the accelerating civil war at CivilWar.news.FacebookTwitterShare Source: News Target
God knows that evil is not combated with love and understanding.
King David Had This Down:
The misfits. The rebels. The troublemakers, The Cowboys. The round pegs in the square holes misfits. The ones who see things totally differently. They're not comfortable with the rules. And they have no respect for the status quo Pharisees "hypocrites". You can quote them, disagree with them, glorify or vilify them. About the only thing you can't do–is ignore them". Because they change things. They push GOD's human race forward and that bothers the politicians and otherworldly liars. And while some may see them as the crazy ones, I see a genius. Because the people who are crazy enough to think they can change the world, are the ones who do. SRH….
The 127 Faith Foundation understands the pain and sorrow associated with being a throwaway child, We push this throwaway child towards bettering their education, be it junior-college are going for a Masters's degree. This program is about them because they determine by the grace of God if they're going to be a pillar in the community or a burden on society. Some of the strongholds orphans deal with are: fear, resentment, bitterness, unforgiveness, apathy, unbelief, depression, anxiety, lust, anger, pride, and greed. Many of these strongholds do open the door to addiction. Please Help The 127
StevieRay Hansen
Editor, HNewsWire.com
The best index to a person's character is how he treats people who can't do him any good, and how he treats people who can't fight back…
The Birth Pains Are Growing Stronger….
"Don't piss down my back and tell me it's raining." Outlaw Josey Wales
"Man will ultimately be governed by God or by tyrants."
My name is Steve Meyers and I need to share a vision and warning that the Lord showed me back in April 2007….
Many of you will ask why I waited so long to share the warning. I didn't. I shared the story with everyone that would listen from pastors to friends to family to colleagues. Immediately following the initial vision, I called a close friend. I told him to sit down that I had something to tell him. I needed it documented as I knew this was supernatural and from God. As I witness events unfolding today, I need to share the vision again.
The risk of loss in trading futures and options on futures can be substantial. The author does not guarantee the accuracy of the above information, although it is believed that the sources are reliable and the information accurate. The author assumes no liability or responsibility for direct or indirect, special, consequential or incidental damages or for any other damages relating or arising out of any action taken as a result of any information or advice contained in this commentary. The author disclaims any express or implied liability or responsibility for any action taken, which is solely at the liability and responsibility of the user. Steve Meyers, StevieRay Hansen
The Un-Godly — Those That Suppress the Truth, the social media giants built multi-billion dollar empires by giving everyone a voice, but now that they have such a dominant position on the Internet they have decided that many prominent conservative voices should be completely silenced.
Our government has been overthrown. As evidenced by Trump's capitulation on the border, his recent servitude to the GMO industry and his acquiescence to the warmongers, our President has been compromised. Our liberties are being eliminated one by one. Gun confiscation is next. The Constitution is gasping its last breaths. Our borders are destroyed and our culture has been turned upside down by every perversion known to man.
It's interesting when you connect the dots, the masses are opposed to God's blueprint and therefore will bring destruction upon the earth intentionally. Me, I, mine, narcissists generation will bring total destruction upon God's people, only the chosen will survive, we live in evil times, dress appropriately, put on the full armor of God!….
Force is now the only rule remaining in deep state-controlled America. Everything else has collapsed. There is no free speech, no fair trial, no system of justice, no reasonable expectation of human rights anywhere, no fair elections, no honest news, no honest Wall Street operations, no real public education, no clean food, and threats from the elitist, the power structure that is hell-bent on bringing the New World order into the reality of the sleeping masses, get woke or get yoked, the choice still lives in the people's hands. Next, the AntiChrist will appear with many empty promises, peace, and security, in reality, it's the yoking of mankind, We are on the Doorstep of the Great Tribulations…
The prophet does not confuse truth with consensus. The prophet does not confuse God's word with the word of those who happen to hold power at present, or with the opinion of the majority. This is because powerholders and the majority can fall victim to a lying spirit-and this means a power that actually seizes the majority of experts, the political leadership, and the public.
'PORTA DOS FONDOS' (TRANSLATES TO "BACK DOOR") HYPER-REPROBATES…
Thanks to people like Pastor Steven Anderson and the choir of preachers he has assembled within the New Independent Fundamentalist Baptist movement there has been a resurgence in what is called the Reprobate Doctrine. A Biblical doctrine that demonstrates in scripture, that God will turn people over to their vile lifestyles as a curse, blinding them to salvation in Jesus, giving them over to a devil's hell for eternity. A doctrine that I believe is completely Biblical and defined by the Apostle Paul in Romans 1 is unmistakably visceral language.
Let Me Make This Abundantly Clear. (I Am Apolitical) While I Have a General Distaste for Electric Cars and Politicians No Matter the Party They Belong To, I Am Unashamedly Politically a Bible Believing Conservative Christian. I Have a Severe Distrust of Government. I Believe It Is the Most Inefficient and Ineffective Way to Accomplish Most Things. While I Strongly Disagree with Liberals/Progressives and Conservative on Most Political Issues, and While I Believe Liberals/Progressives and Most Politicians Are Terribly Misguided and Naive About What Big Government Will Eventually Result In, I Strive to Not Question Their Motives. at the Same Time, While I Find Myself in Agreement with Conservative Politicians on Some Issues, I Do Not Believe Electing Republicans Is the Answer to Everything. for Me, Very Sadly, the Main Difference Between Republicans and Democrats Is How Quickly They Want to Drive the Car Towards the Cliff. Simply Put, I Do Not Believe the Government Is the Solution for Everything. I Do Not Place Any Faith, Trust, or Hope in Any Politicians to Fix What Is Wrong with the World. "Come Lord Jesus!" (Revelation 22:20) The prophet does not confuse truth with consensus. The prophet does not confuse God's word with the word of those who happen to hold power at present, or with the opinion of the majority. This is because powerholders and the majority can fall victim to a lying spirit-and this means a power that actually seizes the majority of experts, the political leadership, and the public.StevieRay Hansen
Tagged Under: Gun Confiscation Threats,Banks, tribulation, hnewswire StevieRay Hansen, HNewsWire, antichrist, digital gulag, antichrists, Apple, Bible, Big Tech, bigotry, Christian baker, Christianity, Christians, Colorado, Colorado Civil Rights Commission, conservatives, deep state, demonic assault, end of days, end times, Facebook, First Amendment, free speech, Google, hate groups, Hate speech, Electronic Prison, Birth Pains, banned, bias, Big Tech, Censorship, Collapse, content publishers, digital tyranny, Donald Trump, election fraud, evil, freedom of speech, Google, impotence, meddling, oppressed, President Trump, speech police, tech giants, technocrats, thought control, Trump, Tyranny
The 127 Faith Foundation: We do not solicit donations from "those on disability, on a fixed income, or those who cannot afford to give." Please Pray!
Or, make checks payable to:
The 127 Faith Foundation
PO Box 127
Pontotoc, TX 76869
The number of Orphans aging out of Child Protective Custody has grown at an alarming rate. The 127 Faith Foundation receives many requests each week to house them at our ranch. Our prayer is that the good people of our country will step up to the challenge and offer financial support for "the least among us." We need your help! StevieRay Hansen, Founder, The 127 Faith Foundation
HNewsWire: Our elected officials have turned on the American people, disarming the masses is the beginning of the end for freedom. As Virginia lawmakers prepare…
Read More
We make every effort to acknowledge sources used in our news articles. In a few cases, the sources were lost due to a technological glitch. If you believe we have not given sufficient credit for your source material, please contact us, and we will be more than happy to link to your article.