Watchman Bud Light This Bank: JPMorgan Chase Is Back to De-banking, but Not in a Good Way Once Again, It's Failing to Provide Any Explanations. And Once Again, It's Targeting Individuals Who Have the Audacity to Question the Alleged Left Government/Woke Business Conspiracy Against Liberty…
HNewsWire:
At about the same time, it appears, Chase debanked, without warning, Drs. Syed Haider and Joseph Mercola. Wait, no. Not just them, but also Dr. Mercola's employees – and his and their families. All without explanation.
These debankings don't come without context.
You may recall that last fall Chase debanked Senator, Ambassador and Governor (so, you know, pretty well respected) Brownback's religious liberty organization, after having debanked General Flynn and a series of other conservatives. Chase got called on the Brownback debanking and first stonewalled and then lied, a half dozen times, about the reasons for the debanking, and then went back to stonewalling.
That's relevant again because, whaddya know, the debanked doctors turn out to be conservatives, too – or at least they're sufficiently opposed to the woke big government/big business monolith that they were willing to question the efficacy of the lockdown regime. In fact, the New York Times wrote a story about him in the summer of 2021 calling him "The Most Influential Spreader of Coronavirus Information Online."
Why? Because he'd dared to "publish[] over 600 articles on Facebook that cast doubt on Covid-19 vaccines since the pandemic began, reaching a far larger audience than other vaccine skeptics, an analysis by The New York Times found." He also published "posts often ask[ing] pointed questions about [the vaccines'] safety and discuss[ing] studies that other doctors have refuted."
Oh, the horror. Disagreement about scientific questions? Can not have. Especially if the right scientists have refuted some underlying positions.
You know, the way the right scientists refuted the lab-leak theory.
Mercola also helped to publicize a study that claimed that the "covid vaccines were 'a medical fraud' and said the injections did not prevent infections, provide immunity or stop transmission of the disease."
Wait. That all turned out to be right, didn't it? Wasn't he right? Haven't the Times and Mercola's detractors been refuted about those claims of misinformation? Weren't they the misinformants?
Haider similarly questioned the efficacy of the vaccines, and documented the slow admissions that he and other skeptics had been correct in their claims.
Now, if this is a political debanking, it initially seems odd that it's coming years after the controversy about the vaccines had died down. But the key may lie in the Times story itself, which explained that "[t]he activity has earned Dr. Mercola, a natural health proponent with an Everyman demeanor, the dubious distinction of the top spot in the 'Disinformation Dozen,' a list of 12 people responsible for sharing 65 percent of all anti-vaccine messaging on social media, said the nonprofit Center for Countering Digital Hate. Others on the list include Robert F. Kennedy Jr., a longtime anti-vaccine activist, and Erin Elizabeth, the founder of the website Health Nut News, who is also Dr. Mercola's girlfriend."
Well, that would fit the pattern. Kennedy is an enemy of the unistate. He's a bad guy to know or share any connections with, these days.
(By the way, check in on the Center for Countering Digital Hate. I know you'll be shocked to discover that their functional – rather than their purported – definition of hate is "anything that deviates from woke policy goals.")
Now, I don't have any opinion on the veracity of other claims that Mercola and Haider may have made. I, like decisionmakers at Chase, am not a doctor. And I certainly don't have any public opinions about the 2024 primaries. But that's hardly the point. Once again we have a situation in which Chase has shut down accounts of people orthogonal to the big-gov/big-biz conjuncture without explanation.
And this time, in a move reminiscent of the type of bills of attainder that are constitutionally forbidden to American governments, the ban extends not only to companies, but to individual employees and their families.
Unless there's a terrific, non-partisan, non-censoring reason for all of this, that's monstrous.
It's always possible that the fact that Chase's debanking of organizations and people (and now their families) just happens always to fall on those espousing anti-woke positions, even though Chase adamantly refuses to provide any true explanations for them, but is happy to tell lie after demonstrable lie. It's possible.
Really, though, what are the odds? They're certainly getting longer.
Coutts Bank of Britain recently debanked Nigel Farage, who championed Brexit. All of the other banks of England followed along. But then it was discovered that the debanking had been political. So the British government is investigating, and the head of NatWest, which owns Coutts, has been, as they say, sacked.
You're up, American politicians. Time for a full investigation of debanking at JPMorgan Chase and some of the other malefactors of great piles of other people's wealth, like Bank of America.
Find out what's really going on and why, so that some of the mighty may fall the way of the NatWest CEO.
The Brits have long understood taking sharp action pour encourager les autres. Time for us beyond the sea to learn.
This week, British bank Barclays became the latest to be accused of shutting the accounts of its customers for political or religious reasons. That followed revelations in April that Coutts, a private bank owned by UK bank NatWest, was alleged to have closed the accounts and publicized personal information of conservative politician Nigel Farage, one of the foremost Brexit advocates and a supporter of the policies of former U.S. President Donald Trump.
Meanwhile, British banks aren't alone. Many say that the largest U.S. financial institutions are in lockstep with UK banks in establishing political and social criteria for their customers and punishing those who don't comply.
"Sadly, what we're seeing now with NatWest and Barclays isn't surprising," Justin Haskins, director at the Heartland Institute, told The Epoch Times. "There is a mountain of evidence that shows many of America's largest and most powerful banks are discriminating against customers because of their ideological, social, cultural, religious, or political views.
"Through various environmental, social, and governance (ESG) policies and frameworks, banks regularly choose to screen out customers who are deemed 'reputational risks' or considered part of industries disfavored by elites and their powerful institutions."
UK Ministers Find Fault With Discriminating Banks
In contrast to the United States, where regulators have taken no action, UK ministers have stepped in to defend their constituents against political discrimination.
"Andrew Griffith, the economic secretary of the UK, met with some of the major banks recently and got them all to commit to a principle of non-discrimination, based on lawful expression," Michael Ross, counsel for the Alliance Defending Freedom (ADF), told The Epoch Times.
In addition, legislation is currently in the works to ban UK banks from discriminating against customers on a political or religious basis.
"I think the point that we can all agree on is that the right to lawful freedom of speech is fundamental," UK Treasury Minister Baroness Penn stated last week. "And where that has seemed to be brought into question through the provision of services, we have cause to worry."
UK Foreign Secretary James Cleverly stated that the closure of Mr. Farage's accounts was "wrong on so many levels."
"This completely undermines the trust we have in our banking and financial systems," Mr. Cleverly said. "We are better than this."
UK Home Secretary Suella Braverman posted to X, the social media platform formerly called Twitter, on July 19:
"The Coutts scandal exposes the sinister nature of much of the Diversity, Equity & Inclusion industry. Apparently, anyone who wants to control our borders & stop the boats can be branded 'xenophobic' & have their bank account closed in the name of 'inclusivity.'"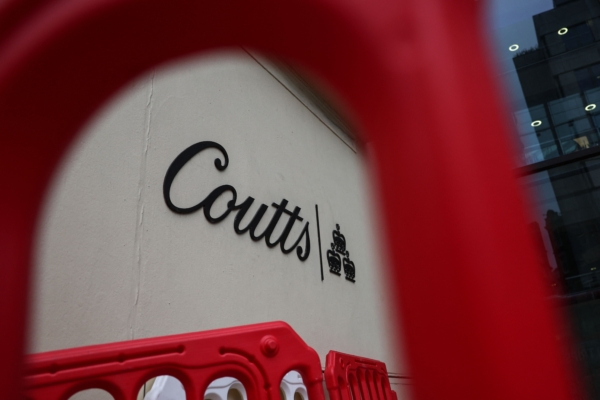 As part of new UK regulations, banks that close customer accounts will be required to give a reason, and customers will have the right to appeal the bank's decision. Banks that continue to discriminate may lose their licenses.
Meanwhile, British banks themselves appear to be turning against these policies, or at least of the unfavorable publicity they are facing as a result.
On July 26, NatWest CEO Alison Rose resigned after Mr. Farage's allegations were substantiated and it was revealed that she had discussed Mr. Farage's details with BBC News. Ms. Rose stated that she was guilty of a "serious error of judgment."
Peter Flavel, CEO of Coutts, resigned on July 27, saying he took "ultimate responsibility" for the closure of Mr. Farage's bank accounts. The UK government data watchdog has promised an investigation, sending a letter to banks to remind them that customers' personal information should be kept private.
"The banking duty of confidentiality is over a hundred years old," said John Edwards, the UK's information commissioner. "It is clear that it would not permit the discussion of a customer's personal information with the media."
"We trust banks with our money and with our personal information," he added. "Any suggestion that this trust has been betrayed will be concerning for a bank's customers, and for regulators like myself."
US Banks Also Discriminate, Experts Say
JPMorgan Chase, the largest U.S. bank, has also faced allegations of political and religious discrimination.
"We're already seeing this happening in the U.S.," ADF's Mr. Ross said.
"Before this, there was obviously Sam Brownback and the National Committee for Religious Freedom," he said, referring to accounts allegedly closed by JPMorgan Chase. "Chase also canceled Defense of Liberty a couple of years ago, retired [Lt. Gen.] Michael Flynn, the Family Council—all of them are designated either high risk or reputational risk."
In May, longtime JPMorgan Chase shareholder David Bahnsen brought a shareholder action against the bank, claiming that it had closed the accounts of a religious organization established by former senator and U.S. Ambassador at Large for International Religious Freedom Sam Brownback for political reasons.
While the action ultimately failed to gain majority support from shareholders, Mr. Bahnsen stated: "One thing I am certain of is that the next time a bank manager decides to close an account for somebody like Ambassador Brownback, they're going to think twice about doing it. This was covered far and wide by both the left-wing press and the right-wing press, and I do not believe it looked good upon JPMorgan."
In November 2021, WePay, a payment services company owned by JPMorgan Chase, abruptly canceled services they were providing for Defense of Liberty, a conservative organization, for an event featuring Donald Trump Jr. WePay said at the time that it wouldn't serve anyone who promotes "hate, violence, racial intolerance, terrorism, the financial exploitation of a crime."
That prompted Missouri state Treasurer Scott Fitzpatrick to threaten to halt state business with the bank.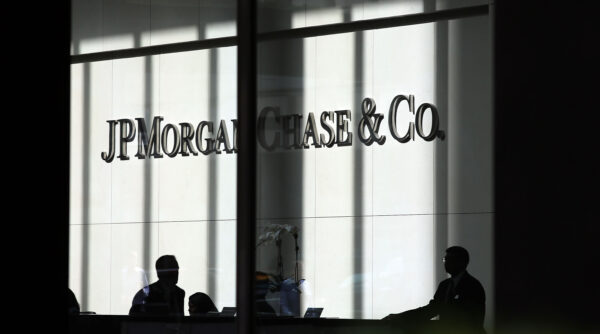 In July 2021, Family Council faced a similar denial of service.
"Although Family Council generally tries to avoid doing business with companies like Chase, at 10:29 am on July 7, 2021, our office received a terse email from our credit card processor—a company owned by J.P. Morgan Chase—saying, 'Unfortunately, we can no longer support your business.' At 10:30 AM, they terminated our account, and we could no longer accept donations," Family Council stated.
"For nearly two years, we had used this company to process donations that our supporters made to Family Council and the Education Alliance via our websites. If you gave by credit or debit card, this company handled the transaction. Without a processor, it's impossible for a nonprofit to accept donations online."
On March 23, financial officers from 14 states wrote a letter to JPMorgan CEO Jamie Dimon expressing "concern that the bank is engaged in what appears to be politically motivated de-banking of certain industries, individuals, and groups."
"A large number of our pension funds are direct shareholders of Chase, and as stewards of our states' investment dollars, we are concerned that the company's recent pattern of apparent politically motivated de-banking constitutes a breach of its fiduciary duty," they stated. "Under the law, you and the other officers of the company must act to maximize profit and must not subordinate the company's long-term financial well-being to extraneous personal or political ends."
Meanwhile, 19 state attorneys general wrote a letter to Mr. Dimon.
"It is clear that JPMorgan Chase & Co. has persistently discriminated against certain customers due to their religious or political affiliation.
"This discrimination is unacceptable," the AGs wrote. "Chase must stop such behavior and align its business practices with the anti-discrimination policies that Chase proclaims."
Discrimination Could Spread Beyond Politics
Some say they are concerned that bank discrimination could spread beyond political and religious views to a broader social credit system that might also include things such as environmental behavior and gun control.
"There is every reason to believe that current discriminatory practices in banking could soon expand to personal CO2 emissions or gun purchases," Mr. Haskins said.
"Banks and other financial institutions have already started to discriminate with gun companies, either through higher fees or rates or by refusing to do business entirely, and every large bank in the United States, from Bank of America to Citi and Wells Fargo, have said they have started the process of phasing out CO2 emissions from their entire business model, including lending and banking services," he said.
"This will take a few decades to complete, but if these banks go through with their plans, individuals and companies that rely on fossil fuels—almost everyone today—will be greatly affected."
"The policies they use to do this are very expansive policies, like 'reputational risk' or 'politically exposed person,'" the ADF's Mr. Ross said. "There's not really a limiting principle there, and so we can certainly see it aimed at any sort of political opponent or anyone who has views that activists or even government actors think are unpopular."
"We've been carefully monitoring Chase, which de-banked General Flynn and de-banked other conservatives, then last fall de-banked Ambassador Brownback's organization," Scott Shepard, a director at the National Center for Public Policy Research, told The Epoch Times.
"And just this last week, they de-banked a couple of doctors who are out talking about the inefficacy of [COVID-19] vaccines, that they won't stop transmission, that they won't make takers immune, etc., and the bank still hasn't explained why," Mr. Shepard said. "We've seen similar behavior at Bank of America, along with Bank of America sharing private information about the transactions of customers without warrants. And last week, we found out that that happens all the time; [FBI Director] Chris Wray says so."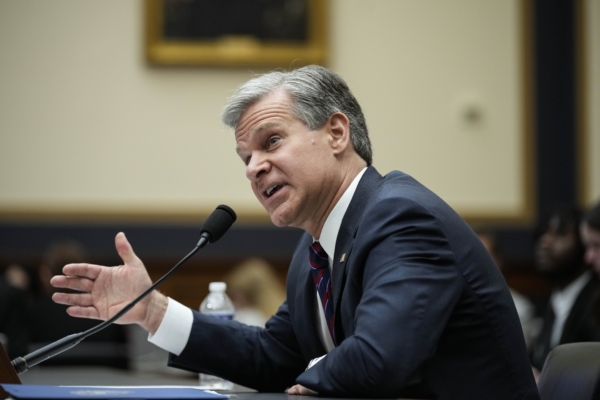 At a congressional hearing on July 12, Rep. Thomas Massie (R-Ky.) asked Mr. Wray: "George Hill, former FBI supervisory intelligence analyst in the Boston field office, told us that Bank of America, with no legal process, gave to the FBI gun purchase records with no geographical boundaries for anybody that was a Bank of America customer. Is that true?"
Mr. Wray replied, "A number of business community partners all the time, including financial institutions, share information with us about possible criminal activity, and my understanding is that that's fully lawful."
Some have argued that, as private companies, banks are free to do business with whichever customers they choose. However, that position has been challenged on the grounds that financial services are critical to the ability of people and organizations to be able to function in modern society.
"Banks in particular receive a ton of bailouts and public benefits from the government and from taxpayers here," Mr. Ross said. "They do this so that they can serve the public."
"So when they turn around and start weaponizing these financial services to cut off people with views they don't like, they're breaking the public trust," he noted.
"The American banks that seem to be leading these de-banking and discrimination policies are the too-big-to-fail banks," Mr. Shepard said. "If you're backstopped by American taxpayers, you get to keep your profits but we cover your losses—you may not discriminate against the viewpoint of any American."
Representatives of JPMorgan Chase, NatWest, and Barclays didn't respond by press time to a request by The Epoch Times for comment.
SRH:
The subject bank's actions are eerily similar to what the Beast and Antichrist plan for the Great Tribulation period: namely, that no one will be allowed to transact business or "buy or sell" anything until they accept the mark of the Beast.
The current debanking situation is similar to the previous attempt at a global government, which was the murderous Leninist/Stalinist USSR.
In reality, this scenario proves that advocates of a global government own and operate the world's central banks and the largest publicly-owned institutions. This means that the global merchants of the totalitarian anti-Christ one-world Marxist/Communist government depicted in Revelation are in fact in charge of JP Morgan Chase and its CEO Jamie Dimon.
There is significant political opposition to the latter today, but the day after the Rapture and the simultaneous disappearance of the Holy Spirit from the world, the anti-Christ purveyors of one-world government will have unlimited power to exact their control over humanity (for only seven years), including the unlimited authorization by banks to debank all of those who are outspoken about the new Establishment of totalitarian anti-Christ one-world government.
Say hello to Granite Ridge Soap-works! Use our handmade soaps to take good care of your skin. Our premium natural ingredients work together to create a silky, creamy lather that hydrates your skin. Chemicals, such as sodium lauryl sulfate, phthalates, parabens, or detergents, are never used by us. To ensure quality, we make all of our soaps in modest quantities. Visit our Etsy store right away to give them a try and the attention your skin deserves. GraniteRidgeSoapworks: Because only the best will do for your skin.
Use the code HNEWS15 to receive 15% off your first purchase.
Revelation: A Blueprint for the Great Tribulation
Will Putin Fulfill Biblical Prophecy and Attack Israel?
A Thrilling Ride
Every once in awhile, a book comes across your path that is impossible to put down. A Long Journey Home is not a casual book that you read in a week or earmark to complete at a later date. Once you begin, cancel your schedule, put your phone on silent, find a quiet place where you cannot be disturbed, and complete the journey. Click Here to Purchase on Amazon.com!