Watchman's Update: JP Morgen Chase Coming Bank Blood Bath, The Devil Man Suggests Property Conscription to Combat Climate Change—These People Are Evil and Ruthless—The Godless Club—Bankers From Hell!
HNewsWire Update:
There Was a Blood Bath in Some Bank Stocks Yesterday: So Much for Jamie Dimon's Prediction That It's the End of the Banking Crisis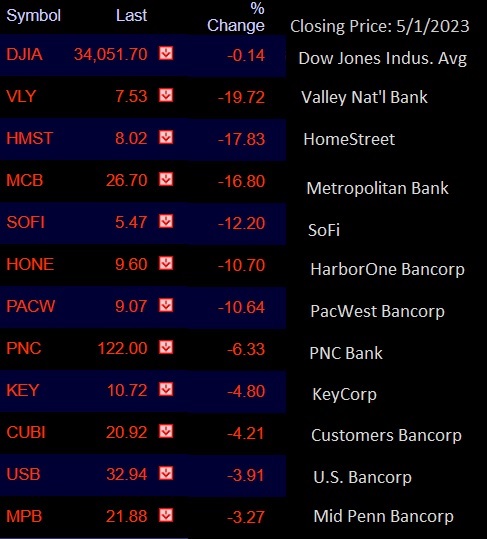 By Pam Martens and Russ Martens: May 2, 2023 ~
There are two critical things you need to know about JPMorgan Chase's Chairman and CEO Jamie Dimon's ability to stabilize the banking crisis: (1) he's tried twice and failed both times; (2) his bank is a key financier of hedge funds, some of which are undermining bank stock prices with short selling.
The Financial Times reported on April 5 that "Hedge funds made more than $7bn in profits by betting against bank shares during the recent crisis that rocked the sector, their biggest such haul since the 2008 financial crisis." Shares of First Republic Bank have lost billions of dollars more in market value since April 5, meaning the $7 billion haul for short sellers is now an understatement.
The one thing that would help dramatically to stem the banking crisis is for President Biden (a man who derives his powers from U.S. voters rather than a p.r. machine like Dimon) to immediately issue an Executive Order halting the short selling of federally-insured bank stocks. As of right now, short sellers see an easy path to picking a regional or community bank target, or a bank that got in bed with crypto companies, or some inscrutable federally-insured fintech bank, and driving its share price into the ground while minting billions for themselves.
This is now a matter of national security to the United States. The second largest bank failure in U.S. history just occurred on May 1 with First Republic Bank. The third largest bank failure in U.S. history occurred on March 10 with Silicon Valley Bank. The fourth largest bank failure in U.S. history occurred on March 12 with Signature Bank. In each case, the Federal Deposit Insurance Corporation (FDIC), the federal agency that insures bank deposits up to $250,000 per depositor per bank, was on the hook for losses on underwater assets at the banks. It will book tens of billions of dollars in losses to its Deposit Insurance Fund as a result. (The largest bank failure in U.S. history was Washington Mutual. That occurred in 2008. JPMorgan Chase was allowed to take it over, just as happened with First Republic Bank yesterday.)
The FDIC simply cannot afford for this banking crisis to pick up momentum.
Also, something else unthinkable occurred on March 19. The Swiss government stripped shareholders of two publicly-traded banks from voting on the shotgun marriage of collapsing Credit Suisse and its stronger rival, UBS. Both banks are highly interconnected to U.S. mega banks and are regulated as G-SIBS – Global Systemically Important Banks.
The chart above is pretty much all you need to know about the prediction from Jamie Dimon yesterday that his mega bank's purchase of First Republic Bank has brought the current banking crisis to an end. Each of these publicly-traded stocks in the chart above is the parent of a federally-insured bank. Six of them experienced a percentage loss in the double digits by the close of trading yesterday. Five others fell many multiples of the losses experienced by the broader Dow Jones Industrial Average.
Jamie Dimon's record on forecasting future events is not something to write home about. He is, after all, the same guy that called the London Whale hoopla in the media "a tempest in a teapot." Not long thereafter, it was revealed that his bank's derivative traders in London, supervised by an unlicensed woman who worked down the hall from Dimon in New York, had used customers' deposits to trade risky derivatives and lost $6.2 billion of customers' deposits. The U.S. Senate's Permanent Subcommittee on Investigations (which used to conduct highly sophisticated investigations of Wall Street corruption but now seems to have been muzzled in a kind of witness protection program when it comes to Wall Street) issued a 300-page investigative report on that London Whale "tempest in a teapot" in March of 2013.
The late Senator John McCain, co-chair of the Subcommittee at the time, said this in his opening remarks at a related hearing:
"…The 'London Whale' incident matters to the Federal Government because the traders at JPMorgan were making risky bets using excess deposits, portions of which were federally insured. These excess deposits should have been used to provide loans for Main Street businesses. Instead, JPMorgan used the money to bet on catastrophic risk.
"Through an extensive bipartisan investigation, this Subcommittee has uncovered a wealth of new information. Internal emails, memos, and interviews reveal that these trades were not conducted by a group of rogue traders, but that their superiors were well aware of their activities.
"Traders at JPMorgan's Chief Investment Office, the CIO, adopted a risky strategy with money they were supposed to use to hedge, or counter, risk. However, even the head of the CIO could only provide a 'guesstimate' as to what exactly the portfolio was supposed to hedge. And JPMorgan's CEO Jamie Dimon admitted that the portfolio had 'morphed' into something that created new and potentially larger risks. In the words of JPMorgan's primary Federal regulator, it would require 'make-believe voodoo magic' to make the portfolio actually look like a hedge.
"Top officials at JPMorgan allowed these excessive losses to occur by permitting the CIO to continually breach all of the bank's own risk limits. When the risk limits threatened to impede their risky behavior, they decided to manipulate the models.
"Disturbingly, the bank's primary regulator, the OCC [Office of the Comptroller of the Currency], failed to take action even after red flags warned that JPMorgan was breaching its risk limits. These regulators fell asleep at the switch and failed to use the tools at their disposal to effectively curb JPMorgan's appetite for risk.
"However, JPMorgan actively impeded the OCC's oversight. The CIO refused to release key investment data to the OCC and even claimed that the regulator was trying to 'destroy' the bank's business.
"After these losses were uncovered by the press, JPMorgan chose to conceal its errors and, in doing so, top officials at the bank misinformed investors, regulators, and the public. In an April 2012 earnings call, then Chief Financial Officer Douglas Braunstein falsely told investors and the public that the bank had been 'fully transparent to regulators.'
"The deception did not end there. During the same earnings call, Mr. Dimon tried to downplay the significance of the losses by infamously characterizing them as 'a complete tempest in a teapot'…
"Let me be clear: JPMorgan completely disregarded risk limits and stonewalled Federal regulators. It is unsettling that a group of traders made reckless decisions with federally insured money and that all of this was done with the full awareness of top officials at JPMorgan. This bank appears to have entertained — indeed, embraced—the idea that it was 'too big to fail.' In fact, with regard to how it managed the derivatives that are the subject of today's hearing, it seems to have developed a business model based on that notion — the notion that they are too big to fail.
"It is our duty to the American public to remind the financial industry that high-stakes gambling with federally insured deposits will not be tolerated. In 2012, the 'London Whale' trades resulted in a $6 billion loss. What if it was $60 billion? Or $100 billion? Does JPMorgan operate under the assumption that the taxpayer will bail them out again? What place does taxpayers' underwriting of the big banks' disregard for 'moral hazard' have in the proper operation of a truly free market?"
You can see why Senator Elizabeth Warren is quite upset about Jamie Dimon's mega bank being allowed to get even bigger with the purchase of First Republic Bank.
Watchman's Warning: No One Seems to Be Paying Attention as the One-World Beast System Roars Into Existence. Following in the Footsteps of Visa, MasterCard, and Amazon, JP Morgan Has Introduced an Invasive Bio-metric Payment Plan at the Point of Sale
HNewsWire: While Americans become increasingly hypnotized by 2024 election coverage, where all they hear about is Donald Trump's antics, globalists and technocrats move swiftly to install a new global economic order that will subjugate humanity by outsmarting the political system. Trump is the ideal polarizing figure to distract Americans during this crucial historical moment. Keeping your attention on him will cause you to miss the bigger picture. This relates to the rapidly approaching beast system, which is marching us toward World War III and economic slavery through cashless payment systems, biometric surveillance 24 hours a day, seven days a week, and even death.
The democracy is being attacked. Jamie Dimon, the CEO of JPMorgan Chase and a member of the World Economic Forum, believes that the United States government should seize private property to combat climate change. This is not a hyperbole. In his annual letter to shareholders, Dimon suggested that "governments, businesses, and non-governmental organizations" may need to invoke "eminent domain" in order to obtain "adequate investments for grid, solar, wind, and pipeline initiatives" quickly enough.
Implementing socialism would expedite the achievement of the WEF's goal: YOU WILL OWN NOTHING AND BE GLAD. Dimon is cutting to the chase by proposing state ownership and the abolition of capitalism in its entirety. "The need to provide energy affordably and reliably for the present, as well as make the necessary investments to decarbonize for the future, highlights the inextricable connections between economic growth, energy security, and climate change.
We need to increase our efforts immediately," Dimon added. They are attempting to incite panic over a nonexistent problem. We must surrender all of our liberties to the government in order to prevent weather changes that occur naturally.
They are making every effort to undermine our way of life. This reminds me of the Roman emperor Maximinus I (235–238 A.D.), who declared that all the country's wealth belonged to the state. He offered bribes to anyone who reported a neighbor for hiding money. Of course, the IRS already performs the same functions as Maximinus. They will divide the stolen wealth with the person who turns them in.
Once Maximizes had eliminated small businesses in this manner, economic confidence collapsed. From that point on, commerce declined sharply, and businesses did not recover. There wasn't a major reset. From 237 AD to 268 AD (31 years), only one Pi Cycle marked the bottom of the Roman economy. In 2019, the World Economic Forum began to infiltrate our way of life by seizing control of the global economy. This is why 2027 is a significant turning point for many of our global models. The civil unrest we are experiencing in 2023 is merely a precursor to what can be anticipated in 2024.
Since the planned pandemic, when governments extended their reach as far as they could, our standard of living has deteriorated. They are discussing openly their plans to revoke our liberties. It is all readily apparent.
The Bible predicts that the days just before Jesus returns will be marked by economic unrest and unbridled greed."In the last days perilous times will come: for men will be . . . lovers of money" (2 Timothy 3:1, 2).
The Bible does not condemn wealth. In fact, God's blessings include material well-being as well as spiritual blessings; but the Bible does point out the dangers associated with wealth (Matthew 19:23).
Money can easily turns our hearts from God. That's why the Bible says, "The love of money is a root of all kinds of evil" (1 Timothy 6:10). That's why Jesus urges us, "Do not lay up for yourselves treasures on earth. . . . but lay up for yourselves treasures in heaven" (Matthew 6:19, 20).
As long as money is gained honestly and used properly, wealth can be a great force for good. The problem arises when a person becomes greedy or relies on his riches rather than on God. Or a person exploits others in order to increase his or her own wealth. That's what the Bible says will be happening in the last days before Jesus comes.
Say hello to Granite Ridge Soapworks! Use our handmade soaps to take good care of your skin. Our premium natural ingredients work together to create a silky, creamy lather that hydrates your skin. Chemicals, such as sodium lauryl sulfate, phthalates, parabens, or detergents, are never used by us. To ensure quality, we make all of our soaps in modest quantities. Visit our Etsy store right away to give them a try and the attention your skin deserves. GraniteRidgeSoapworks: Because only the best will do for your skin.
Use the code HNEWS10 to receive 10% off your first purchase.
A Thrilling Ride
Every once in awhile, a book comes across your path that is impossible to put down. A Long Journey Home is not a casual book that you read in a week or earmark to complete at a later date. Once you begin, cancel your schedule, put your phone on silent, find a quiet place where you cannot be disturbed, and complete the journey. Click Here to Purchase on Amazon.com!
November 29 , 2023 Globalists Plan to Microchip Population, WEF Whistleblower Says Democrat Party is in collusion with the World Economic Forum's Agenda of controlling ...
Read More

→