Watchman: Prosecutors and the DOJ Are Attempting to Recover Donations Made to J6 Defendants. We Don't Remember BLM Protesters Being Told to Contribute Money to Clean Up After Burning Down Cities. Why, One Asks?
HNewsWire:
While BLM protesters got a Kamala Harris-endorsed bail fund during the violent and destructive mostly peaceful George Floyd riots, the Department of Justice is trying to claw back donations made to January 6th political prisoners.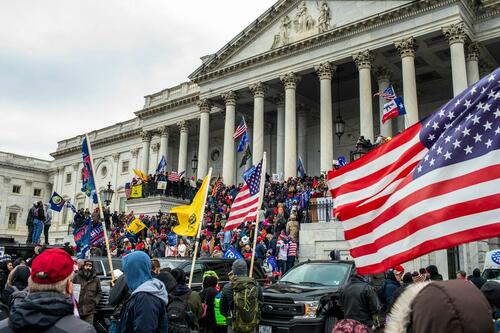 According to AP, the DOJ is trying to seize over $25,000 raised by Texas resident Daniel Goodwyn, who appeared on Tucker Carlson's former Fox News show where he promoted a website for political donations.
The AP looked at over 1,000 criminal cases from Jan 6., and noted that prosecutors have been asking judges to enhance fines on top of prison sentences to offset donations from supporters.
Dozens of defendants have set up online fundraising appeals for help with legal fees, and prosecutors acknowledge there's nothing wrong with asking for help for attorney expenses. But the Justice Department has, in some cases, questioned where the money is really going because many of those charged have had government-funded legal representation.

Most of the fundraising efforts appear on GiveSendGo, which bills itself as "The #1 Free Christian Fundraising Site" and has become a haven for Jan. 6 defendants barred from using mainstream crowdfunding sites, including GoFundMe, to raise money.
Were any of the BLM-linked fundraisers, or BLM itself, subject to DOJ scrutiny?
As the AP notes, the success many J6 prisoners have had fundraising "suggests that many people in the United States still view Jan. 6 rioters as patriots and cling to the baseless belief that Democrats stole the 2020 presidential election from Donald Trump."
Virginia resident Markus Maly, who is set to be sentenced next month for assaulting police at the Capitol, raised over $16,000 from an online campaign. Prosecutors have requested a $16,000 fine, noting that he had a public defender and didn't owe any legal fees.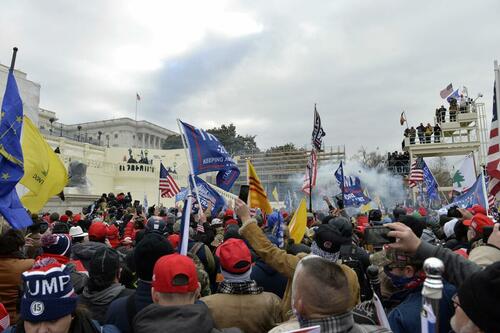 "He should not be able to use his own notoriety gained in the commission of his crimes to 'capitalize' on his participation in the Capitol breach in this way," wrote a prosecutor in a court filing.
A jury convicted romance novel cover model John Strand of storming the Capitol with Dr. Simone Gold, a California physician who is a leading figure in the anti-vaccine movement. Now prosecutors are seeking a $50,000 fine on top of a prison term for Strand when a judge sentences him on Thursday.

Strand has raised more than $17,300 for his legal defense without disclosing that he has a taxpayer-funded lawyer, according to prosecutors. They say Strand appears to have "substantial financial means," living in a home that was purchased for more than $3 million last year. -AP
So far in 2023, prosecutors have sought to levy $390,000 in fines against at least 21 defendants, with amounts ranging from $450 to over $71,000, per AP. Of that, Judges have imposed at least $124,127 in fines against 33 riot defendants YTD, while in the past two years, over 100 defendants have been ordered to pay more than $240,000 in fines.
Separately, hundreds of convicted rioters have been ordered to pay over $524,000 in restitution to the government to offset over $2.8 million in damage to the Capitol and other J6 related expenses.
We don't recall BLM protesters being ordered to help pay to clean up cities they set on fire. Wonder why?
The name of our radio station says it all. If it's not "southern," well... we'll pray for you. If it's not "gospel," that brain connected to your ears is looking for some relief. If it's not "music radio," then you were probably born a few decades after us. Even so, we're glad you're here!
StevieRay Hansen
HIMEDIA GROUP
Say hello to Granite Ridge Soap-works! Use our handmade soaps to take good care of your skin. Our premium natural ingredients work together to create a silky, creamy lather that hydrates your skin. Chemicals, such as sodium lauryl sulfate, phthalates, parabens, or detergents, are never used by us. To ensure quality, we make all of our soaps in modest quantities. Visit our Etsy store right away to give them a try and the attention your skin deserves. GraniteRidgeSoapworks: Because only the best will do for your skin.
Use the code HNEWS15 to receive 15% off your first purchase.
Please do not share HNewsWire articles on Trump Truth, Gab, Parler, Facebook, Reddit, or Twatter. Their anti-Christian, anti-American Nazi philosophy does not sit well with us. StevieRay Hansen
There is no one in the Bible who was a power for God who did not have enemies and was not despised. The world has been thrown into anarchy. People who continue to get their news from Facebook, Google, or Twitter have made a decision. and keep poking God in the eye. They do not deserve to know the truth.
Until morale improves, the beatings will continue. PSYOP
SRH: Once upon a time, there was a dictator. He used the media to spread his propaganda, and they backed him up. Anyone who disagreed or opposed this dictator was assassinated. He gradually began a campaign to instill hatred for a particular group or race of people. His neighbors were gossiping about their neighbors. He seized their property and businesses and imprisoned them in a ghetto. But it didn't end there. He decided to transport these people by train. Do you understand what I mean? Bill Gates, Biden, and a Band of Renegade Elites
Everything Obama/Bill Gates and his Renegade Health Outlaws have done to us over the last three years—the sense of hopelessness, despair, helplessness, and powerlessness—is a shambles. You filthy, spiritually void, scumbags. Academic sloppiness and incompetence at the CDC, NIH, FDA, and NIAID Everyone who watched and took part recognized the deception of your actions.
A Thrilling Ride
Every once in awhile, a book comes across your path that is impossible to put down. A Long Journey Home is not a casual book that you read in a week or earmark to complete at a later date. Once you begin, cancel your schedule, put your phone on silent, find a quiet place where you cannot be disturbed, and complete the journey. Click Here to Purchase on Amazon.com!
Amos is a shepherd and a fruit picker from the Judean village of Tekoa when God calls him, even though he lacks education or a ...
Read More

→