Watchman: The FDA and CDC Withheld Data on an Increase in COVID Cases Among the Vaccinated—Documents Reminder: "COVID Cases and Deaths" Is a Cover-up for mRNA Kill Shot Nanoparticle Bioweapon "Undesirable" Side Effects, Including Death!
HNewsWire:
The Plandemic Inc. Mouthpiece Once Again Signals the Next Planned Event...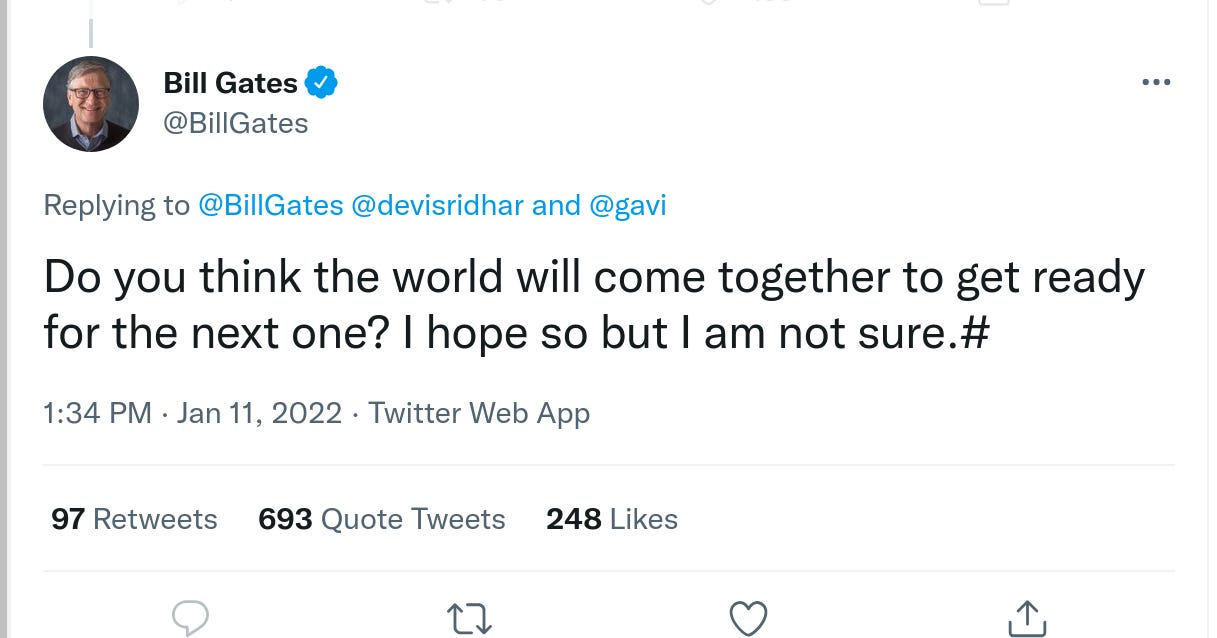 Back in 2020, we were told to prepare for the "Next One" that will get people's attention.
There are two possible variants for the "Next One" they have announced publically: Smallpox and Marburg.
Smallpox
HNewsWire:
By Zachary Stieber 9/3/2023 Updated: 9/3/2023
COVID-19 cases among vaccinated seniors soared in 2021, according to newly disclosed data that was acquired by U.S. health agencies but not presented to the public.
Humetrix Cloud Services was contracted by the U.S. military to analyze vaccine data. The company performed a fresh analysis as authorities considered in 2021 whether COVID-19 vaccine boosters were necessary amid studies finding waning vaccine effectiveness.
Humetrix researchers found that the proportion of total COVID-19 cases among the seniors was increasingly comprised of vaccinated people, according to the newly disclosed documents.
For the week ending on July 31, 2021, post-vaccination COVID-19 cases represented 73 percent of the cases among people 65 and older, the company found. The elderly were 80 percent fully vaccinated at the time.
Breakthrough infection rates were higher among those who were vaccinated early, the researchers found. They estimated that the rates were twice as high in those who had been vaccinated five to six months prior, when compared to people vaccinated three to four months before.
The breakthrough cases started in January 2021, according to the data.
Kevin McKernan Talks COVID Vaccine DNA Contamination, the Monkey Virus SV40 Promoter, and What's Actually in the Vaccines
Protection against hospitalization was also fading, researchers discovered.
In the week ending on July 31, 2021, 63 percent of the COVID-19 hospitalizations in seniors were among the fully vaccinated, according to the documents. The same pattern of weaker protection among people who were vaccinated early was found.
Researchers calculated that the vaccine effectiveness (VE) against infection was just 33 percent while the effectiveness against hospitalization had dropped to 57 percent.
Seniors who previously had COVID-19 and recovered were more likely to avoid hospitalization, the researchers also found. Risk factors included serious underlying conditions such as obesity and being in the oldest age group, or older than 85.
The cohort analysis was completed on 20 million Medicare beneficiaries, including 5.6 million seniors who received a primary series of a COVID-19 vaccine.
"Our observational study VE findings show a very significant decrease in VE against infection and hospitalization in the Delta phase of the pandemic for individuals vaccinated with either the Pfizer or Moderna vaccine for those 5–6 months post vaccination vs. those 3–4 months post vaccination," Dr. Bettina Experton, Humetrix's president and CEO, said in a Sept. 15, 2021, email to top U.S. Food and Drug Administration (FDA) officials.
Humetrix also found that among the beneficiaries, there had been 133,000 cases, 27,000 hospitalizations, and 8,300 intensive care admissions among the fully vaccinated since the start of the COVID-19 pandemic.
Dr. Experton disclosed that Humetrix shared the data with the U.S. Centers for Disease Control and Prevention (CDC) in August 2021.
"It would have been nice to know [the military] was conducting this prior to now. Also might have been nice for CDC to share the data," Dr. Peter Marks, one of the FDA officials, told colleagues in response.
"This is more worrisome than the other data we have in my opinion," Dr. Janet Woodcock, the FDA's acting commissioner at the time, said in reply.
The presentation and emails were obtained by the Informed Consent Action Network, a nonprofit that seeks to provide transparency around medical issues, through the Freedom of Information Act (FOIA).
"It is hard to see this as anything other than a failure of our health authorities to assess, share, make public, and act upon valuable, real-world data in the midst of a so-called pandemic," Del Bigtree, founder of the network, told The Epoch Times via email. "And without FOIA, the public likely would never be made aware of these failures which, of course, allows them to be perpetrated again and again."
The FDA and CDC declined to comment.
Dr. Francis Collins, the director of the U.S. National Institutes of Health at the time, wrote in a separate email obtained through FOIA that the results of the study provided "pretty compelling evidence that VE is falling 5–6 months post vaccination for both infection and hospitalization for those over 65."
He added, "Even for those 3–4 months out there is a trend toward worsening VE."
The CDC, FDA, and National Institutes of Health did not share the data with the public as they considered whether to clear and recommend COVID-19 vaccine boosters.
The CDC held a meeting with its vaccine advisers on Aug. 30, 2021. During the meeting, CDC officials went over emerging data on waning vaccine effectiveness. But the military study was not included.
The FDA held a similar meeting on Sept. 17, 2021. The CDC participated. The Humetrix analysis was also not presented during that meeting.
Both agencies have aggressively promoted COVID-19 vaccines throughout the pandemic, including hyping them as strongly protective against severe disease even after their own data have suggested that is not the case.
The CDC did present (pdf) data from COVID-NET, one of its systems, that showed effectiveness against COVID-19-associated hospitalization was falling among the elderly since the emergence of the Delta variant but that data still showed 80 percent effectiveness.
The presentation also included data from outside researchers and Israel that estimated the protection during the Delta era against infection ranged from 39 percent to 84 percent and that the effectiveness against hospitalization ranged from 75 to 95 percent.
The FDA ended up clearing a Pfizer booster for many Americans. The CDC advised most people to receive it. The agencies later expanded booster clearance and recommendations to virtually all Americans aged 5 and older, with Moderna's shot as another option. Authorities have since replaced the old shots due to their lack of durability, and are preparing to roll out another slate of shots this fall.
Source: theepochtimes.com
We Are Being Lied To Again-Next, the AntiChrist will appear with many empty promises, peace, and security, in reality, it's the yoking of humanity… The identity of the Antichrist has long been a source of both debate and anxiety for Christians. The Bible warns that many people will be taken in by his lies or fail to recognize him for what he is. No Christian wants to be one of those who are deceived by this frightening and demonic figure. Bill Gates: Introduction Into Destruction, The Mark Of The Beast "id2020 Alliance" Given that the stakes are nothing more or less than a person's eternal soul, a great deal is riding on successfully identifying the Antichrist. The internet is filled with bloggers and preachers alike claiming that this political figure or that rival preacher is the Antichrist. Speculation is not…
SRH: FDA and CDC now fall under the new government of the WEF. A federal appeals court in New Orleans ruled on Friday that the Food and Drug Administration (FDA) had overstepped its authority in their ruling that three doctors will be able to move forward with their lawsuit over the use of ivermectin off-label to treat COVID-19. Dr. Mary Talley Bowden, one of three doctors who initially filed the charges, trumpeted the ruling as a victory for not only the truth, but patient rights. "The FDA misled the public into thinking it has more authority than it does," Dr. Bowden, a practitioner and founder of Coalition of Health Freedom, told The Epoch Times. "This decision confirms that the FDA is not your doctor and has no authority to tell doctors how to practice medicine." The Federal Government and Bureaucracies'…
Satan Soldier a.k.a. Robb Butler, executive director for Demonic WHO Europe, told Kay Burley on Sky News: "Mandatory (Kill Shot) vaccination can, but doesn't always increase uptake." What The Hell Does That Mean? Be that as it may, he advocated that countries – and individuals – should now be thinking about the issue. "There are warnings of history here where mandates have come at the expense of trust, social inclusion. So it is very delicate, but we believe it is time to have that discussion, from a human being and population-based perspective." Cases are rising again in much of Europe – clearly in the case of countries like Germany, the Netherlands and Austria, with the latter going back into an absolute lockdown as a result. Satan Soldier Butler said only 54% of the population of the 53 WHO Europe region…
Be gentle with your skin. Our soaps are kind to your skin and create a creamy, silky lather that is nourishing. Small batches are made by hand. We only use the best natural ingredients. There are no chemicals, phthalates, parabens, sodium laurel sulfate, or detergents. GraniteRidgeSoapworks
Use the code HNEWS10 to receive 10% off your first purchase.
Revelation: A Blueprint for the Great Tribulation
Will Putin Fulfill Biblical Prophecy and Attack Israel?
A Thrilling Ride
Every once in awhile, a book comes across your path that is impossible to put down. A Long Journey Home is not a casual book that you read in a week or earmark to complete at a later date. Once you begin, cancel your schedule, put your phone on silent, find a quiet place where you cannot be disturbed, and complete the journey. Click Here to Purchase on Amazon.com!