Watchman: We Are Headed for Civil War. The Federal Court Declares Trump a Flight Risk in a Secret Subpoena Decision–They Need To Eliminate Trump To Gain Total Control
HNewsWire:
The disclosure of a subpoena of Twitter by Special Counsel Jack Smith was surprising in a number of respects, including the hefty $350,000 fine imposed by U.S. District Court Beryl Howell (below) for a three-day delay as the company sought to address the demand.
However, the two most surprising, and concerning, elements was that the subpoena was secret and Howell justified it, in part, on Trump being a flight risk. Neither seems warranted in this case even the subpoena was in other respects warranted.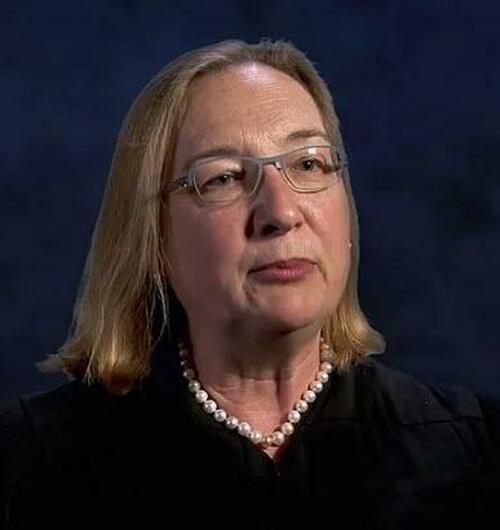 Special counsel Jack Smith subpoenaed and obtained a search warrant related to former President Trump's account on Twitter, now X. However, he also sought the information with a nondisclosure order that prohibited X from disclosing the existence or contents of the search warrant to Trump or anyone else. However, Trump already knew he was under investigation, so why was there a need for nondisclosure?
The court found that Trump might change his course of conduct but that seems unlikely.
If anything Trump has been most consistent in his social media practices. Indeed, while some of us have criticized him for his posting, he has remained entirely undeterred.
The lower court stated that "The district court found that there were 'reasonable grounds to believe' that disclosing the warrant to former President Trump 'would seriously jeopardize the ongoing investigation' by giving him 'an opportunity to destroy evidence, change patterns of behavior, [or] notify confederates.'"
It is not clear how Trump would destroy the evidence in possession of Twitter, particularly after the company is informed that it must preserve and disclose the meta data.
Then there was the added rational that was tucked into footnote 2 of the D.C. Circuit opinion: Trump might flee.
Judge Howell actually agreed that the former President was a flight risk.
Process that for a second. Trump has 24/7 security. So Howell agreed that he might shake his sizable security detail, evade them, and go on the lam. He is one of the most recognized figures in the world. He would have to go to Mars to live incognito.
It is facially absurd. Trump has been sued and criminal charged across the country. He has never made a break for it. Where would he go? Cuba?
The finding of a flight risk undermines the credibility of the court's order. This is not to question the ability to force the release of the information. However, the need for secrecy is far from evident. Rather it succeeded in preventing any challenge.
Here is the D.C. Circuit opinion: Trump-Twitter Opinion
The Ungodly High Tech, MSM Hijacked The Truth… "Unless God has raised you up for this very thing, you will be worn out by the opposition of man and devils". Asked by a reporter if the latest US travel restrictions on southern African countries might be premature, President Biden completely dodged the question, choosing instead to babble on about the US's program for sharing (ie selling) jabs to other countries, including South Africa, which Biden said is actually having trouble finding willing arms for all the jabs (even though the country's vaccination rate is 20%). At times, Biden turned to Dr. Fauci, who was present with him in the White House. He also denied he was calling on local officials to reinstate mask mandates, but said instead that he "encourages everyone" to wear masks in crowded indoor rooms. Biden also…
Texas Governor Warns of Another Lockdown If Face Masks Aren't Worn Texas Gov. Greg Abbott warned he may impose another lockdown if people don't wear face masks. "The only way that we can keep our businesses open, the only way that we can have people continue to have a job they need to pay their bill is for everybody to adopt this practice of wearing a face mask," Abbott, a Republican, said during an appearance on KLBK-TV on Friday. The governor issued a mandate on July 2 requiring all Texans wear face coverings over the nose and mouth in public spaces. People who refuse to comply could be fined. Abbott said imposing the order was a tough decision to make and acknowledged that wearing a face covering is inconvenient. "I made clear that I made this tough decision for one reason. It was our last, best effort…
SRH: Romans 1:18-20 18 The wrath of God is being revealed from heaven against all the godlessness and wickedness of men who suppress the truth by their wickedness, 19 what may be known about God is plain to them, because God has made it plain to them. 20 For since the creation of the world God's invisible qualities-his eternal power and divine nature-have been clearly seen, being understood from what has been made, so that men are without excuse. According to Paul, God's anger is now being shown. It is a current revelation that is also developing. They could observe the effects of sin on the minds and bodies of individuals who had succumbed to it. If you are wise, you can do it too.
Say hello to Granite Ridge Soapworks! Use our handmade soaps to take good care of your skin. Our premium natural ingredients work together to create a silky, creamy lather that hydrates your skin. Chemicals, such as sodium lauryl sulfate, phthalates, parabens, or detergents, are never used by us. To ensure quality, we make all of our soaps in modest quantities. Visit our Etsy store right away to give them a try and the attention your skin deserves. GraniteRidgeSoapworks: Because only the best will do for your skin.
Use the code HNEWS10 to receive 10% off your first purchase.
Revelation: A Blueprint for the Great Tribulation
A Thrilling Ride
Every once in awhile, a book comes across your path that is impossible to put down. A Long Journey Home is not a casual book that you read in a week or earmark to complete at a later date. Once you begin, cancel your schedule, put your phone on silent, find a quiet place where you cannot be disturbed, and complete the journey. Click Here to Purchase on Amazon.com!