As Bodies Pile Up, States Ask Emergency FEMA Help To Handle The Dead…
The expected 'Italy levels' of strain and collapse to the system has now begun in the United States, it appears, as on Wednesday New York, Hawaii and North Carolina have issued an urgent request to FEMA for emergency mortuary assistance as deaths mount across the states.
CNBC reports "A spokesperson for the Federal Emergency Management Agency confirmed the request in a statement on Wednesday," and it's now said to be under review but not yet approved.
The US on Wednesday reached above 60,000 confirmed cases and is on track to overtake Italy and possibly China in terms of total numbers
.Makeshift morgue outside of Bellevue Hospital, AFP via Getty.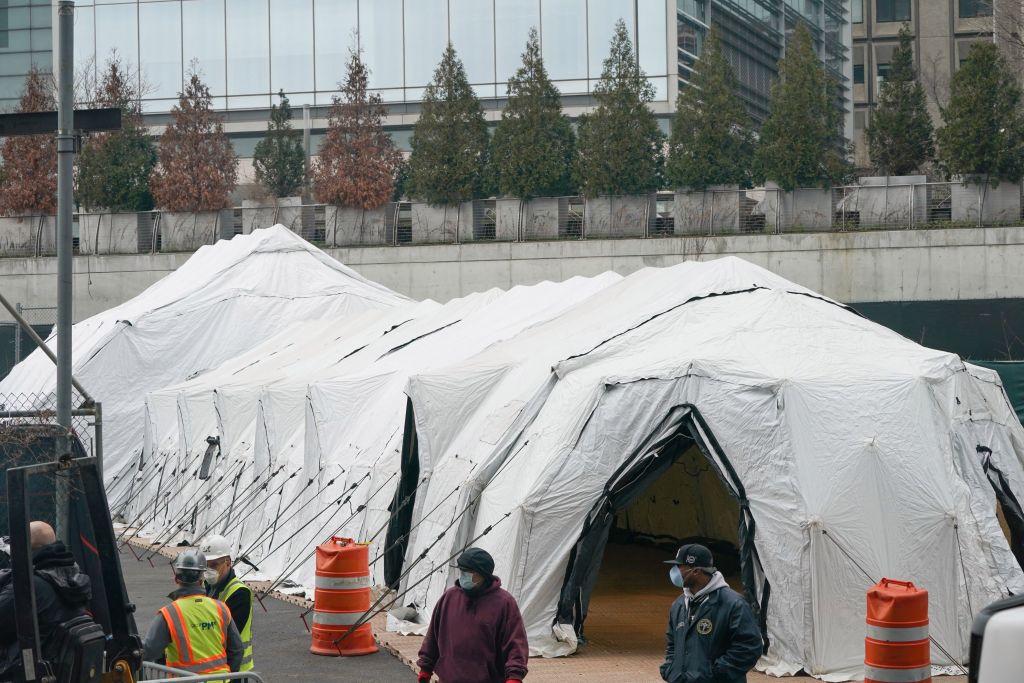 New York, New Jersey, and California have the highest concentration of cases, with 17,856 Covid-19 confirmations in New York City alone. New York also has 285 deaths from the disease. Hawaii currently has 91 confirmed cases and one death, according to Johns Hopkins University figures on Wednesday. North Carolina has 529 cases and two deaths.
With almost 200 of New York's deaths concentrated in NYC, and morgues feeling the strain, Gov. Andrew Cuomo issued an appeal for more ventilators and hospital beds as well. Politico reported Wednesday that the city's morgues are already at or at least very near capacity.Map via The Guardian/Johns Hopkins University Data
Makeshift morgues, meanwhile, are planned to relieve the stress to the system, starting with reports of a makeshift morgue being established at Bellevue Hospital in Manhattan.
New York's increasingly strained health care system and morgues may be an early sign of where things are headed for the rest of the country. As for Hawaii and North Carolina, also requesting FEMA mortuary assistance, CNBC reports:
Hawaii and North Carolina have suffered few deaths from COVID-19 to date. After announcing its first death from the disease, Hawaii's Department of Health backtracked on Tuesday and said the test results had been misread and the person did not die of coronavirus, according to HawaiiNewsNow. Health authorities in North Carolina reported the first deaths from coronavirus in the state on Wednesday.

Makeshift morgues with tents and refrigeration trucks is set up outside NYC hospital
https://trib.al/DR0ggER Makeshift morgue set up outside NYC hospital amid coronavirusThe military and NYC Medical Examiner's Office employees were spotted outside Manhattan's Bellevue Hospital on Wednesday as crew members erected the makeshift morgue.dailymail.co.uk41:16 PM – Mar 25, 2020Twitter Ads info and privacySee Daily Mail US's other Tweets
If the emergency request for federal morgue assistance to these states is approved, HHS Disaster Mortuary Operational Response Teams, or DMORT, will deploy in order to "work to quickly and accurately identify victims and support local mortuary services," according to a government website, as well to "establishing temporary morgue facilities" and help in "assisting in the determination of cause and manner of death".
Should these initial states receive the FEMA help, more states are likely to follow suit as cases across the US grow.
President Trump has repeatedly praised the Chinese President for his strong response to control the coronavirus. With billions of dollars at his disposal, will Trump employ similar tactics that the Chinese government has used?
Will trucks sweep through the city streets, spraying chemicals?
Will feverish individuals be pulled from their homes and quarantined, no matter the cause?
Will schools be ordered to shut down for months?
Will city streets become fearful ghost-towns, local businesses shut down, supply chains disrupted?
How many public places will be put on lockdown and for how long?
Will employees be forced to work from home?
If the bodies pile up, how will the deceased be treated?
Will roads be blocked, travel restricted within the border?
How long will air travel be halted from all the affected countries?
When will the fear of the virus subside?
Will quarantines and drastic measures be used for all future infections, including but not limited to: influenza, acute flaccid myelitis, measles, mumps, respiratory syncytial virus, pneumonia, bronchitis, etc.?
No matter how much money is spent in reassurance, viruses will still exist and they will defy our economies. No matter how many chemicals are sprayed, microbes are waiting to re-colonize the space, evolving with stronger traits. No matter how tough the quarantines, viruses live in a plane of existence we still don't understand, escaping the physical boundaries we try to reassure ourselves with. No matter how many emergencies are declared by experts, the conditions are already in place for viruses to take advantage of malnourished, immune-compromised populations.

Survival Fishing: How to Catch Fish When SHTF
Give a man a fish, you feed him for a day. Teach a man to fish and you feed him for a lifetime.
Many of the most powerful people in the world are old, and coronavirus does not discriminate based on social status. Deaths are now hitting at high levels (not of death but of status), which can change the political conflicts of our world:
Now a global pestilence has erupted, and in Luke 21 we were specifically warned to watch for "pestilences" in the last days.
This Pestilent Is Revealing to All What Many of Us Have Known for a Long Time: This Godless Nation Was Designed by the Un-Godly to Fail and so Its Failure Was Not Just Predictable but Inevitable
Source: NaturalNews.com ZeroHedge HNewsWire
StevieRay Hansen
Editor, HNewsWire.com
Watchmen does not confuse truth with consensus The Watchmen does not confuse God's word with the word of those in power…
The Bill and Melinda Gates Foundation Have NOT Got The Memo Yet, "Pestilences" Has No Cure
The Coronavirus Was Most Certainly Produced by Crazy (Un-Godly) Men in Laboratories, WGO and CDC Knew All Along That the Coronavirus Was a Bioweapon, There're in Charge?
Well-known medical expert Bill Gates did an AMA on Reddit (transcribed here), in which he casually drops some chilling ideas into the conversation:
Eventually, we will have some digital certificates to show who has recovered or been tested recently or when we have a vaccine who has received it.
All in all, our freedoms are being swamped. Big corporations and states alike are setting boundaries on individual rights on a flimsy pretext.
Is anyone in the media reporting that? Of course not. Instead, we're getting fawning celebrity-based drivel like this in the Independent, trying to convince us "we're all in this together", or weasel-worded nonsense like this from Jonathan Freedland in The Guardian where he mourns Johnson's "libertarian" spirit and reluctance to impose social control. That would be the mass-surveilling, drone executing, war-supporting type of libertarian. A crass and obvious example of narrative management.
Even members of the alt-media are falling for this, with prominent voices hailing the measures as necessary or demanding "further action" (one usually sane analyst is advocating locking all of those "probably infected" inside empty sports stadiums to be "medically monitored"). Somehow former Goldman Sachs banker and Hedge Fund manager Rishi Sunak is being praised as some kind of Nye Bevan figure. It's almost literally insane.
If a mandatory vaccination program were to be implemented again in the U.S. for ("Chinese virus") COVID-19, the government would have to reassure the public its previous negligence of such side effects would not be repeated, an unlikely scenario after the corporate breach of trust exposed on Wall Street in recent years involving large pharmaceutical firms. Regardless, Big Pharma is already partnering with the U.S. Army to develop a vaccine for the coronavirus which would have to be tested and evaluated before licensing by the Food and Drug Administration (FDA) and recommended for use by the Centers for Disease Control and Prevention (CDC), both of which partner with the WHO whose largest financial contributor is the U.S. government.
police state, superbugs, terrorism, virus, Chinese virus, Coronavirus, Biblical Prophecy, Pestilence, FEMA