Day Record the Ones That Should Be Worried, the (Ungodly Medical Experts and Most of Our Elected Officials) Death Angel Getting Aggressive…
In Revelation, God gives one of the angels the power to cause death, and the four horsemen have the power to wipe out one-fourth of the earth's population (Revelation 6:8). Although, one could argue that the four horsemen may not necessarily be angels or demons, but rather, symbolize rulers and authorities on earth.
When looking at Scripture, it appears angels do have a hand in death and destruction.
An angel of the Lord in 2 Kings 19:35 goes out at night and kills 185,000 Assyrians. Considering the Assyrians made themselves out to be enemies of God's people, God willed this angel to commit such a mass destruction, Assyrians Made Themselves Out to Be Enemies of God's People, and We See the Same Scenario Playing Out in America Today With Our Politicians Being 'Reprobates' , God Haters and Enemies of the People God Can Will This Angel to Commit Such a Mass Destruction. I Have an Important Message for the God Hating Politicians in America, Find a Change of Heart or Suffer the Consequences, Stevie Ray Hansen
Summary:
Japan shutters US bases on Okinawa
Phoenix mayor sets record for ventilator usage
South Carolina positivity rate tops 22%
French official warns we shouldn't expect vaccine by year's end
US hospitals see severe shortages of remdesivir
WHO reports another single-day global record
Florida shatters US single-day record, surpassing NY
US 7-day average for deaths hits highest level since June 16
Mexico deaths on track to surpass Italy
India outbreak surpasses 250k
Israelis protest in Tel Aviv
Update (1840ET): Phoenix Mayor Kate Gallego told CNN Sunday during an interview with Dana Bash that the state's positivity rates and record-setting ventilator usage plagued Phoenix.
"Our health care workers tell us they are already tired, and they are worried that there could be additional growth after the 4th of July," Gallego said.
She also claimed that people in Phoenix are waiting up to 13 hours to get tested.
"We have had people waiting, eight, 10, 13 hours" to get tested, Gallego said.
We wonder: will she need to walk back any of these claims, too.
Meanwhile, as Iran suffers a dramatic resurgence of its deadly coronavirus outbreak, Supreme Leader Ayatollah Ali Khamenei in a televised speech on Sunday said the situation is "unfortunate and encouraged citizens to take appropriate measures to help shorten the chain of transmission "before bringing the country to the shore of salvation," according to Khamenei's office.
While Florida's daily numbers were undoubtedly the highlight of the weekend, it's worth noting that the total number of test results reported yesterday in South Carolina was 8,769, with the % positive hitting 22.3%. A total of 538,022 tests were conducted in the state, according to the state's latest press release. At the same time, there were 1,952 new coronavirus cases and ten further deaths reported for 56,485 confirmed cases and 163 probable cases. There have also been 950 confirmed deaths and 11 likely deaths statewide.
In vaccine news, after an Australian official warned that we shouldn't expect a vaccine by the end of the year, French epidemiologist Arnaud Fontanet says that despite 'unprecedented effort,' a vaccine is still unlikely before next year.
As more countries scramble to secure stocks of Gilead's remdesivir, in the US, hospitals in some bad hit areas are complaining that they don't have enough of the stuff, while hospitals in places like NYC are saying they have more than they need.
Finally, after 61 US marines tested positive for the virus at two US bases in Okinawa, a Japan-controlled island, the Japanese and the US just announced that they would be placing the plate on lockdown to prevent further spread. Japan is reportedly "shocked" and furious at the US after a significant coronavirus outbreak at 2 Marine bases in Okinawa.
---
Update (1400ET): Like Brazil, Chile, and Peru, Mexico's cases from the coronavirus have been surging as the country struggles to compensate for its lackluster early response.
According to Reuters' tally, as Reuters reports, Mexico is set to overtake Italy and shoot above 35,000 deaths on Sunday, leaving Mexico on track to become the world's fourth most deadly outbreak. On Saturday, Mexico recorded 539 additional fatalities to bring its coronavirus toll to 34,730, with 295,268 confirmed cases.
Italy has recorded 34,945 deaths and 242,827 cases, though it's only diagnosing a hundred or so new cases a day for the entire country and a handful of deaths.
Mexico's coronavirus death toll per million residents is the 16th highest in the world. The country's population is about 120 million.
Meanwhile, after Fla. reported the most significant single-day jump in new cases for any US state, Miami-Dade County officials warned that some hospitals in the state's hardest-hit county are reaching capacity in both available beds and ICU beds. The shortages are being found at some of the county's largest and most critical hospitals; Mayor Carlos Gimenez told CNN earlier.
"Our ventilator usage has gone up, close to 200 now, so we had a sharp increase in the number of people going to the hospital," Gimenez said.
In the first look at the number of new cases reported globally on Sunday, the WHO said 230,370 new evidence for its Sunday total, the latest global record as outbreaks in Latin America, India, and the US continue to intensify. The new cases bring the total number of cases reported to WHO from around the world to 12,552,765.
---
Update (1120ET): It was only a matter of time, but Florida has finally smashed the one-day coronavirus record set by New York State during the spring peak, reporting 15,300 new cases (15,299, to be exact) – a higher daily total than most countries have ever reported – bringing the state's total to 269,811.
Another 45 deaths were reported on Sunday as well, bringing the statewide death toll to 4,242. However, the 45 number was roughly half the number from the day before.
That number will probably account for roughly a quarter of all cases reported over the last 24 hours once all of Sunday's reports are in.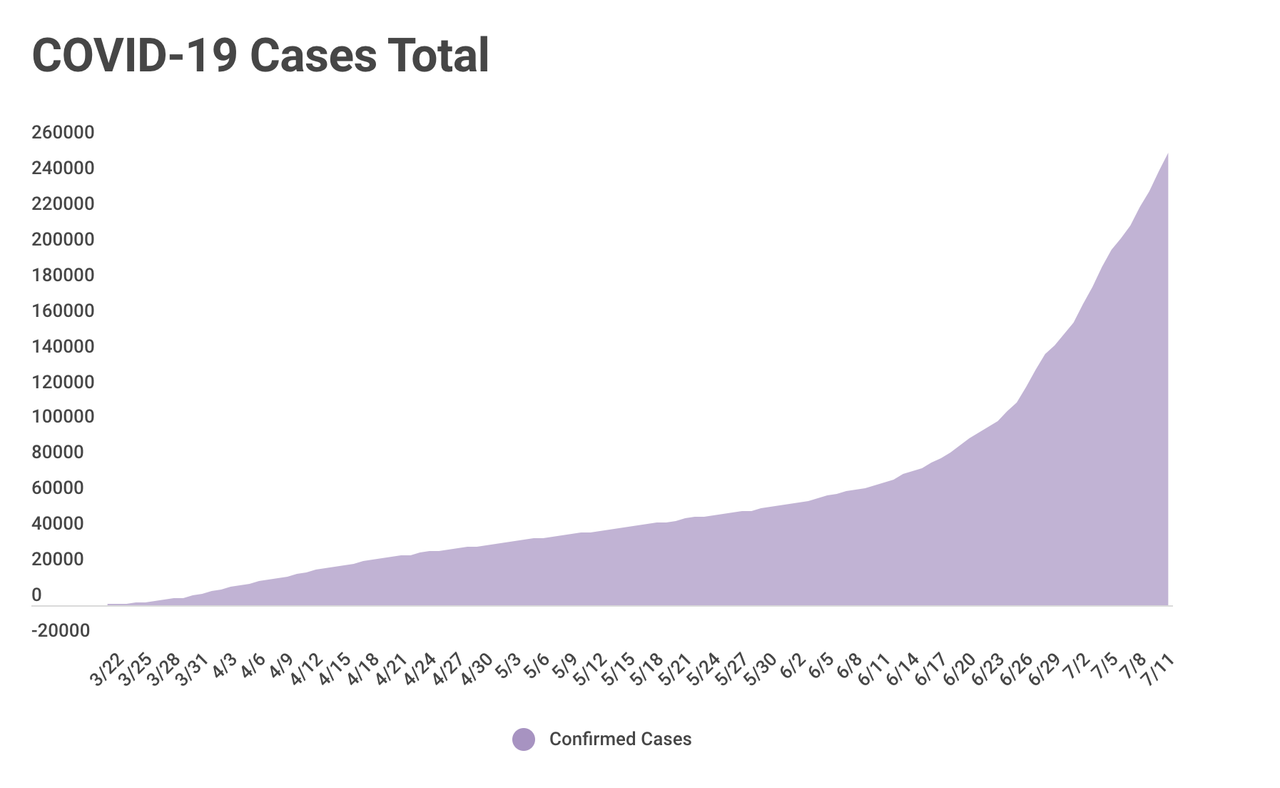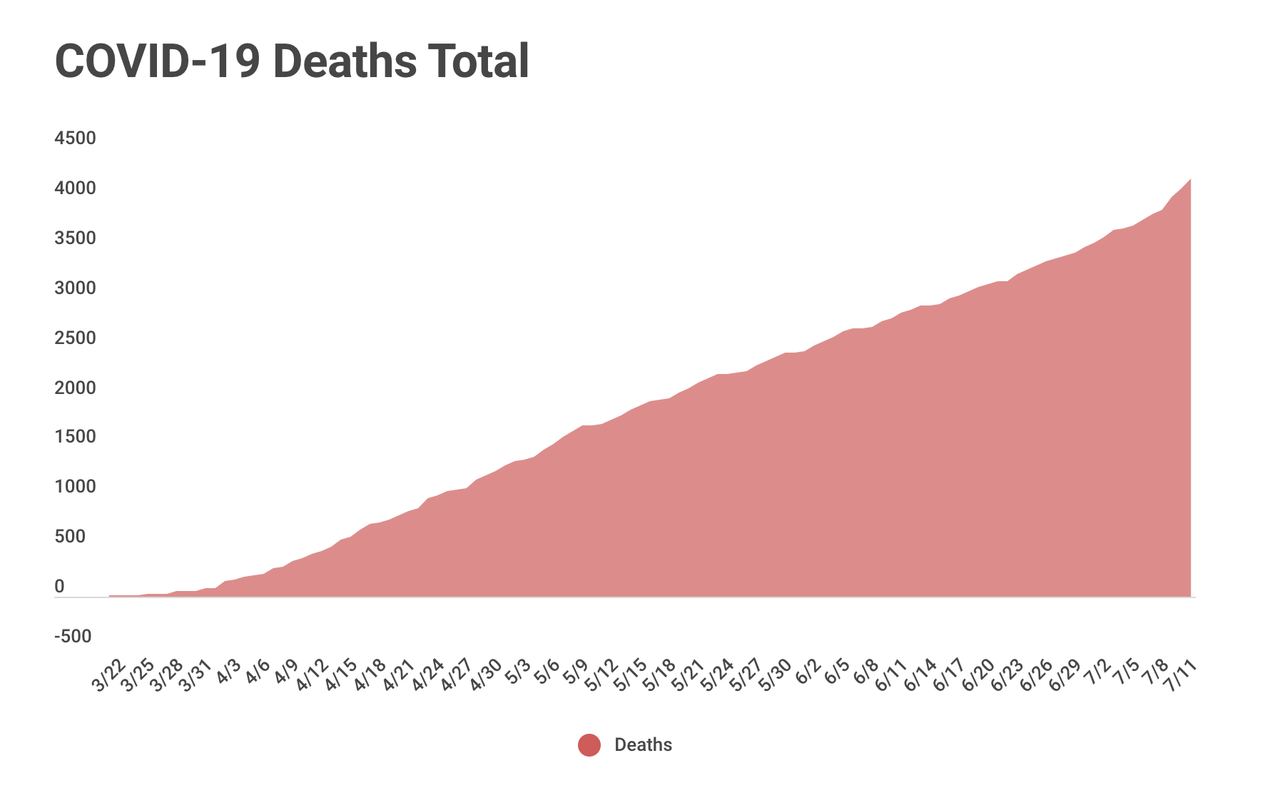 However, this new daily record comes with an important caveat: A massive increase in tests was reported yesterday, with 143,000 being run, roughly double the 7-day total from earlier this month.

The positivity rate fell to 13.6%.
Though the various daily tallies are starting to diverge more noticeably (Johns Hopkins reports another record jump in new cases, while world meter reported a pullback from the 70k+ high from Friday), they all said another day of 60k+ new instances as the US's 7-day average continues to move to ever-higher records.
The 7-day average reported by Worldometer was 58,340, while the US reported 61,719 new cases on Saturday (numbers across the US are indicated with a 24-hour delay).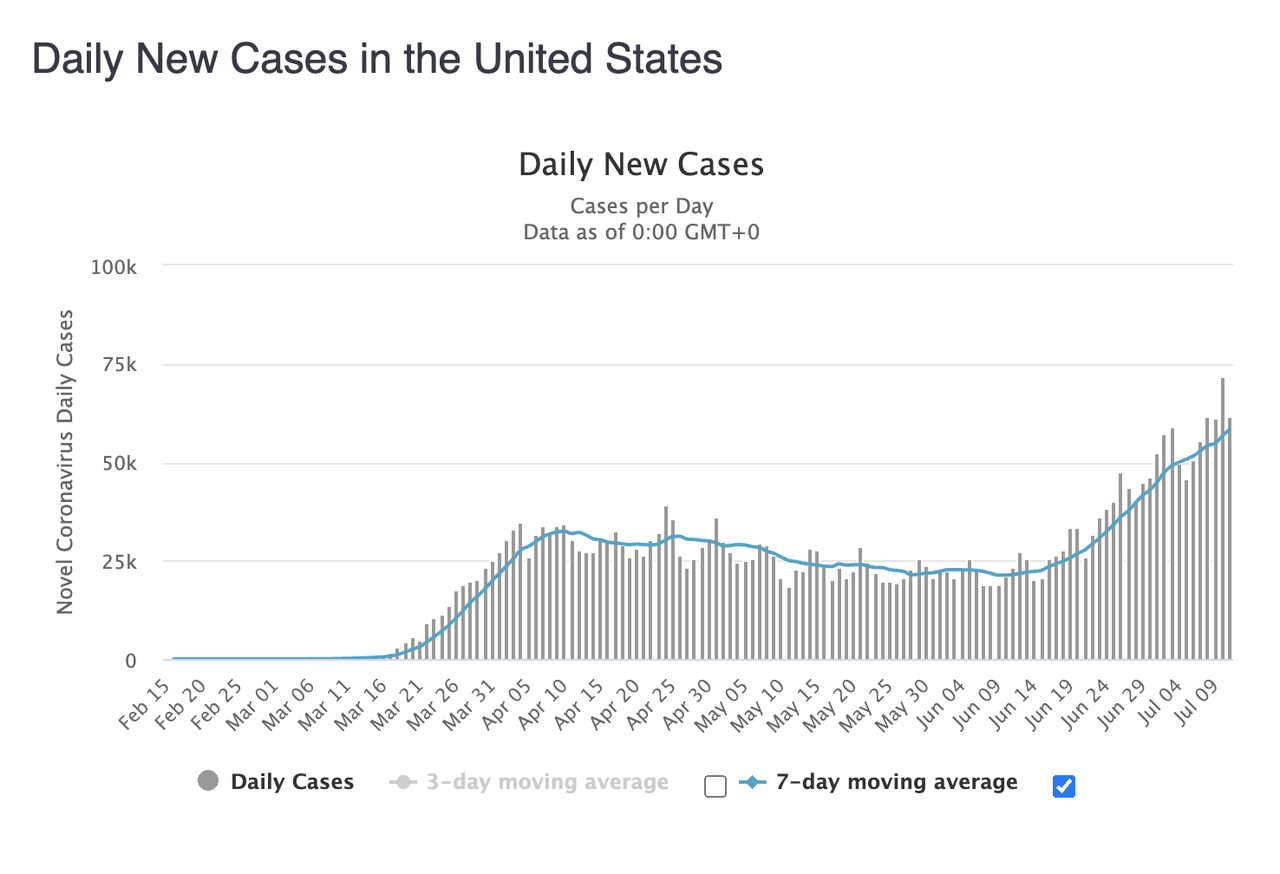 The US reported 732 new deaths on Saturday, which was lower than the previous three days, but not small enough to stop the 7-day average from climbing to its highest level since June 16.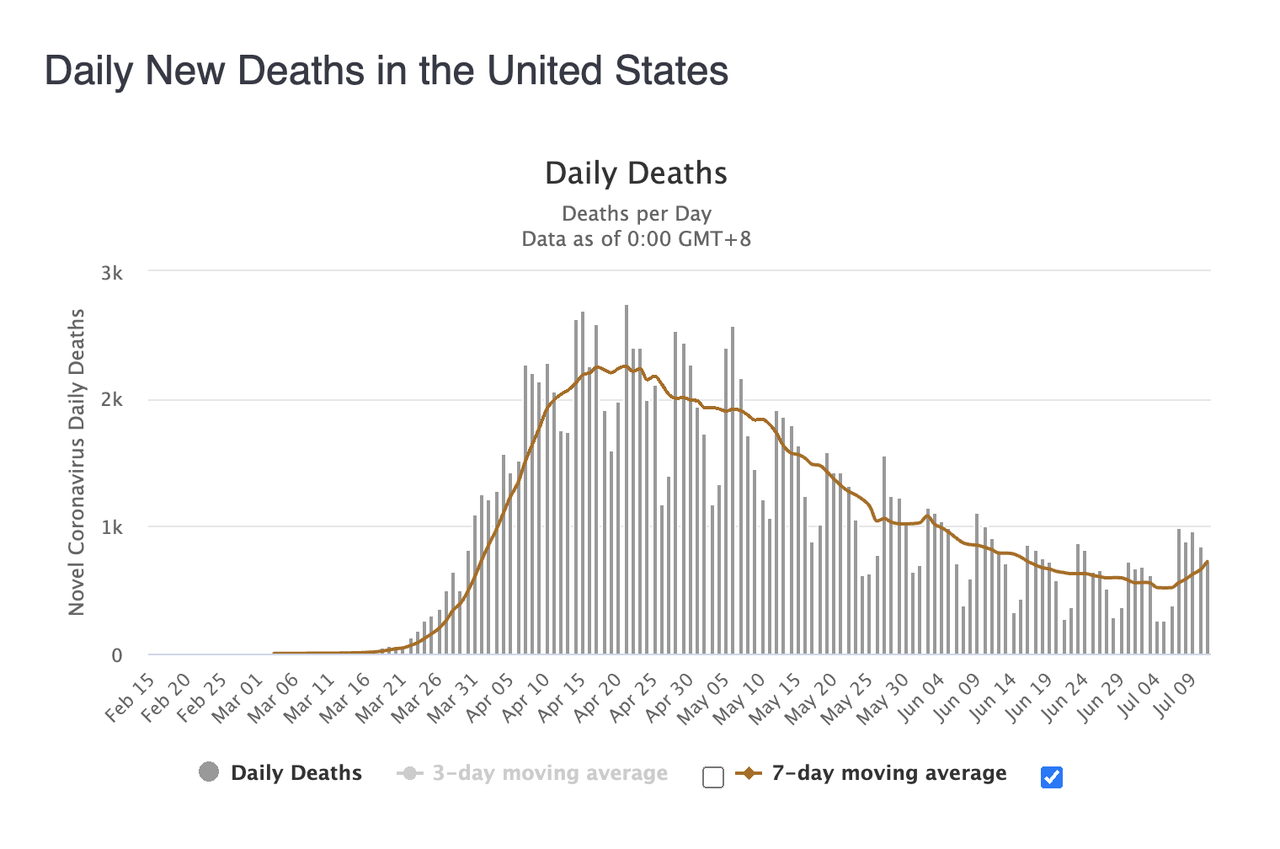 All told, there were 3,357,928 cases as of Sunday morning in the US, along with 137,429 deaths. Globally, Worldometer counted 12,898,827 total cases and 568,815 deaths.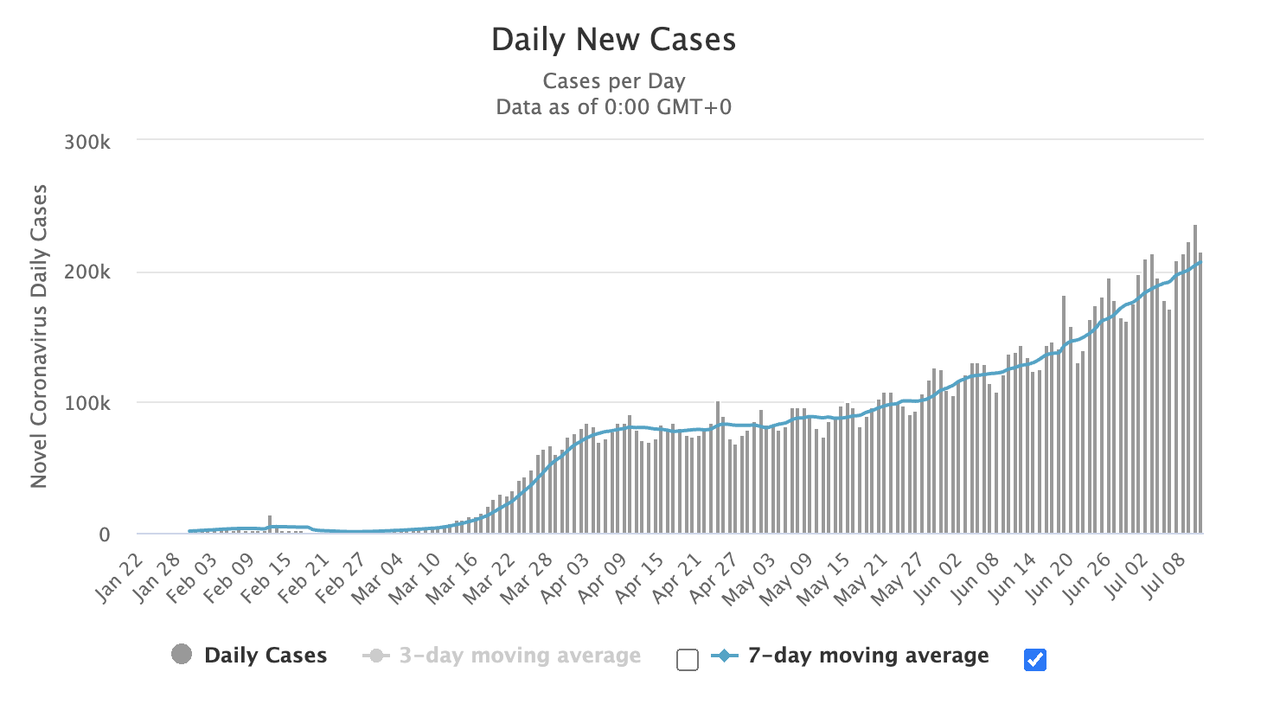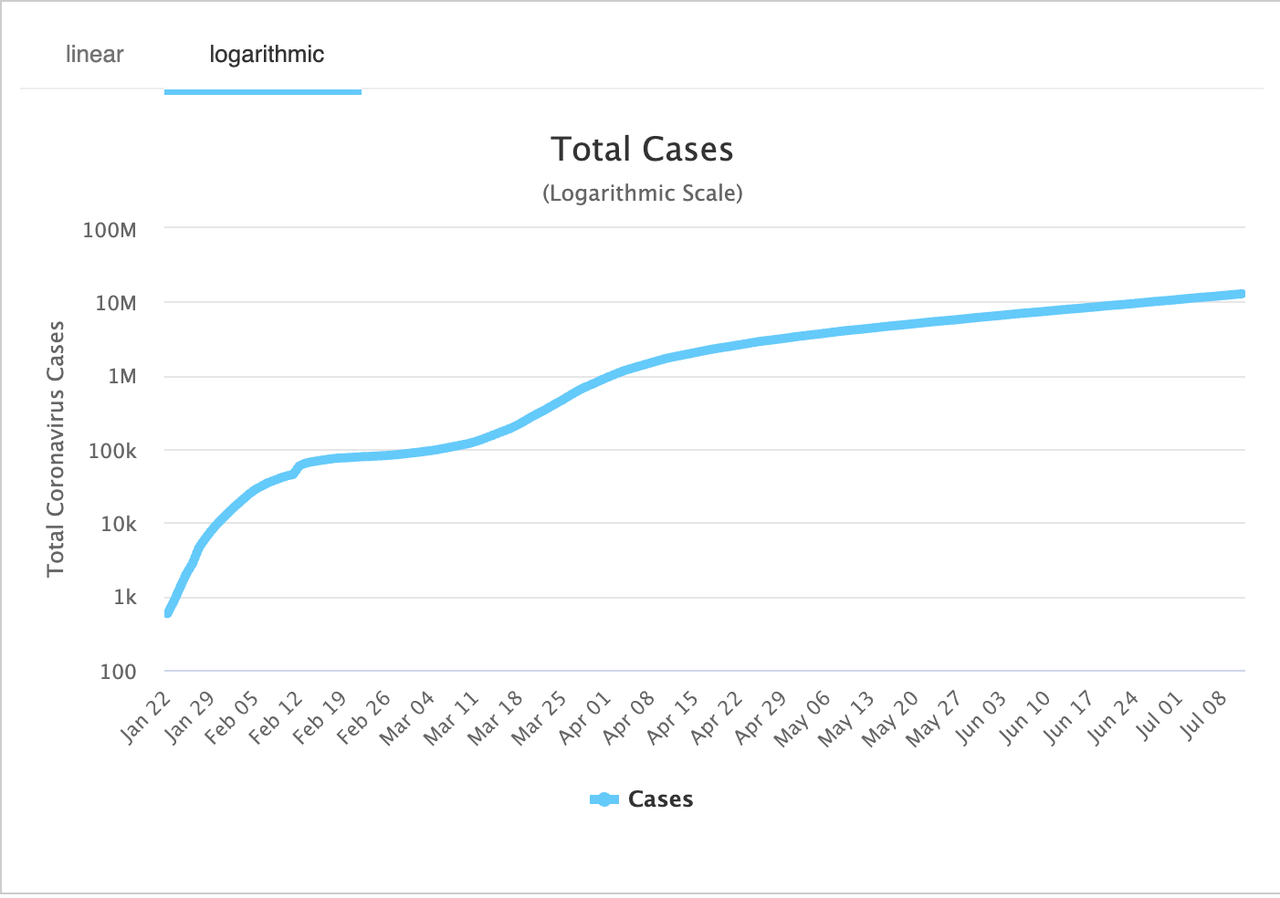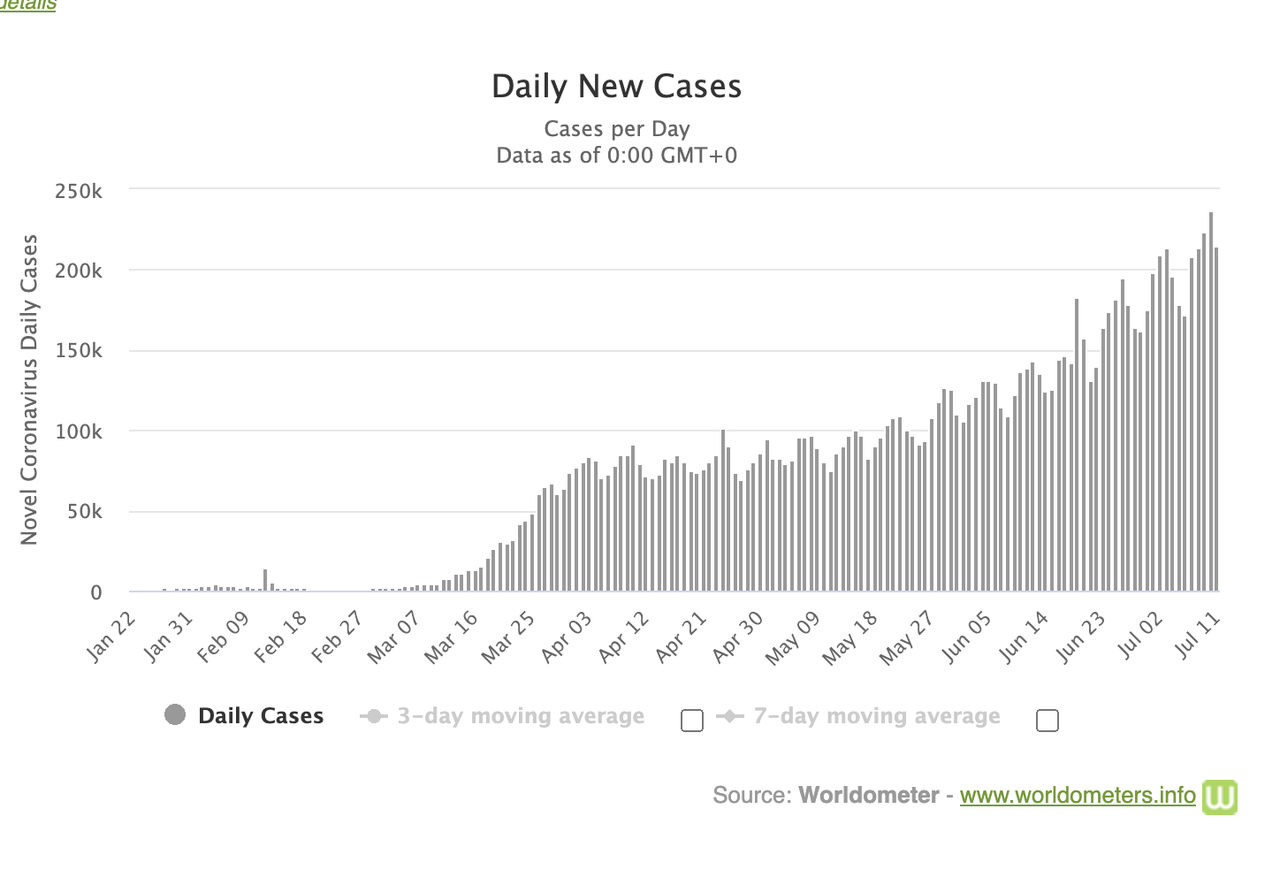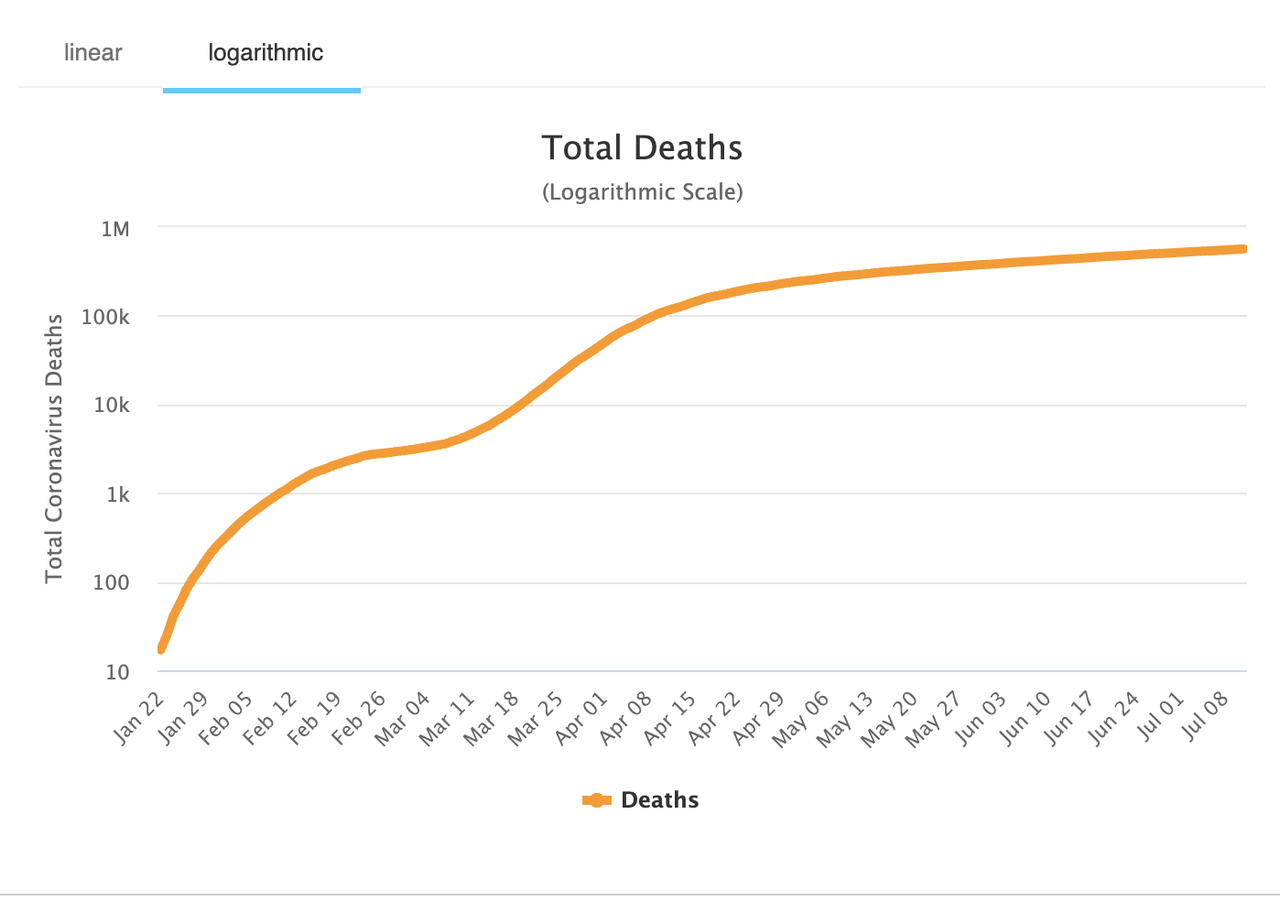 All told, there were 3,357,928 cases as of Sunday morning in the US, along with 137,429 deaths. Globally, Worldometer counted 12,898,827 total cases and 568,815 deaths.
Outside of the US, India's coronavirus outbreak has continued to expand at its explosive pace, nearing 850,000 with a record surge of 28,637 cases in the past 24 hours, prompting authorities to announce the return to lockdown measures in the southern tech hub of Bangalore. India's other major hot spots, including Mumbai and New Delhi, are implementing strict new procedures focusing on proactive testing to eradicate the virus in the country's most densely packed slums.
In Israel, thousands filled Tel Aviv's Rabin Square Saturday night to protest the government's handling of the coronavirus crisis. The public is furious over Israel's failure to prevent an outbreak, despite strict and early steps taken, including lockdowns and travel restrictions.
Protesters waved yellow and black signs chastising the country's "disconnected" political leaders and saying "enough," while others held up signs calling this an "economic war" and demanding the government "release the money."
We can't imagine this will make Israel's famed contact tracing effort any more accessible.
The World Is In Big Trouble, for Those That Believe We Will Go Back to Some Sense of Normal Life Here on Earth, You Will Be Sadly Disappointed, Seven and Half Years of Hell on Earth Which Began January 1, 2020
"Our courts oppose the righteous, and justice is nowhere to be found. Truth stumbles in the streets, and honesty has been outlawed" (Isa. 59:14, NLT)…We Turned Our Backs On GOD, Now We Have Been Left To Our Own Devices, Enjoy…
While Mainstream Media Continues to Push a False Narrative, Big Tech Has Keep the Truth From Coming out by Shadow Banning Conservatives, Christians, and Like-Minded People, Those Death Attributed to the Coronavirus Is a Result of Those Mentioned, They Truly Are Evil…
StevieRay Hansen
Editor, HNewsWire.com
Watchmen does not confuse truth with consensus The Watchmen does not confuse God's word with the word of those in power…
In police-state fashion, Big Tech took the list of accused (including this site), declared all those named guilty and promptly shadow-banned, de-platformed or de-monetized us all without coming clean about how they engineered the crushing of dissent, Now more than ever big Tech has exposed there hand engaging in devious underhanded tactics to make the sinister look saintly, one of Satan's greatest weapons happens to be deceit…
The accumulating death toll from Covid-19 can be seen minute-by-minute on cable news channels. But there's another death toll few seem to care much about: the number of poverty-related deaths being set in motion by deliberately plunging millions of Americans into poverty and despair.
American health care, as we call it today, and for all its high-tech miracles, has evolved into one of the most atrocious rackets the world has ever seen. By racket, I mean an enterprise organized explicitly to make money dishonestly.
All the official reassurances won't be worth a bucket of warm spit. The Globals are behind the CoronaVirus, It Is a Man-Made Bioweapon.
These governors and politicians are caught up in their own destruction, the Plandemic has turned on its creators and will wreak havoc…
The number of Orphans aging out of Child Protective Custody has grown at an alarming rate. The 127 Faith Foundation receives many requests each week to house them at our ranch. Our prayer is that the good people of our country will step up to the challenge and offer financial support for "the least among us." We need your help! StevieRay Hansen, Founder, The 127 Faith Foundation