Watchman's Update: How May a Grand Jury Indictment Be Made Public Before the Grand Jury Decides Whether to Indict? What a Circus We've Got Down in Georgia! Lawlessness Is What You Get When the Thugs aka Dem Are in Charge! You Are a Coward, Kemp! Have You Had Enough Already? Be Prepared! They're Getting Ready to TRY an Lock Us Down Again, but This Time Permanently
Watchman Georgia Lawmaker Moves to Impeach Trump's Prosecutor: 'America Is Under Attack'...
HNewsWire Update:
An extraordinary meeting of the House and Senate to discuss the actions of Fulton County District Attorney Fani Willis has been requested by a Georgia Republican lawmaker.
The district attorney, Willis, targeted 18 of President Trump's acquaintances. She is the offspring of a black panther with an afrocentric viewpoint who ran for politics promising to pursue the former president.
Colton Moore, a state senator, believes that America is under attack and he will not stand by while radical left prosecutors target political rivals. Moore stated in a statement, "We must cut off all financing and, if necessary, impeach Fani Willis.
He is the only Republican lawmaker from Georgia who has called for action thus far.He later said to Breitbart News, "I am officially calling for an emergency session to review the actions of Fani Willis." America is being targeted. I won't stand by when radical left prosecutors use their positions of authority to politically assassinate their rivals.
Cliff Maloney, a spokesman for America First Georgia, told Breitbart News that he was pleased to see at least one lawmaker raise objections.Finally, he said, a leader standing up and fighting back against the scourge of dishonest District attorneys who are power-crazed. "Colton Moore is a staunch American patriot. Every American who values freedom should back him in this fight because he must prevail.
Whether Governor Brian Kemp will invite lawmakers back to Atlanta is now up for debate. The governor and the former president have a history of conflict.The time has come for all Republicans to put their differences aside and stand as one, though. The court system must no longer be used as a weapon.
On Thursday, a Republican state senator in Georgia called for an urgent meeting to discuss the possibility of impeaching Fani Willis, the district attorney for Fulton County, for her efforts against the former president Donald Trump.
"I am formally calling for an emergency session to look into Fani Willis's behavior as a state senator representing Georgia. USA is being attacked. I won't stand by as the radical left targets political rivals with prosecutions, Moore wrote.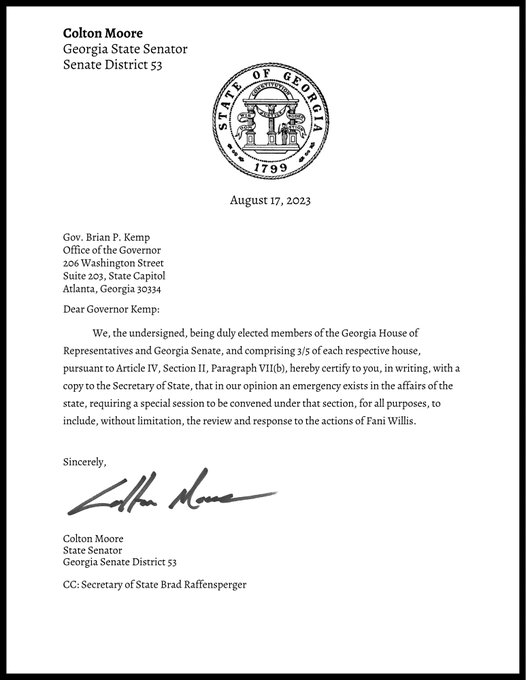 He continued, "We must cut off all funding and, if necessary, remove Fani Willis." "I'm urging Americans to join me in this fight as patriots," the speaker said.Trump was charged by Willis last week for allegedly attempting to have Georgia's 2020 election results annulled.
An emergency session must be convened by the governor of Georgia or have the written consent of 3/5 of each chamber of the legislature.Moore took the initiative and wrote the following letter to Governor Brian Kemp:
Governor Kemp, please:
In accordance with Article IV, Section II, Paragraph VII(b), we, the undersigned, who together make up three-fifths of each chamber and were duly elected to the Georgia House of Representatives and Georgia Senate, hereby certify to you in writing, with a copy to the Secretary of State, that in our opinion there is an emergency involving the affairs of the state, necessitating the convening of a special session under that section for all purposes, including but not limited to the
Sincerely,
Georgia Senate District 53's Colton Moore is a state senator.
Trump's attorneys replied to the former president's indictment in Georgia earlier this week by labeling the action "shocking and absurd."
The actions taken today have been shocking and absurd, according to attorneys Drew Findling, Jennifer Little, and Marissa Goldberg. "The events that have unfolded today have been shocking and absurd, starting with the leak of a presumed and premature indictment before the witnesses had testified or the grand jurors had deliberated and ending with the District Attorney being unable to offer any explanation," they said.
The Fulton County District Attorney's Office apparently chose to rush and force through this 98-page indictment in light of this significant error. The joint statement continued, "This biased grand jury presentation relied on witnesses who have personal and political agendas of their own; some of whom ran campaigns touting their efforts against the accused and/or profited from book deals and employment opportunities as a result." "We anticipate a thorough examination of this indictment, which is unquestionably flawed and unconstitutional, just like this entire process has been," the statement continued.
This story broke recently. As more details came to light, the material was subsequently updated.
HNewsWire: The only criminals that must be indicted are the Soros funded judges and attorney generals. Get all of these corrupt pedo criminal democrats in prison along with the Soros family.
"Bud Light" Fulton County, GA, I think it's time. Look at where something comes from before you buy it. Don't buy it if it says GA. I already do this with product from the west coast, and I recently added Canada to the list of places I won't go. I don't care about Turd-O's country. He can stick it where the sun doesn't shine.
Trump for president in 2024!
How can an indictment from a grand jury be made public before the grand jury decides to indict? What a joke this state of Georgia is! When criminals are in charge, there is no law and order. You are an idiot, Kemp! Have you had enough? Get set! They are about to lock us all up again, but this time it will be for good.
This is almost laughable; in many ways. Dems seek to throw Trump in jail because he asked a local politician to "find the votes".
.
.The She-Dem is grabbing at tiny straws. If during a Presidential election anyone, including a President, can utter those words and it's perfectly understood to mean to find the votes via recount, analysis of ballots or voting machines, and various other LEGAL means.
.
.Fani Willis is a disgrace to the good people of GA. She throws everything at the wall praying for something to stick because all she has is nothing. This too, will turn out to be an unwarranted, waste of time and tax money. .Ms. Willis current term ends on December 31, 2024, if not sooner. Justice doesn't fit Fani.
In Georgia, former President Donald Trump has been charged with trying to change the results of the 2020 election. However, there is no proof that he had the criminal purpose needed to be found guilty.
Fulton County District Attorney Fani Willis laid out her case on August 14. She explained how President Trump and his alleged accomplices said there was fraud in the 2020 election in Georgia and other places, how they tried to use this plan to delay the counting of electoral votes by the vice president on January 6, 2021.
Ms. Willis said that 41 crimes were done by different people as part of this attempt. President Trump is named as the defendant in 11 of these claimed crimes. Most of these crimes require the perpetrator to be in a criminal state of mind, or to know that what they are doing is wrong.
Even though the charge is almost 100 pages long, it doesn't explain how Ms. Willis knows that President Trump did illegal things instead of following a plan he thought was legal.
The main claim in the indictment is that President Trump's attempt to change the results of the election was a racketeering plot.
President Trump and his staff said that there were problems with the election and that it was rigged. They asked Georgia lawmakers to name a new group of electors who would vote for President Trump. Ms. Willis says that by trying to get the lawmakers to break their oaths of office, this plan broke a state law against soliciting a crime.
The Georgia Oath of Office says, "I solemnly swear or affirm that I will support the Constitution of this state and of the United States and that, on all questions and measures that may come before me, I will act in a way that, in my opinion, is best for the interests and prosperity of this state."
The indictment doesn't say what part of the politicians' oath they were asked to break.
But more importantly, breaking a promise is only a crime if it is done "willfully," which means with the intention to commit a crime. Ms. Willis didn't say how she knows that the people involved thought they were breaking the law instead of following the law to question the election results.
Setting up a different list of electors has been done legally before. In the 1960 Hawaii election, John F. Kennedy went to court to question the result, even though Richard Nixon had already been declared the winner. In this situation, Democratic voters got together to vote for Kennedy and sign a document saying that they had done so. Kennedy's challenge was successful, but the state's votes were only counted because there was an alternative elector list.
Ms. Willis said that some GOP electors were pretending to be public officials when they wrote that they were real voters. But that crime also needs an illegal goal, which is to trick someone. Ms. Willis didn't say how she knew this was what they wanted. The state's Republican Party has said that the electors made it clear that their votes would only be counted if President Trump won a court case challenging the election.
Ms. Willis also said that the person who made the replacement elector certificate made a fake one. This crime also needs a criminal mindset, which is the intention to cheat someone. Again, Ms. Willis didn't say how she knew this was really what they wanted to do.
In the indictment, President Trump and others are also accused of making false claims about the election findings. No matter how true the claims are, the law again demands that the person did it on purpose. In the charge, Ms. Willis did not explain how she knew that President Trump didn't believe what he said.
Shortly after Ms. Willis released her indictment, President Trump stated that he would hold a press conference where he would give a "conclusive" report on what he thinks was election fraud in Georgia.
There isn't enough proof of the needed state of mind to convict President Trump on the charges brought by special counsel Jack Smith. This is also a problem for the effort to change the results of the 2020 election.
Mr. Smith suggested that the trial start on December 11 with jury selection. This would give the defense three months to look over the more than 11 million pages and files of evidence materials.
President Trump already has a trial date set for March 2024 for state charges brought against him in New York for allegedly making false bookkeeping entries. Another trial is set for May in a federal case brought by Mr. Smith in Florida about the former president's keeping of national defense documents from his time in office.
President Trump has always called the accusations against him political harassment and an attempt to stop him from running for president in 2024.
"Let's Go" Georgia's Fulton County, It's time, I think. Before you buy something, find out where it comes from. If it says GA, don't buy it. I already do this with wine from the west coast, and I just recently added Canada to the list of places I won't go. I have no interest in Turd-O's country. He can shove it where the sun doesn't shine.
Vote for Trump in 2024!
How can a grand jury's charge be made public before the grand jury makes the decision to indict? This state of Georgia is such a joke! There is no law and order when thieves are in charge. Kemp, you're a fool! Has enough happened? Get ready! We are all about to be locked up again, but this time it will be for good.
Say hello to Granite Ridge Soapworks! Use our handmade soaps to take good care of your skin. Our premium natural ingredients work together to create a silky, creamy lather that hydrates your skin. Chemicals, such as sodium lauryl sulfate, phthalates, parabens, or detergents, are never used by us. To ensure quality, we make all of our soaps in modest quantities. Visit our Etsy store right away to give them a try and the attention your skin deserves. GraniteRidgeSoapworks: Because only the best will do for your skin.
Use the code HNEWS10 to receive 10% off your first purchase.
" Stay Home': Feds Tell San Francisco Workers To Telecommute Due To Crime Wave by Tyler Durden Tuesday, Aug 15, 2023 – 07:05 PM Crime is so bad near San Francisco's US Department of Health and Human Services federal building that officials have advised hundreds of employees to work remotely for the foreseeable future. Pelosi federal building in San Francisco Citing public safety concerns outside the Nancy Pelosi Federal Building on Seventh Street – which houses several federal agencies including the HHS, the Department of Labor, the Department of Transportation and Nancy Pelosi's office – officials issued the stay-home recommendation in an Aug. 4 memo to regional leaders. "In light of the conditions at the (Federal Building) we recommend employees … maximize the use of telework for the foreseeable future," according to a copy of the memo by HHS Assistant……...
Revelation: A Blueprint for the Great Tribulation
Will Putin Fulfill Biblical Prophecy and Attack Israel?
A Thrilling Ride
Every once in awhile, a book comes across your path that is impossible to put down. A Long Journey Home is not a casual book that you read in a week or earmark to complete at a later date. Once you begin, cancel your schedule, put your phone on silent, find a quiet place where you cannot be disturbed, and complete the journey. Click Here to Purchase on Amazon.com!