The Most Dangerous Phase Initiated. Satan Soldiers Rollout Their Crime Against Humanity & Try to Bury God's Existence via mRNA. This Will End Badly!
SRH: At My First Defense No One Came to Stand By Me, but All Deserted Me. May It Not Be Charged Against Them! But the Lord Stood by Me and Strengthened Me, so That Through Me the Message Might Be Fully Proclaimed and All the Gentiles Might Hear It. So I Was Rescued From the Lion's Mouth. The Lord Will Rescue Me From Every Evil Deed and Bring Me Safely Into His Heavenly Kingdom. To Him Be the Glory Forever and Ever.
We have to awaken to the fact that the COVID scamdemic has rapidly accelerated the technocratic and transhumanistic aspects of the New World Order (NWO) to the point where people are blindly lining up to get injected with a "treatment" which is also a chemical device, an operating system, a synthetic pathogen and chemical pathogen production device.
This new COVID vax is a completely new kind of technology, potentially even more dangerous than your average toxic vaccine.
HNewsWire: In the United States, civil war is brewing. A week after the attempted assassination of Supreme Court Justice Brett Kavanaugh was thwarted, news of the conspiracy has faded from the headlines as inflation, a wobbly stock market, and the Jan. 6 Commission all battle for the same space in the media.
The account of an assassination attempt on the life of a member of the nation's highest court has been mostly forgotten.
Conservatives, on the other hand, will not allow the episode to fade from public consciousness. Because of this, they are blaming Democrats, particularly one famous Democrat, for the crisis.
In a new campaign, the Judicial Crisis Network highlights Chuck Schemer's warning to Supreme Court nominee Brett Kavanaugh that if he votes to overturn Roe v. Wade, "there will be repercussions." To advertise the commercial in the Washington, D.C. area, the conservative legal organization paid $300,000. Schumer's colleagues on Capitol Hill were the target audience.
"It's 1 a.m. Supreme Court justices' homes are surrounded by armed men. An unknown narrator adds, "He claimed he was coming to kill," as gloomy stock photos appear on the screen. "Why? Political brinksmanship may be dangerous."
"I want to warn you Kavanaugh: You have unleashed the whirlwind and you will pay the price," said Schumer on the Supreme Court steps in March of 2020. Ends by saying, "Teach Democrats. Your thoughts. Now there's a crazed gunman. When you're threatening judges, stop it.
Such inflammatory language has been emphasized by Republicans, who have sought to link it to an actual assassination plan. The Senate Judiciary Committee chairman, Texas Sen. Ted Cruz, published the Schumer tape immediately after the botched plan was revealed, calling it "cause and effect."
As has Carrie Severino, President of the Judicial Crisis Network. To influence the Supreme Court's decisions and obtain their policy preferences, Democrats are using all of their intimidation tactics, said RCP.
Earlier this week, Schumer apologized for his use of the word "whirlwind" in his remarks. After producing them, he did so right away. A floor statement at that time said "I regret using the terms I used yesterday," emphasising that his comments were political in nature, not personal.
The Senate Majority Leader's spokeswoman informed RealClearPolitics that he was relieved and grateful that the shooter was stopped. In response to questions about Thursday's flurry of tweets, a spokesman stated, "We are grateful that law enforcement detained this individual." Peaceful demonstrations have the approval of Leader Schumer, who has said as much.
Political violence has occupied much of Capitol Hill in recent weeks. While the Jan. 6 committee presented its conclusions on the Capitol riots on prime time last week, the Republican Party slammed the Biden White House for not doing more to quiet tempers and keep demonstrators away from Supreme Court justices' residences. Increasingly, American politics might be likened to a raging cauldron.
Because of what conservatives see to be a failure to properly regulate their own demonstrators, conservatives believe that the rhetoric of the left has pushed those feelings to hazardous levels. Severino claimed that "their actions jeopardize the justices' safety, yet Democrats continue openly proceed with their hazardous political brinkmanship, emboldened by the far-left extremists in their party."
HNewsWire-This is just the beginning of global civil upheaval. People are tired of Satan's minions abusing humans like animals. Beijing sent soldiers to Shanghai as the lockdown is tightened even more, prompting even more turmoil. As local authorities extend what was supposed to be a nine-day lockdown in Shanghai (China's most populous city and financial…
At least 12 major U.S. cities have set annual murder records in 2021 even as there are still several weeks remaining in the year, data shows.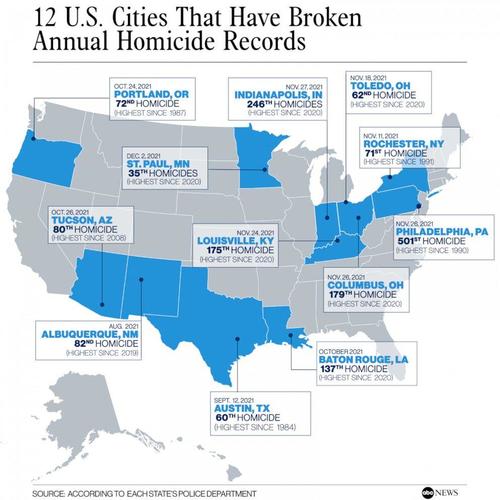 Philadelphia, one of the largest cities in the United States, saw 525 murders in 2021, according to police data. That's higher than the previously set record of 500 murders in 1990.
With a population of nearly 1.579 million, the data suggests Philadelphia's homicide rate is about 33 murders per 100,000 people—or more than four times higher than the U.S. homicide rate of 7.8 per 100,000 people in 2020.
"It's terrible to every morning get up and have to go look at the numbers and then look at the news and see the stories. It's just crazy. It's just crazy and this needs to stop," Philadelphia Mayor Jim Kenney, a Democrat, said earlier this month, according to reports.
Other large cities that broke their previous homicide records in 2021 include Portland, Oregon; Austin, Texas; St. Paul, Minnesota; Indianapolis, Indiana; Louisville, Kentucky; Albuquerque, New Mexico; Columbus, Ohio; Tuscon, Arizona; and Rochester, New York, according to an analysis of public news reports.
Indianapolis recorded at least 246 murders in 2021, Rochester has recorded at least 71 murders, Columbus has recorded at least 179, Baton Rouge recorded 137, Portland saw 79, Albuquerque has experienced 97, Tucson has 81, Louisville saw 175, St. Paul recorded 35, and Toledo saw 62 murders—all records.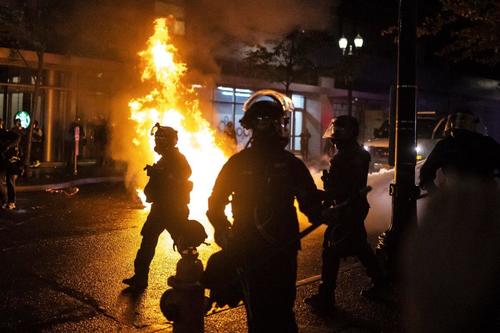 Portland police officers walk past a fire started by a Molotov cocktail that a rioter hurled at them, in Portland, Ore., on Sept. 23, 2020. (Nathan Howard/Getty Images)
Notably, Portland, Rochester, Lousiville, and St. Paul experienced numerous days of protests and riots starting in May of 2020 after the officer-involved death of George Floyd, which sparked nationwide unrest.
Protesters and rioters took to the streets in St. Paul—located near Minneapolis—following Floyd's death at the hands of former Minneapolis police officer Derek Chauvin. Meanwhile, weeks of riots and protests erupted in Louisville following the death of Breonna Taylor, and in Portland, left-wing agitators partook in riots and protests for more than 100 consecutive days last year.
In Rochester, riots broke out following the officer-involved death of Daniel Prude, a black man who was later confirmed to be under the influence of the dissociative hallucinogenic drug PCP and was reportedly partially naked and smashing storefronts during cold and snowy weather on March 30, 2020.
"The community has to get fed up," Capt. Frank Umbrino, of the Rochester Police Department, said during a recent news conference last month.

 "We're extremely frustrated. It has to stop. I mean, it's worse than a war zone around here lately."
As it has in the past, Chicago currently leads the United States with more than 730 homicides by the end of November, according to Chicago Police Department data, coming as at least nine murders were reported during an outburst of shootings across the Windy City over the past weekend. The most deadly year on record was in 1974 when Chicago experienced 974 homicides.
Nationally, homicides rose by about 30 percent in 2020 compared to the prior year, according to FBI data released several months ago. That was the largest one-year spike since the FBI started keeping records.
Some criminologists have blamed the spike in murder rates on lax bail laws, political and racial conflicts following the George Floyd riots and protests, large numbers of officers retiring or quitting, and pandemic-related panic.