Advisory: Be careful of what you read on social media. The algorithms used by these platforms have no regard for Biblical truth. They target your emotions to keep you engaged on their site so their advertisers can drop more ads. These platforms exist to enrich their stockholders. Consider God's promise to Believers in James 1:5, "If any of you lacks wisdom, you should ask God, who gives generously to all without finding fault, and it will be given to you."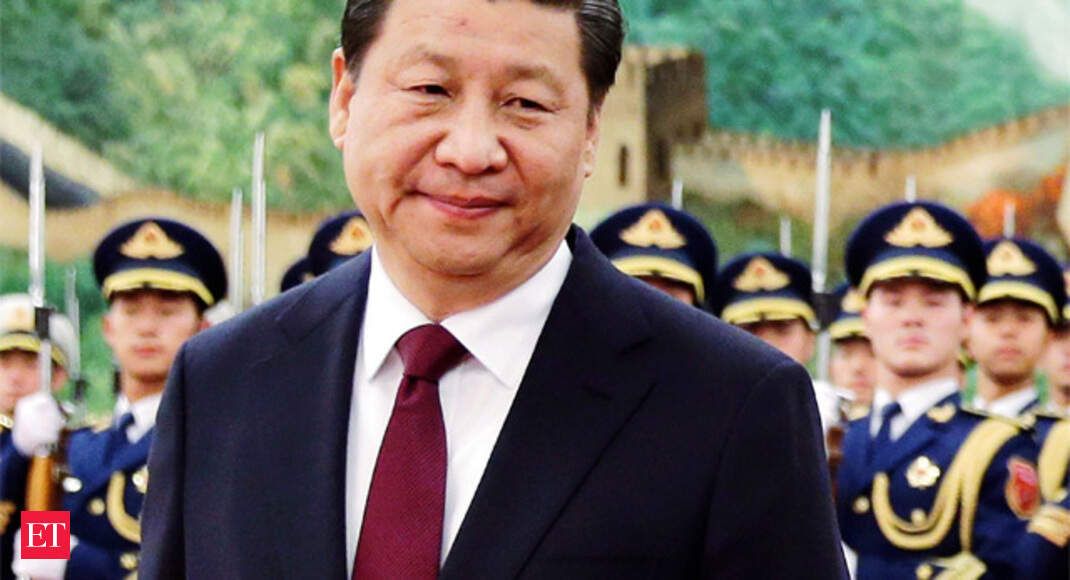 In order to defend and advance Beijing's hegemonic aspirations, Chinese President Xi Jinping instructed Communist Party members to influence international legislation and promote China's socialist rule of law.
"[We must] launch an international fight by using judicial methods," Xi said in a speech that he delivered to Party cadres during the Politburo's recent study session "on building a socialist legal system with Chinese characteristics," according to a Feb. 15 report by Qiushi, the Chinese Communist Party's (CCP) official bi-monthly theoretical journal.
The major purpose of altering domestic and foreign-related legislation, according to Xi, is to demonstrate China's rule of law system to the rest of the world and to increase China's influence in the rules-based international order.
Since the Party's 18th Congress in November 2012, when Xi took office, the administration has attempted to use legal means to achieve its objectives abroad, according to Xi.
Observers claim that China's so-called rule of law is susceptible to the ruling elite's whims. Anyone who does not follow the Party line will be punished and persecuted.
"The real 'rule of law' in the PRC (mainland China) is arbitrary arrest and incarceration subject to the whims of the CCP," stated China analyst Stu Cvrk in a Dec. 11, 2021 essay. Millions of Chinese, as well as ethnic and religious minorities, can attest to this, according to Cvrk.
One sentence by Mao Zedong, the first chairman of communist China, has been widely publicized in Chinese media. "Battle with the heavens, fight with the earth, and fight with the people," he said.
Now, Xi is following Mao's lead and directing the dictatorship to "start an international war."
"The world has entered an era of turbulence and reformation. "Disputes over state institutions, regulations, and laws are increasingly manifesting themselves in international competition," Xi remarked in his speech. "To improve the efficiency of overseas law enforcement, we must strengthen the enactment of foreign-related laws and regulations."
He then informed Party cadres that the situation is critical and that they should concentrate on combating long-arm jurisdiction, sanctions, and foreign intervention.
Western governments have recently sanctioned CCP officials and state-owned firms for human rights and trade breaches. Beijing launched a set of "anti-foreign sanctions" policies in June 2021 as a countermeasure to foreign countries imposing sanctions on China.
The CCP persecutes its own citizens, especially dissenters, ethnic minorities, and religious minorities. By creating artificial islands and pressuring countries with conflicting claims in the South China Sea, it continues to threaten Taiwan into unification with the mainland and exercising sovereignty in the Indo-Pacific area.
Other countries have been chastised by Beijing for exposing the regime's misdeeds, stating that they have no right to intervene in China's domestic affairs.
The CCP has retaliated against America's long-arm jurisdiction, in which the US judiciary can use bilateral and multilateral agreements to prosecute a suspect in a third country. For example, Huawei executive Meng Wanzhou was detained in Canada in December 2018 in response to a US extradition request stemming from her role in Huawei's violations of US sanctions against Iran through a shell company. Canadians Michael Kovrig and Michael Spavor were jailed in China a few days later on spurious allegations.
The US Justice Department signed a deferred prosecution agreement with Meng on Sept. 24, 2021, in which she admitted to most of the allegations against her while maintaining formal deniability on crucial bank and wire fraud offenses. On the same day, her bail conditions were lifted by a Canadian court, allowing her to return to China.
Beijing released the "two Michaels" shortly after Meng was released. The release of Meng is seen as a win for the Chinese regime's "hostage diplomacy" strategy.
Xi ordered the regime to interfere with America's long-arm jurisdiction by forming a judicial cooperation with other countries and training Chinese nationals to be experts in international law in his speech.
Xi did admit, however, that China's rule of law system has flaws and that domestic laws need to be revised. He advised the regime not to be "misled by Western styles and thoughts," and that China should chart its own course.
The cunning yet bellicose tactics used by the CCP to subvert the rule of law have been effectively ignored by the Biden administration, and the Trump administration alike. They've put a band-aid on an issue that cannot be clearly defined and we'll surely see the results of such insubordinate leadership in the near future. Biotechnological innovation, quantum computing, and Artificial intelligence will be studies no longer belonging to the American people. If war ensues, we'll likely never gain access to any of the technology; Rendering the globalist elite with near "Godlike" capabilities in comparison to the common man. In the event that China engages in wartime activities, they'll no doubt consider utilizing their plethora of genomic data collected with rapid antigen test kits to engage in biological warfare.
Curtin University, the largest university by total number of students in Perth, Western Australia (WA), has enforced vaccination requirements for all employees, students, campuses, and activities.
Curtin Chief Operating Officer Fiona Notley informed students in a letter dated Feb. 10 that the institution was aware that the new directives would prove controversial to some.
"While we know this is potentially controversial, this decision is part of our strategy to counter the impact of COVID-19 and protect the health and safety of the University community," Notley said.
Curtin is the first university in Western Australia to impose the requirement, joining Griffith, La Trobe, and the University of Melbourne on Australia's eastern coast.
Despite having one of the broadest evidence of eligibility requirements in the country, the state of Washington does not require university students to get vaccinated.
The decision was made following discussions with staff and the student guild, a representative group elected by students, according to the statement. Curtin, on the other hand, made no mention of whether or not students were polled or contacted during the process.
"The decision was made following a period of engagement with the Curtin Student Guild and our staff." Notley continued, "Feedback from the Guild, who represent all students on campus, and our staff, was strongly in support of requiring vaccination as a crucial way of protecting the health, safety and wellbeing of our community," Notley continued."
"Students in Western Australia who wish to attend a campus or facility, or participate in a University activity involving physical interaction with others, must provide Curtin with evidence that they have received at least one dose of an approved COVID-19 vaccine by February 21, 2022, and a second dose by March 21, 2022."
Within one month of becoming eligible, students will be needed to obtain a third booster dose. Booster doses are currently three months apart, which means kids may be required to get vaccinated three to four times per year in order to stay enrolled.
"Thank you to all those who have already been vaccinated. I encourage anyone who has not done so to be vaccinated by the relevant deadlines," Notley added.
Higher education can be attained elsewhere without attending one of these marxist education institutions. While governments across the globe impose medical tyranny upon the world population, institutions like these provide reinforcement to the agenda at large. If need be, avoid higher education institutions until the COVID-19 vaccine fascism digresses. Perhaps it won't, we'll have to see what the puppet-masters have in store for us in the coming months to continue their narrative.
No one man can make sense of this elaborate illusion cast over the common man of society, but collectively we can point out each limitation forced upon us and bring it forward as an injustice to the public. In Matthew 10:34 Jesus says: "Do not think that I have come to bring peace to the earth. I have not come to bring peace, but a sword." We're meant to go down preaching the gospel and guiding others to salvation. This could be considered the bravest task a man or woman of faith could undertake, but make no mistake it will bear fruit in the kingdom of heaven. Stay inquisitive in the word of God, and the world around you.
We make every effort to acknowledge sources used in our news articles. In a few cases, the sources were lost due to a technological glitch. If you believe we have not given sufficient credit for your source material, please contact us, and we will be more than happy to link to your article.