Advisory: Be careful of what you read on social media. The algorithms used by these platforms have no regard for Biblical truth. They target your emotions to keep you engaged on their site so their advertisers can drop more ads. These platforms exist to enrich their stockholders. Consider God's promise to Believers in James 1:5, "If any of you lacks wisdom, you should ask God, who gives generously to all without finding fault, and it will be given to you."
Are We Having Fun Yet…
The 'Covidiots' have struck again, roughly half of those testing positive for COVID-19 in Texas's Travis County so far are between the ages of 20 and 40.
The City of Austin's public health department just reported that 28 young adults who recently returned from a spring break trip to Cabo have all tested positive for COVID-19, a local TV news station reports.
These students were part of a group of roughly 70 mostly UT Austin students left for Cabo a week and a half ago. So far, nearly half of that group has tested positive, while the rest have been warned to remain in self-isolation. The university confirmed that it was mostly UT students.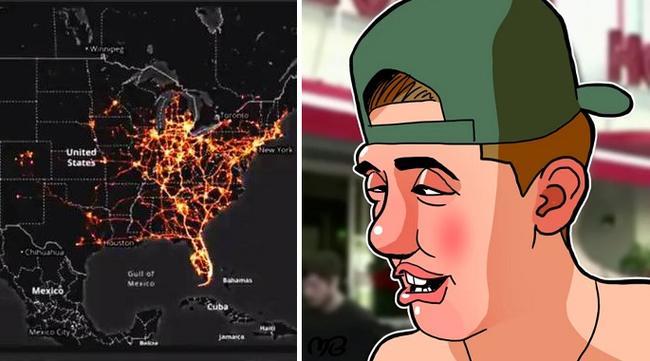 It's just the latest example of how the virus uses healthy young people to spread.
"The virus often hides in the healthy and is given to those who are at grave risk of being hospitalized or dying," APH Interim Health Authority Dr. Mark Escott said.

"While younger people have less risk for complications, they are not immune from severe illness and death from COVID-19," he said.*
Every student who participated in the trip has been contacted, APH said, and all of them are waiting to be tested.
Though the students aren't facing any kind of punishment from their school, the incident is "a vital reminder" of why all Americans need to take the government advisories seriously.
The incident is a reminder of the vital importance of taking seriously the warnings of public health authorities on the risks of becoming infected with COVID-19 and spreading it to others," UT spokesman JB Bird said in a statement.
At the time of the trip, Mexico wasn't under a travel advisory, and Americans hadn't yet been asked to remain home.
Data so far show that roughly half of those testing positive for COVID-19 in Texas's Travis County so far are between the ages of 20 and 40.
The movements of these 'spring breakers' will soon be visible from space as they unknowingly infect dozens in their path.
Lousiana over the weekend saw confirmed coronavirus case numbers explode past 3500, including 151 deaths and (Reprobate)Mayor Cantrell has recently said that "in hindsight" Mardi Gras should have been canceled. In order for sin to work, there has to be a "suppression of the truth"…
It's interesting when you connect the dots, the masses are opposed to God's blueprint and therefore will bring destruction upon the earth intentionally. Me, I, mine, narcissists generation will bring total destruction upon God's people, only the chosen will survive, we live in evil times, dress appropriately, put on the full armor of God.
CBS News has published disturbing images of rats invading the once-bustling streets of the French Quarter in New Orleans after the city belatedly went on lockdown, as the state of Lousiana over the weekend saw confirmed coronavirus case numbers explode past 3500, including 151 deaths. Most have been at the newly emerged outbreak epicenter in the south, New Orleans.
Cafes, restaurants, bars and once packed clubs have been shuttered, cutting off what's always been a steady food supply for the rodents, causing them to venture further out for food into the streets as photographs reveal.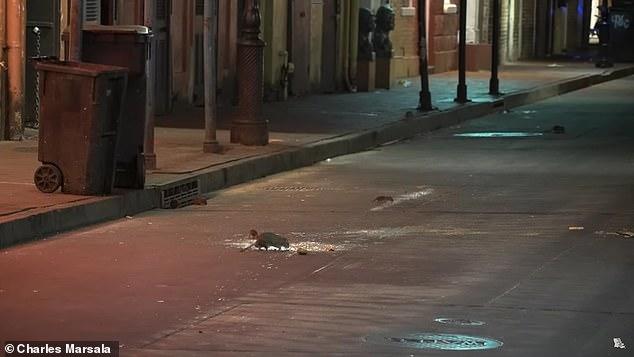 Watchmen, of today, are called to speak the word of the Lord from within the court, mounting an internal critique. The pressures on Nathan to keep silent after David seized Bathsheba and sent her husband to his death must have been enormous. He could have vented himself in a scathing editorial and then kept his head down. From all appearances, though, Nathan had free access to the court, was a friend of David, and a close adviser. It is said that prophets spoke truth to power, but that goes beyond cliché when we realize that prophets spoke the truth face to face with power, to powerful men and women whom the prophets knew intimately, frequently from their own position of power.SRH…
Everything is right on schedule and, now, the time is come to remove one of the final obstacles standing in the way of a New World Order: The United States Constitution – even if, over the course of many decades, it has already been greatly diminished by the B.E.A.S.T. system; or, more specifically, Bullshit Emerging As Strategic Totalitarianism (B.E.A.S.T.).
A city-wide shelter in place order has left streets barren a mere weeks after Mardis Gras saw its average some 1.5 million outside tourists and party-goers descend on the Big Easy.
The almost unheard of the shutdown of the city's businesses are "driving our rodents crazy" — in the words of Mayor LaToya Cantrell who addressed the growing problem in a local broadcast. 
The CBS report describes as follows:
New Orleans' famous Mardi Gras celebration brought thousands of tourists to the city, and medical experts believe it might be a big factor in the city's COVID-19 outbreak. Now with Bourbon Street's famous bars all closed and people social distancing, videos show dozens of rats scurrying through the empty streets.

"I turn the corner, there's about 30 rats at the corner, feasting on something in the middle of the street," Charles Marsala of New Orleans Insider Tours and AWE News told CBS News' Omar Villafranca. Marsala said he had "never" seen anything like it before.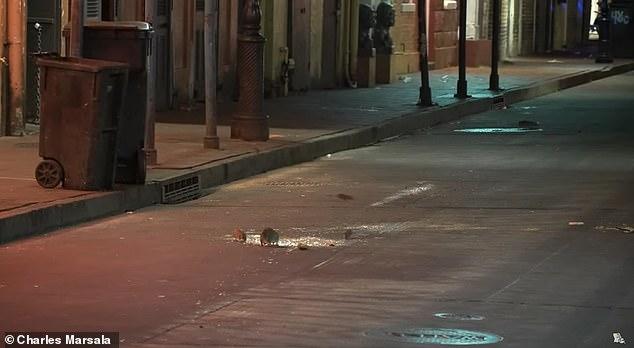 Mayor Cantrell has recently said that "in hindsight" Mardi Gras should have been canceled, after health officials have said New Orleans' recent explosion in cases was likely due to the week-long festival running January 6 to February 25, which marks Fat Tuesday.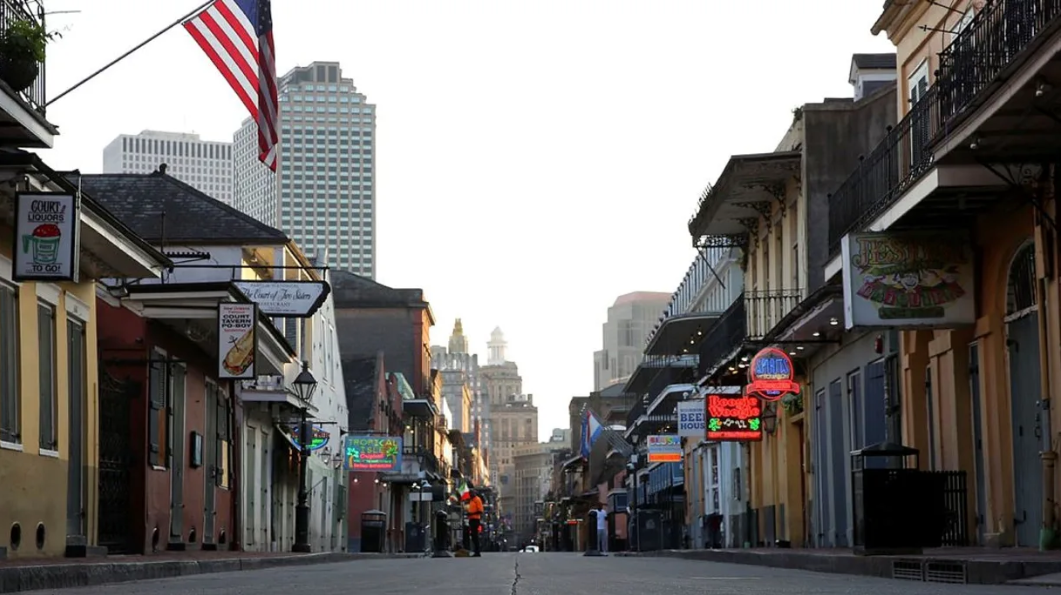 "In hindsight, if we were given clear direction, we would not have had Mardi Gras, and I would have been the leader to cancel," she said in a CNN interview last week, also blaming local decisions ultimately on "our national leader".
Meanwhile, city health officials are attempting to combat the rat infestation problem, with Claudia Riegel, executive director of the New Orleans Mosquito, Termite and Rodent Control Board, warning residents that "there are pathogens in these rodents".
Texas expands quarantine requirement for out-of-state travelers
Texas expanded its quarantine requirement for out-of-state travelers on Sunday, adding to a growing patchwork of domestic travel rules aimed at stemming the spread of the coronavirus.
Gov. Greg Abbott targeted some of the pandemic's hot spots, ordering that air travelers from California, Washington state and several other places must self-quarantine for two weeks after arriving in Texas. His executive order, which previously focused on New York, New Jersey, Connecticut, and New Orleans, was also expanded Sunday to all of Louisiana and Atlanta, Chicago, Detroit, and Miami. The new rules take effect Monday.
Abbott directed state troopers to enforce the quarantine order for Louisiana motorists driving into Texas, with authorities slated to collect information from drivers on where they would isolate themselves for 14 days, with the possibility of unannounced visits to verify compliance and levy punishment of a $1,000 fine and six months in jail.
Texas has emerged as a new center of the coronavirus, with the Department of State Health Services reporting more than 2,500 cases and 34 deaths as of Saturday night.
The Republican governor's action follows a similar move by Rhode Island Gov. Gina Raimondo, a Democrat, who first required quarantine for New York motorists but expanded her order Sunday to all states. Her initial targeting of New Yorkers drew the ire of Gov. Andrew Cuomo, who denounced the policy and threatened to sue.

by: KLFY StaffPosted: Mar 29, 2020 / 04:47 PM EDT / Updated: Mar 29, 2020 / 04:47 PM EDT
Source: HNewsWire CensoredNews ZeroHedge
StevieRay Hansen
Editor, HNewsWire.com
Watchmen does not confuse truth with consensus The Watchmen does not confuse God's word with the word of those in power…
The Bill and Melinda Gates Foundation Have NOT Got The Memo Yet, "Pestilences" Has No Cure
The Coronavirus Was Most Certainly Produced by Crazy (Un-Godly) Men in Laboratories, WGO and CDC Knew All Along That the Coronavirus Was a Bioweapon, There're in Charge?
Well-known medical expert Bill Gates did an AMA on Reddit https://www.gatesnotes.com/Health/A-coronavirus-AMA?WT.mc_id=20200319223000_Coronavirus-AMA_BG-LI&WT.tsrc=BGLI&linkId=84658834 (transcribed here), in which he casually drops some chilling ideas into the conversation:
Eventually, we will have some digital certificates to show who has recovered or been tested recently or when we have a vaccine who has received it.
All in all, our freedoms are being swamped. Big corporations and states alike are setting boundaries on individual rights on a flimsy pretext.
Is anyone in the media reporting that? Of course not. Instead, we're getting fawning celebrity-based drivel like this in the Independent, trying to convince us "we're all in this together", or weasel-worded nonsense like this from Jonathan Freedland in The Guardian where he mourns Johnson's "libertarian" spirit and reluctance to impose social control. That would be the mass-surveilling, drone executing, war-supporting type of libertarian. A crass and obvious example of narrative management.
Even members of the alt-media are falling for this, with prominent voices hailing the measures as necessary or demanding "further action" (one usually sane analyst is advocating locking all of those "probably infected" inside empty sports stadiums to be "medically monitored"). Somehow former Goldman Sachs banker and Hedge Fund manager Rishi Sunak is being praised as some kind of Nye Bevan figure. It's almost literally insane.
If a mandatory vaccination program were to be implemented again in the U.S. for ("Chinese virus") COVID-19, the government would have to reassure the public its previous negligence of such side effects would not be repeated, an unlikely scenario after the corporate breach of trust exposed on Wall Street in recent years involving large pharmaceutical firms. Regardless, Big Pharma is already partnering with the U.S. Army to develop a vaccine for the coronavirus which would have to be tested and evaluated before licensing by the Food and Drug Administration (FDA) and recommended for use by the Centers for Disease Control and Prevention (CDC), both of which partner with the WHO whose largest financial contributor is the U.S. government.
One of the WHO's other largest benefactors is the Bill and Melinda Gates Foundation with whom it has a partnership on vaccinations. The billionaire Microsoft Corporation founder has used his enormous wealth to dodge paying taxes under the guise of philanthropy and his 'charitable' private ventures have mostly focused on producing vaccines for developing countries and purportedly tackling global poverty, especially in Africa. On the surface, this may appear to be benevolent work, but like many so-called altruistic projects, it is a scheme which allows ultra-wealthy plutocrats like Gates to influence global policy and obtain political power with no accountability by investing in "fixing" the social problems caused by the very system which made them rich, with the expansion of neoliberalism as their real agenda. The consequences of this can be seen with charitable projects involving Gates in the Congo which forced its local agribusiness into using GMO seeds which only benefited private companies like Monsanto.
More disturbing is that in regard to environmental concerns about man-made climate change, Gates has made public his views on curbing human population growth as a solution. At a 2010 TED Conference, Gates stated:
"First we got population. The world today has 6.8 billion people. That's headed up to about 9 billion. Now if we do a really great job on new vaccines, health care, reproductive health services, we lower that by perhaps 10 or 15 percent."
reprobates, New Orleans Mayor," Chinese virus", Biblical, Biblical Prophecy, CDC, Coronavirus, disobedience, Food Shortage, Hospitals, infections
HNewsWire Live Stream 24/7 News UpDates and World Events Go Live HNewsWire: By Frank Bergman March 19, 2023 New York's Democrat Governor Kathy Hochul……...
Read More
We make every effort to acknowledge sources used in our news articles. In a few cases, the sources were lost due to a technological glitch. If you believe we have not given sufficient credit for your source material, please contact us, and we will be more than happy to link to your article.