Advisory: The editorial board of HNewsWire adopted the official policy to bypass many social media platforms. Some of these include: Facebook, Instagram, Twitter, Parler, and YouTube. We believe these companies are responsible for many of the spiritual ills our world faces today. In some cases, however, we have allowed our guest contributors to include content from their YouTube channel while we search for alternatives.
Why He Was Assassinated by Satan Soldiers Just Before the Corona-Hoax Was Staged?!…
I go back to my original statement in January, this is a "Pestilence", God knew evil men were in labs concocting a virus with the intention of harming humanity. SRH…
THERE IS NO TEST FOR THE DELTA VARIANT
The scientist who invented the PCR (Polymerase Chain Reaction) test kit was Kary B. Mullis. This technology is what they use today to test for the so-called corona-virus, said to be the cause of a disease which the health authorities such as the World Health Organizations (WHO) vaguely and inconsistently defined or identified.
Mullis is among the many scientists who bravely question the narrative of the HIV-AIDS hypothesis. Mullis did not believe what the mainstream, globalist elite-funded, science is claiming that the HIV retrovirus is causing the AIDS disease. He was an important member of the "Group for the Reappraisal of the HIV-AIDS Hypothesis, the 500-member protest organization pushing for a re-examination of the cause of AIDS". According to him on his 1992 Spin interview, "PCR made it easier to see that certain people are infected with HIV and some of those people came down with symptoms of AIDS. But that doesn't begin even to answer the question, 'Does HIV cause it?'"
"In the early 1990's, PCR, came into popular use, and Kary Mullis was awarded the Nobel Prize for it in 1993. PCR, simply put, is a thermal cycling method used to make up to billions of copies of a specific DNA sample, making it large enough to study. PCR is an indispensable technique with a broad variety of applications including biomedical research and criminal forensics."
According to Mullis himself, PCR cannot be totally and should never be used as a tool in "the diagnosis of infectious diseases." This is the main reason why Mullis disagreed with the scientists who are behind the HIV-AIDS hypothesis. He defied the mainstream notion that "the disease-causing mechanisms of HIV are simply too "mysterious" to comprehend. According to him, "The mystery of that damn virus has been generated by the $2 billion a year they spend on it.
You take any other virus, and you spend $2 billion, and you can make up some great mysteries about it too." He also added that, "Human beings are full of retrovirus. We don't know if it is hundreds or thousands or hundreds of thousands. We've only recently started to look for them. But they've never killed anybody before. People have always survived retroviruses."
That utterly fake Delta Covid variant, by the way, is — at this moment — being used to lock down the whole world yet again.
That's right, the entire planetary civilization is about to undergo another major lockdown with mask mandates and social distancing and all wherever the Covid criminals think they can get away with this worldwide fraud.
To even attempt pulling off such a transparent hoax means that the perpetrators at the very top of the Covid crime scheme are desperate to keep all of humanity in maximum fear and totally locked down, especially where it concerns international travel.
To roll out the fake Delta variant when herd immunity is close to being attained by the day is clearly a sure sign of their sheer desperation and unparalleled recklessness.
Therefore, the main question for every thinking human being is: Just how far will the New World Order globalist cabal take OPERATION COVID-19?
The short answer is that their immediate goal is to successfully implement their long-planned Covid Super Vaccination Agenda.
That means every person on the planet will be vaccinated with as many doses of the various Covid vaccines until each individual is essentially owned and operated by Covid controllers at the top of the NWO pyramid.
Perhaps this is why so much of the actual content of the Covid vaccines has been scientifically proven to be graphene.
To learn more about why graphene is the main ingredient, and who in the US government is behind such a dangerous scandal, please consult the following exposé. Who is Big Pharma's secret mover and shaker behind the Covid Super Vaccination Agenda?
Conclusion
Ultimately, there is one conclusion of paramount importance which must be grasped by every God-fearing person on Earth. As follows:
Don't take it from me. Here's the data straight from the U.K. government, which is tracking this mutation as sporting a case fatality rate of 0.1%.
Now, a case fatality rate (CFR) is many times higher than the actual death rate (infection fatality rate, or IFR), because the vast majority of COVID-19 cases go undetected. Through my previous reporting, I've found that the World Health Organization runs its numbers based on the estimate that 1 in 20 cases are detected, while the CDC bases its estimates on a 1 in 10 ratio.
In plain english, this means that based on CDC and WHO guidelines, the Delta variant's death rate is actually significantly lower than the 0.1% number that appears in the U.K. government docs.
Additionally, there is still the "dying from COVID" versus "dying with COVID" problem in this calculation. In places like the U.K., any death that occurs within 28 days of a positive COVID test is labeled as a COVID death. They don't conclude if a positive test has actually contributed to that death in any meaningful way.
The Delta variant weighs in at such a low, inconsequential death rate that it becoming the dominant strain (with an actual death rate registering multiple times under that of a seasonal Flu) should actually be celebrated as a relief for humanity, yet the people who want to rule over us like power drunk despots would not benefit from such an admission. Using the word "deadly" to describe this mutation is simply total propaganda, and a complete assault on our language.
Of course, there was never a reason to rob us of our liberties in the name of attempting to control the spread of a virus. And especially with the Delta case, the argument for further restrictions immediately falls apart upon examination of the data. If only they followed the science!
I don't think the covid cult needs to keep mandates in place in the US for much longer, because if they can't con the majority of the population into compliance, they will instead use the confusion of the pandemic to undermine the economy.
Consider this for a moment – The instant response of many businesses in the Northwest during the heat wave was to shut down or cut hours in half, rather than adapt and overcome. Would this have ever happened before the covid lockdowns? I think not. The go-to solution to any real or perceived crisis in America is now to close down and hide. The response is to reduce standards and give up, or, it is to print money and throw it at the system without any real strategy to use that stimulus effectively. The stimulus itself is doing more damage than covid ever could.
This is a poisonous philosophy that could destabilize the very foundations of the nation, and it is happening right in front of our eyes. I saw it on the road this past week. It is everywhere. Conservative states are working to counter these developments, and I hope it is not too late. The covid cult has been feeding like termites on the pillars of our economy for many months now and though the mandates are being rightfully abandoned the consequences of collapse are far reaching. We may not know the true extent of the damage for many months to come.
Satan Soldiers Plandemic: US Food Banks Warn Soaring Prices Will Affect Distributions They're Also Affecting the Mission of Us Food Banks Who Are Spending a Lot More on Food Than Ever Before
"We're already spending a lot more on food than we have in years past," said Greg Trotter, a spokesman for the Greater Chicago Food Depository, a large food bank, who spoke with VOA News. "Our food purchasing budget has doubled this year."
In the coming weeks and or months, food banks across the country may experience a surge in food demand from millions of folks who are set to have their stimmy checks expire. At least 25 states are ending federal unemployment benefits.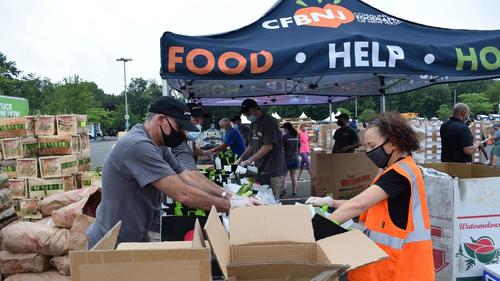 The perfect storm of factors (soaring food costs and unemployment benefits expiring) may stress food banks even further.
"The high prices are costing us more to feed a family in need," said Alison Padget, development and outreach director at Food for Others. "We'll have to rethink our purchasing decisions because economists say the prices are going to be high for at least a year."
In Phoenix, Arizona, Jerry Brown, director of public relations at St. Mary's Food Bank, told VOA that food banks could face severe difficulty once federal money dries up.
It seems the problem has already begun at the Community Food Bank of New Jersey, which covers a large portion of the state. Impact leader Triada Stampas said the food bank serves more people than ever because of out-of-control prices at grocery stores.
According to Father English Food Pantry officials in Paterson, New Jersey, the food bank is already experiencing financial strain.
Kelly Mott, external affairs director at the Mississippi Food Network, said, "We already see the price changes will affect us soon, adding that "we are in the process of buying turkeys for the Thanksgiving holiday in November. And since they are so expensive, we won't be able to purchase as many as we usually do, especially for the families with children who rely on us."
And by the way, there are still 15 million Americans on some form of government dole…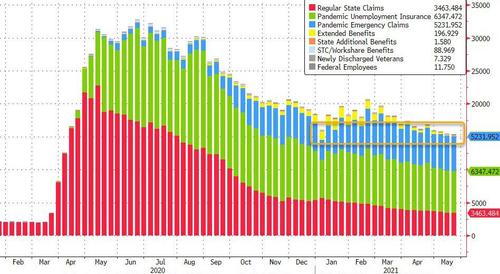 The crisis is far from over as food bank stress begins to materialize, and not everyone might be fed this year.
Threat manufactured in one way or another by our own government.
Think about it. Cyberwarfare. Terrorism. Bio-chemical attacks. The nuclear arms race. Surveillance. The drug wars. Domestic extremism. The COVID-19 plandemic.
In almost every instance, the U.S. government (often spearheaded by the FBI) has in its typical Machiavellian fashion sown the seeds of terror domestically and internationally in order to expand its own totalitarian powers.
John Wesley who said that what we tolerate in our generation, will be embraced by the next. Wesley is 100% correct! We are living in sick times.
Evil Exists So Spiritual Warfare Becomes Necessary!
"We have blindly trusted the authorities… When the press bows down to the authorities, the authorities will mistreat the citizens. This happens worldwide and it has happened to us."
This has all been apparent since the first few weeks of the "plandemic." Then again, it wasn't the virus that did the job. It was our own media and "authorities." Too many Americans trusted them both. Together, they formulated protocols that were utterly ineffective, pointless, and did more harm than good.
For those of you who care, Google and your favorite social media platforms (Fake Book) have misled you, and now we all pay a heavy price for trusting the ungodly, Google and company a.k.a Luciferian death cult. They knew exactly what they were doing, removing our history while preparing you to accept the New World Order playbook. FakeBook, Tweeter, Gab, and YouTube Are Un-reliable News Source.
MY MISSION IS NOT TO CONVINCE YOU, ONLY TO INFORM…
Source: HNewsWire HNewsWire stateofthenation
StevieRay Hansen
Editor, HNewsWire.com
Let Me Make This Abundantly Clear. (I Am Apolitical) While I Have a General Distaste for Politicians No Matter the Party They Belong To, I Am Unashamedly Politically a Bible Believing Conservative Christian. I Have a Severe Distrust of Government. I Believe It Is the Most Inefficient and Ineffective Way to Accomplish Most Things. While I Strongly Disagree with Liberals/Progressives and Conservative on Most Political Issues, and While I Believe Liberals/Progressives and Most Politicians Are Terribly Misguided and Naive About What Big Government Will Eventually Result In, I Strive to Not Question Their Motives. at the Same Time, While I Find Myself in Agreement with Conservative Politicians on Some Issues, I Do Not Believe Electing Republicans Is the Answer to Everything. for Me, Very Sadly, the Main Difference Between Republicans and Democrats Is How Quickly They Want to Drive the Car Towards the Cliff. Simply Put, I Do Not Believe the Government Is the Solution for Everything. I Do Not Place Any Faith, Trust, or Hope in Any Politicians to Fix What Is Wrong with the World. "Come Lord Jesus!" (Revelation 22:20)
"Give Me God Given Free Will, Liberty or Give Me Death"
The 127 Faith Foundation: We do not solicit donations from "those on disability, on a fixed income, or those who cannot afford to give." Please Pray!
Or, make checks payable to:
The 127 Faith Foundation
PO Box 127
Pontotoc, TX 76869
The number of Orphans aging out of Child Protective Custody has grown at an alarming rate. The 127 Faith Foundation receives many requests each week to house them at our ranch. Our prayer is that the good people of our country will step up to the challenge and offer financial support for "the least among us." We need your help! StevieRay Hansen, Founder, The 127 Faith Foundation
Some executives are issuing warnings that there might be food shortages nationwide due to supply chain bottlenecks, coming as a number of school districts have reported they…
Read More
We make every effort to acknowledge sources used in our news articles. In a few cases, the sources were lost due to a technological glitch. If you believe we have not given sufficient credit for your source material, please contact us, and we will be more than happy to link to your article.