Advisory: Be careful of what you read on social media. The algorithms used by these platforms have no regard for Biblical truth. They target your emotions to keep you engaged on their site so their advertisers can drop more ads. These platforms exist to enrich their stockholders. Consider God's promise to Believers in James 1:5, "If any of you lacks wisdom, you should ask God, who gives generously to all without finding fault, and it will be given to you."
Oblivion…
NYC Closes Schools, Restaurants in 9 COVID-19 "Hots Spots" HardLockDown Coming…
The Plandemic Has Been Designed to Make Society Suffer. They Know If They Crush Society, They Will Be Able to Implement the New World Order. The Alternative Would Be FEMA Food Lines, Satan Soldiers, and Billionaire Financier George Soros in Full Stride.
Summary:
NYC Mayor rolls back freedoms for first time in 9 'hot spots'
Cuomo imposes new enforcement measures
US adds 50k+ new cases
Myanmar reports record jump
Italy sees slowdown day-over-day
The Netherlands reports record new cases
* * *
With President Trump's COVID-19 status and trip to Walter Reed sucking up most of the news cycle oxygen, the biggest COVID-19 news over the weekend was perhaps India surpassing 100,000 deaths yesterday (becoming the third country after the US and Brazil to do so) or Patriots QB Cam Newton testing positive, too.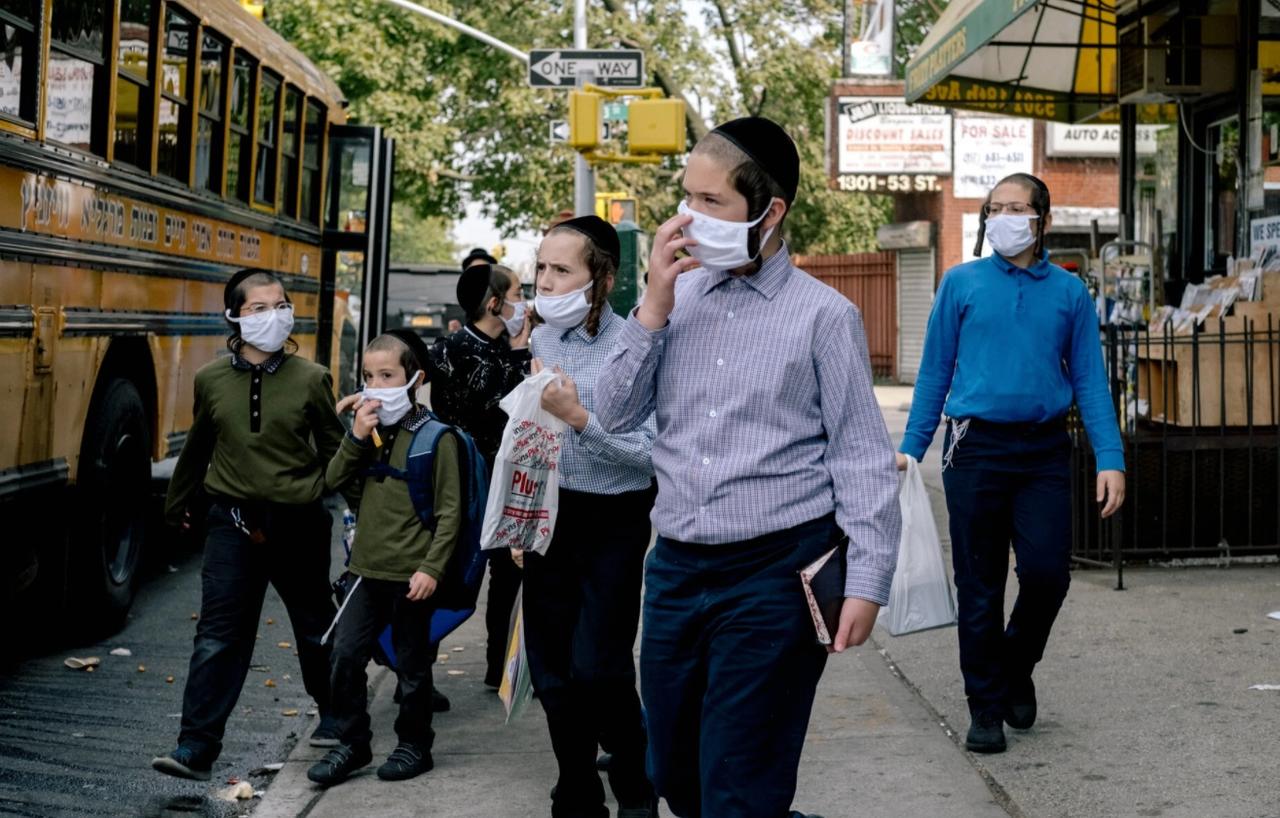 Across the US, cases are climbing as a post-LDW bounce extends amid a surge in new cases as businesses and schools reopen across the country, with the US reporting more than 50k new cases on Saturday.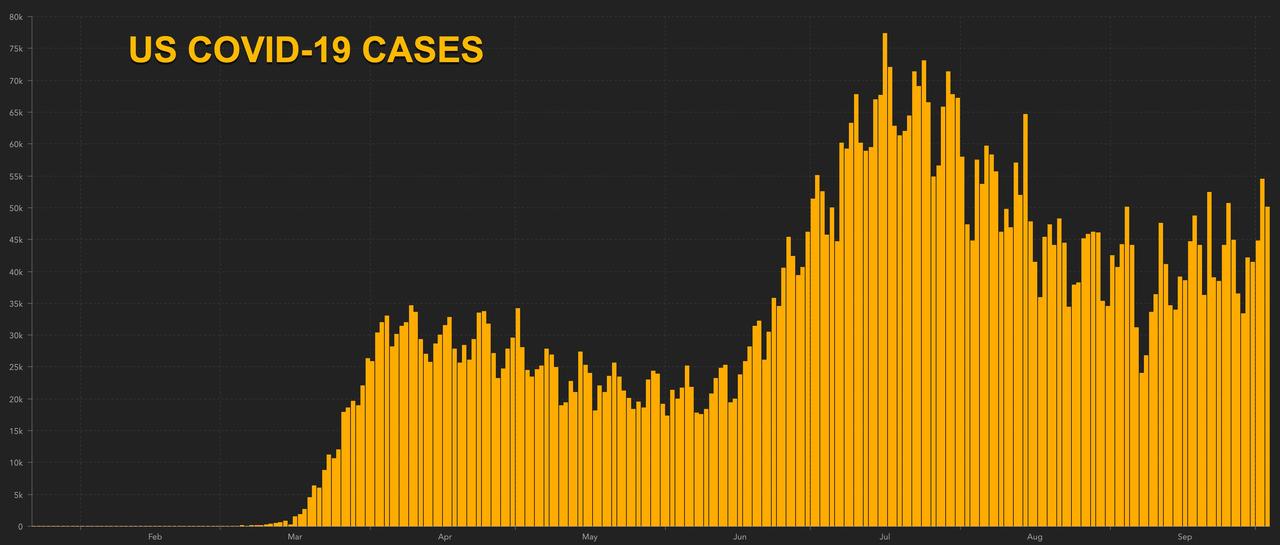 But in NYC, and, to a lesser extent, other parts of southern New York State, a relatively mild resurgence in new cases has prompted political leaders to reimpose restrictions on businesses.
On Sunday, NYC Mayor Bill de Blasio revealed that the city will close schools (just days after they re-opened on their staggered schedule following 2 prior delays) once again, and businesses in the hard-hit COVID-19 "hot spots" cropping up around the city.
"Today, unfortunately, is not a day for celebration," Mayor de Blasio said. "Today is a more difficult day," though to be fair, that could describe any day in the de Blasio administration.
The mayor's plan, which must still be approved by Gov Andrew Cuomo, the mayor's political archrival, marks the first major reversal in the city's reopening plan since the outbreak began, according to the NYT.
Nine ZIP codes include portions of Far Rockaway, Borough Park, Midwood, Gravesend, Bensonhurst, Sheepshead Bay and Kew Gardens are being targeted by the order. The city is also closely watching 11 additional ZIP codes that de Blasio said were a "real concern."
In the 9 affected neighborhoods, indoor dining – which it only just re-started last month – will be curtailed, along with outdoor. Schools, both public and private, will also be shuttered. Since many of the neighborhoods include ultraorthodox Jewish populations, the rule will apply to private Yeshivas, where Jewish students are educated. De Blasio said he will "rewind" the reopening of schools in the zip codes now that all 9 zip codes affected have seen their 7-day positivity rate climb back above 3%.
De Blasio's plan comes as new cases in NY retreated back below 1,500 on Sunday, according to a tweet from Gov. Cuomo, who also announced Sunday that the state would take over supervision of 20 'hot spots' around the state, including many in NYC. Cuomo announced his plan roughly an hour before de Blasio announced
Shutdowns would happen starting Wednesday in nine zip codes in the city, Mayor Bill de Blasio said.
About 100 public schools and 200 private schools would have to close. Indoor dining, which just resumed a few days ago, would be suspended. Gyms would also close.
The mayor, a Democrat, said he was taking the action in an attempt to stop the virus from spreading deeper into the city and becoming a "second wave," like the one that killed more than 24,000 New Yorkers in the spring.
"We've learned over and over from this disease that it is important to act aggressively, and when the data tells us it's time for even the toughest and most rigorous actions we follow the data, we follow the science," de Blasio said.
Over the past two weeks, the number of new cases of the virus has been rising in pockets of the city, predominantly in neighborhoods in Brooklyn and Queens that are home to the city's large Orthodox Jewish population.
Nearly 1,100 people have tested positive in Brooklyn in just the last four days, according to state figures.
De Blasio made the announcement shortly after Gov. Andrew Cuomo complained that local governments with coronavirus hot spots had "not done an effective job" of enforcing social distancing rules.
"If a local jurisdiction cannot or will not perform effective enforcement of violating entities, notify the state and we will close all business activity in the hot spots where the local governments cannot do compliance," Cuomo said.
New York City's teacher's union had been demanding that the city close public schools in the handful of neighborhood where the virus was spreading fast.
Today's update on the numbers: Of the 110,329 tests reported yesterday, 1,222 were positive (1.11% of total). Total hospitalizations fell to 618. Sadly, there were 14 COVID fatalities yesterday.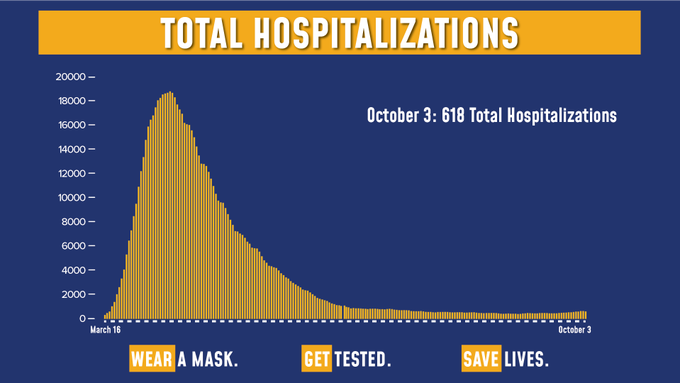 "When the state does enforcement, we do enforcement," Cuomo said. Notably, nothing about Cuomo's plan conflicts with de Blasio's, which is expected to be approved by the state.
Cuomo hinted at plans to intensify social distancing and mask-wearing enforcement in 'hot spots' yesterday.
Most of the hot spots are in New York City, in Brooklyn and Queens, but also counties including Hudson and Orange. Cuomo said the Orthodox Jewish communities in many of these hot spots have been cooperating with efforts to lower the numbers. Across the 20 spots, the aggregate positive test rate is 4.8%, he said. Minus those areas, the state's overall rate falls to 0.9%, in line with the recent overall low trend in New York. Outbreaks in these "hotspots" are driving infection rates to their highest levels since NY's reopening.
The return to restrictions could be the kiss of death for more restaurants and small businesses in those areas, which have been struggling to hold on. It also offers a preview of how President Biden might run things until a vaccine is widely available.
New York is closing down again. Just a preview of what Biden would do.

NBC New [email protected]#BREAKING: Mayor de Blasio, pending approval from state, announces plans to close non-essential businesses, public and private schools in nine ZIP codes starting Wednesday in an attempt to contain COVID clusters
Here are some more COVID-19 stories from overnight and early Sunday (test courtesy of Bloomberg):
Italy reported 2,578 cases on Sunday, compared with 2,844 Saturday, which was the highest since April 24. Daily tests dropped below 100,000 to 92,714. Another 18 virus-related deaths were reported and patients in intensive care units rose above 300 to 303, well below the peak of over 4,000 in early April (Source: Bloomberg)
Myanmar reported 1,294 new cases and 41 more fatalities, the highest single-day surge since the pandemic broke out late March, the Ministry of Health and Sports says (Source: Bloomberg).
Health Secretary Matt Hancock said the government has prepared a priority list for who would receive the coronavirus vaccine first, when one becomes available (Source: Bloomberg).
The Netherlands' daily infection level surpassed 4,000 for the first time since the start of the pandemic, with 4,007 new cases on Sunday. This brings the the total amount of new infections this week to 24,000, ANP news agency wrote. Amsterdam witnessed the biggest increase with 457 new cases (Source: Bloomberg).
False prophets misleading the people, to this day, there are so call ministers, biblical scholars who claim the microchip implant is not the mark of the beast in itself, therefore deceiving the people. Furthermore, many false prophets shall rise, Out of, from among the churches of Christ, at least under the name of Christians; for false teachers are to be Ignored, have nothing to do with them, men of heretical principles, pretending to a spirit of prophecy.
"Test Everything" (1 John 4:1, 1 Thessalonians 5:21). It is our sacred responsibility to examine every doctrine to determine if it is true or false. But how can we distinguish sound doctrine from false? How can we distinguish teachers of truth from teachers of error? In our opening article, I said that putting a doctrine to the test is the best way to determine if it is true or false. As we test the doctrine, we learn our responsibility toward it: We either hold to it or reject it. That includes everything SRH says.
Amos 5:16-17 Therefore this is what the Lord, the LORD God Almighty, says: "There will be wailing in all the streets and cries of anguish in every public square. The farmers will be summoned to weep and the mourners to wail. 17 There will be wailing in all the vineyards, for I will pass through your midst," says the LORD.
Evil men plot against the godly and viciously attack them. The Lord laughs in disgust at them, for he knows that their day is coming. Evil men draw their swords and prepare their bows, to bring down the oppressed and needy, and to slaughter those who are godly. Their swords will pierce their own hearts, and their bows will be broken. The little bit that a godly man owns is better than the wealth of many evil men, for evil men will lose their power, but the LORD sustains the godly. The LORD watches over the innocent day by day and they possess a permanent inheritance. They will not be ashamed when hard times come; when famine comes they will have enough to eat. But evil men will die; the LORD's enemies will be incinerated– they will go up in smoke. Evil men borrow but do not repay their debt, but the godly show compassion and are generous. Surely those favored by the LORD will possess the land, but those rejected by him will be wiped out.
The godly speak wise words and promote justice. The law of their God controls their thinking; their feet do not slip. Evil men set an ambush for the godly and try to kill them. But the LORD does not surrender the godly or allow them to be condemned in a court of law. Rely on the LORD! Obey his commands! Then he will permit you to possess the land; you will see the demise of evil men. I have seen ruthless evil men growing in influence like a green tree grows in its native soil. But then one passes by, and suddenly they have disappeared! I looked for them, but they could not be found. Take note of the one who has integrity! Observe the godly! For the one who promotes peace has a future. Sinful rebels are totally destroyed; evil men have no future. But the LORD delivers the godly; he protects them in times of trouble. The LORD helps them and rescues them; he rescues them from evil men and delivers them, for they seek his protection. (Psalms 37:1-40
The World Is In Big Trouble, for Those That Believe We Will Go Back to Some Sense of Normal Life Here on Earth, You Will Be Sadly Disappointed, Seven Years of Hell on Earth Which Began January 1, 2020
"Our courts oppose the righteous, and justice is nowhere to be found. Truth stumbles in the streets, and honesty has been outlawed" (Isa. 59:14, NLT)…We Turned Our Backs On GOD, Now We Have Been Left To Our Own Devices, Enjoy…
While Mainstream Media Continues to Push a False Narrative, Big Tech Has Keep the Truth From Coming out by Shadow Banning Conservatives, Christians, and Like-Minded People, Those Death Attributed to the Coronavirus Is a Result of Those Mentioned, They Truly Are Evil…
Source: HNewsWire ZeroHedge breitbart HNewsWire HNewsWire HNewsWire HNewsWire HNewsWire HNewsWire
StevieRay Hansen
Editor, HNewsWire.com
Watchmen does not confuse truth with consensus The Watchmen does not confuse God's word with the word of those in power…
In police-state fashion, Big Tech took the list of accused (including this site), declared all those named guilty and promptly shadow-banned, de-platformed or de-monetized us all without coming clean about how they engineered the crushing of dissent, Now more than ever big Tech has exposed there hand engaging in devious underhanded tactics to make the sinister look saintly, one of Satan's greatest weapons happens to be deceit…
The accumulating death toll from Covid-19 can be seen minute-by-minute on cable news channels. But there's another death toll few seem to care much about: the number of poverty-related deaths being set in motion by deliberately plunging millions of Americans into poverty and despair.
American health care, as we call it today, and for all its high-tech miracles, has evolved into one of the most atrocious rackets the world has ever seen. By racket, I mean an enterprise organized explicitly to make money dishonestly.
All the official reassurances won't be worth a bucket of warm spit. The Globals are behind the CoronaVirus, It Is a Man-Made Bioweapon.
This dreary picture is echoed in the New Testament. Jesus said it will be a time of tribulation "such as has not occurred since the beginning of the world until now, nor ever shall" (Matthew 24:21). In fact, Jesus said it will be so terrible that if it were not stopped at the end of seven years, it would result in the destruction of all life (Matthew 24:22). The Apostle John states that the chaos will be so great that the leaders of the world will crawl into caves and cry out for the rocks of the mountains to fall upon them (Revelation 6:15-16).
We make every effort to acknowledge sources used in our news articles. In a few cases, the sources were lost due to a technological glitch. If you believe we have not given sufficient credit for your source material, please contact us, and we will be more than happy to link to your article.