This guy has been fighting viruses since Windows 95 and lost the battle ever-time…
Bill Gates Agenda In India Exposed By Robert Kennedy Jr
As the FDA shuts down a Bill Gates-funded COVID-testing program, an Italian politician has demanded the arrest of Bill Gates in the Italian parliament.
Sara Cunial, the Member of Parliament for Rome denounced Bill Gates as a "vaccine criminal" and urged the Italian President to hand him over to the International Criminal Court for crimes against humanity.
She also exposed Bill Gates' agenda in India and Africa, along with the plans to chip the human race through the digital identification program ID2020.
As reported by GreatGameIndia earlier, in 2015 it were the Italians who exposed secret Chinese biological experiments with Coronavirus. The video, which was broadcast in November, 2015, showed how Chinese scientists were doing biological experiments on a SARS connected virus believed to be Coronavirus, derived from bats and mice, asking whether it was worth the risk in order to be able to modify the virus for compatibility with human organisms.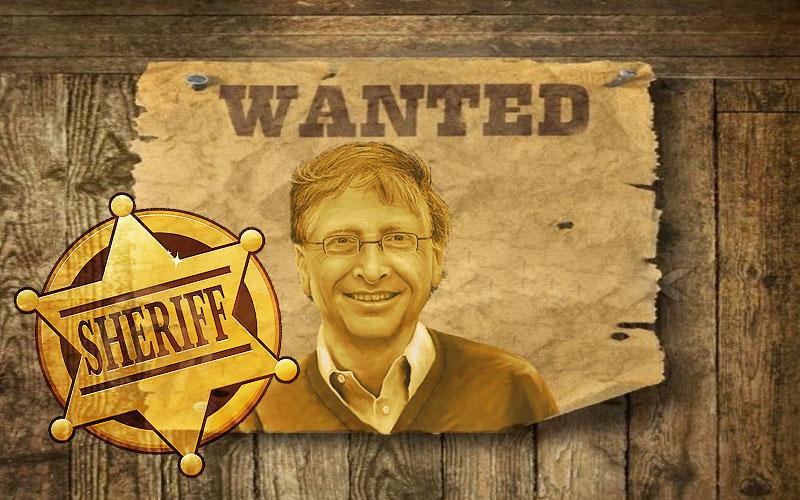 During Gates' 2002 MenAfriVac campaign in Sub-Saharan Africa, Gates' operatives forcibly vaccinated thousands of African children against meningitis. Approximately 50 of the 500 children vaccinated developed paralysis. South African newspapers complained, "We are guinea pigs for the drug makers." Nelson Mandela's former Senior Economist, Professor Patrick Bond, describes Gates' philanthropic practices as "ruthless and immoral."
In an extraordinary seven-minute speech met with wide applause, Sara Cunial, the Member of Parliament for Rome said that Italy had been subjected to a "Holy Inquisition of false science."
She roundly criticized the unnecessary lockdown imposed on her fellow Italians in the service of a globalist agenda. She urged fellow political leaders to desist in any plans to compel citizens to surrender themselves to compulsory COVID-19 vaccination at the hands of the corrupt elite – whom she identified as the Deep State.
Below is the transcription of the full speech delivered to the Italian Parliament by Sara Cunial, the Member of Parliament for Rome.
* * *
Sara Cunial
The Member of Parliament for Rome
Speech delivered to the Italian Parliament
May 2020
[Emphasis ours]
Hobbes said that absolute power does not come from an imposition from above but by the choice of individuals who feel more protected renouncing to their own freedom and granting it to a third party.
With this, you are going on anesthetizing the minds with corrupted Mass Media with Amuchina (a brand of disinfectant promoted by Mass Media) and NLP, with words like "regime", "to allow" and "to permit", to the point of allowing you to regulate our emotional ties and feelings and certify our affects.
So, in this way, Phase 2 is nothing else than the persecution/continuation of Phase 1 – you just changed the name, as you did with the European Stability Mechanism (ESM). We have understood people, for sure, don't die for the virus alone. So people will be allowed to die and suffer, thanks to you and your laws, for misery and poverty. And, as in the "best" regimes, the blame will be dropped only on citizens. You take away our freedom and say that we looked for it. Divide et Impera (Divide and Rule).
It is our children who will lose more, who are 'raped souls', with the help of the so-called "guarantor of their rights" and of CISMAI (Italian Coordination of Services against Child Abuse). In this way, the right to school will be granted only with a bracelet to get them used to probation, to get them used to slavery – involuntary treatment and to virtual lager. All this in exchange for a push-scooter and a tablet. All to satisfy the appetites of a financial capitalism whose driving force is the conflict of interest, conflict well represented by the WHO, whose main financier is the well-known "philanthropist and savior of the world" Bill Gates.
We all know it, now. Bill Gates, already in 2018, predicted a pandemic, simulated in October 2019 at the "Event 201", together with Davos (Switzerland). For decades, Gates has been working on Depopulation policy and dictatorial control plans on global politics, aiming to obtain the primacy on agriculture, technology and energy.
Gates said, I quote exactly from his speech:
"If we do a good job on vaccines, health and reproduction, we can reduce the world population by 10-15%. Only a genocide can save the world".
With his vaccines, Gates managed to sterilize millions of women in Africa. Gates caused a polio epidemic that paralyzed 500,000 children in India and still today with DTP, Gates causes more deaths than the disease itself. And he does the same with GMOs designed by Monsanto and "generously donated" to needy populations. All this while he is already thinking about distributing the quantum tattoo for vaccination recognition and mRNA vaccines as tools for reprogramming our immune system. In addition, Gates also does business with several multinationals that own 5G facilities in the USA.
On this table there is the entire Deep State in Italian sauce: Sanofi, together with GlaxoSmithKline are friends of the Ranieri Guerra, Ricciardi, and of the well-known virologist that we pay 2000 Euro every 10 minutes for the presentations on Rai (Italian state TV. She's probably talking about Burioni). Sanofi and GlaxoSmithKline sign agreements with medical societies to indoctrinate future doctors, making fun of their autonomy of judgment and their oath.
Hi-Tech multinationals, like the Roman Engineering which is friend of the noble Mantoan, or Bending Spoons, of Pisano, which are there for control and manage our personal health datas in agreement with the European Agenda ID2020 of electronic identification, which aims to use mass vaccination to obtain a digital platform of digital ID. This is a continuation of the transfer of data started by Renzi to IBM. Renzi, in 2016, gave a plus 30% to Gates Global Fund.
On the Deep State table there are the people of Aspen, like the Saxon Colao, who with his 4-pages reports, paid 800 Euros/hour, with no scientific review, dictates its politics as a Bilderberg general as he is, staying away from the battlefield. The list is long. Very long. In the list there is also Mediatronic, by Arcuri and many more.
The Italian contribution to the International Alliance Against Coronavirus will be of 140 million Euros, of which 120 million Euros will be given to GAVI Alliance, the non-profit by Gates Foundation. They are just a part of the 7.4 billion Euro fund by the EU to find a vaccine against Coronavirus – vaccines which will be used as I said before.
No money, of course for serotherapy, which has the collateral effect of being super cheap. No money for prevention, a real prevention, which includes our lifestyles, our food and our relationship with the environment.
The real goal of all of this is total control. Absolute domination of human beings, transformed into guinea pigs and slaves, violating sovereignty and free will. All this thanks to tricks/hoax disguised as political compromises. While you rip up the Nuremberg code with involuntary treatment, fines and deportation, facial recognition and intimidation, endorsed by dogmatic scientism – protected by our "Multi-President" of the Republic who is real cultural epidemic of this country.
We, with the people, will multiply the fires of resistance in a way that you won't be able to repress all of us.
I ask you, President, to be the spokesperson and give a bit of advice to our President Conte: Dear Mr. President Conte, next time you receive a phone call from the philanthropist Bill Gates forward it directly to the International Criminal Court for crimes against humanity. If you won't do this, tell us how we should define you, the "friend lawyer" who takes orders from a criminal.
These elitist are working on imposing their one world agenda upon the American people make no mistake their vicious, ungodly and their determined….
Bill Gates Agenda In India Exposed By Robert Kennedy Jr
By GreatGameIndia -April 13, 2020| Last modified on May 12th, 2020 at 4:41 pm,
Robert F. Kennedy Jr., the nephew of former American President John F. Kennedy, in a lengthy piece exposed Bill Gates agenda in India and his "obsession with vaccines". Interestingly, as GreatGameIndia readers may recall, Jr Kennedy's message come days after Robert Kennedy's grand-daughter and her son were found dead in suspicious circumstances. Almost as if sounding a warning to the impending tragedy on the Kennedy family, legendary American singer Bob Dylan came out of a decade-long isolation to revive JFK murder mystery with a cryptic single.
UPDATE: A month later, based on an intercepted human intelligence report, a controversy erupted in Nigeria whereby it was revealed that Bill Gates offered $10 million bribe for a forced vaccination program for Coronavirus to the Nigerian House of Representatives.
In Robert Kennedy Jr.'s own words:
Vaccines, for Bill Gates, are a strategic philanthropy that feed his many vaccine-related businesses (including Microsoft's ambition to control a global vaccination ID enterprise) and give him dictatorial control of global health policy.
Gates' obsession with vaccines seems to be fueled by a conviction to save the world with technology.
Promising his share of $450 million of $1.2 billion to eradicate Polio, Gates took control of India's National Technical Advisory Group on Immunization (NTAGI) which mandated up to 50 doses (Table 1) of polio vaccines through overlapping immunization programs to children before the age of five. Indian doctors blame the Gates campaign for a devastating non-polio acute flaccid paralysis (NPAFP) epidemic that paralyzed 490,000 children beyond expected rates between 2000 and 2017. In 2017, the Indian government dialed back Gates' vaccine regimen and asked Gates and his vaccine policies to leave India. NPAFP rates dropped precipitously.
In 2017, the World Health Organization (WHO) reluctantly admitted that the global explosion in polio is predominantly vaccine strain. The most frightening epidemics in Congo, Afghanistan, and the Philippines, are all linked to vaccines. In fact, by 2018, 70% of global polio cases were vaccine strain.GreatGameIndia@GreatGameIndia
Do you think an entire nation-wide lockdown can defeat #Coronavirus?37%Yes63%No656 votes•Final results14Twitter Ads info and privacy25 people are talking about this
In 2014, the Gates Foundation funded tests of experimental HPV vaccines, developed by Glaxo Smith Kline (GSK) and Merck, on 23,000 young girls in remote Indian provinces. Approximately 1,200 suffered severe side effects, including autoimmune and fertility disorders. Seven died. Indian government investigations charged that Gates-funded researchers committed pervasive ethical violations: pressuring vulnerable village girls into the trial, bullying parents, forging consent forms, and refusing medical care to the injured girls. The case is now in the country's Supreme Court.
In 2010, the Gates Foundation funded a phase 3 trial of GSK's experimental malaria vaccine, killing 151 African infants and causing serious adverse effects including paralysis, seizure, and febrile convulsions to 1,048 of the 5,949 children.
During Gates' 2002 MenAfriVac campaign in Sub-Saharan Africa, Gates' operatives forcibly vaccinated thousands of African children against meningitis. Approximately 50 of the 500 children vaccinated developed paralysis. South African newspapers complained, "We are guinea pigs for the drug makers." Nelson Mandela's former Senior Economist, Professor Patrick Bond, describes Gates' philanthropic practices as "ruthless and immoral."
In 2010, Gates committed $10 billion to the WHO saying, "We must make this the decade of vaccines." A month later, Gates said in a Ted Talk that new vaccines "could reduce population". In 2014, Kenya's Catholic Doctors Association accused the WHO of chemically sterilizing millions of unwilling Kenyan women with a "tetanus" vaccine campaign. Independent labs found a sterility formula in every vaccine tested. After denying the charges, WHO finally admitted it had been developing the sterility vaccines for over a decade. Similar accusations came from Tanzania, Nicaragua, Mexico, and the Philippines.
A 2017 study (Morgenson et. al. 2017) showed that WHO's popular DTP vaccine is killing more African children than the diseases it prevents. DTP-vaccinated girls suffered 10x the death rate of children who had not yet received the vaccine. WHO has refused to recall the lethal vaccine which it forces upon tens of millions of African children annually.
Global public health advocates around the world accuse Gates of steering WHO's agenda away from the projects that are proven to curb infectious diseases: clean water, hygiene, nutrition, and economic development. The Gates Foundation only spends about $650 million of its $5 billion dollar budget on these areas. They say he has diverted agency resources to serve his personal philosophy that good health only comes in a syringe.
In addition to using his philanthropy to control WHO, UNICEF, GAVI, and PATH, Gates funds a private pharmaceutical company that manufactures vaccines, and additionally is donating $50 million to 12 pharmaceutical companies to speed up development of a coronavirus vaccine. In his recent media appearances, Gates appears confident that the Covid-19 crisis will now give him the opportunity to force his dictatorial vaccine programs on American children.
Watch Robert Kennedy Jr's interview to RT below:
Article authored by Robert Kennedy Jr on Children's Health Defense titled Gates' Globalist Vaccine Agenda: A Win-Win for Pharma and Mandatory Vaccination.
PayPal.Me/the127faithfoundatio
The number of Orphans aging out of Child Protective Custody has grown at an alarming rate. The 127 Faith Foundation receives many requests each week to house them at our ranch. Our prayer is that the good people of our country will step up to the challenge and offer financial support for "the least among us." We need your help! StevieRay Hansen, Founder, The 127 Faith Foundation