Advisory: Be careful of what you read on social media. The algorithms used by these platforms have no regard for Biblical truth. They target your emotions to keep you engaged on their site so their advertisers can drop more ads. These platforms exist to enrich their stockholders. Consider God's promise to Believers in James 1:5, "If any of you lacks wisdom, you should ask God, who gives generously to all without finding fault, and it will be given to you."
While Mainstream Media Continues to Push a False Narrative, Big Tech Keep the Truth From Coming out by Shadow Banning Conservatives, Christians, and Like-Minded People, Those Death Attributed to the Coronavirus Is a Result of Those Mentioned, They Truly Are Evil…
Bill Gates Continues To Push 'Immunity Passports' And Tech-Enabled Surveillance State To Combat COVID…
Bill Reprobates Gates has inserted himself into the national dialogue as a self-proclaimed coronavirus sage who will lead the world out of dark times through a digitally-assisted brave new world of testing, contact tracing, and of course – a vaccine.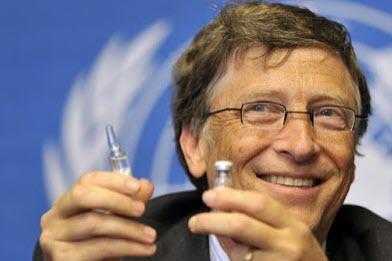 Of course, some of this might not be such a bad idea if it wasn't coming from Gates, who's written an op-ed in the Washington Post to elaborate on his thoughts – which makes the whole thing seem even more nefarious.
'Sure, my Dad was on the board of planed parenthood – an organization founded by a eugenicist, and yes, I've talked about the need for population reduction for years. And sure, I want you to take my vaccines and get chipped. And ok, maybe India kicked us out after our immunization campaign was blamed for paralyzing 490,000 kids. And yeah, there was that whole 'coronavirus pandemic' simulation my foundation spearheaded late last year which modeled 65 million dead. BUT, hear me out…'
All jokes aside, here's what Gates proposes in his WaPo Op-Ed in order to 'reopen the economy.'
Widespread, at-home testing – "We can't defeat an enemy if we don't know where it is," says Gates, who advocates home testing kits which "produces results that are just as accurate" as nasal swabs performed by healthcare professionals. Ok, not evil. Probably a good idea.
Choosing who to test – Essential workers and symptomatic people, or those who have been in contact with someone who tested positive, should be prioritized, otherwise "we're wasting a precious resources and potentially missing big reserves of the virus." Asymptomatic people who aren't in the above categories should not be tested until there are enough tests, according to Gates. Again, not a terrible idea.
Using technology to enable a surveillance state – ah, here we go. Gates says the United States needs to follow Germany's example; "interview everyone who has tested positive and use a database to ensure someone follows up with all their contacts." And how to ensure accuracy? Digital big brother tools!
An even better solution would be the broad, voluntary adoption of digital tools. For example, there are apps that will help you remember where you have been; if you ever test positive, you can review the history or choose to share it with whoever comes to interview you about your contacts. And some people have proposed allowing phones to detect other phones that are near them by using Bluetooth and emitting sounds that humans can't hear. If someone tested positive, their phone would send a message to the other phones, and their owners could get tested. If most people chose to install this kind of application, it would probably help some. -Bill Gates
Gates suggests this would be voluntary, unlike South Korea – which forces COVID-19 positive patients to self-isolate and install a tracking app on their smartphones which will alert authorities when an infected person has left their home, while warning them to return immediately. Admittedly, South Korea – which also employed widespread testing and the use of face masks, has had just under 11,000 confirmed cases and 240 deaths.
Treatment options – Gates notes that while Hydroxychloroquine has 'received a lot of attention,' his foundation is funding a clinical trial which will determine if it works on COVID-19 by the end of May, and that "it appears the benefits will be modest at best," despite overwhelming anecdotal evidence of its efficacy by doctors using it in the field.
We're guessing Gates' trial doesn't include the use of zinc, much like most of the other studies which are 'proving' that the anti-malaria drug doesn't work. This is disingenuous science, as HCQ acts as an 'iononpore' which allows zinc into infected cells, disrupting virus replication. On its own, HCQ only allows low levels of zinc to enter cells, vs. the high-dose cocktail employed by doctors such as Vladimir Zelenko, who claims he's cured over 700 patients with the combination.
Gates, meanwhile, is promoting the use of plasma therapy, which involves "drawing blood from patients who have recovered from covid-19, making sure it is free of the coronavirus and other infections, and giving the plasma (and the antibodies it contains) to sick people. Several major companies are working together to see whether this succeeds."
Another treatment he's proposing is synthesizing antibodies that are "most effective against the novel coronavirus," which may face manufacturing constraints.
If you want to get back to large gatherings, we need a vaccine! Perhaps, but immeasurably more creepy coming from Gates considering his history.
Every additional month that it takes to produce a vaccine is a month in which the economy cannot completely return to normal.

The new approach I'm most excited about is known as an RNA vaccine. (The first covid-19 vaccine to start human trials is an RNA vaccine.) Unlike a flu shot, which contains fragments of the influenza virus so your immune system can learn to attack them, an RNA vaccine gives your body the genetic code needed to produce viral fragments on its own. When the immune system sees these fragments, it learns how to attack them. An RNA vaccine essentially turns your body into its own vaccine manufacturing unit. -Bill Gates
Gates then says that distributing vaccines will be the next hurdle – and that governments which fund vaccine development, countries which test the vaccines, and hardest-hit regions "will all have a good case that they should receive priority," and that "Ideally, there would be a global agreement about who should get the vaccine first."
In short – get tracked, don't trust hydroxychloroquine, and take the shot. Source
Source: www.zerohedge.com HNewsWire
StevieRay Hansen
Editor, HNewsWire.com
Watchmen does not confuse truth with consensus The Watchmen does not confuse God's word with the word of those in power…
The accumulating death toll from Covid-19 can be seen minute-by-minute on cable news channels. But there's another death toll few seem to care much about: the number of poverty-related deaths being set in motion by deliberately plunging millions of Americans into poverty and despair.
American health care, as we call it today, and for all its high-tech miracles, has evolved into one of the most atrocious rackets the world has ever seen. By racket, I mean an enterprise organized explicitly to make money dishonestly.
All the official reassurances won't be worth a bucket of warm spit. The Globals are behind the CoronaVirus, It Is a Man-Made Bioweapon.
The Bill and Melinda Gates Foundation Have NOT Got The Memo Yet, "Pestilences" Has No Cure
The Coronavirus Was Most Certainly Produced by Crazy (Un-Godly) Men in Laboratories, WGO and CDC Knew All Along That the Coronavirus Was a Bioweapon, There're in Charge?
StevieRay Hansen
www.the127.org
The more I learned about the plight of the kids leaving foster care, the more concerned I became. Most of them didn't have a support system. One study found that within a year of leaving the foster care system, 66 percent of the kids were homeless, in jail or dead. A staggering 80 percent of the prison population had come out of foster care. Girls in foster care were 600 percent more likely than their peers to get pregnant before age 21. The Lazy H ranch is located on 609 acres of scenic hill country near Mason, Texas. Through a personalized mentoring approach, we help young men who are aging out of state foster care programs to discover God's unique plan for their lives while setting personal, educational and vocational goals for the future.
Whether completing a GED, a college degree or technical certification, every member receives professional job placement assistance along with ongoing spiritual leadership training to prepare for the responsibilities of an adult life.
The 127 Faith Foundation understands the pain and sorrow associated with being a throwaway child, We push this throwaway child towards bettering their education, be it junior-college are going for a Masters's degree. This program is about them because they determine by the grace of God if they're going to be a pillar in the community or a burden on society. Some of the strongholds orphans deal with are: fear, resentment, bitterness, unforgiveness, apathy, unbelief, depression, anxiety, lust, anger, pride, and greed. Many of these strongholds do open the door to addiction. Please Help the127.org/
PayPal.Me/the127faithfoundatio
The Book A Long-Journey-Home

Pharmaceuticals Home Made Pestilence Via Vaccines a.k.a Kill Shots: HNewsWire- Before arriving in San Francisco, the Ruby Princess, a Princess Cruises ship, reported a COVID-19…
Read More
We make every effort to acknowledge sources used in our news articles. In a few cases, the sources were lost due to a technological glitch. If you believe we have not given sufficient credit for your source material, please contact us, and we will be more than happy to link to your article.