While Mainstream Media Continues to Push a False Narrative, Big Tech Keep the Truth From Coming out by Shadow Banning Conservatives, Christians, and Like-Minded People, Those Death Attributed to the Coronavirus Is a Result of Those Mentioned, They Truly Are Evil…
Will You Be Corona Vaxxed? – Trump and Gates Say Yes! Pres. Trump Has Lost His Way,America The Free Has Died, Trump Model Now, Surrender to the Un-godly State…
A short video highlighting some very important announcements made today. Coupled with some historic statements, there is cause for concern.
American health care, as we call it today, and for all its high-tech miracles, has evolved into one of the most atrocious rackets the world has ever seen. By racket, I mean an enterprise organized explicitly to make money dishonestly.
Denmark Passes Law Enabling Forced Coronavirus Vaccinations–Hell On Earth (Tribulations)
We are quickly reaching the end of reality, we have now entered a state of what God had promised, Hell On Earth (Tribulations)… Galatians 6:7 warns us what happens when we remove the authority of God from our values, our goals, and our laws: Society reaps what it sows as well…
The light went out in the church, and that's the reason the world got dark. Dark times were perpetrated by the "last one out, turn out the lights" "The church lights have gone OUT". What's so Hard to Understand, We Have Taking God out of Society, the End Result "Mayhem"
Prophecy Unfolding Before Our Eyes in Real-Time… Government Overreach Is Eviscerating Your GOD Given Freedoms, That Includes Pres. TRUMP, We Are Being Forced Into The Beast System It is important to recognize the value of individual freedom, many people have sacrificed their lives to protect this valuable commodity.
Citizens who refuse to be tested for the coronavirus will face fines and potential prison time and will be prevented from entering shops, grocery stores, public institutions, and hospitals while also being restricted from using public transport.
"As well as enforcing quarantine measures, the law also allows the authorities to force people to be vaccinated, even though there is currently no vaccination for the virus," reports the Local.
Copenhagen University law professor Jens Elo Rytter said the new measures were "certainly the most extreme since the Second World War."
The initial draft of the law was even more draconian and would have allowed police to enter private homes without a warrant if there was a suspicion of coronavirus infection.
However, this measure was dropped after opposition from other parties in the Parliament.
Denmark currently has 875 recorded coronavirus cases and has registered 2 deaths. Paul Joseph Watson
Comin Tribulation
We live in a world marred by sin. Often, those who molest children have themselves been molested. They may have been hurt in some other way as well and choose to victimize children in an attempt to regain a sense of power or worthiness. Many times, sexual abuse is a misguided attempt to find intimacy. Whatever the emotional, familial, or psychological history of the molester, sexual abuse is evil.
You judges who corrupt God's laws, you so-called Supreme Court Justices who violate the people's faith conscience, times is short:
They perverted justice among themselves (v. 7): "You turn judgment to wormwood, that is, you make your administrations of justice bitter and nauseous, and highly displeasing both to God and man.'' That fruit has become a weed, a weed in the garden; as nothing is more venerable, nothing more valuable, than justice duly administered, so nothing is more hurtful, nothing more abominable, than designee doing wrong under color and pretense of doing right. Corruptio optimi est pessima —The best, when corrupted, becomes the worst
I Am the Chosen One,' Trump Proclaims as He Defends Trade War with China–The LGBTQE Homosexual Groups,and The Un-godly Gates Foundation, The Tribulation In Play…
What Every American See Coming out of the Trump Administration Is His Ability the Yoke the American People, Everything He Promised to Protect Us From, He Has Forced Upon the Christian, Conservative With Lies and Deceit, Which Is What a Good Businessman Generally Is Made of in America Today. Trump Is a Fraudster.
This Should Concern Every Christian and Beyond…
People's hearts are troubled, their minds are in a state of confusion, the Bible tells us a time of great delusion that will come upon the people, that time has arrived, the politicians must come up with more significant and more believable lies in order to bring on the antichrist, we have entered the doorstep Tribulation.
If you introduced honesty into politics the entire system would collapse."Unless God has raised you up for this very thing, you will be worn out by the opposition of man and devils"…
Watch This Reprobate Spin The Truth
"For whatever is hidden is meant to be disclosed, and whatever is concealed is meant to be brought out into the open" (Mark 4:22). Seeking God's truth takes energy and focus; it takes a willingness to be challenged and changed. While the way of God's truth is not the most convenient or fun path to take, we can be assured that it is the best one (John 1:4; 10:9; 14:6). And so He bids us, "Come" (Matthew 11:28 –30). (Revelation 22:20) I Do Not Believe the Government Is the Solution for Everything. I Do Not Place Any Faith, Trust, or Hope in Any Politicians to Fix What Is Wrong with the World. "Come Lord Jesus!" SRH…
Source: aminutetomidnite.com HNewsWire
StevieRay Hansen
Editor, HNewsWire.com
Watchmen does not confuse truth with consensus The Watchmen does not confuse God's word with the word of those in power…
The accumulating death toll from Covid-19 can be seen minute-by-minute on cable news channels. But there's another death toll few seem to care much about: the number of poverty-related deaths being set in motion by deliberately plunging millions of Americans into poverty and despair.
American health care, as we call it today, and for all its high-tech miracles, has evolved into one of the most atrocious rackets the world has ever seen. By racket, I mean an enterprise organized explicitly to make money dishonestly.
All the official reassurances won't be worth a bucket of warm spit. The Globals are behind the CoronaVirus, It Is a Man-Made Bioweapon.
The Bill and Melinda Gates Foundation Have NOT Got The Memo Yet, "Pestilences" Has No Cure
COVID-19 Drive-Thru Testing Site Open In Aurora Near Premium Outlet Mall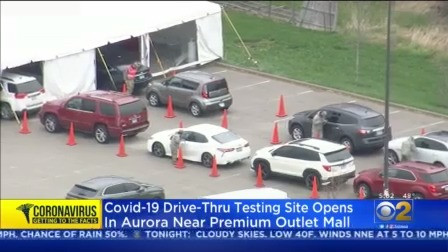 https://chicago.cbslocal.com/2020/04/23/aurora-testing-site/?taid=5ea1fae5e3c40700015e9a69&utm_campaign=trueAnthem%3A+Trending+Content&utm_medium=trueAnthem&utm_source=twitter…
StevieRay Hansen
www.the127.org
The more I learned about the plight of the kids leaving foster care, the more concerned I became. Most of them didn't have a support system. One study found that within a year of leaving the foster care system, 66 percent of the kids were homeless, in jail or dead. A staggering 80 percent of the prison population had come out of foster care. Girls in foster care were 600 percent more likely than their peers to get pregnant before age 21. The Lazy H ranch is located on 609 acres of scenic hill country near Mason, Texas. Through a personalized mentoring approach, we help young men who are aging out of state foster care programs to discover God's unique plan for their lives while setting personal, educational and vocational goals for the future.
Whether completing a GED, a college degree or technical certification, every member receives professional job placement assistance along with ongoing spiritual leadership training to prepare for the responsibilities of an adult life.
The 127 Faith Foundation understands the pain and sorrow associated with being a throwaway child, We push this throwaway child towards bettering their education, be it junior-college are going for a Masters's degree. This program is about them because they determine by the grace of God if they're going to be a pillar in the community or a burden on society. Some of the strongholds orphans deal with are: fear, resentment, bitterness, unforgiveness, apathy, unbelief, depression, anxiety, lust, anger, pride, and greed. Many of these strongholds do open the door to addiction. Please Help The 127 https://www.the127.org/
PayPal.Me/the127faithfoundatio
The number of Orphans aging out of Child Protective Custody has grown at an alarming rate. The 127 Faith Foundation receives many requests each week to house them at our ranch. Our prayer is that the good people of our country will step up to the challenge and offer financial support for "the least among us." We need your help! StevieRay Hansen, Founder, The 127 Faith Foundation