Here's the kicker: the Funeral Home Was Apparently in Violation of No Laws. It Was Cited for "Failing to Control the Odors", and the Police Moved On, The World In Big Trouble, for Those That Believe We Will Go Back to Some Sense of Normal Life Here on Earth, You Will Be Sadly Disappointed, Seven and Half Years of Hell on Earth Which Began January 1, 2020
In police-state fashion, Big Tech took the list of accused (including this site), declared all those named guilty and promptly shadow-banned, de-platformed or de-monetized us all without coming clean about how they engineered the crushing of dissent…
Todays Summary:
LA becomes first US city to offer county-wide testing
Lagarde warns eurozone economy could shrink up to 12% in 2020
Russia passes 100k cases
Boris Johnson lays out reopening plan
NYC plans to close subways between 1am and 5am for cleaning
Sri Lanka reimposes lockdown measures
Italy retakes mantle of second-deadliest outbreak in Europe from UK
Canada reports latest update
Italy reports another encouraging drop in new cases and deaths
Introducing "Operation Warp Speed"
Pentagon orders another 100k body bags for "worst case" scenario
US death toll tops 60k
DHS acting secretary says social distancing will last for 'months'
France, UK report new numbers
Spain sees curve continue to flatten
NYC hands out free masks
Florida reports uptick in cases, deaths
South Korea says 'zero' cases of infection stemming from April 15 election
California closes parks, beaches
NY reports 306 deaths, 933 new cases
Total cases break above 300k
Airbus reports massive loss, signals distress
New data suggests 1 in 6 US nursing homes suffered COVID-19 clusters
500k coronavirus tests obtained by Maryland from SK haven't yet been used
NYT hammers Brazil's Bolsonaro for denying outbreak
UN warns about virus spreading in Syria, Yemen
Eurozone GDP contracts 3.8%
UK NHS allows hospitals to remove minority workers off the front lines
The last time a couple of local cops stumbled on a freezer truck packed with dozens of dead bodies, it became an international news story and object of lurid fascination for millions around the world.
But during the age of COVID-19, it's just another quickly forgotten headline amid a global crisis that has produced a surfeit of misery and suffering. If Internet-surfing consumers weren't inured to photos of dead bodies already, after seeing thousands of morbid photos out of China, Europe, you probably are now.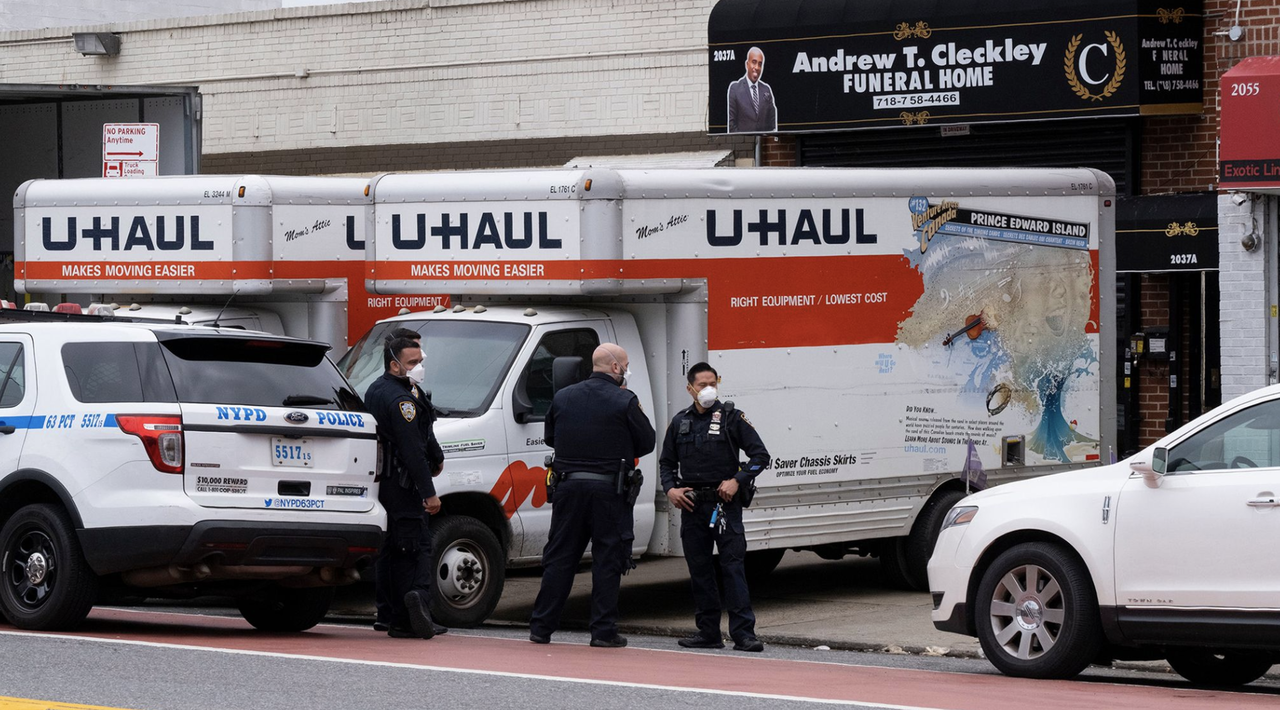 The latest disturbing headline comes from the outer boroughs of NYC, where a funeral home in Brooklyn was apparently busted for illegally storing bodies in a freezer truck after being absolutely swamped with deaths related to COVID-19. According to Sky News, roughly 50 bodies were found stored in ice trucks rented by a funeral director at the Andrew T Cleckley funeral home on Utica Ave. in South Brooklyn's Flatlands neighborhood.
The corpses were discovered after passers-by (New Yorkers presumably scurrying out to pick up their daily food and booze) complained about the smells and leaks.
Here's the kicker: The funeral home was apparently in violation of no laws. It was cited for "failing to control the odours", and the police moved on.
Instead, the home ordered an even larger refrigerated truck and all the bodies were transferred into it later that day by workers at the home clad in protective gear.
Those interested in the Great Tribulation should understand those travel restrictions will occur. This plague is an example of travel conditions at a time when you will want to travel to safety in the wilderness but you can't…
Revelation 4:1 introduces a section of Scripture that details "things which must be hereafter." What follows are prophecies of the "end times." We have not yet reached the tribulation, the revelation of the Antichrist, or other "end-time" events. What we do see is a "preparation" for those events.
Jesus said that the last days would be preceded by several things: many false Christs would come, deceiving many; we would "hear of wars and rumors of wars"; and there would be an increase in "famines, and pestilences, and earthquakes, in divers places. All these are the beginning of sorrows" (Matthew 24:5-8). Today's news is full of false religions, warfare, and natural disasters. We know that events of the tribulation period will include all that Jesus predicted (Revelation 6:1-8); current events seem to be a build-up for greater trouble ahead.
What is the gift of prophecy? There is much misunderstanding regarding its definition. Many understand prophecy as speech that predicts the future. However, this is only one aspect of the biblical prophet's work. Prophesying can also mean to proclaim as a pastor does during a sermon. In this sense, a person can be gifted in prophesying still today. The World Is In Big Trouble, for Those That Believe We Will Go Back to Some Sense of Normal Life Here on Earth, You Will Be Sadly Disappointed, Seven and Half Years of Hell on Earth Which Began January 1, 2020
The World Is In Big Trouble, for Those That Believe We Will Go Back to Some Sense of Normal Life Here on Earth, You Will Be Sadly Disappointed, Seven and Half Years of Hell on Earth Which Began January 1, 2020
"Our courts oppose the righteous, and justice is nowhere to be found. Truth stumbles in the streets, and honesty has been outlawed" (Isa. 59:14, NLT)…We Turned Our Backs On GOD, Now We Have Been Left To Our Own Devices, Enjoy…
While Mainstream Media Continues to Push a False Narrative, Big Tech Keep the Truth From Coming out by Shadow Banning Conservatives, Christians, and Like-Minded People, Those Death Attributed to the Coronavirus Is a Result of Those Mentioned, They Truly Are Evil…
StevieRay Hansen
Editor, HNewsWire.com
Watchmen does not confuse truth with consensus The Watchmen does not confuse God's word with the word of those in power…
In police-state fashion, Big Tech took the list of accused (including this site), declared all those named guilty and promptly shadow-banned, de-platformed or de-monetized us all without coming clean about how they engineered the crushing of dissent, Now more than ever big Tech has exposed there hand engaging in devious underhanded tactics to make the sinister look saintly, one of Satan's greatest weapons happens to be deceit…
The accumulating death toll from Covid-19 can be seen minute-by-minute on cable news channels. But there's another death toll few seem to care much about: the number of poverty-related deaths being set in motion by deliberately plunging millions of Americans into poverty and despair.
American health care, as we call it today, and for all its high-tech miracles, has evolved into one of the most atrocious rackets the world has ever seen. By racket, I mean an enterprise organized explicitly to make money dishonestly.
All the official reassurances won't be worth a bucket of warm spit. The Globals are behind the CoronaVirus, It Is a Man-Made Bioweapon.
The 127 Faith Foundation understands the pain and sorrow associated with being a throwaway child, We push this throwaway child towards bettering their education, be it junior-college are going for a Masters's degree. This program is about them because they determine by the grace of God if they're going to be a pillar in the community or a burden on society. Some of the strongholds orphans deal with are: fear, resentment, bitterness, unforgiveness, apathy, unbelief, depression, anxiety, lust, anger, pride, and greed. Many of these strongholds do open the door to addiction. Please Help The 127.org/
The number of Orphans aging out of Child Protective Custody has grown at an alarming rate. The 127 Faith Foundation receives many requests each week to house them at our ranch. Our prayer is that the good people of our country will step up to the challenge and offer financial support for "the least among us." We need your help! StevieRay Hansen, Founder, The 127 Faith Foundation