Advisory: Be careful of what you read on social media. The algorithms used by these platforms have no regard for Biblical truth. They target your emotions to keep you engaged on their site so their advertisers can drop more ads. These platforms exist to enrich their stockholders. Consider God's promise to Believers in James 1:5, "If any of you lacks wisdom, you should ask God, who gives generously to all without finding fault, and it will be given to you."
The Bible says that God is sovereign. This means that He is ultimately in control of everything, not just some things. He is in control of the weather (Psalm 148:8), life and death (Psalm 104:29-30), and even seemingly inconsequential happenings (Proverbs 16:33). God's sovereignty extends to the rulers of nations. "Wisdom and power are his. He changes times and seasons; he sets up kings and deposes them" (Daniel 2:20-21). 
The NHC said early Monday that Dorian is forecast to begin a slow north-northwest movement by Tuesday morning before turning north by Wednesday night.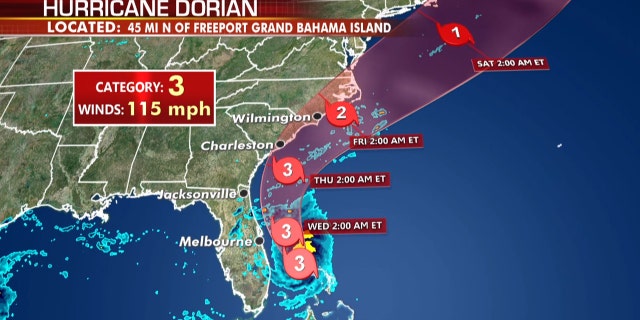 The forecast track of Hurricane Dorian.
"Complete devastation" were the words of the man who shot some of the first videos this morning from the Bahamas, which showed the results of 185 mph maximum sustained winds and gusts up to 220 mph, tying the record for the most powerful Atlantic hurricane to ever make landfall. Source
Affiliate Links
Books that Are Going Viral
Silbert Mills, owner of the Bahamas Christian Network said the damage was, "Like nothing I have never been through. It really feels like you are helpless and that you have to depend solely on the mercy of the good Lord who has full control over nature and the elements of nature we can never understand."
NOAA Satellites PA@NOAASatellitePA
Here's what Category 5 #HurricaneDorian looked like through the night skies early this morning, courtesy of the Suomi NPP satellite. For updates on this extremely dangerous #hurricane: @NHC_Atlantic #Bahamas #GrandBahamaIsland #Abacos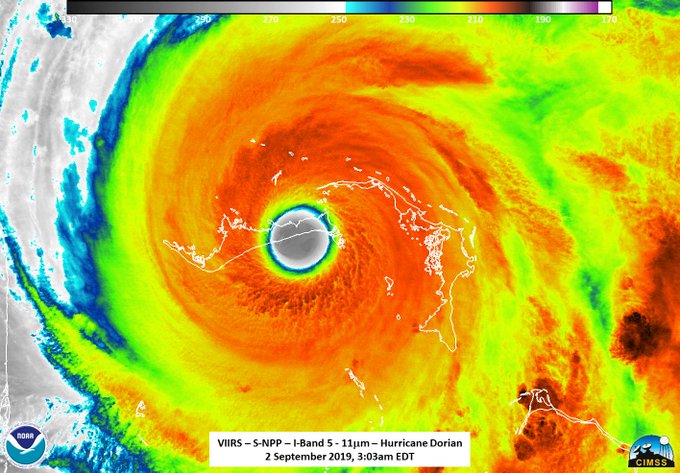 1149:25 AM – Sep 2, 2019Twitter Ads info and privacy71 people are talking about this
The Bahamian Prime Minister, Dr. Hubert Alexander Minnis, called Sunday "the saddest and worst day," tweeting, "We are facing a hurricane that we have never seen in The Bahamas. Please pray for us."Related
---
---
As the strongest hurricane on record to strike the region, Dorian is now inching towards the Florida coastline.
NOAA Satellites✔@NOAASatellites
The sunset on #HurricaneDorian as it battered the #Abaco and #GrandBahama islands with wind gusts of more than 220 mph today. NOAA's #GOESEast continues to keep watch over the slowing catastrophic Cat. 5 storm. Latest updates: http://hurricanes.gov 1,4217:35 PM – Sep 1, 2019Twitter Ads info and privacy1,099 people are talking about this
President Trump, visiting FEMA headquarters Sunday, said, "The Category 5 or something that I don't know that I've ever even heard the term other than I know it's there that's the ultimate and that's what we have, unfortunately."
The slow-moving hurricane is expected to turn north and begin a week-long torrent of wind and rain on the southeast coast. South Carolina's governor has ordered evacuations along the coast, and both South and North Carolina have declared states of emergency.
Acting FEMA Administrator Pete Gaynor said Americans need to pay attention to this storm. "Don't dismiss this storm, we are not out of it, life-threatening dangerous surge, water, wind, it's coming your way. Take time to prepare, you and your family," he said.
Florida Sen. Rick Scott says his worry is that Floridians will think they're off the hook.
"We're gonna get storm surge, we're gonna get a lot of rain, the closer it gets to Florida we're gonna get more rain that can cause flooding, so take it seriously. Over-prepare, don't under-prepared," Scott said.
Some people are heeding the warning, beginning to evacuate their homes and stocking up on gas and supplies of food and water.
The latest predictions indicate the storm will likely stay about 40-50 miles off the Florida coast, but forecasters say a slight shift in the track could bring it onshore.
In Matthew 7:13–14 Christ tells His followers the road that leads to eternal life is narrow and that "only a few find it." The broad road with the wide gate, on the other hand, is the one that leads to destruction, and we see that "many" will take this path. And many who claim to be converted Christians will never leave the broad road with its worldly allurements. They desire to live an easy Christianity that makes few demands on them, yet when "trouble or persecution comes because of the word" they quickly fall away (Matthew 13:21). Furthermore, they produce little, if any, fruit. Yet we know that true faith in Christ profoundly changes one's life and will cause us to produce much fruit for God's glory. And, ultimately, fruit is the test of true salvation, and this includes holiness (Romans 6:22), Christian character (Galatians 5:22–23), good works (Colossians 1:10), winning others to Christ (Romans 1:13), sharing what we have (Romans 15:25–28; Hebrews 13:16), and praising God (Hebrews 13:15). As Christ said, "By their fruit, you will recognize them. . . . A good tree cannot bear bad fruit and a bad tree cannot bear good fruit" (Matthew 7:16, 18).
The people spreading concrete information on the dangers of globalism are accomplishing far more than those sitting around buying bitcoin or passing around Q-cult nonsense.
StevieRay Hansen
Editor, HNewsWire.com
Let Me Make This Abundantly Clear. (I Am Apolitical) While I Have a General Distaste for Politicians No Matter the Party They Belong To, I Am Unashamedly Politically a Bible Believing Conservative Christian. I Have a Severe Distrust of Government. I Believe It Is the Most Inefficient and Ineffective Way to Accomplish Most Things. While I Strongly Disagree with Liberals/Progressives and Conservative on Most Political Issues, and While I Believe Liberals/Progressives and Most Politicians Are Terribly Misguided and Naive About What Big Government Will Eventually Result In, I Strive to Not Question Their Motives. at the Same Time, While I Find Myself in Agreement with Conservative Politicians on Some Issues, I Do Not Believe Electing Republicans Is the Answer to Everything. for Me, Very Sadly, the Main Difference Between Republicans and Democrats Is How Quickly They Want to Drive the Car Towards the Cliff. Simply put, I do not believe the government is the solution for everything. I do not place any faith, trust, or hope in any politicians to fix what is wrong with the world. "Come Lord Jesus!" (Revelation 22:20)
Education is useless without the bible (Daniel Webster)
Usually, the Lord doth no great thing for or against his people, without giving warning of it before it comes.
John Wesley who said that what we tolerate in our generation, will be embraced by the next. Wesley is 100% correct! We are living in sick times.
Evil Exists So Spiritual Warfare Becomes Necessary!
Corinthians 4:8-11 New King James Version (NKJV)
We are hard-pressed on every side, yet not crushed; we are perplexed, but not in despair; 9. persecuted, but not forsaken; struck down, but not destroyed— 10. always carrying about in the body the dying of the Lord Jesus, that the life of Jesus also may be manifested in our body. 11. For we who live are always delivered to death for Jesus' sake, that the life of Jesus also may be manifested in our mortal flesh.
Satan has power over (LGBTQE-TRANS PEOPLE). The "sons of disobedience" referred to in Ephesians 2:2 are those who have not trusted Christ as Lord and Savior (cf. Acts 26:18; 2 Corinthians 4:4; Revelation 13:12). The demons are also under the rule of Satan (Matthew 12:24), and one of his titles is "prince of demons" (Matthew 9:34). Satan has a kingdom (Matthew 12:26) and a throne (Revelation 2:13). Satan is called a prince because he is a ruler and possesses the power to manifest evil in the world through influencing people and commanding demons.
HNewsWire- "All political language is designed to make lies sound truthful and murder respectable." Just look at some of our modern-day examples: torture is "enhanced interrogation techniques"; murder is "collateral damage"; the aggression initiation of war is a "pre-emptive strike"; the theft of taxpayers' money is a "bailout", and the theft of depositors' money in a bank is a "haircut" or "bail-in".In a blatant example of Newspeak, the New World Order controllers (through the psychiatric DSM V) have tried to rename pedophiles as "minor-attracted persons" and redefine pedophilia as "sexual orientation". This makes no sense since sexual orientation has to do with gender, not age, with whether you are attracted to males or females, not how old they are. There are even organizations (like B4UAct.org) which are claiming that pedophiles are being unfairly stigmatized for their feelings!
The 127 Faith Foundation: We do not solicit donations from "those on disability, on a fixed income, or those who cannot afford to give." Please Pray!
Or, make checks payable to:
The 127 Faith Foundation
PO Box 127
Pontotoc, TX 76869
The number of Orphans aging out of Child Protective Custody has grown at an alarming rate. The 127 Faith Foundation receives many requests each week to house them at our ranch. Our prayer is that the good people of our country will step up to the challenge and offer financial support for "the least among us." We need your help! StevieRay Hansen, Founder, The 127 Faith Foundation
Featured Story: World renowned CV19 critical care and pulmonary expert Dr. Pierre Kory says the data is clear the CV19 injections are "not safe, not…
Read More
We make every effort to acknowledge sources used in our news articles. In a few cases, the sources were lost due to a technological glitch. If you believe we have not given sufficient credit for your source material, please contact us, and we will be more than happy to link to your article.