Advisory: Be careful of what you read on social media. The algorithms used by these platforms have no regard for Biblical truth. They target your emotions to keep you engaged on their site so their advertisers can drop more ads. These platforms exist to enrich their stockholders. Consider God's promise to Believers in James 1:5, "If any of you lacks wisdom, you should ask God, who gives generously to all without finding fault, and it will be given to you."
Jeremiah 30:7 says, "That day is great so that none is like it." The only time period that fits this description is the period of the Tribulation. This time is unparalleled in history.
Jesus described the Tribulation using some of the same imagery as Jeremiah. In Matthew 24:6-8, He stated that the appearance of false Christs, wars, and rumors of wars, famines, and earthquakes are "the beginning of birth pains."
Paul, too, described the Tribulation as birth pains. First Thessalonians 5:3 says, "While people are saying, 'Peace and safety,' destruction will come on them suddenly, as labor pains on a pregnant woman, and they will not escape." This event follows the Rapture and the removal of the Church, in 4:13-18. In 5:9, Paul reemphasizes the absence of the Church from this time period by saying, "For God has not destined us for wrath, but for obtaining salvation through our Lord Jesus Christ." The wrath spoken of here is God's judgment on the unbelieving world and His discipline of Israel during the Tribulation.
These "birth pains" are described in detail in Revelation 6-12 Part of the purpose of the Tribulation is to bring Israel back to the Lord.
What we're covering here at HNewsWire:
Trump got hourly briefings on Dorian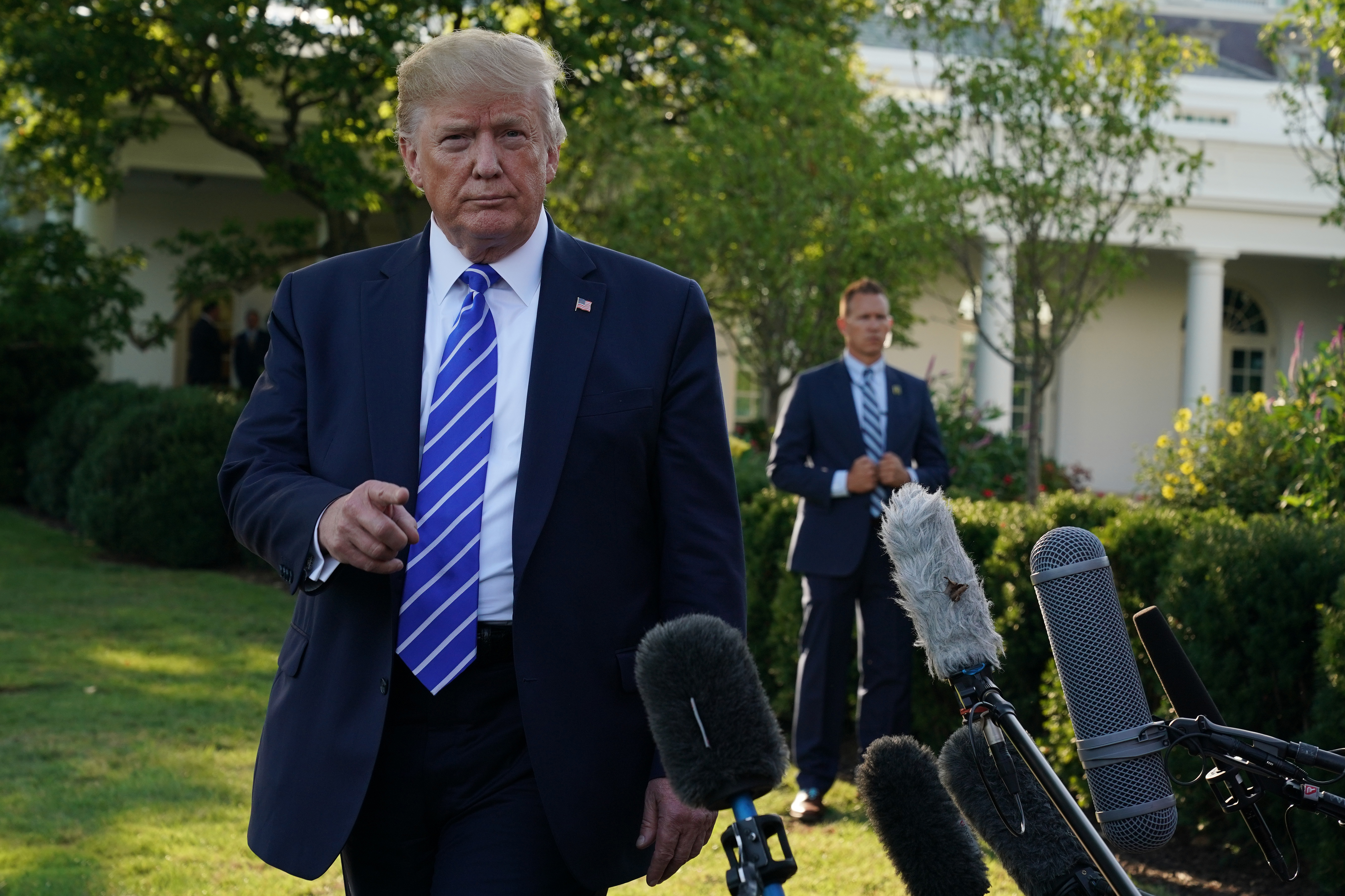 Hurricane Dorian Updates: A 'Catastrophic' Category 5 Storm With Ferocious Winds
Cutting it close: Florida's fate may be a matter of miles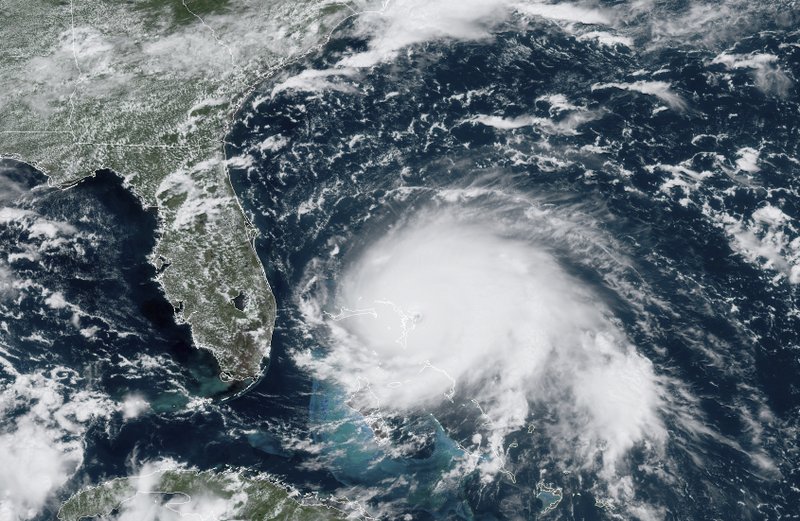 1 of 5This GOES-16 satellite image taken Sunday, Sept. 1, 2019, at 17:00 UTC and provided by National Oceanic and Atmospheric Administration (NOAA), shows Hurricane Dorian, right, churning over the Atlantic Ocean. Hurricane Dorian struck the northern Bahamas on Sunday as a catastrophic Category 5 storm, its 185 mph winds ripping off roofs and tearing down power lines as hundreds hunkered in schools, churches and other shelters. (NOAA via AP)
For Florida, just a handful of miles may make a huge difference in Hurricane Dorian's slow dance with the coast.
The National Hurricane Center forecasts Dorian to be 40 to 50 miles off the Florida coast on Tuesday and Wednesday, with hurricane-force wind speeds extending about 35 miles to the west.Full Coverage: Hurricane Dorian
When they make a forecast, meteorologists have a general idea where the monstrous storm is going but they then have to choose a point on the map instead of a general place, making it seem more specific than it really is.
And much of the Florida coast is inside that cone.
"This thing is perilously close to the state. I think we should all hope and pray for the best, but we have to prepare that this could have major impacts on the state of Florida," said Florida Gov. Ron DeSantis. "If you look at the National Hurricane Center's current track, I think it ends up within 30 miles of the coast of Florida. Well guess what? You do just a touch of a bump one way or another, and you have a dramatic difference all of a sudden."
Center Director Ken Graham is telling residents don't bet on safety just because his office-specific forecast track has the storm just a bit offshore.
"The cone is so important," Graham said.
And making matters more touch-and-go is that with every new forecast, "we keep nudging (Dorian's track) a little bit to the left," which is closer to the Florida coast, he said.
Dorian is a powerful but small hurricane with hurricane-force winds Sunday only extending 29 miles to the west, but they are expecting to grow a bit. That makes forecasting the storm's path along the coast — either just off the coast, skirting it or moving inland with a direct hit — delicate and difficult. Just a few miles west or east makes the difference between devastation and bad but not horrible damage, meteorologists said.
"Where it doesn't directly hit, it's not going to be a huge problem," Colorado State University hurricane researcher Phil Klotzbach said.
With a big, sloppy hurricane — say 50% larger in size — all of Florida would be under a serious threat, but that's not the case, said University of Miami hurricane researcher Brian McNoldy.
This is what makes this a nightmare for forecasters, McNoldy said.
It's a combination of the small size, close-in track, like Matthew in 2016, and weak steering currents. That means just a smidge of a movement days ahead of time, while Dorian is in the Bahamas, can reverberate and mean a direct hit or not, said private meteorologist Ryan Maue.
That can happen just because of the timing of when Dorian's eyewall collapses and is replaced, which happens normally in storms.
Adding to that problem is Dorian's slow, almost snail-like pace. What initially looked like a Labor Day storm for the U.S. is now approaching Tuesday and Wednesday.
"People are getting impatient with this," McNoldy said. Because the threat seems to keep sticking around, it could be a problem getting the right message across, he said.
Klotzbach said he thinks the U.S. East Coast will get "scraped," but Dorian will stay just offshore, something Maue agrees with.
Maue warns, however, that two days of high waves and heavy storm surge — the hurricane center is predicting 4 to 7 feet from West Palm Beach north to Cocoa Beach area — could severely damage Florida's beaches.
Residents along Florida's coast are relieved that the forecast, for now, doesn't have Dorian making landfall in Florida, but are still preparing for the worst.
Kevin Browning in Vero Beach has put up hurricane shutters, bought a generator and is stocked with supplies.
"I'm thanking God, now, that it's turned a little bit towards the east, but that's a forecast, and we never know. I'm just praying and trying to make sure that everybody's safe. I feel for the Bahamas and I'm praying for them, and I thank God it's not coming directly to us right now."
___
Associated Press writers Gerald Herbert in Vero Beach, Florida, and Brendan Farrington in Tallahassee, Florida, contributed.
Dorian struck the northern Bahamas on Sunday and continued to menace the southeastern coast of the United States from Florida to the Carolinas.
By Nicholas Bogel-Burroughs, Patricia Mazzei and Patrick J. Lyons
RIGHT NOW
Floridians are hoping that the worst of the storm, with 185 m.p.h. sustained winds and gusts over 220 m.p.h., may sideswipe the state rather than hit it directly.
Here's what you need to know:
Video1:18Hurricane Dorian Batters the Bahamas
The storm made landfall in the Bahamas as a Category 5 hurricane, with sustained winds in excess of 180 miles per hour.CreditCreditMark Hall and Christopher Hall, via Reuters
An 'extremely dangerous' hurricane that could inundate coastal areas.
As Hurricane Dorian struck the Abaco Islands in the northwestern Bahamas on Sunday, the National Hurricane Center said that the maximum sustained winds around the eye of the "extremely dangerous" storm had reached 185 miles an hour, making it a "catastrophic" storm with "devastating winds."
By 2 p.m. Eastern time, the storm had made landfall at Elbow Cay and was moving westward fairly slowly — 7 miles an hour — over Great Abaco; it was expected to continue near or over Grand Bahama later Sunday or early Monday, forecasters said. Storm surges of as much as 18 to 23 feet were possible, enough to swamp many low-lying areas of the islands, and as much as 25 inches of rain could fall before the storm passes.
The hurricane center warned in a 4 p.m. update that no one should venture outdoors into the eye of the storm.
By late Monday or early Tuesday, forecasters said, the storm could be near the Florida coast Maps: Track Hurricane Dorian's PathMaps tracking the hurricane's path as it makes its way toward Florida, Georgia and the Carolinas.
Hurricane-force winds extend 45 miles outward from the center of the storm, the center said, with tropical-storm-force winds as much as 140 miles outward.
The National Hurricane Center said on Sunday that there were wind gusts exceeding 220 miles an hour — three times the wind speed to qualify as a hurricane. Officials said the storm was the strongest on record in the islands.

National Hurricane Center✔@NHC_Atlantic
1245pm Update: Hurricane #Dorian has made landfall at Elbow Cay, Abacos. Maximum sustained winds have increased to 185 mph with gusts over 220 mph. http://hurricanes.gov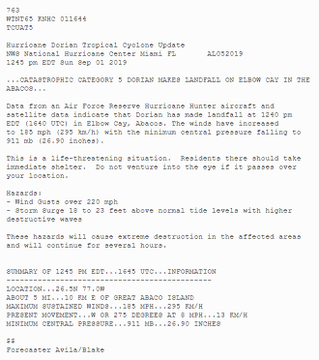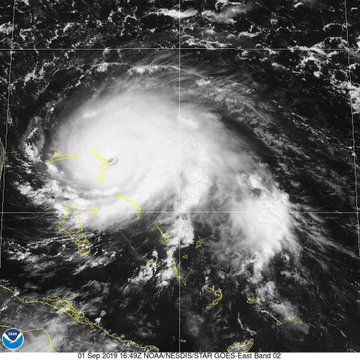 2,49111:51 AM – Sep 1, 2019Twitter Ads info and privacy2,789 people are talking about this
'People are crying' as the northern Bahamas catch the worst of the storm.
Hurricane Dorian aimed its fury at the northern reaches of the Bahamas archipelago on Sunday, sending residents scrambling to find shelter as they braced for rising waters and torrential rains.
Prime Minister Hubert Minnis said Saturday that 73,000 residents and 21,000 homes would be affected by the storm.
The Bahamas prides itself on withstanding powerful storms, but this hurricane brings greater dangers than most. Meteorologists warned of a storm surge that would raise water levels as much as 18 feet to 23 feet above normal, as well as the possibility of more than two feet of rainfall in some areas. Much of the island nation is low-lying, and some areas could be completely flooded.
"We will pray and hope for the best, but plan for the worst," Michael Pintard, the Bahamian minister of agriculture, said in a text message on Saturday evening.
Louby Georges, director of international affairs for Human Rights Bahamas, said people on Great Abaco Island, in the direct path of the eye, were growing desperate as the storm bore down on them.
"People are sending voice notes, people are crying," he said. "You can hear people hollering in the background."
He said the shelters on the island were full and that many poorer residents had taken refuge in churches in Marsh Harbour. But he was worried that the churches, which were not on official lists of shelters to receive food and water, may run out of supplies.
"My guy at St. Francis Church said there is no drinking water," Mr. Georges said in a telephone interview from Nassau, the capital. "There are no trained emergency personnel with them."
There was a concern that some would try to brave the storm in homes that could not withstand so powerful a storm. "Some people are saying that they're not going to go because they have nowhere to go," Frankie Fleuridor, an activist who works with Haitians living on Great Abaco, said on Saturday. "It's tough for people in the shantytowns," he said.
Mr. Fleuridor said that he had rented hotel rooms for the most vulnerable people, but could not afford to do more. "I'm maxed out," he said.
The storm is expected to turn northward, raking the United States coast.
Forecasters expect the storm to creep nearer to the coast of Florida through Monday and then swing northward, paralleling the mainland coast. Though it may not make landfall all week if it follows that track, its strong winds and heavy rains, storm surge and punishing surf could still have the potential to do major damage in Florida, Georgia and the Carolinas.
The National Hurricane Center posted a hurricane watch on Sunday for the Florida coast from Deerfield Beach to the Brevard-Volusia county line north of Titusville, meaning that hurricane-force winds are expected there within 48 hours. A tropical storm warning extends north from there to Sebastien Inlet, and storm watches were posted for Lake Okeechobee and for the coast south of Deerfield Beach to Golden Beach.
"Heavy rains, capable of producing life-threatening flash floods, are possible," the center said.
Florida is on edge, hoping the storm will just miss land.
Gov. Ron DeSantis of Florida warned on Sunday that while forecasts now suggested that Hurricane Dorian may veer north offshore, a slight nudge could bring its powerful eye to landfall somewhere along Florida's Atlantic coast.
"We've got to prepare for that eventuality," Governor DeSantis said, speaking from the state's emergency operations in Tallahassee, the capital. He was surrounded by a small group of grim-faced public officials.
Even if the storm stays offshore, the state will probably still experience dangerous storm surge and some flooding. At least four counties have begun evacuating coastal communities, with several more expected to follow soon. Mr. DeSantis suspended tolls on a number of major highways to facilitate the movement of coastal residents inland.
Mr. DeSantis sought to put Dorian's sustained winds of 185 m.p.h in perspective: "That's significantly stronger than Hurricane Andrew, which reached landfall at 165 m.p.h. It's significantly stronger than Hurricane Michael, 160 mp.h. South Florida has had one hurricane in our history — the Labor Day Hurricane of 1935 — that reached that level, and that was total destruction. The strength of this storm cannot be underestimated."
In Orlando, sandbags and cautious optimism
Buddy Dyer, the mayor of Orlando, declared a state of emergency for the city on Sunday afternoon, as the 2 p.m. forecast from the National Hurricane Center showed the city still within the "cone" of places where the storm's eye may go.
Residents of Orange County had picked up more than 187,000 sandbags by Sunday, which was 67,000 more than were handed out for Hurricane Irma. Jerry Demings, the mayor of Orange County, took that as a sign that people were taking Hurricane Dorian seriously, which he said was vital.
Mr. Demings said he remained "cautiously optimistic" that the storm would spare Orlando the worst of its wrath, but that it is "still a massive storm that is somewhat unpredictable."
Orange County opened shelters at 8 a.m. Sunday, and about 50 people arrived during the day, according to State Representative Anna Eskamani.
Lisa Simpson grew up on Merritt Island and has evacuated twice, including in 2004 for Hurricane Ivan. She said she just moved into a condo this year in the coastal city of Titusville and doesn't know how well it will weather the storm, so she planned to head inland to stay with a friend in Orlando. She said she had a week's worth of clothes packed in her car and was considering leaving Sunday night with her pet Shih Tzu, Gizmo.
She said she was worried about her brother, who was determined to say on Merritt Island and ride out the storm with some friends.
"Dude, this is a 5, don't mess around with it," she said she told her brother. "You're going to be without power for who knows how many days."
If the storm isn't too bad, she said, she planned to make a vacation out of her trip. But Ms. Simpson is also prepared in case the storm keeps her and her friend from venturing outside: she bought a bottle of wine.
President Trump's Mar-a-Lago private club is under a mandatory evacuation order.
One of the Florida counties ordering evacuations on Sunday was Palm Beach County, which ordered the evacuation of residences in low-lying and coastal areas of the county, including the barrier island where Mar-a-Lago, Mr. Trump's private club, and favorite winter destination, is located. The order took effect at 1 p.m. Eastern time and also includes areas with vulnerable types of residential construction, like mobile home parks.
The eastern half of the county is included in a long stretch of the Florida coast now under a hurricane watch, indicating that Hurricane Dorian's hurricane-force winds are expected within 48 hours.
"If you choose not to evacuate to a shelter, please evacuate miles, not hundreds of miles," the county said. "With the unpredictable nature of Hurricane Dorian, evacuating north is not recommended."
Why is damage from the hurricane so difficult to predict with precision?
Experts can see Hurricane Dorian's compact eye and near-circular symmetry clearly in satellite images, signifying a ferocious storm. What is much harder for them to discern is whether the storm will it be a disaster for the United States?
Computer models on Sunday showed a range of possible tracks Dorian could follow, with landfall in Florida, Georgia or the Carolinas, or nowhere. And if the hurricane does make landfall, its intensity at that point — whether it will still be a Category 5 or substantially weaker — is equally uncertain.
So nearly the entire southeast coast of the United States, from South Florida through the Carolinas, is at risk — but in the end, many of those places may well see little or no impact. How should all the people along with this long coastline deal with this confusing, indefinite forecast?
Adam Sobel, a professor at Columbia University and director of the Initiative on Extreme Weather and Climate, explains why meteorologists must speak in probabilities, not certainties, and focus on the worst-case scenarios rather than the best cases.
It comes down to this: It is better to over-warn than to under-warn. An alarm that turns out to have been needless is just an annoyance, but an alarm that was needed but never issued can have deadly consequences.
People are vacationing at Disney World despite storm warnings.
Families arrived in Orlando this weekend carrying Disney-themed suitcases, wearing Mickey Mouse ears and closely monitoring Hurricane Dorian's path as they plowed ahead with long-planned vacations to Walt Disney World.
The theme park complex is mostly operating normally, though its Blizzard Beach Water Park was closed as a precaution on Sunday.
Cierra and Louis Gosselin, who live in Bermuda, booked their nine-day vacation at Disney World more than seven months ago for their wedding anniversary and were especially excited to visit Galaxy Edge, a new Star Wars-themed section of Disney World that opened on Thursday.
The couple has been keeping a close eye on the latest hurricane models and said they were hopeful Dorian would not have much effect on their visit. But just in case, they rented a car and are ready to evacuate if necessary.
"I think we're a little less intimidated because we live in Bermuda," said Ms. Gosselin, an accounting consultant. "We're more accustomed to the hurricanes, and we know what to do."
She joked that her biggest fear was that the park's replica of the Millennium Falcon, the Star Wars spacecraft, would be swept up by the storm.
Daniel and Kristin Russell arrived in Orlando on Saturday from Grand Rapids, Mich., with their 4-year-old daughter, who was particularly excited for the "Mickey's Not-So-Scary Halloween Party" event.
Mr. Russell said the family had considered canceling but decided to go ahead with the trip when forecasts began to indicate that the hurricane may not make landfall in Florida.
"We had lots of friends and family that told us it might not be good to go, but we kept watching it, and we don't think it's going to be a problem now," he said.
Some visitors were getting out just in time. Inside the Orlando International Airport, the Magic of Disney store was bustling with people snagging one more souvenir before boarding a plane home. They tried on hats with Minnie Mouse's signature red and white polka dots and perused Disney-themed oven mitts, stuffed animals and R2-D2 mugs.
North and South Carolina declare states of emergency.
With forecasters now expecting the storm to move north up the coast before making landfall, the governors of North and South Carolina have declared states of emergency, adding to those already declared in all of Florida and in 12 counties in Georgia.
"North Carolinians should prepare, and listen to local leaders for updates on severe weather. Please take the time now to prepare for possible effects of #Dorian," Gov. Roy Cooper wrote in a Twitter message Saturday night. Several hours earlier, Gov. Henry McMaster of South Carolina told his state's residents not to take the storm lightly.
"Given the strength and unpredictability of the storm, we must prepare for every possible scenario," Mr. McMaster said in a statement. "State assets are being mobilized now and Team South Carolina is working around the clock to be ready, if necessary. We encourage all South Carolinians who may be impacted by Hurricane Dorian to be vigilant and prepare now — there is no reason for delay."
The National Hurricane Center said some tracking models suggest that the storm may make landfall near Cape Fear, N.C., on Thursday or Friday. Though its winds are expected to have weakened somewhat, the storm could still lash the coastline with winds of up to 80 miles an hour, and could dump as much as 10 inches of rain on coastal areas of North Carolina. Source
Experts recommend eastern Carolina resident prepare ahead of Hurricane Dorian
As eastern Carolina keeps a close eye on Hurricane Dorian's path, one American Red Cross representative says it's important to get prepared regardless of the severity of the hurricane.
blob:https://www.wral.com/b6f627c0-a86d-4b98-a44e-c176e7271f7b
Uncertainty Widens for Southeast Impacts from Extremely Dangerous Dorian
Dr. Jeff Masters · August 31, 2019, 12:03 PM EDT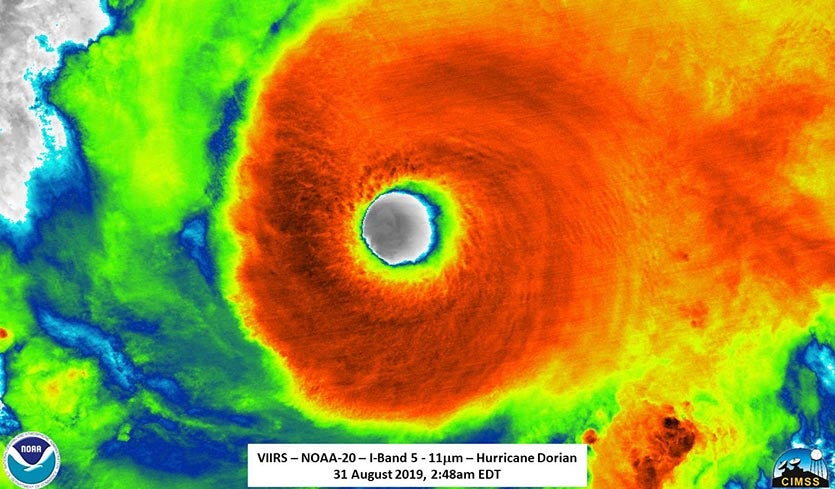 Above: The NOAA-20 polar-orbiting satellite captured this close up view of the wide eye of Hurricane Dorian as it passed over in the early morning hours of Aug. 31. Image credit: NOAA.
There is increasing hope that Florida will escape a direct hit from extremely dangerous Hurricane Dorian, but South Carolina, North Carolina, and Georgia are at increased risk. The entire Southeast U.S. coast from central Florida to northern North Carolina is in the NHC cone of uncertainty for Dorian and is at risk of a devastating storm surge, damaging winds, and extreme flooding rains. The northwest Bahamas are at the highest risk of seeing the worst of Dorian, however. Update (5 pm EDT): A tropical storm watch has been issued for the east coast of Florida from Deerfield Beach to Sebastian Inlet, based on uncertainty in the track and on the possibility that Dorian's shield of tropical-storm-force winds will expand.
Dorian put on an impressive show of rapid intensification overnight, and at 2 pm EDT, Saturday was an upper-end Category 4 hurricane with 150 mph winds—just 7 mph away from Cat 5 strength—and had a central pressure of 945 MB. The hurricane had completed its westward turn and was headed west at 8 mph towards the northwest Bahamas. These islands will begin seeing the hurricane's impacts on Sunday morning.

National Hurricane Center✔@NHC_Atlantic
Here a look inside the clear eye of #Dorian this morning from the @HRD_AOML_NOAA Hurricane Hunter P-3 Aircraft. Picture credit Paul Chang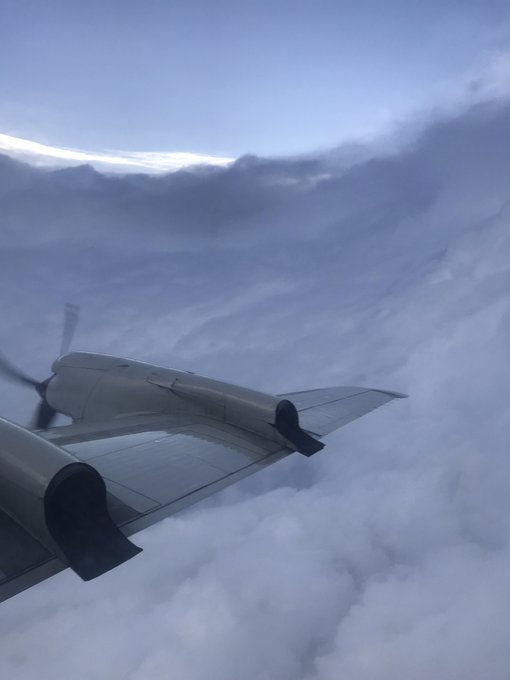 6,8436:33 AM – Aug 31, 2019Twitter Ads info and privacy3,157 people are talking about this
Hurricane hunter data and satellite images on Saturday afternoon showed an extremely impressive mature hurricane with a prominent eye surrounded by an intense ring of eyewall thunderstorms with very cold cloud tops. Dorian had established two powerful upper-level outflow channels, one to the east and one to the west, which enabled the hurricane to put on its burst of rapid intensification from Friday night into Saturday morning. Dorian was also passing over some very rich oceanic heat content, with values of greater than 75 kilojoules per square centimeter, which helped set the stage for rapid strengthening.
Figure 1. Visible satellite image of Dorian at 1 pm EDT August 31, 2019. Image credit: NOAA/RAMMB.
The intense thunderstorms along the western side of Dorian were relatively thin at midday Saturday, probably due to some moderate wind shear created by upper-level northerly winds from the ridge of high pressure to Dorian's north. Though a bit larger than Friday, Dorian was a medium-small hurricane, with hurricane-force winds that extended out 30 miles from the center and tropical-storm-force winds that extended out 115 miles. This wind field is predicted to expand; NHC predicted that on Monday, hurricane-force winds would extend out 45 miles from the center and tropical-storm-force winds would extend out 125 miles.
Intensity forecast for Dorian
Over the next three days, conditions will be favorable for Dorian to maintain its intensity. Wind shear is expected to mostly be light, less than 10 knots, the atmosphere will be moist, with a mid-level relative humidity near 65%, and Dorian will be passing over very warm water, with sea surface temperatures of around 29 – 30°C (84 – 86°F)–about 1.0°C (1.8°F) warmer than average. Oceanic heat content (OHC) will be 50 – 90 kilojoules per square centimeter along Dorian's path for the next three days; values above 75 kJ/sq cm are closely associated with higher odds of rapid intensification.
Expect Dorian to experience at least one more eyewall replacement cycle (ERC). These cycles can produce a dip in strength lasting a day or so, as the inner eyewall collapses and is replaced by the outer eyewall, but they also tend to enlarge a hurricane.
Dorian is expected to slow to a forward speed of just 5 mph by Sunday afternoon. Hurricanes moving this slowly tend to weaken since they are unable to "outrun" a large amount of cooler water from the depths that their winds stir to the surface. The weakening from this effect for Dorian may be less than one usually sees for a slow-moving storm, since the warm waters of the Gulf Stream lie along its path. This powerful current will be able to supply a continuous stream of warm water from the south to offset the cooling that upwelling from Dorian's winds causes.
Weakening can also be expected when it comes within about 100 miles of the U.S. coast since the hurricane will have a large part of its circulation over land, limiting the amount of moisture that feeds into it. The 6Z Saturday runs of our top intensity models all predicted Dorian would be a Category 3 or 4 status through Tuesday.
Bottom line: expect Dorian to affect the northwest Bahamas as an extremely dangerous Category 4 hurricane and approach the Southeast U.S. coast on Tuesday as a powerful Category 3 or 4 hurricane.Dan Lindsey@DanLindsey77Sunrise over #HurricaneDorian's eye from #GOES163418:23 AM – Aug 31, 2019Twitter Ads info and privacy171 people are talking about this
A devastating pounding coming for Abaco Island in The Bahamas
Dorian will continue to the west through Sunday, as it feels the steering effects of a westward extension of the Bermuda high to its north. As the hurricane approaches the northwest Bahamas on Sunday morning, it will slow down to a forward speed of around 5 mph, subjecting the northernmost large island in The Bahamas, Abaco Island (population 17,000), to an extended two-day pounding.
The fact that Abaco Island is likely to be on the weaker (left) side of the approaching hurricane won't help it much since Dorian will be moving so slowly. In a fast-moving landfalling storm coming ashore at 15 mph, the peak winds on the right-front side of the hurricane can be expected to be about 30 mph greater than those on the left-front side. If Dorian is making landfall at just 5 mph, this difference will be more like 10 mph. Thus, the "weak" southern side of Dorian's eyewall will not be all that weak; the hurricane's destructive winds will be spread out over a larger area, and not focused in a relatively narrow region in the right-front quadrant.
A turn to the north before reaching Florida now expected
The 0z, 6Z, and 12Z suite of model runs continued their trend from the previous day, advertising an earlier turn to the north for Dorian. This is because of a weaker-than-expected edge of the Bermuda High, which is steering Dorian clockwise around its western flank. None of the operational versions of the top five tracking models used by NHC have shown with their 0Z, 6Z, or 12Z Saturday runs that Dorian might make a direct hit on Florida. However, many of the 70 ensemble members of the GFS and European model did take Dorian over Florida, and most of the east coast of Florida remains in the NHC cone of uncertainty. If you are in the cone of uncertainty, you are at risk of a direct strike!
If Dorian's track does keep it offshore from Florida, that will result in limited wind and flood damage from heavy rains. Storm surge damage will still be a big concern, though—Hurricane Matthew of 2016 never made landfall in Florida, as it followed a path hugging the coast northwards, but still did approximately $3 billion in damage to Florida–mostly from storm surge.
A dangerous threat for South Carolina, North Carolina, and possibly Georgia
The latest set of 6Z and 12Z model runs have been relatively stable in their depiction of a significant threat to the coasts of South Carolina, North Carolina, and Georgia by the middle of next week. I estimate that there is a 40% chance of Dorian making a direct hit on South Carolina, North Carolina, or Georgia, and a 30% chance it will miss the Southeast U.S. coast entirely. The hurricane is expected to make its closest approach to South Carolina on Wednesday, and North Carolina on Thursday. We'll expand upon the threat to these states in future posts.

Bob Henson contributed to this post.
Mike Brown, the North Carolina Red Cross volunteer disaster program manager said everyone should have a disaster kit ready during hurricane season. Brown said even if Hurricane Dorian doesn't directly impact the east, residents should still have emergency supplies handy.
"We would really like people to have already been prepared for hurricane season because we don't know what's going to happen with Dorian but we are at risk of hurricanes up through November," said Brown.
Brown encourages residents to have a minimum of three days worth of food and a 7-day supply of medications. It is also recommended to have a first aid kit, flashlight and toilet paper on hand. Source
LATEST TRACK, TIMING
Tropical Storm Watches Issued for Florida's East CoastThreat growing for Georgia and Carolinas
Hurricane Dorian is slowly making its way across the Caribbean as a dangerous Category 4 storm with 150 mph winds, with the Bahamas and southeastern coast of the U.S. in its sights, as President Trump warned it could be "one of the biggest and strongest" storms to hit in decades.
The storm has slowed to 8 mph and is moving west, with its' "fury" aimed at the northwestern Bahamas, the National Hurricane Center said 2 p.m. ET Saturday. Dorian is about 205 miles east of the northwestern Bahamas and 385 miles east of West Palm Beach, Fla. Its winds increased Saturday, nearing a Category 5 classification, where winds are sustained over 156 mph.
Authorities evacuated most of the northern shore and low-lying islands in the Bahamas on Saturday, and remaining tourists were sent to shelters.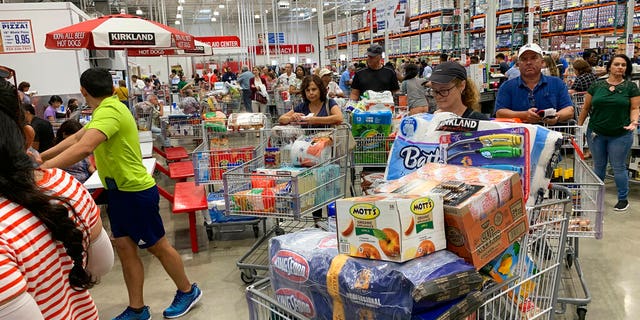 Shoppers wait in long lines at Costco, Thursday, Aug. 29, 2019, in Davie, Fla., as they stock up on supplies ahead of Hurricane Dorian. (AP Photo/Brynn Anderson)
The storm could make landfall next week in Florida, Georgia or the Carolinas. The NHC has stressed that the storm's possible path is uncertain and can change, but what is certain is that it will be a dangerous weather event.

National Hurricane Center✔@NHC_Atlantic
High-resolution visible imagery over the eye of #Dorian is stunning this morning. This is a special view of 30-second @NOAA high-resolution visible imagery that forecasters use. Catch the latest on this hurricane's forecast at http://hurricanes.gov 2,89110:38 AM – Aug 31, 2019Twitter Ads info and privacy1,694 people are talking about this
"Dorian is forecast to move over a deep layer of very warm waters, which is like high octane-fuel for hurricanes," National Hurricane Center specialist Lixion Avila told the Post and Courier.
Hurricane warnings have been in effect for the northwestern Bahamas and a hurricane watch is in place for Andros Island.
"On this track, the core of Dorian should move over the Atlantic well north of the southeastern and central Bahamas today, be near or over the northwestern Bahamas on Sunday, and move near the Florida east coast late Monday through Tuesday," the NHC said.
'EXTREMELY DANGEROUS' HURRICANE DORIAN'S PATH SHIFTS TOWARDS GEORGIA AND CAROLINAS; FLORIDA STILL IN ITS SIGHTS
Hurricane-force winds extend outward up to to 30 mph from the storm's center, and tropical-storm-force winds extend outward up to 115 miles.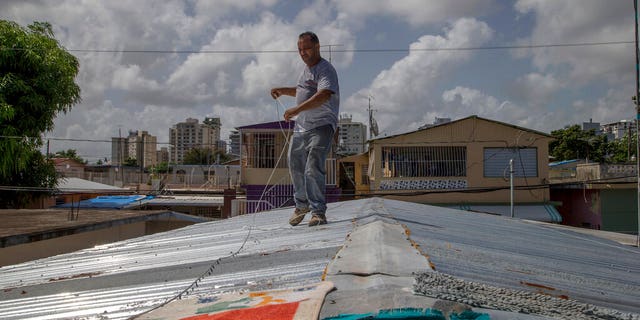 Jorge Ortiz works to tie down his roof as he prepares for the arrival of Dorian in San Juan, Puerto Rico, Tuesday, Aug. 27, 2019. (AP Photo/Gianfranco Gaglione)
Dorian is expected to bring a life-threatening storm surge that could raise water levels up to 15 feet above normal tides in the northwestern Bahamas, the NHC said.
In the northwestern Bahamas, 10 to 15 inches of rain is expected this weekend into next week, with 25 inches in isolated areas.
Coastal sections of the southeast U.S. could get 4 to 8 inches with up to 12 inches in certain spots, and the rainfall might cause life-threatening flash floods, the hurricane center said.
Officials in Florida, Georgia, North and South Carolina have declared states of emergency due to the possible impacts from Dorian.
"Although the path of #Dorian has shifted, the entire East Coast is still vulnerable to significant impacts," said Florida Gov. Ron DeSantis. "Residents in East Coast counties should continue to monitor local reports and stay vigilant."
Although the path of #Dorian has shifted, the entire East Coast is still vulnerable to significant impacts. Residents in East Coast counties should continue to monitor local reports and stay vigilant.1,3928:15 AM – Aug 31, 2019Twitter Ads info and privacy568 people are talking about this
President Trump on Friday approved an emergency declaration for Florida and "ordered federal assistance to supplement state, tribal and local response efforts due to the emergency conditions resulting from Hurricane Dorian," the White House said.
"Looking like our great South Carolina could get hit MUCH harder than first thought," the president tweeted Saturday morning. "Georgia and North Carolina also. It's moving around and very hard to predict, except that it is one of the biggest and strongest (and really wide) that we have seen in decades. Be safe!"

Donald J. Trump✔@realDonaldTrump
Looking like our great South Carolina could get hit MUCH harder than first thought. Georgia and North Carolina also. It's moving around and very hard to predict, except that it is one of the biggest and strongest (and really wide) that we have seen in decades. Be safe!36.7K9:00 AM – Aug 31, 2019Twitter Ads info and privacy14.6K people are talking about this
Authorities have cautioned all residents to prepare and have seven days' worth of food, water and medicine.
"It is imperative that all Floridians and their families take Hurricane Dorian seriously," DeSantis said Friday night. "The time to prepare diminishes by the hour, particularly because we are still uncertain of where it will make landfall. Everyone should have seven days of food, water and medicine in preparation for this storm. Additionally, all residents need to be prepared to evacuate, should that be required."
No mass evacuations have been ordered yet because of the uncertainty of Dorian's path.
"Sometimes if you evacuate too soon, you may evacuate into the path of the storm if it changes," DeSantis said.
The Navy has ordered dozens of warships and aircraft to evacuate two bases in northeast Florida ahead of Dorian's anticipated arrival, and "Sortie Condition Alpha" was declared Thursday for ships homeported at Mayport Naval Station at the mouth of the St. Johns River east of Jacksonville. "Sortie Condition Alpha" means units must prepare to dispatch or deploy because destructive weather is expected within 24 hours.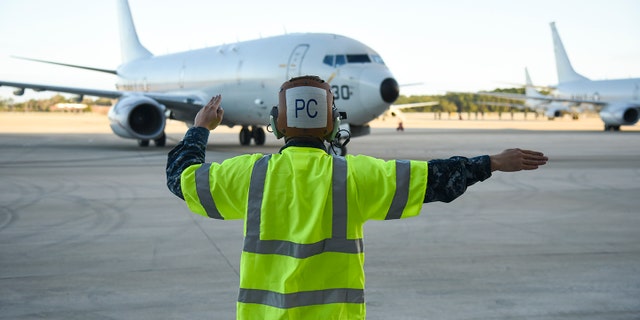 Aviation Machinist Mate 3rd Class Benjamin Harrell signals the crew of a P-8A Poseidon patrol aircraft. (U.S. Navy photo by Mass Communication Specialist 2nd Class Sean R. Morton/Released)
A U.S. Air Force spokesperson told Fox News there were aircraft evacuations ordered at Homestead Air Reserve Base in Miami-Dade County for 25 F-16s, Patrick Air Force Base in Brevard County for 24 C-130s, Jacksonville International Airport for 20 F-15s, Moody Air Force Base in Georgia for 2 HH-60 and 34 A-10s, MacDill Air Force Base in Tampa for 16 Kc-135s, Joint Base Charleston for 24 C-17s, and Savannah International Airport for 5 C-130s.
President Donald Trump is at Camp David this weekend, but he spent some time Saturday golfing at Trump National Golf Club in Sterling, Virginia.
The President received hourly briefings on Hurricane Dorian, according to White House Press Secretary Stephanie Grisham.
"He has someone traveling with him to specifically brief him on an hourly basis," Grisham said in an email Saturday afternoon.
The President had canceled a diplomatic trip to Poland to monitor the storm's progress.
It was better for the President to stay in the country, Grisham told the White House press pool. "We're more nimble and all his agencies are here," she said.1 hr 13 min ago
At a Glance
Dorian is a Category 4 major hurricane moving through the western Atlantic Ocean.
A tropical storm watch has been issued for Florida's East Coast.
A hurricane warning is in effect for the northwestern Bahamas, where Dorian will arrive Sunday.
Dorian is a threat for the Southeast from Florida to North Carolina next week.
The most likely scenario is a track near the Southeast coast, but that forecast may change.
Residents along the East Coast should monitor the progress of Dorian closely.
Hurricane Dorian is a powerhouse Category 4 hurricane that is a prolonged danger for parts of the Bahamas, Florida, Georgia, and the Carolinas well into next week.
A tropical storm watch has been issued for portions of Florida's east coast from Deerfield Beach to Sebastian Inlet.
Dorian's center is about 170 miles east of Great Abaco in the Bahamas. The hurricane has begun to slow its forward motion and is moving toward the west at 5 to 10 mph.
A hurricane warning is in effect for much of the northwestern Bahamas, including Freeport, Grand Bahama, and Nassau, New Providence Island. Andros Islands is in a hurricane watch.
A warning is typically issued 36 hours before the anticipated first occurrence of tropical-storm-force winds (39-plus mph), conditions that make outside preparations difficult or dangerous.
A tropical storm watch has been issued for portions of the east coast of Florida from Deerfield Beach to Sebastian Inlet.
Tropical storm watches mean winds of 40 mph or greater are possible within 48 hours.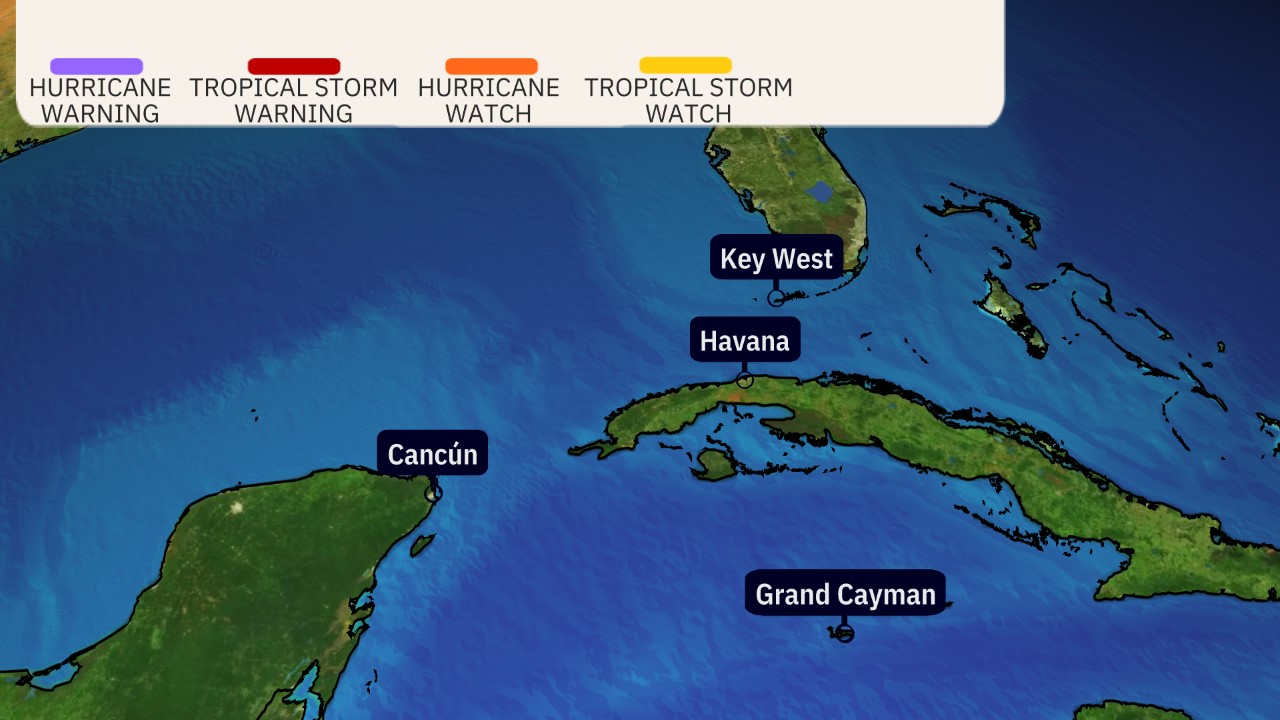 Winds will increase and tropical-storm-force winds expected to begin Saturday night or early Sunday in the northern Bahamas. Destructive hurricane-force winds are expected on Sunday.
Friday night, a Hurricane Hunter mission found Dorian had become a Category 4 hurricane. Dorian met the criterion for "rapid intensification", increasing from a Category 2 to Category 4 hurricane from Friday morning through Saturday morning.
A Saturday morning mission found the hurricane's central pressure had dropped to 944 millibars, a 28 millibar drop in just 24 hours. Lightning was observed in the intense convection of the northern eyewall, sampled by a Hurricane Hunter onboard Doppler radar.

National Hurricane Center✔@NHC_Atlantic
Here a look inside the clear eye of #Dorian this morning from the @HRD_AOML_NOAA Hurricane Hunter P-3 Aircraft. Picture credit Paul Chang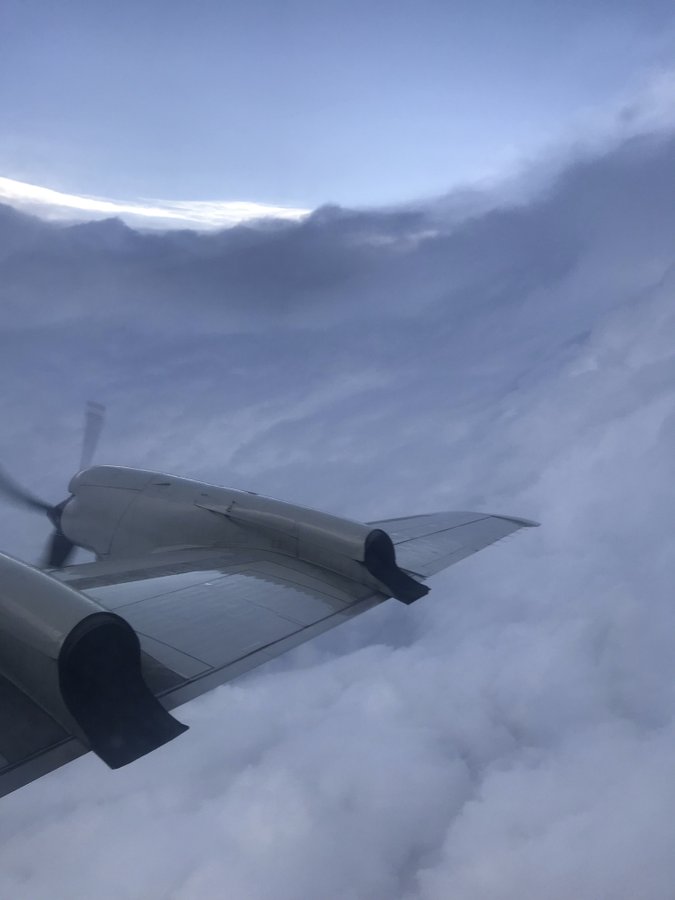 5,6966:33 AM – Aug 31, 2019Twitter Ads info and privacy2,676 people are talking about this
Below is the latest on Dorian's timing and what we know about potential forecast impacts right now.
Dorian's Forecast Timing
Into Saturday Night: Dorian will continue to slow its forward motion and will likely begin to impact the northwestern Bahamas with tropical-storm-force winds by Saturday night.
Sunday: Dorian's hurricane siege will begin in the northwest Bahamas as it continues to slow down. Tropical-storm-force winds may begin to arrive in parts of Florida Sunday night. Large swells should begin to arrive at the coast from North Carolina to Florida.
Monday: Dorian may still be hammering the northwest Bahamas as it crawls slowly. Bands of rain, strong winds may affect parts of Florida. How strong the winds will depend on how close the center of Dorian is to the Florida coast, which is uncertain at this time.
Tuesday-Thursday: Dorian is expected to move north, then northeast near the coasts of Florida, Georgia, South Carolina, and North Carolina. The exact track is very uncertain, ranging from a track far enough offshore to keep hurricane-force winds away from land, to a landfall anywhere in this zone.
Friday-Next Saturday: Dorian is then expected to race off the Northeast Seaboard, but could track close enough to bring rain and some wind to the Virginia Tidewater, Nantucket, Martha's Vineyard, and Cape Cod, before it heads toward the Canadian Maritimes by next weekend.
Dorian's Track Uncertainty
Uncertainty continues to be high when it comes to exact forecast impacts in the southeastern U.S. However, all interests in the Bahamas, Florida, Georgia and the Carolinas should have their hurricane plans ready and monitor the forecast of Dorian closely.
The myriad of track possibilities range from a Florida landfall and track northward through the Florida Peninsula to landfall somewhere in the Carolinas to a scrape of the Southeast coast without the center ever moving ashore to a sharper northeast turn well offshore.
The uncertainty in Dorian's exact track is mainly related to an area of high pressure off the East Coast and when it fizzles.
That Bermuda high is currently steering Dorian toward the west-northwest but is expected to weaken, leaving Dorian stuck for a day or two, after which it then is expected to turn north, then northeast.
Exactly when it makes those north and northeast turn is critical. If those turns occur later, it's more of a landfall danger for parts of the Southeast coast. If it makes those turns sooner, the threat of landfall is less, particularly in Florida and Georgia.
Regardless of its exact track, Dorian is likely to be a dangerous hurricane when it nears the U.S. Southeast coast.
Furthermore, as we saw with Hurricane Matthew in 2016, a hurricane doesn't have to make landfall in an area to produce significant impacts. Source
Dorian's Storm Surge, Wind and Rain Impacts
FEMA official: Dorian is a 'long-duration nail-biter'
People in Dorian's potential path should not grow complacent, FEMA Deputy Associate Administrator for Response and Recovery David Bibo warned Saturday, calling the Category 4 hurricane a "long-duration nail-biter."
The storm is forecast to slow down near the Bahamas on Sunday before heading north toward Florida's east coast. People in Georgia, South Carolina, and North Carolina should be prepared for strong winds and storm surges, Bibo said.
Since the storm's path could still change, FEMA is prepared to send food, water, and other supplies wherever they're needed, officials said.1 hr 34 min ago
Brevard County, Florida, is delaying mandatory evacuations at least 24 hours
Emergency officials in Brevard County, Florida, are postponing mandatory evacuations for 24 hours, they announced Saturday.
Friday evening officials had called for evacuations to begin Sunday morning at 8 a.m. But now that Dorian is expected to slow and its forecast path has shifted east, officials say residents should begin evacuating Monday at 8 a.m.
"This is not your government saying we're out of harm's way," said Public Safety Director Matt Wallace insisted in a news release. "This is still a killer storm. We want our residents to remain vigilant, to protect your family and loved ones and to make smart decisions."
See more about the Brevard County evacuations below:
8/31/19|2:30PM| #PressRelease: #Dorian Slows; Brevard County Delays Mandatory Evacuations 24 Hrs. Read: https://bit.ly/2UmQTv9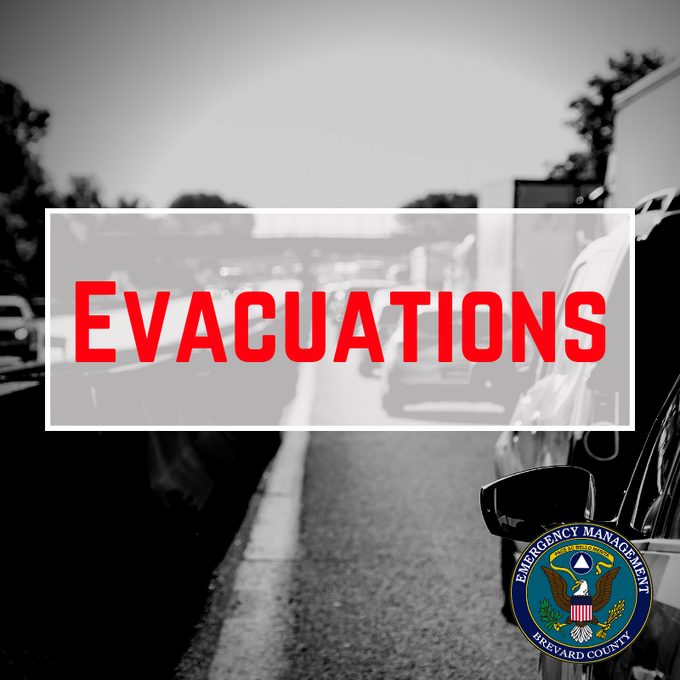 251:34 PM – Aug 31, 2019Twitter Ads info and privacy36 people are talking about this1 hr 43 min ago
Some residents of Volusia County, Florida, could see evacuation orders on Monday, officials say
Officials in Volusia County, Florida, don't expect to see tropical-storm-force winds until Tuesday or Wednesday. But they still want residents to be prepared.
"The storm is projected to stay to the east of Volusia County, but we are by no means out of harm's way," Emergency Management Director Jim Judge said in a news conference Saturday.
Residents in mobile home parks, low-lying areas and along the beach could see mandatory evacuation orders on Monday, officials said. They anticipate opening shelters that morning at 10 a.m….
"I urge everyone to remain vigilant, continue to watch the forecasts, and keep your preparations in place," County Manager George Recktenwald said, according to a news release.2 hr 10 min ago Source
Well, that certainly escalated quickly. On Wednesday we were told that Hurricane Dorian would only be a Category 3 storm when it hits the Florida coastline, but now we are being told that it will be a Category 4 storm. Hurricane Dorian is rapidly gaining strength over very warm waters in the Atlantic Ocean, and the latest forecast has it making landfall somewhere along the east coast of Florida on Monday. If it is officially a Category 4 storm when it arrives, it will be the most powerful storm to hit the east coast of Florida since Hurricane Andrew in 1992. Dorian is being described as a "monster hurricane", and Florida Governor Ron DeSantis has already declared a state of emergency for all 67 counties in the state of Florida.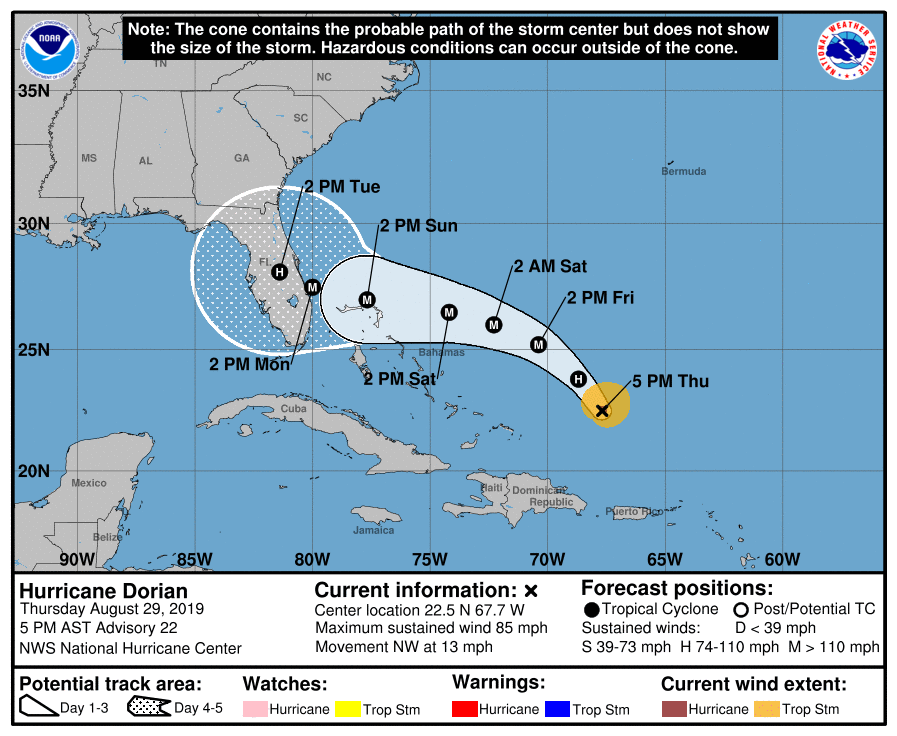 Tracking Dorian: Here's the latest track for Hurricane Dorian
Up-Dated 8-31-2019
Hurricane Dorian could strike close to Trump's Mar-a-Lago — or even his Doral resort
Hurricane Dorian is headed for Florida, and President Donald Trump's Mar-a-Lago and Trump Doral resorts in South Florida are within reach of the path that the National Weather Service was predicting Thursday evening.
The hurricane is projected to make landfall Monday afternoon as a Category 4 storm, and Gov. Ron DeSantis has declared a state of emergency in Florida. Thursday evening, Melbourne was at the center of the forecast cone. Mar-a-Lago is in Palm Beach, roughly 100 miles south of Melbourne. Trump Doral is about 180 miles south of Melbourne.TOP ARTICLES SKIP AD

Donald J. Trump✔@realDonaldTrump
Hurricane Dorian looks like it will be hitting Florida late Sunday night. Be prepared and please follow State and Federal instructions, it will be a very big Hurricane, perhaps one of the biggest!58.8K6:03 AM – Aug 29, 2019Twitter Ads info and privacy26.8K people are talking about this
All employees of Mar-a-Lago aside from security have been sent home until the hurricane passes, a representative said. The club is currently closed until October for the off-season. At Trump Doral, pools and other amenities are closed while generators have been put in place to supply power if needed, a representative said.
While he joins DeSantis and other government officials in telling Florida to prepare, the president also announced he would cancel his trip to Poland in order to monitor the storm.

National Hurricane Center✔@NHC_Atlantic
The @HRD_AOML_NOAA Hurricane Hunters are providing valuable radar data in the inner-core of #Dorian this morning. Here's a look from the @NOAA_HurrHunter radar on the most recent trip through the center. Get the latest Dorian forecast at http://hurricanes.gov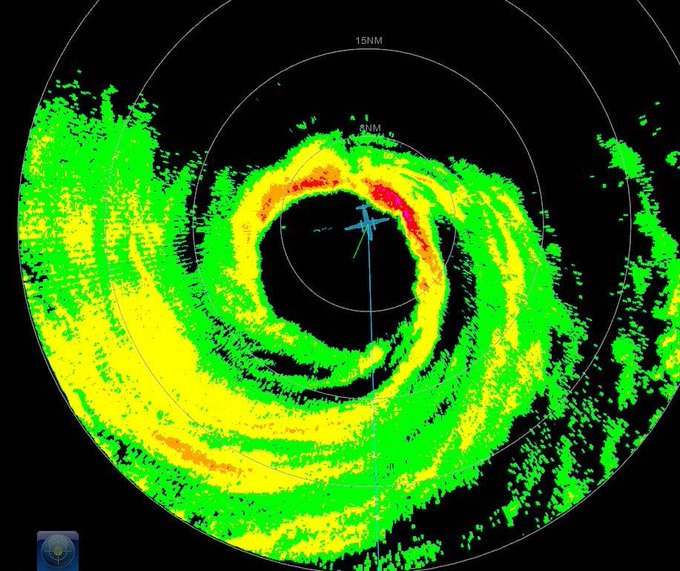 "It's something very important for me to be here," Trump said at a White House event establishing the U.S. space command. "The storm looks like it could be a very, very big one indeed."
Some questioned on social media whether the decision to cancel the trip was tied to the president's resorts' locations within the cone. The Trump Organization could not be immediately reached for comment.

Funny how Trump canceled his trip to Poland when the hurricane is on the path to destroy his precious Mar-a-Lago but made no such plans when he thought the hurricane would hit Puerto Rico.824:10 PM – Aug 29, 2019Twitter Ads info and privacy38 people are talking about this
Others voiced concern that if either resort was hit by the storm, Trump would exploit those damages to reap benefits from insurance. In 2005, the president said he received a $17 million insurance payout for damages to Mar-a-Lago, but the Associated Press found little evidence that the damage matched the price tag.
Let's be real, Trump is hoping #HurricaneDorian completely demolishes Mar-a-logo so he can use taxpayer money to rebuild it bigger and better than before.75:36 PM – Aug 29, 2019Twitter Ads info and privacySee Craig B.'s other Tweets
Former Canadian Prime Minister Kim Campbell drew attention when she tweeted Thursday that she was "rooting for a direct hit" on Mar-a-Lago. On Friday, she deleted the tweet, apologizing "to all it offended." She instead posted another tweet saying she wished she could believe Dorian would "shake up Trump's climate change denial."

Well, we will see if Mrs. Post's design can stand up to the assault! I know Palm Beach well and am sorry if it gets a big hit. I wish I cd believe that it wd shakeup Trump's climate change denial! Only today his admin has removed regs to limit methane- a worse GHG than CO2! https://twitter.com/grantstern/status/1167145246280441857 …Grant Stern✔@grantsternHurricane Dorian is now projected to grow into a Cat. 4 storm.

One of the most accurate storm predictions, the European Model expects a track that would strike a full frontal blow on Trump's Mar-a-Lago Club in Palm Beach, Florida.#ThursdayThoughts 6387:20 PM – Aug 29, 2019Twitter Ads info and privacy2,005 people are talking about this
Trump Doral recently entered the spotlight when the president announced that he was considering the resort for the location of the G-7 (Group of Seven) summit in 2020, renewing interest in a 2016 lawsuit that alleged the resort had bedbugs. Trump denied the allegations, calling them "a nasty rumor," and said the resort was "perfectly located" for the G-7 summit.
Another landmark threatened by Dorian was Jeffrey Epstein's "pedophile island." Little Saint James Island narrowly escaped the brunt of the storm as it passed through the U.S. Virgin Islands.
We will see how things develop over the next several days, but at this point, it has become clear that Dorian has the potential to be an exceedingly dangerous storm.
In fact, President Trump himself is telling us that Dorian could be "perhaps one of the biggest" hurricanes that the U.S. has ever seen…
Hurricane Dorian looks like it will be hitting Florida late Sunday night. Be prepared and please follow State and Federal instructions, it will be a very big Hurricane, perhaps one of the biggest!
The reason why meteorologists are so concerned is that Dorian will be traveling over extremely warm waters for the next 48 hours, and that means that we should see "steady intensification during the next 2 to 3 days"…
"The warmer the water, the more moisture is in the air,'' the website for the National Oceanic and Atmospheric Administration says. "And that could mean bigger and stronger hurricanes.''

The weather service said current conditions in the Atlantic "should allow for at least steady intensification during the next 2 to 3 days.''
We haven't seen such favorable conditions for a storm in a very long time, and so ultimately it is difficult to project just how bad this storm will turn out to be.
At this point, authorities are telling us that we should expect winds of "at least 130 mph" when it finally strikes the mainland…
It is in that kind of environment that Hurricane Dorian, currently at Category 1, is expected to gain considerable strength as it heads northwest, with the Sunshine State almost certainly on its path.

Forecasts call for Dorian to increase in intensity and become a Category 4 hurricane, with winds of at least 130 mph, and it could strike the U.S. on Labor Day. The National Hurricane Center says it will "remain an extremely dangerous hurricane through the weekend.''
It is interesting to note that Thursday was the 14th anniversary of Hurricane Katrina hitting New Orleans. We remember what a monstrous storm that was, but the truth is that it was only a Category 3 storm when it made landfall…
New Orleans Mayor LaToya Cantrell commemorated the 14th anniversary of Hurricane Katrina today during a wreath-laying ceremony.

LaToya and other public officials gathered at the Katrina Memorial on Canal Street to remember the victims of the storm, which made landfall near Grand Isle, Louisiana, in 2005 as a Category 3 storm with winds near 127 mph.
So that means that Hurricane Dorian has the potential to be worse than Hurricane Katrina.
And Florida is not the only state that is in danger. Some meteorologists are warning that after it passes over Florida, Dorian could enter the Gulf of Mexico, restrengthen, and make "a second landfall" somewhere along the Gulf Coast…
Though it's forecast to hit somewhere along the east coast of Florida, there "is certainly a chance that the storm could drift into the Gulf of Mexico and produce a second landfall," noted University of Georgia meteorologist Marshall Shepherd in Forbes.
In addition, we shouldn't discount the possibility that Dorian could continue turning south, bypass Florida entirely, and enter the Gulf of Mexico as one of the most dangerous storms that we have ever seen.
Affiliate Links
Do You Have a Plan to Survive?

Needless to say, that would definitely be a "nightmare scenario", and there are many of us that will be watching the development of this storm with great interest.
We just don't know how this storm is going to play out yet, but store shelves in Florida are already being stripped clean as residents feverishly prepare for what is ahead…
In Port Orange, 40 miles northeast of Orlando, Brooke Koontz found shelves of bread and water nearly empty at a Walmart on Wednesday. There were also slim pickings among canned goods, toiletries and bananas, too.

Thankfully, soon after she arrived, employees brought out a pallet of water.

"It was gone in seconds," she told CNN. "People were trying to race."
Of course, if they had gotten prepared in advance, there would be no need to panic.
What is happening in Florida right now should be a lesson for all of us. If a horrific national crisis of some sort were to suddenly erupt, food and other critical supplies would disappear from the stores almost instantly. If you were not one of the lucky few that got to the stores in time, you would be forced to depend on whatever you already had on hand. And for many Americans, that is not a whole lot.
If this storm is as powerful as they are now projecting, it is likely that there will be widespread power outages. One south Florida resident told one reporter that his family was without power for 13 days after Hurricane Irma struck two years ago…
Sanchez, who was filling tanks of gas for generators after he waited his turn, told NBC affiliate WBBH of Fort Myers that he didn't want to have to relive what he and his family went through during Hurricane Irma two years ago.

"We were stuck with no electricity for almost 13 days, so you see I'm going to be prepared," he said.
It certainly appears that this storm will be much more powerful than Hurricane Irma was when it made landfall, and that is really, really bad news for those living in the Sunshine State.
Let's keep them in prayer, and let's also hope that this storm doesn't get into the Gulf of Mexico because that would be the worst scenario of all for this storm.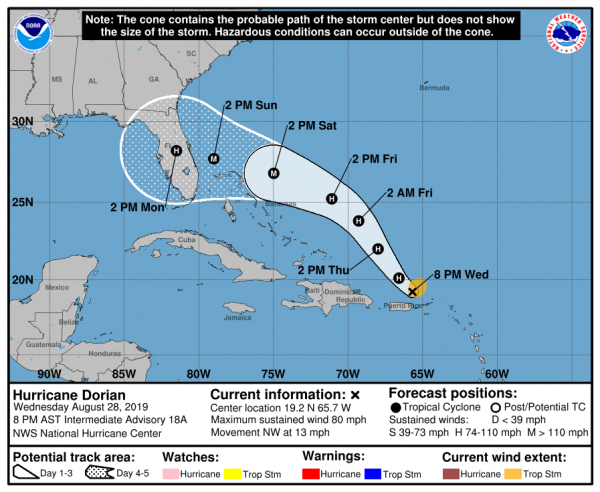 It now appears that Dorian is going to become a very dangerous storm. When I first heard about Dorian, I wasn't that concerned because it was a relatively small storm and it was a long way from the east coast. But with each day this storm has become more ominous, and now it looks like it could absolutely hammer the southeast coastline on Labor Day weekend. At this point, meteorologists don't really know where it will make landfall, but their best projections suggest that it could be somewhere along the east coast of Florida. Between now and Labor Day weekend, Dorian will travel over some extremely warm waters, and as you will see below that makes it "a perfect candidate" to become a very powerful storm. Whenever the month of September rolls around, many of us keep a very close eye on any possible hurricanes, and Dorian certainly has the potential to become a monster. Toward the end of this article, I will discuss what I believe would be a "worst-case scenario" for this storm.
For the moment, Dorian is headed toward open water, and the National Hurricane Center is anticipating "marked intensification" over the next 72 hours…
As a strengthening Dorian continued to unleash its might on parts of Puerto Rico and the U.S. Virgin Islands, the storm headed northwest toward the Atlantic Ocean, where it is expected to grow into a "dangerous hurricane."

That's the latest word from the National Hurricane Center, whose 5 p.m. ET forecast calls for Dorian to pick up steam over the Atlantic's warm water and head toward the U.S. coast as a Category 3 hurricane with winds of at least 111 mph. It's now a Category 1, with sustained winds of 80 mph, but the NHC predicts "marked intensification" in the next 72 hours.
Although the official forecast is projecting that Dorian will become a Category 3 hurricane, Weather Underground meteorologist Bob Henson has noted that one model is suggesting there is a 31 percent chance that it could become a Category 4 storm… Source
The National Hurricane Center provides an update on Hurricane Dorian | USA TODAY
Hurricane Dorian is now expected to hit Florida even harder than previously thought, prompting a widened state of emergency. The storm is on track to make landfall early Monday as a powerful Category 4 hurricane — it could be the strongest direct hit to Florida's east coast since Hurricane Andrew in 1992.
Florida residents rushed to supermarkets across the states collecting food and supplies.
The National Weather Service said Dorian could bring a "triple-threat of dangers" to Florida — including "life-threatening storm surge, devastating hurricane-force winds and heavy rains." They urged Floridians to "prepare NOW."
The official NHC forecast calls for steady strengthening of Dorian, bringing it to Category 3 strength by Saturday with 115-mph winds. It is certainly possible that rapid intensification will occur before that point, which could quickly bring Dorian to major-hurricane strength. In fact, the Rapid Intensification Index in the 18Z Wednesday run of the SHIPS model gives a 33% chance of Dorian's sustained winds reaching Category 3 strength by Thursday afternoon, and a 31% chance of Category 4 strength by Friday afternoon. These are far above typical climatological values, but they cannot be discounted given the very favorable conditions at hand.
Affiliate Links
Learn to Thrive When the World Crumbles
As a point of reference, Hurricane Katrina was just a Category 3 storm when it finally made landfall.
So a Category 4 storm is definitely not to be scoffed at.
And the more Dorian stays over open water the more powerful it is likely to become. If Dorian had passed over the mountains of Puerto Rico and the Dominican Republic, it would have weakened significantly, but that didn't happen…
The reason the storm has shifted is because its circulation has been rather disorganized and big convective bursts (clusters of thunderstorms) on the east side of the circulation are making the system lopsided, pulling and tugging the center further east.

This means Dorian will avoid the beating it would have taken if the system had passed over the high mountains of Puerto Rico and the Dominican Republic. Instead, it will emerge north of the islands tonight as a healthy storm system. That healthy system can then more easily intensify as it moves north.
Now the storm is headed for very warm water, and conditions over the coming days make it a perfect candidate "for rapid intensification"…
The clockwise flow around the ridge of high pressure will also guide Dorian westward towards the Bahamas, reaching the islands by Saturday and Sunday. Throughout Dorian's track from Friday to Monday, it will be moving over very warm water ranging from 85 to 90 degrees Fahrenheit. In order for a tropical system to strengthen, water temperatures must be 80 degrees or higher. Clearly these ocean temperatures are plenty warm enough.

Another important factor is Dorian's small size. Smaller storms have a tendency for faster intensity shifts. And since they are smaller, they can more easily concentrate much of their energy near their core. Small systems, like Dorian, are perfect candidates for rapid intensification, especially when very warm water is waiting.
If Dorian makes landfall on the east coast of Florida as a Category 3 or Category 4 storm, that will be a major disaster.
But it won't be a worst-case scenario.
To me, a "worst-case scenario" would be if Dorian grazes Florida or bypasses it all together and enters the Gulf of Mexico where it strengthens even more before slamming into the Gulf Coast. And according to Weather Underground, this storm has the potential to do just that…
The 12Z Wednesday ensemble runs of the GFS and European models continued to focus on Florida's Atlantic coast, where the large majority of members now predict landfall. Both of the models shifted a bit south compared to their 0Z Wednesday runs, with the average projected landfall point now at Florida's central Atlantic coast as opposed to the northeast coast. A westward track across central or southern Florida, as projected by a number of members in both ensembles, would bring Dorian into the Gulf of Mexico, where it could go on to affect the northern Gulf Coast at some point next week.
Ultimately, we don't know where this storm will strike yet, and so everyone living in the entire Southeast should be getting prepared to deal with Dorian. In an article that was just published, Dagny Taggart suggested some things that many people don't think about…
Trim any trees that are hanging over your house.
Check your supply of batteries.
Figure out what might become a projectile in your yard and make a plan to secure it.
Clean out your gutters
Check your roof to be sure that there aren't any loose shingles or potential places for a leak.
And for a more comprehensive list, I would recommend the Red Cross hurricane safety checklist that you can find right here.
Hopefully, this storm will eventually fizzle out and won't become a major threat.
How to Prepare for Catastrophe
Survival Supplies
But right now it doesn't look like that will happen, and so we all need to keep a very close eye on it over the next several days.
The people spreading concrete information on the dangers of globalism are accomplishing far more than those sitting around buying bitcoin or passing around Q-cult nonsense.
StevieRay Hansen
Editor, HNewsWire.com
Let Me Make This Abundantly Clear. (I Am Apolitical) While I Have a General Distaste for Politicians No Matter the Party They Belong To, I Am Unashamedly Politically a Bible Believing Conservative Christian. I Have a Severe Distrust of Government. I Believe It Is the Most Inefficient and Ineffective Way to Accomplish Most Things. While I Strongly Disagree with Liberals/Progressives and Conservative on Most Political Issues, and While I Believe Liberals/Progressives and Most Politicians Are Terribly Misguided and Naive About What Big Government Will Eventually Result In, I Strive to Not Question Their Motives. at the Same Time, While I Find Myself in Agreement with Conservative Politicians on Some Issues, I Do Not Believe Electing Republicans Is the Answer to Everything. for Me, Very Sadly, the Main Difference Between Republicans and Democrats Is How Quickly They Want to Drive the Car Towards the Cliff. Simply put, I do not believe the government is the solution for everything. I do not place any faith, trust, or hope in any politicians to fix what is wrong with the world. "Come Lord Jesus!" (Revelation 22:20)
Education is useless without the bible (Daniel Webster)
Usually, the Lord doth no great thing for or against his people, without giving warning of it before it comes.
John Wesley who said that what we tolerate in our generation, will be embraced by the next. Wesley is 100% correct! We are living in sick times.
Evil Exists So Spiritual Warfare Becomes Necessary!
Corinthians 4:8-11 New King James Version (NKJV)
We are hard-pressed on every side, yet not crushed; we are perplexed, but not in despair; 9. persecuted, but not forsaken; struck down, but not destroyed— 10. always carrying about in the body the dying of the Lord Jesus, that the life of Jesus also may be manifested in our body. 11. For we who live are always delivered to death for Jesus' sake, that the life of Jesus also may be manifested in our mortal flesh.
Satan has power over (LGBTQE-TRANS PEOPLE). The "sons of disobedience" referred to in Ephesians 2:2 are those who have not trusted Christ as Lord and Savior (cf. Acts 26:18; 2 Corinthians 4:4; Revelation 13:12). The demons are also under the rule of Satan (Matthew 12:24), and one of his titles is "prince of demons" (Matthew 9:34). Satan has a kingdom (Matthew 12:26) and a throne (Revelation 2:13). Satan is called a prince because he is a ruler and possesses the power to manifest evil in the world through influencing people and commanding demons.
The 127 Faith Foundation: We do not solicit donations from "those on disability, on a fixed income, or those who cannot afford to give." Please Pray!
Or, make checks payable to:
The 127 Faith Foundation
PO Box 127
Pontotoc, TX 76869
The number of Orphans aging out of Child Protective Custody has grown at an alarming rate. The 127 Faith Foundation receives many requests each week to house them at our ranch. Our prayer is that the good people of our country will step up to the challenge and offer financial support for "the least among us." We need your help! StevieRay Hansen, Founder, The 127 Faith Foundation
HNewsWire: Plandemic America has been ruined by Bill Gates, Obama, Joe Biden, and the Satan Soldiers. Evictions might come in waves. There are almost eight…
Read More
We make every effort to acknowledge sources used in our news articles. In a few cases, the sources were lost due to a technological glitch. If you believe we have not given sufficient credit for your source material, please contact us, and we will be more than happy to link to your article.