Update: Food Prices Continue to Soar & It's Getting Worse
After Doubling the Price of Beef, Chicken, and Pork, Food Prices Soar to a Record High.
Stock of Tyson Foods, the world's second largest processor and marketer of poultry, beef, and pork behind Brazil's JBS S.A., is rising 9 percent , setting an all time high and is one of the S&P's top firms this morning...
... after the firm reported blowout earnings (due to passing on increasing food prices) and revealed that it is boosting prices even more as it grapples with a tight labor market and fewer animal herds. According to the research, beef prices soared by 32 percent in the quarter, with chicken up ~20 percent and pork 13 percent .
This helped Tyson's operating margin expand to 11.3 percent , up from 6.7 percent , a year earlier. The rising meat costs has, however, got the Biden administration scrambling as profits continue to grow at meatpackers, but runaway inflation continues to smash Biden's plummeting approval rating.
This is what the firm reported: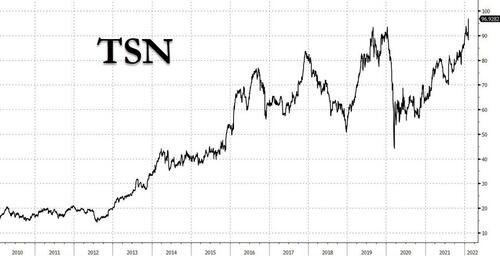 Beef: Sales volume dropped owing to the consequences linked with a challenging labor market and increasing supply chain restrictions, somewhat offset by robust worldwide demand Average sales price climbed as input expenses such as live cattle, labor, freight and transportation costs increased while demand for our beef products remained strong
Pork: Sales volume was up marginally as robust worldwide demand was offset by the difficulties associated with a challenging labor market. Average sales price increased as input prices such as live hogs, labor freight and transportation expenses grew and demand for our pork products remained strong somewhat offset by unfavorable mix linked with labor shortages
Chicken: Sales volume grew mostly owing to increased live output and a robust demand environment. Average sales price increased owing to the consequences of an inflationary cost environment
Prepared Foods: Sales volume dropped owing to the disposal of our pet treats business in the fourth quarter of fiscal 2021 as well as lower production throughput principally related with a tough labor and supply situation Average sales price increased mostly due to the consequences of revenue management in an inflationary cost environment
Overall sales for beef jumped roughly 25 percent to $5 billion, helping Springdale, Arkansas-based Tyson's revenues rise 23.6 percent to $12.93 billion in the first quarter ended Jan. 1. Analysts on average were anticipating sales of $12.18 billion; net income attributable soared to $1.12 billion and excluding adjustments, Tyson earned $2.87 per share, again surpassing predictions of $1.95 per share.
As Bloomberg's Felice Maranz notes, consumer goods companies keep showing they can boost how much they charge customers, who bizarrely don't seem too stretched to pay up despite complaining about inflation at every possible opportunity (and hammering both Joe Biden and the Democrats' approval ratings). That's alleviating margin fears and raising share prices for some of the biggest U.S. corporations.
And speaking of food inflation, brace for more, much more: recent statistics indicated the American cow herd decreased more than predicted, meaning consumers faced further sticker shock. Amazon's stock surge last week was a striking example. The rally came with an increase in the price of Prime membership.
The durability of such benefits, according to Maranz, is an unresolved subject. Consumer products company Kimberly-Clark boosted prices too, but confronts growing costs of its own, combined with supply-chain difficulties - contributing to a collapse in its stock price. And, while Friday's employment data showed average hourly earnings climbed, salaries have failed to keep pace with inflation. That's expected to impact on how far corporations can keep raising prices... and will eventually weigh on risk assets.
Meanwhile, an even larger concern for equities is that rates are growing, too, with U.S. Treasuries down from belly to long-end, steepening crucial yield-curve spreads from lowest levels in months. Yields on 10-year Treasuries are exceeding 1.93 percent with inflation worries boosting bets on the Fed, while European periphery bonds are getting dragged to the woodshed as described before.
If you believe you're spending more at the grocery shop - you're not incorrect. Wholesale prices are at record highs and certain commodities are limited
According to the Labor Government, wholesale prices surged 8.3 percent from August of this year compared to August of 2020 — the highest growth since the department began monitoring such prices more than a decade ago.
"We haven't seen anything yet," said SuperMarketGuru.Com editor and food market expert Phil Lembert. "Prices are going to continue to go up for a solid year and a half."
"The largest rise we will see has to do with anything involving animals," he added, "Whether it's eggs or milk or pork or beef."
Northern California wildfires have devastated their feed supply.
General supply chain concerns including congestion at the Port of Los Angeles and manpower shortages are partly to blame.
"We have a tremendous issue with a shortage of truck drivers," Lembert added. "Refrigerated shipping is up roughly 10.4 percent in cost."
And as costs have grown, supply have reduced.
"We're really having a terrible time locating the sorts of products we want," Postal added.
Cable news observed limited supply of commodities like milk, butter, soda, snacks, paper products and baking ingredients at supermarkets it visited.
"Retailers that are filling out their orders to stock their shelves are not receiving what they order," Lembert added. "It's thought to be anything between 50 and 70 percent of what they order."
Experts believe it still pays to shop around. Shoppers may choose to investigate small grocers or supermarkets with various business models like The Dollar Store or grocery outlets.
According to the Labor Government, wholesale prices surged 8.3 percent from August of this year compared to August of 2020 — the highest growth since the department began monitoring such prices more than a decade ago.
Satan Soldiers Have a Plan For The people, A.K.A Plandemic… You Can Thank Google, Most of the Social Media Platforms, Congress, and Mainstream Media for Lying to You About the Food Shortage… Get Prepared, the Plandemic Seems to Be Working for the New World Order Elitist, Food Shortages Are Coming to America
U.S. consumer inflation remained in an upswing in September, led by a surge in energy, housing and food costs, according to data released Wednesday by the Labor Department.
The Consumer Price Index rose 0.4 percent in September. Year-over-year prices surged 5.4 percent, remaining well way above the Fed's desired level. Excluding food and energy, so-called core prices were up 4 percent in the 12 months through September.
The agency's report (pdf), released Wednesday, breaks down how much prices have increased for certain key services and goods, including gas, food prices, electricity, and used cars:
Gas: 42.1 percent
Meats, poultry, fish, and eggs: 10.5 percent
Propane, kerosene, and firewood: 27.6 percent
Fuel oil: 42.6 percent
Electricity: 5.2 percent
Peanut butter: 6.2 percent
Coffee: 4.0 percent
Bacon and similar products: 19.3 percent
Uncooked beef steaks: 22.1 percent
Furniture: 11.2 percent
Used cars and trucks: 24.4 percent
New cars and trucks: 8.4 percent
Rental cars: 42.9 percent
Footwear: 6.5 percent
Motor vehicle maintenance and repair: 4.0 percent
Postage and delivery services: 3.2 percent
Haircuts and other personal care services: 5.0 percent
Sporting goods: 7.5 percent
Appliances: 7.1 percent
Restaurant prices: 4.7 percent
Rent. 2.9 percent
The Food Shortage, Coming Tribulation… We'd all like to believe that the United States is on the road to economic recovery and that things are going to get better. Everyone wants to think the store shelves are just a few cargo ships away from being refilled.NOT TRUE…
The biggest jumps on an annual basis:
Ground beef: + 10.6 percent.
Steaks: +22.1 percent.
Bacon: +19.3 percent.
Pork roasts, ribs, steaks: +19.2 percent.
Chickens: +17.1 percent.
Fresh fish: +10.7 percent.
Eggs: +12.6 percent.
Peanut Butter: +6.2 percent.
Apples: + 7.8 percent.
Ham: +7 percent.
Baby food: +4.4 percent.
The pace of inflation accelerated in September as Americans paid more for food, rent, new vehicles and other items, government data released Wednesday, Oct. 13, shows https://www.usinflationcalculator.com/charts/inflation/monthly/cpi-inflation-10132021.html
Energy price increases tapered a tad over the month and from a year ago compared to the levels reported in August, but prices overall for food jumped by all measures.
"Today's number, with food price inflation and shelter inflation moving higher, suggests growing pressure on consumers," Reuters quoted Seema Shah, chief strategist at Principal Global Investors. "Keep in mind too that the recent rise in oil prices hasn't yet fed through to the numbers – that's still to come, while the renewed rise in car prices is also likely to drive inflation numbers higher in the coming months."
This story is more about what lies beneath. It's not the pain at the pump you should be worried about. In the days ahead, the New World Order thugs will starve working class citizens to the point of desperation in order to implement their ungodly system of a one-world currency and global domination. SRH: At…
Putin Cause This Inflation
Meet Moses! He's a young man who grew up in the most challenging circumstances. Today, he has larger-than-life goals to achieve something extraordinary.
A Thrilling Ride
Every once in awhile, a book comes across your path that is impossible to put down. A Long Journey Home is not a casual book that you read in a week or earmark to complete at a later date. Once you begin, cancel your schedule, put your phone on silent, find a quiet place where you cannot be disturbed, and complete the journey. Click Here to Purchase on Amazon.com!
If anyone is responsible for global covid deaths, it is Fauci,the US government — the Chinese government and anyone else involved in that gain of ...
Read More

→