Advisory: The editorial board of HNewsWire adopted the official policy to bypass many social media platforms. Some of these include: Facebook, Instagram, Twitter, Parler, and YouTube. We believe these companies are responsible for many of the spiritual ills our world faces today. In some cases, however, we have allowed our guest contributors to include content from their YouTube channel while we search for alternatives.
Satan Soldiers Have a Plan For The people, A.K.A Plandemic… You Can Thank Google, Most of the Social Media Platforms, Congress, and Mainstream Media for Lying to You About the Food Shortage… Get Prepared, the Plandemic Seems to Be Working for the New World Order Elitist, Food Shortages Are Coming to America
U.S. consumer inflation remained in an upswing in September, led by a surge in energy, housing and food costs, according to data released Wednesday by the Labor Department.
The Consumer Price Index rose 0.4 percent in September. Year-over-year prices surged 5.4 percent, remaining well way above the Fed's desired level. Excluding food and energy, so-called core prices were up 4 percent in the 12 months through September.
The agency's report (pdf), released Wednesday, breaks down how much prices have increased for certain key services and goods, including gas, food prices, electricity, and used cars:
Gas: 42.1 percent
Meats, poultry, fish, and eggs: 10.5 percent
Propane, kerosene, and firewood: 27.6 percent
Fuel oil: 42.6 percent
Electricity: 5.2 percent
Peanut butter: 6.2 percent
Coffee: 4.0 percent
Bacon and similar products: 19.3 percent
Uncooked beef steaks: 22.1 percent
Furniture: 11.2 percent
Used cars and trucks: 24.4 percent
New cars and trucks: 8.4 percent
Rental cars: 42.9 percent
Footwear: 6.5 percent
Motor vehicle maintenance and repair: 4.0 percent
Postage and delivery services: 3.2 percent
Haircuts and other personal care services: 5.0 percent
Sporting goods: 7.5 percent
Appliances: 7.1 percent
Restaurant prices: 4.7 percent
Rent. 2.9 percent
The Food Shortage, Coming Tribulation… We'd all like to believe that the United States is on the road to economic recovery and that things are going to get better. Everyone wants to think the store shelves are just a few cargo ships away from being refilled.NOT TRUE…
The biggest jumps on an annual basis:
Ground beef: + 10.6 percent.
Steaks: +22.1 percent.
Bacon: +19.3 percent.
Pork roasts, ribs, steaks: +19.2 percent.
Chickens: +17.1 percent.
Fresh fish: +10.7 percent.
Eggs: +12.6 percent.
Peanut Butter: +6.2 percent.
Apples: + 7.8 percent.
Ham: +7 percent.
Baby food: +4.4 percent.
The pace of inflation accelerated in September as Americans paid more for food, rent, new vehicles and other items, government data released Wednesday, Oct. 13, shows https://www.usinflationcalculator.com/charts/inflation/monthly/cpi-inflation-10132021.html
Energy price increases tapered a tad over the month and from a year ago compared to the levels reported in August, but prices overall for food jumped by all measures.
"Today's number, with food price inflation and shelter inflation moving higher, suggests growing pressure on consumers," Reuters quoted Seema Shah, chief strategist at Principal Global Investors. "Keep in mind too that the recent rise in oil prices hasn't yet fed through to the numbers – that's still to come, while the renewed rise in car prices is also likely to drive inflation numbers higher in the coming months."
Many People Will Head to Food Banks in Order to Feed Their Families…
The DOD Gave $1,000,000,000 That's $1bn in COVID Relief to Defense Contractor Wish Lists, Our Government Is No Longer Subject to the People It Marches Lockstep With the New World Order, They Will Spend This Country and it's People Into Poverty, They Have and Agenda…
A coalition of 40 ideologically diverse organizations on Thursday demanded that federal lawmakers investigate allegations from earlier this week that the Pentagon misused much of $1 billion in congressionally appropriated Covid-19 relief funding for what one critic called "a colossal backdoor bailout for the defense industry."
The groups' call came in a letter (pdf) addressed to Reps. James E. Clyburn (D-S.C.) Steve Scalise (R-La.), leaders of the House Select Subcommittee on the Corona-virus Crisis. The push for a probe was prompted by Washington Post reporting that some tax dollars directed to the Defense Department in March for building up U.S. supplies of medical equipment have "instead been mostly funneled to defense contractors and used to make things such as jet engine parts, body armor, and dress uniforms."
In addition to a probe, the National Taxpayers Union, the Project On Government Oversight (POGO), Win Without War, and 37 other groups urged Clyburn and Scalise to determine whether Congress should pass a bill suspending the Pentagon's spending authority for the funds, arguing that the department's decision-making "violates congressional intent at minimum, and represents a significant breach of trust with the taxpayers who fund the military's budget and its emergency spending."
Win Without War advocacy director Erica Fein said in a statement that "this gross misuse of Covid-19 relief funds provides yet another example of the Pentagon's wasteful, unaccountable spending, which puts the corporate profits of the weapons industry over the lives and well-being of everyday people."
"This scandal should be a wake-up call," she added. "The greatest threats to human security cannot be addressed by funneling money into weapons of war. We must resist the corrupting influence of the military contracting industry, stop pouring our resources into the bloated, unaccountable Pentagon coffers, and instead invest in meeting our country's, and the world's, real human needs."
The United States continued to lead the world in Covid-19 cases and deaths Friday afternoon. There have been more than seven million confirmed infections and over 203,000 deaths nationwide, according to Johns Hopkins University's global tracker. President Donald Trump's administration and Congress have come under fire for inadequately responding to the public health crisis.
The Pentagon gave more than $1,000,000,000 of pandemic-related aid to military contractors for body armor and jet engines. We're joining 40 orgs, along with @SenWarren and @RepRoKhanna, in demanding answers as to how on earth this was allowed to happen.
As the letter the highlights, the Post reported that the Defense Department—which is run by former Raytheon lobbyist Mark Esper—gave at least $183 million to contractors "to maintain the shipbuilding industry" and $80 million to an "aircraft parts business suffering from the Boeing 737 Max grounding."
Additionally, the Pentagon gave $25 million to a firm that also "received between $5 million and $10 million" from the Paycheck Protection Program (PPP); $3 million to a firm that also received between $150,000 and $350,000 from the PPP; and "$2 million for a domestic manufacturer of Army dress uniform fabric."
Chief Pentagon spokesperson Jonathan Hoffman issued a lengthy statement Wednesday defending the spending and criticizing the Post piece. He said in part, "As indicated by recent reporting, there appears to be a misunderstanding by some about what the Coronavirus Aid, Relief, and Economic Security Act ("CARES Act") did and did not do with respect to the Department of Defense."
Hoffman added that the department has been "wholly transparent" in its decisions about the relief funds and claimed that "much of [the] useful context" it provided to the newspaper was "left out of the story leading some to misconstrue the expenditures when in fact they are wholly appropriate as directed by Congress."
Although the Post acknowleged that Pentagon officials "contend that they have sought to strike a balance between boosting American medical production and supporting the defense industry, whose health they consider critical to national security," critics at the groups behind the letter aren't buying that argument.
"It's unconscionable that the department would prioritize defense contractor wish lists over the health and safety of the American people," declared Mandy Smithberger, director of POGO's Center for Defense Information.
DOD has issued statements on stories before, but this is a different level: On @washingtonpost story on #CARESAct funds for defense base. WaPo story was accurate — but created sense something was hidden when DOD (& media & Congress) had it in full view. https://defense.gov/Newsroom/Releases/Release/Article/2358713/statement-on-the-departments-use-of-defense-production-act-title-iii/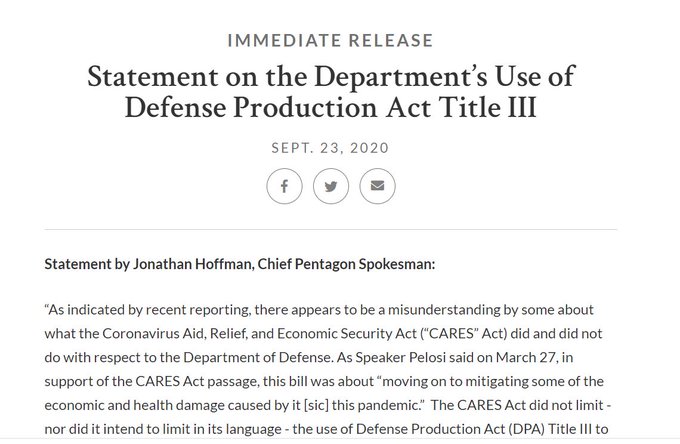 Arguing that Congress was clear it wanted the Pentagon to use its powers to address ongoing shortages of personal protective equipment (PPE), Smith burger said "the American people deserve better judgment from the agency entrusted with leading our national security and responses to unanticipated threats."
Other signatories include Beyond the Bomb, Citizens for Responsibility and Ethics in Washington (CREW), Demand Progress, Greenpeace USA, Indivisible, the National Priorities Project at the Institute for Policy Studies, Peace Action, Physicians for Social Responsibility, Public Citizen, and the Union of Concerned Scientists.
On Friday, Sen. Elizabeth Warren (D-Mass.) and Rep. Ro Khanna (D-Calif.) requested that the department's inspector general investigate reports about the Pentagon's spending, writing that the alleged misuse of funds "meant for the response to the deadly pandemic plaguing our country is inconsistent with the will of Congress and may be illegal."
That request and the groups' collective call for a congressional investigation follow a similar letter that a pair of lawmakers sent Tuesday to Clyburn as well as Reps. Carolyn Maloney (D-N.Y.) and Adam Smith (D-Wash.). Maloney heads the House Oversight Committee while Smith chairs the chamber's Armed Services Committee.
Writing as co-chairs of the Defense Spending Reduction Caucus, Reps. Mark Pocan (D-Wis.) and Barbara Lee (D-Calif.) condemned the Pentagon's actions as "unacceptable." They urged the trio to "review the legality of the Department of Defense's spending decisions and every possible remedy."
Satan Soldier Joe Biden makes my choices, trying to protect me from myself
Ask The Blind Man ,He Saw it All
StevieRay Hansen
Editor,
HNewsWire.com
[email protected]
HNewsWire: "In October, November and December, There Will Be a Terrible Death Rate, Globally" Will Occur "Exclusively" With Vaccinated People. "Those Deaths Will Be Labeled Swiftly as a New Variant Strain of Covid
People are in a state of fear, they are susceptible to manipulation and easy for Satan Soldiers to control."
Trust-WHO-FDA-CDC-GOV.-HELL-NO — TrustGOD Only
Remember when they all said that they were never going to demand forced vaccinations and that the passports were a "conspiracy theory"? Well guess what? We "conspiracy theorists" were right yet again.
The 127 Faith Foundation: We do not solicit donations from "those on disability, on a fixed income, or those who cannot afford to give." Please Pray!
Or, make checks payable to:
The 127 Faith Foundation
PO Box 127
Pontotoc, TX 76869
The number of Orphans aging out of Child Protective Custody has grown at an alarming rate. The 127 Faith Foundation receives many requests each week to house them at our ranch. Our prayer is that the good people of our country will step up to the challenge and offer financial support for "the least among us." We need your help! StevieRay Hansen, Founder, The 127 Faith Foundation
We make every effort to acknowledge sources used in our news articles. In a few cases, the sources were lost due to a technological glitch. If you believe we have not given sufficient credit for your source material, please contact us, and we will be more than happy to link to your article.