Front man, British Trash Emperor Harry Issues 15 Un-Godly Orders for Leaders of the Tech Corporation to Crush Bogus News – StevieRay Hansen: Let Us Start With Fake People – Prince Harry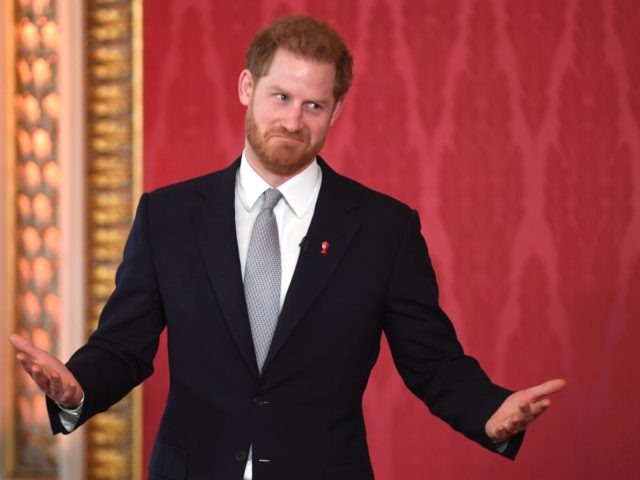 Prince Harry issued a 15-point list of demands Tuesday to drive leaders and the tech industry in the fight against fake news.
The sixth in line to the British throne declared misinformation a "global humanitarian issue" and "super-spreaders" who resist must be held to account "regardless of location, or political views, or role in society."
Harry, who has previously voiced his concerns about an "avalanche of misinformation" driven by digital media, was involved in a six-month study on the state of the U.S. media conducted by the Aspen Institute's new Commission on Information Disorder.
The multi-millionaire Montecito, California, resident was one of 15 commissioners on the report who contributed via research and working groups. Others included Kathryn Murdoch, co-founder of the Quadrivium Foundation along with her husband, James Murdoch – the youngest son of media tycoon Rupert.
U.S. TV journalist Katie Couric was also part of the team working alongside the prince who has spent the better part of two years calling the world to account on a host of issues.
"This looks like Harry is her hairdresser and he's looking into the mirror explaining what he did to her layers." https://t.co/we2xZt1Vqn

— Breitbart News (@BreitbartNews) September 18, 2021
A statement on the Archewell website details 15 key recommendations "for leaders to consider adopting across the public, private, and non-profit sectors."
The report calls for "a new proposal regarding social media platform immunity" and ideas are needed to reverse the collapse of local journalism and the erosion of trusted media. The guidelines for those who resist are clear. It demands leaders:
Hold super-spreaders of mis- and disinformation to account with clear, transparent, and consistently applied policies that enable quicker, more decisive actions and penalties, commensurate with their impacts — regardless of location, or political views, or role in society.
Of the report, tHarry said: "For the better part of a year, we at the Aspen Commission have met regularly to debate, discuss, and draft solutions to the mis- and disinformation crisis, which is a global humanitarian issue.
"I hope to see the substantive and practical recommendations of our Commission taken up by the tech industry, the media industry, by policymakers, and leaders. This affects not some of us, but all of us."
This is not the first time Harry has turned on the media.
Prince Harry Blames Vax Hesitancy on 'Those Who Peddle in Lies and Fear' in New Media, Social Media https://t.co/3hZ6RyYtnu

— Breitbart London (@BreitbartLondon) September 2, 2021
As Breitbart News reported, in September he blamed corona-virus vaccine hesitancy on "mass-scale misinformation across news media and social media."
Using an appearance at the the GQ Men of the Year Awards, Harry complained "Less than two per cent of people in the developing world have received a single dose" of corona-virus vaccine.
He then declared "At the same time, families around the world are being overwhelmed by mass-scale misinformation across news media and social media, where those who peddle in lies and fear are creating vaccine hesitancy, which in turn leads to divided communities and eroding trust."
Harry has also claimed mental health and alleged man-made climate change are linked and both are the most important issues in the world.
"Freedom Passports" And That No Man Might Buy or Sell, Except He That Had the Mark, or the Name of the Beast, or the Number of His Name… The British government has contracted two firms to develop COIVD 'freedom passports', that would be used to segregate society between those who have been tested or vaccinated against COVID and those who have not. While the government is still saying that it will not introduce such a system, the firms have been given instructions to develop an app based system to integrate a QR code linking to a digital passport. The QR code would be used to gain entry into pubs, clubs, venues, cinemas, basically anywhere in public. "After scanning in the code, the venue could refuse entry to those without a recent negative result," the Daily Mail notes. The 'negative Covid-19 test…
It's interesting to me you don't find the words plague(s) and pestilence in the New Testament under any context other than the judgment of God.  (In fact, for the most part, the context of those words in the Old Testament is also within the judgment of God.)
Source: HNewsWire    HNewsWire    breitbart    Reference
StevieRay Hansen
Editor,
HNewsWire.com
[email protected]
The worst-case scenario is outright civil war. This is too horrible to contemplate, but this possibility is real. President Biden said his patience is wearing thin. That works both ways. Things are getting tense in Australia. It could happen here, too.