Advisory: Be careful of what you read on social media. The algorithms used by these platforms have no regard for Biblical truth. They target your emotions to keep you engaged on their site so their advertisers can drop more ads. These platforms exist to enrich their stockholders. Consider God's promise to Believers in James 1:5, "If any of you lacks wisdom, you should ask God, who gives generously to all without finding fault, and it will be given to you."
Satan Soldiers Have a Plan A.K.A Plandemic…
You Can Thank Google, Most of the Social Media Platforms, Congress, and Mainstream Media for Lying to You About the Food Shortage… Get Prepared, the Plandemic Seems to Be Working for the New World Order Elitist, Food Shortages Are Coming to America
Back in December, SocGen's resident market skeptic Albert Edwards shared with the world why he is starting to panic about soaring food prices. And since that was before food prices really took amid broken supply chains, trillions in fiscal stimulus and exploding commodity costs, off we can only imagine the sheer terror he must feel today.
A United Nations index of world food costs climbed for a 12th straight month in May, its longest stretch in a decade, rising to the highest in almost a decade, heightening concerns over bulging grocery bills.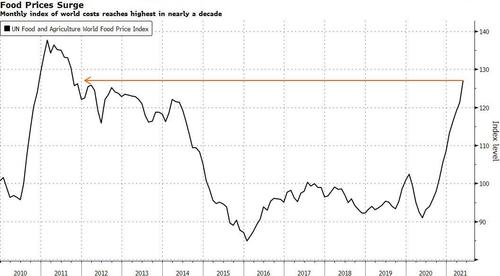 All five components of the index rose during the month, with the advance led by pricier vegetable oils, grain and sugar.
Month after month, the UN's Food and Agriculture Organization's food price index continues to soar to levels not seen in a decade. Soaring food prices have tremendous implications on societal trends and may result in unrest in emerging market countries if trends persist.
For May, the FAO Food Price Index, which measures monthly changes for a basket of cereals, oilseeds, dairy products, meat, and sugar, surged to an average of 127.1 points in May, 4.8% higher than in April and 39.7% higher than in May 2020.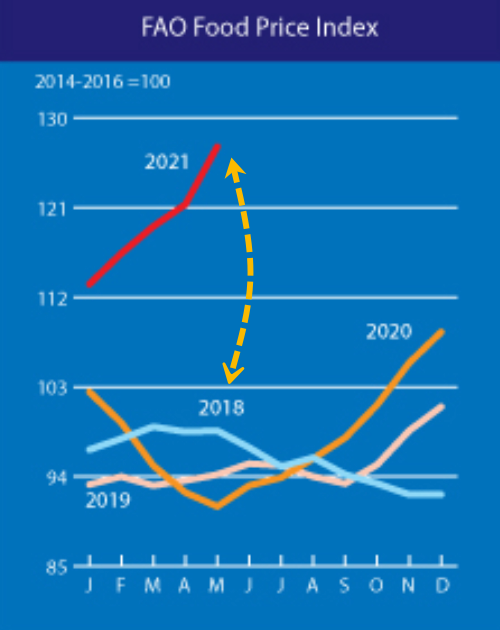 The Rome-based FAO data said prices of vegetable oils, sugar, and cereals drove the increase in the overall index to the highest level not seen since September 2011 and only 7.6% below its all-time high in nominal terms.
FAO's cereal price index rose 6.0% in May over last month and 36.6% year-on-year. Maize, also known as corn, is a cereal grain that led the surge and is up 89% over the previous year's value. Wheat prices also saw a jump, up 6.8% in May over the prior month, while rice prices were flat.
The FAO Vegetable Oil Price Index rose 7.8% in May over the prior month, mainly reflecting rising palm, soy, and rapeseed oil prices. Palm oil prices were supported by sluggish production growth in southeast Asia, while prospects of strong global demand. Soyoil prices increased due mainly to the rising demand for biodiesel.
The FAO Sugar Price Index posted a 6.8% month-on-month gain due to harvest concerns and a decline in crop yields in Brazil.
The FAO Meat Price Index inched higher for the month, up 2.2% versus April prices, due mainly to increased import purchases by China.
The FAO Dairy Price Index rose by 1.8% on the month, up 28% from the same period last year.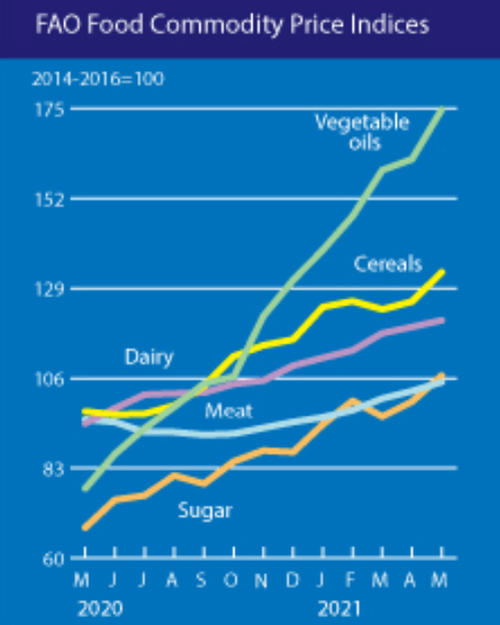 Soaring international food prices began on the onset of the virus pandemic in early 2020.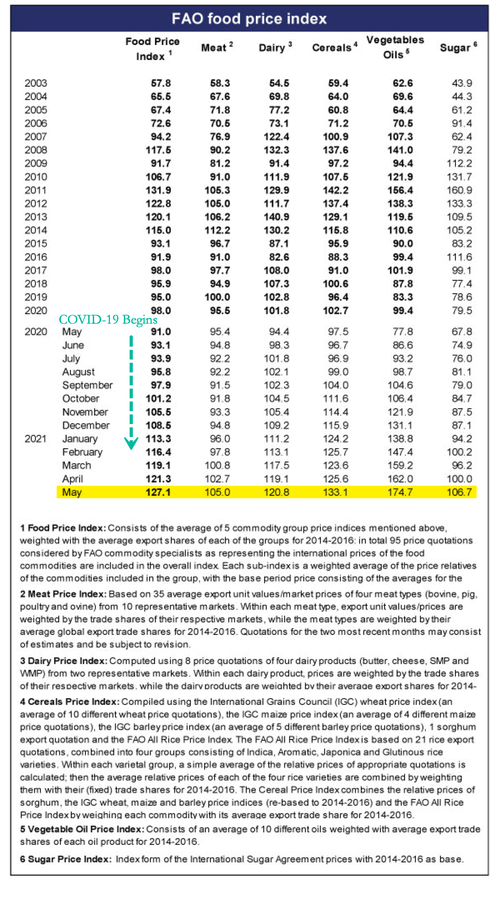 This is a massive problem since food is a significant component of CPI baskets in Asia, and this inflationary impulse will strain households in these emerging markets.
The continued advance risks accelerating broader inflation, complicating central banks efforts to provide more stimulus. It also risks giving Albert Edwards terrifying nightmares.
"We have very little room for any production shock. We have very little room for any unexpected surge in demand in any country," Abdolreza Abbassian, senior economist at the UN's Food and Agriculture Organization, said by phone.

"Any of those things could push prices up further than they are now, and then we could start getting worried."
Besides the usual factors listed above, food prices have also surged as a result of drought in key Brazilian growing regions which has crippled crops from corn to coffee, and vegetable oil production growth has slowed in Southeast Asia. That's boosting costs for livestock producers and risks further straining global grain stockpiles that have been depleted by soaring Chinese demand. The explosive move has stirred memories of 2008 and 2011, when price spikes led to food riots in more than 30 nations and lead to a wave of violent revolutions across Northern Africa and the Middle East.
Meanwhile, as central bankers across the globe vow higher prices are "transitory", the prolonged gains across the staple commodities have trickled through to store shelves, with countries from Kenya to Mexico reporting sharply higher food costs. The pain will be particularly pronounced in some of the poorest import-dependent nations, which have limited purchasing power and social safety nets as they grapple with the pandemic.
As Bloomberg adds, the world's hunger problem "has already reached its worst in years as the pandemic exacerbates food inequalities, compounding extreme weather and political conflicts."
Should violence break out as starving people take to the streets, they can thank not only the Fed but also China, as food price gains in the past year have been fueled by China's "unpredictably huge" purchases of foreign grain, and world reserves could hold relatively flat in the coming season, Abbassian said. Summer weather across the Northern Hemisphere will be crucial to determine if U.S. and European harvests can make up for crop shortfalls elsewhere.
"We have very little room for any production shock. We have very little room for any unexpected surge in demand in any country," Abbassian said by phone.

"Any of those things could push prices up further than they are now, and then we could start getting worried."
Indeed, "getting worried" is the right approach since, as you'll notice from the chart below, the last big surge from the middle of 2010 to early 2011 coincided with the start of the Arab Spring, for which food inflation is regarded as a contributing factor.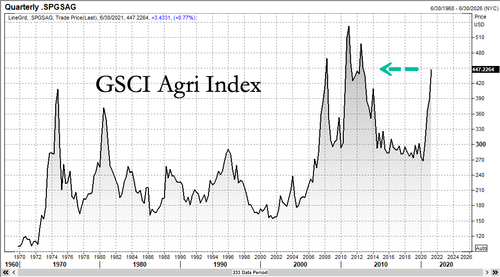 DB's Jim Reid reminds us that emerging markets are more vulnerable to this trend since their consumers spend a far greater share of their income on food than those in the developed world.
… and soaring food prices isn't just an emerging market story. It's also one for developed countries, such as the US. With millions still on pandemic unemployment insurance and the labor market in tatters, disposable personal incomes on food will have to be adjusted higher – straining the ability for people to service bills as they need to eat.
The UN's Abbassian offered some silver lining amid the fear, saying that "we are not in the situation we were back in 2008-10 when inventories were really low and a lot of things were going on… However, we are in sort of a borderline. It's a borderline that needs to be monitored very closely over the next few weeks, because weather is either going to really make it or create really big problems."
We'll see if it is "just the weather" and it's "just transitory"…
Many People Will Head to Food Banks in Order to Feed Their Families… the DOD Gave $1,000,000,000 That's $1bn in COVID Relief to Defense Contractor Wish Lists, Our Government Is No Longer Subject to the People It Marches Lockstep With the New World Order Pukes…
They Have and Agenda…
A coalition of 40 ideologically diverse organizations on Thursday demanded that federal lawmakers investigate allegations from earlier this week that the Pentagon misused much of $1 billion in congressionally appropriated Covid-19 relief funding for what one critic called "a colossal backdoor bailout for the defense industry."
The groups' call came in a letter (pdf) addressed to Reps. James E. Clyburn (D-S.C.) Steve Scalise (R-La.), leaders of the House Select Subcommittee on the Coronavirus Crisis. The push for a probe was prompted by Washington Post reporting that some tax dollars directed to the Defense Department in March for building up U.S. supplies of medical equipment have "instead been mostly funneled to defense contractors and used to make things such as jet engine parts, body armor, and dress uniforms."
In addition to a probe, the National Taxpayers Union, the Project On Government Oversight (POGO), Win Without War, and 37 other groups urged Clyburn and Scalise to determine whether Congress should pass a bill suspending the Pentagon's spending authority for the funds, arguing that the department's decision-making "violates congressional intent at minimum, and represents a significant breach of trust with the taxpayers who fund the military's budget and its emergency spending."
Win Without War advocacy director Erica Fein said in a statement that "this gross misuse of Covid-19 relief funds provides yet another example of the Pentagon's wasteful, unaccountable spending, which puts the corporate profits of the weapons industry over the lives and well-being of everyday people."
"This scandal should be a wake-up call," she added. "The greatest threats to human security cannot be addressed by funneling money into weapons of war. We must resist the corrupting influence of the military contracting industry, stop pouring our resources into the bloated, unaccountable Pentagon coffers, and instead invest in meeting our country's, and the world's, real human needs."
The United States continued to lead the world in Covid-19 cases and deaths Friday afternoon. There have been more than seven million confirmed infections and over 203,000 deaths nationwide, according to Johns Hopkins University's global tracker. President Donald Trump's administration and Congress have come under fire for inadequately responding to the public health crisis.
The Pentagon gave more than $1,000,000,000 of pandemic-related aid to military contractors for body armor and jet engines. We're joining 40 orgs, along with @SenWarren and @RepRoKhanna, in demanding answers as to how on earth this was allowed to happen.
Some Americans Continue to Believe That When They Go to the Internet Some They Will Get a Free Flow of Useful Information That Will Guide Them in Making Decisions or Coming to Conclusions About the State of the World. "Wrong" in Late July, Investigative Journalists Noted That Google Was Apparently Testing Its Technical Ability to Blacklist Conservative Media on Its Search Engine…
That conceit might have been true to an extent twenty years ago, but the growth and consolidation of corporate information management firms has instead limited access to material that it does not approve of, thereby successfully shaping the political and economic environment to conform with their own interests.
Then there's this sad group of people. I'm sure you've encountered them… they actually believe the Big Tech nonsense. They have not only drank the cool-aide but are asking for refills.
Facebook, Google and other news and social networking sites now all have advisory panels that are authorized to ban content and limit access by members. Tribulation…
Danish Authorities Shut Down Access To Bit Chute Over "Dangerous" COVID-19 Information, Its Coming , Do What You're Told or We Will Take Your Toys (Internet) Away…
Authorities in Denmark have shut down much of the country's access to video platform Bitchute in the name of preventing the spread of "dangerous information" about COVID.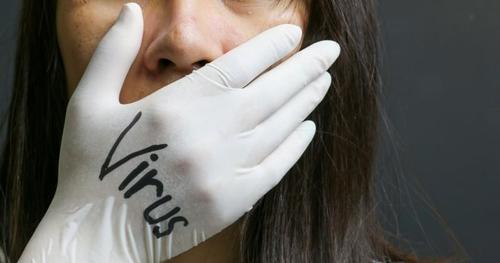 Denmark's National Police Cyber Crime Center (NC3) petitioned for a court order to block the site and ISPs followed suit by blocking access to users.
"The National Police Cyber Crime Center (NC3) has blocked the homepage that your browser has tried to access contact as there is reason to assume that from the website commits a violation of criminal law, which has a background in or connection with the covid-19 epidemic in Denmark," states a message users see when trying to access Bitchute.
It then advises the owner of the website that they will have to contact the authorities in order to try to get the website back online.
"The block appears to be site-wide meaning that Danish citizens aren't just being prevented from viewing alleged COVID-19 misinformation on BitChute – they're being blocked from viewing any BitChute videos, regardless of the topic," writes Tom Parker.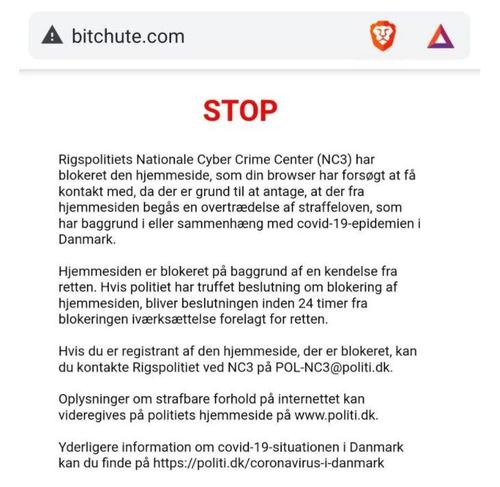 Bitchute is routinely targeted by governments because it provides a platform for controversial content that isn't permitted on YouTube.
Some ISPs in Australia previously tried to block the site, while Twitter blocked people from posting Bitchute links on its platform last year.
Authorities in the UK and the EU are also trying to get the site shut down, claiming it engages in "incitement to hatred."
Advocates of social media censorship routinely claim that free speech isn't under assault because people can simply 'build their own platforms'.
Yet when an entity like Bitchute does just that, they are targeted for elimination by the state.
This is straight up Communist Chinese-style totalitarianism, but what makes it worse is its timing.
As we've learned in recent weeks, by censoring "misinformation" about the Wuhan lab leak theory which could turn out to have been true all along, social media networks may have been complicit in facilitating one of the biggest cover-ups in modern history.
So for Danish authorities to target Bitchute for the exact same reason is yet another chilling example of the danger of allowing corporate and government entities to define the boundaries of acceptable speech and literally dictate reality.
What Trump (Warp Speed) Dr.Fauci, Bill Gates, CDC, WHO, Big Tech and Co Did to This Country and Helped Implement Around the World is Unfathomable and They Should All Be Dealt With as War Criminals , Crimes Against Humanity
"When the History of This Madness is Written, Reputations Will Be Slaughtered and There Will Be Blood in the Gutter "
Source: HNewsWire HNewsWire HNewsWire ZeroHedge ZeroHedge
Please do not post HNewsWire articles on Parler, Facebook, Reddit or Twatter social media platforms. We are not comfortable with their anti-Christian — anti-American Nazi philosophy.
It is impossible to find anyone in the Bible who was a power for God who did not have enemies and was not hated.
StevieRay Hansen
Editor,
HNewsWire.com
[email protected]
The 127 Faith Foundation: We do not solicit donations from "those on disability, on a fixed income, or those who cannot afford to give." Please Pray!
Or, make checks payable to:
The 127 Faith Foundation
PO Box 127
Pontotoc, TX 76869
The number of Orphans aging out of Child Protective Custody has grown at an alarming rate. The 127 Faith Foundation receives many requests each week to house them at our ranch. Our prayer is that the good people of our country will step up to the challenge and offer financial support for "the least among us." We need your help! StevieRay Hansen, Founder, The 127 Faith Foundation
We make every effort to acknowledge sources used in our news articles. In a few cases, the sources were lost due to a technological glitch. If you believe we have not given sufficient credit for your source material, please contact us, and we will be more than happy to link to your article.