Maybe Satan Soldiers in Rotterdam Can Tattoo Their Numbers on Their Forearms and Ship Them Away in Railroad Cars – Get Rid of Those Worthless People!
Two Hospitalized After Police Fire on Dutch COVID-19 Protesters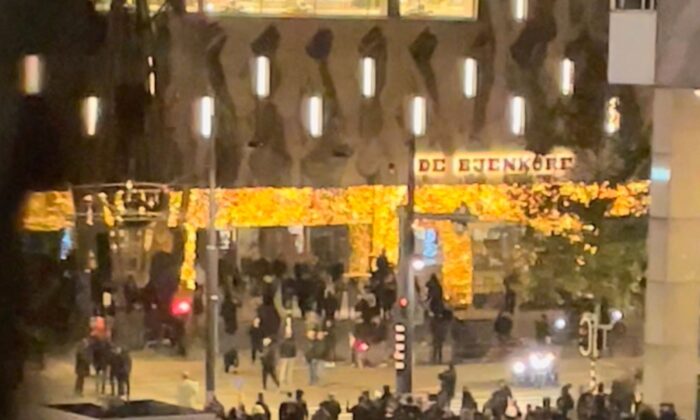 THE HAGUE—Two people were being treated in hospital in the Dutch city of Rotterdam on Saturday after they were seriously injured when police fired shots during a violent protest against COVID-19 measures, authorities said.
Police fired warning shots and water cannons at crowds of several hundred protesters who torched cars, set off fireworks, and threw rocks at police during the protests on Friday evening.
Rotterdam police said on Twitter Saturday that 51 people had been arrested, half of whom were under 18.
"Two rioters where wounded when they were hit by bullets, they remain in hospital," police added.
The city's mayor, Ahmed Aboutaleb, said protest had turned into "an orgy of violence."
"Police were forced to draw their weapons and even fire direct shots," he told a press conference early on Saturday.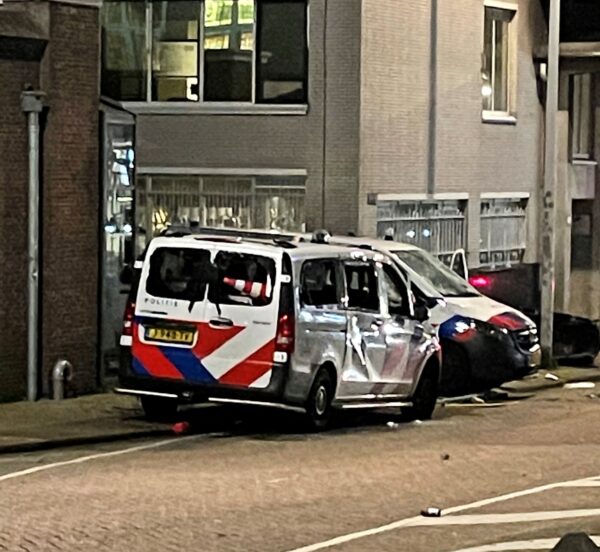 Dutch justice minister Ferd Grapperhaus condemned  "extreme violence" against police and firefighters in Rotterdam as "repulsive."
"The right to protest is very important in our society but what we saw last night was simply criminal behavior," Grapperhaus said.
Protesters had gathered to voice opposition to government plans to restrict access to indoor venues to people who have a "corona pass," showing they have been vaccinated or have already recovered from an infection.
The pass is also available to people who have not been vaccinated, but have proof of a negative test.
Organizers of a planned protest Saturday in Amsterdam against the corona-virus measures said they had canceled the event after Friday's violence.
Even so, several hundred protesters showed up in the city's central Dam square, monitored by a heavy police presence.
In the southern city of Breda, a musical protest called by local DJs against current COVID-19 measures, which include the 8 p.m. closure of bars, restaurants, and clubs, attracted a few hundred people.
The Netherlands re-imposed some lock-down measures last weekend for an initial three weeks in an effort to slow a resurgence of corona-virus contagion, but daily infections have remained at their highest levels since the start of the pandemic.  Source: TPT
Here's The Stunning 44-Page Criminal History Of The Christmas Parade Massacre Person Of Interest Darrell Brooks Background C… by The Western Journal Just like a broken clock is right twice a day, the left gets things right every once and a while. For example, our justice system does need some reform, as the left has…
Was This the Plan All Along?… The COVID-19 pandemic has created an instant market for vaccine development. Around $1 billion of U.S. taxpayer funds have already been given to Big Pharma to develop the much coveted COVID-19 mRNA vaccine, a new class of vaccines that have never before been successfully developed. ($450 million to Johnson…
StevieRay Hansen
Editor,
HNewsWire.com
[email protected]
The worst-case scenario is outright civil war. This is too horrible to contemplate, but this possibility is real. President Biden said his patience is wearing thin. That works both ways. Things are getting tense in Australia. It could happen here, too.
Remember, the first people Hitler put in concentration camps weren't the Jews. The first people were the intellectuals, because if you take the intellectuals and the doctors off the street, if you stop people from talking, you can control the people.
You can't say no, you can't sue for harm, and you can't see the data underlying the government's claim that the product is safe and effective. That seems fair.