IN the Twittersphere, It's OK to Be Perverted; a Guy Believes He's a Woman,Babylon Bee Suspended by Twitter Over Parody Article About the Confused Rachel Levine
HNewsWire-Twitter has suspended The Babylon Bee after a satirical story on transgender assistant secretary of health Rachel Levine.
Seth Dillon, the website's CEO, sent a series of tweets regarding the ban, which was imposed for breaking Twitter's rules "against hostile behavior."
According to Twitter policy, the offending message must be erased in order to begin a 12-hour countdown clock that will allow the account to be reinstated.
Dillon, on the other hand, has said that he will not erase the tweet.
"We're not going to delete anything." The truth is not a kind of hate speech. "If stating the truth means losing our Twitter account, then be it," he added.
The piece was written in reaction to USA Today's designation of Levine as the official Woman of the Year, despite the fact that he was born a male.
The Babylon Bee's Man of the Year is Rachel Levine, according to the article's title.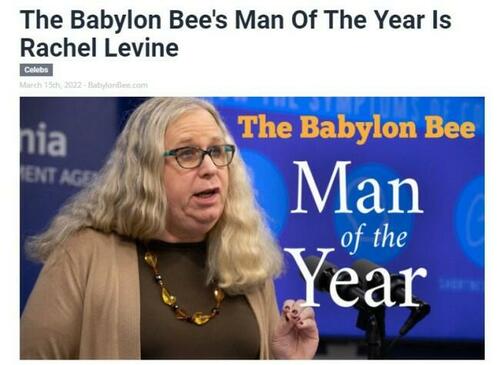 "Rachel's real name is Richard Levine, but he changed it to Rachel a few years back for some inexplicable reason." What does it matter? Who says a man of this caliber can't be called 'Rachel?' This ruler is unconcerned about what others think of him! He often wears a dress, which some people find strange — but he doesn't care. Come on, let's go! Men in India don't wear formal clothes, do they? We've learned that Levine truly identifies as a woman since the prize was announced. We have decided to offer him the honor anyhow since his self-identification has no influence on the reality. "Congratulations, Rachel Levine!" said the story.
Dillon asked people not to self-censor, claiming that Twitter would not mass ban millions of individuals.
"Here are a few ideas: 1. You should never censor yourself. Even if Twitter tries to persuade you differently, insist that 2 and 2 equals 4. "Ban tens of millions of us," he wrote.
The issue coincided with the triumph of transgender U Penn swimmer Lia Thomas, another biological guy who dominated a championship qualifying race.
HNewsWire-In reaction to the social media Masters of the Universe setting limits on Russian official media, the Russian government is said to have entirely restricted access to Facebook and Twitter in the nation. According to the Guardian, Russia has restricted Facebook and Twitter access in response for the sites' limitations on Russian official media outlets such as Russia Today and Sputnik. Breitbart News recently revealed that Russian media sites including Russia Today and Sputnik have been totally banned throughout the European Union by Facebook (including Instagram), YouTube, and TikTok. After battle in Kharkiv, Ukraine, on Sunday, Feb. 27, 2022, an armored personnel carrier burns and damaged light utility vehicles lie abandoned. Ukrainian military fought Russian troops who invaded the country's second-largest city on Sunday, according to local officials. After battle in Kharkiv, Ukraine, on Sunday, Feb. 27, 2022, an armored…
First Openly Transgender Public Health Secretary… Our Government Has Come to Allow the Vilest Ungodly Mentally Ill Individuals to Have a Tremendous Amount of Control Over Our Lives… Welcome to Hell on Earth, a.k.a. the Great Tribulations, Brought to You by Satan Soldiers. One of the signs of the end times I speak about in this article is that "lawlessness" in society will become pervasive. Hear the words of Jesus as he mentions this fact in His message about end times events: Matthew 24:12: "And because lawlessness will abound,the love of many will grow cold" Here Jesus is stating that "lawlessness", a complete disregard for law, "will abound". In other words, it will be common, pervasive, on the news, in the media. The rule of "law", upon which great societies are founded and prosper, will be cast aside in the name of selfishness and…
Support for Genital Surgery for Children… Bombs are falling on Syria again, the kids are still in the cages, the $2,000 checks are AWOL. But hey, at least Mr. Potato Head is now gender neutral! One of President Joe Biden's top health nominees on Thursday was pressed about stating in the past support for children getting puberty blockers and genital surgery. Sen. Rand Paul (R-Ky.) questioned Dr. Rachel Levine on the past support, noting that data from the American College of Pediatricians shows that 80 percent to 95 percent of children who believe they're a gender different from their birth sex will see a dissolution of those feelings by late adolescence, if they're not exposed to medical intervention and social affirmation. "American culture is now normalizing the idea that minors can be given hormones to prevent their biological development of their secondary…
SRH: There is a lot of violence and sexual immorality in the world. All you have to do is turn on the television to watch violence, child sex trafficking, immorality, and homosexuality. Today's cities are exceptionally dangerous, and they are no longer safe places to be. God has been expelled, and illness, a sinful sickness, has taken hold.
Meet Moses! He's a young man who grew up in the most challenging circumstances. Today, he has larger-than-life goals to achieve something extraordinary.
A Thrilling Ride
Every once in awhile, a book comes across your path that is impossible to put down. A Long Journey Home is not a casual book that you read in a week or earmark to complete at a later date. Once you begin, cancel your schedule, put your phone on silent, find a quiet place where you cannot be disturbed, and complete the journey. Click Here to Purchase on Amazon.com!
HNewsWire: Let's review everything we've learned so far: Evil people are in charge. They're all liars. They take pleasure in misery. On the inside, they ...
Read More

→