Advisory: Be careful of what you read on social media. The algorithms used by these platforms have no regard for Biblical truth. They target your emotions to keep you engaged on their site so their advertisers can drop more ads. These platforms exist to enrich their stockholders. Consider God's promise to Believers in James 1:5, "If any of you lacks wisdom, you should ask God, who gives generously to all without finding fault, and it will be given to you."
The Official Narrative: 'Lockdown' You Will Obey, Before this time next year, the world will be locked down, we have been conditioned by social media and MSM to obey our ungodly official. Freedom of speech is quickly going extinct along with pretty much every other basic human right that we are born with…
Summary:
Michigan Gov extends stay at home order
Brazil overtakes Russia
Cali reports slight jump in new cases
US cases climb 1.8%, compared with 1.5% last week
Italy's does 75k+ tests in a single day for first time
Dr. Birx offers update on state of US outbreak
Chinese vaccine deemed "safe" by the Lancet
NY lowest case count since early days of outbreak
NJ raises gathering limit to 25
Italy says vaccine won't be ready until next year
NY launches program allowing pharmacists to administer COVID tests
GM delays plan to ramp up production
Spain lifts lockdown conditions in Madrid
Chinese airline to restart flights from US next month
India reports record jump in cases as lockdown eases
Russia reports record jump in deaths
Russian 'hot nurse' punished for accidentally exposing underwear due to 'see-through' PPE
UN warns of looming collapse of Yemen's health-care system
Bulgaria allows EU residents to enter country
Brazil becomes sixth country to hit 20k COVID deaths
Thailand extends state of emergency even as no new cases reported
Russia, Brazil drive largest daily jump in new cases
Australia's largest state, New South Wales, allows up to 50 people in restaurants and bars
* * *
Update (1800ET): Get ready for another round of "reopen now" protests in Lansing.
Roughly 24 hours after announcing a relaxation of the state's stay at home order to permit appointment-only shopping and gatherings of under 10 people, Michigan Gov. Gretchen Whitmer extended the state's stay at home order for another two weeks, giving the stock market something to panic about when it reopens on Tuesday.
Many had expected Whitmer to extend the order, albeit with fewer restrictions. During a press briefing, she insisted that while the data are moving in the right direction, "We are not out of the woods yet." The order, which was set to expire on May 28, will instead expire on June 12.
Notably, Whitmer is making this decision – which will lead to more economic devastation and destroyed livelihoods in a critical midwestern swing state that President Trump narrowly won in 2016 – one day after President Trump, who has repeatedly lambasted the governor on twitter, paid a visit to a Ford Factory in the state, where he again refused to wear a mask (something he insists would be "un-presidential"), arousing the anger of the state's attorney general.
The order has been partially relaxed in the northern part of the state, and manufacturing has also been allowed to resume on a limited basis.
Here's more from the Detroit Free Press:
Gov. Gretchen Whitmer on Friday extended her stay-at-home order past its scheduled May 28 expiration to June 12, adding that public venues such as theaters, gyms and casinos would remain closed.

She said while coronavirus cases and deaths are clearly declining, "we are not out of the woods yet."

"If we're going to lower the chance of a second wave and continue to protect our neighbors and loved ones from the spread of this virus, we must continue to do our part by staying safer at home," she said in a statement first reported by the Free Press.

Whitmer's announcement comes a day after she made several changes to further relax a sweeping stay-at-home order that has been in place since March, allowing social gatherings of 10 people or less immediately and telling retail businesses that sell goods they can reopen to customers for appointment-only shopping Tuesday.

That change also allows for nonemergency dental and doctor services to resume next Friday and Whitmer said Thursday that she would continue to relax the order as warranted by the data. She had previously allowed some retail businesses, such as garden stores and bicycle repair shops to reopen, and at 12:01 a.m. Friday, bars, restaurants and other businesses and offices on the Upper Peninsula and in northern Michigan around Traverse City, could open to customers, provided they limited their customers, made sure people stayed 6 feet apart and required masks.

Manufacturing and construction have resumed as well, under strict regulations. But many parts of Whitmer's rules — which have been challenged in court and led to protests at the state Capitol — continue to disrupt the lives of Michiganders.
In other news, Brazil has finally overtaken Russia as the country with the world's second-largest outbreak (note: as of 1830ET, the latest data haven't yet been incorporated into the chart below, but it should update shortly), after only the US.
* * *
Update (1540ET): AfricaNews reports that the number of confirmed cases in Africa has passed 100,000 as epidemiologists and scientists on the Continent and elsewhere have marveled at the coronavirus's relatively slow spread across Africa, which has largely avoided the full-scale collapse of countries' health-care systems – or anything even close to that scenario.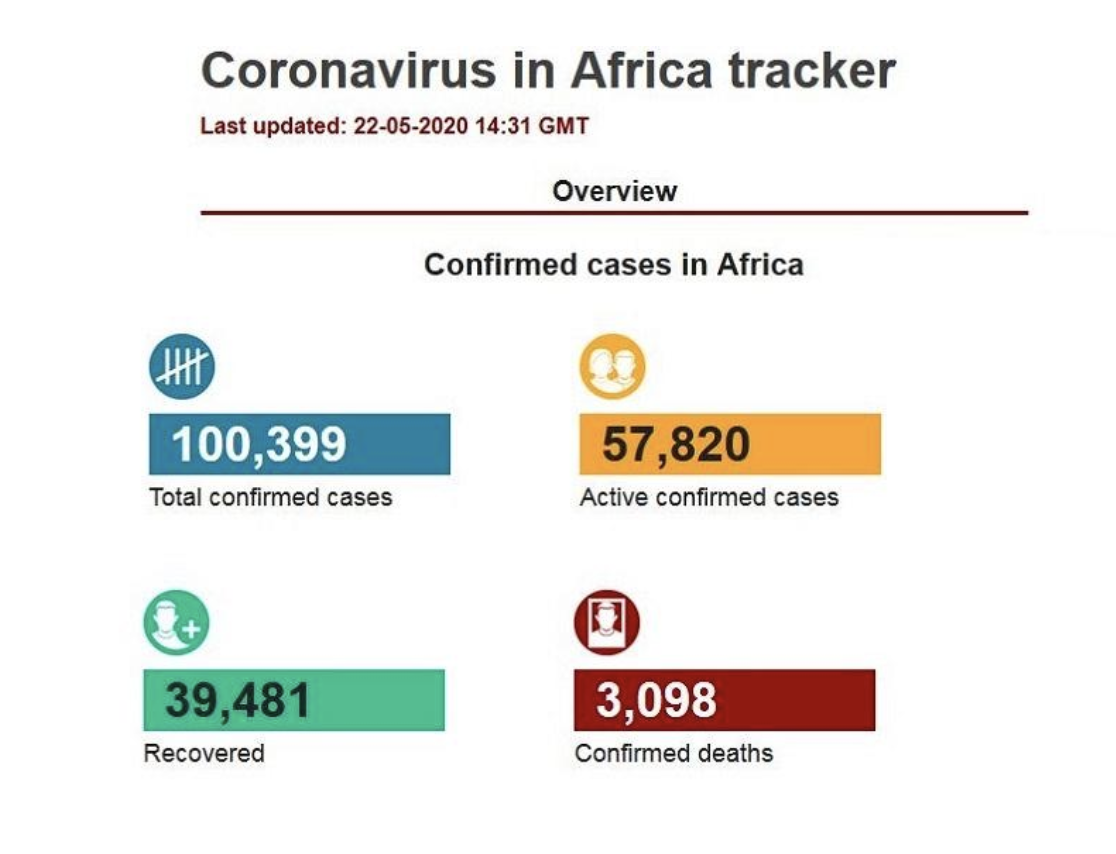 Africa's five worst-hit nations are as follows:
South Africa: 19,137
Egypt: 15,003
Algeria: 7,728
Morocco: 7,300
Nigeria: 7,016
South Africa has been the worst-hit across the continent despite a restrictive lockdown that was initially ordered back in March. It's also by far worst-hit country across the southern African region. In Northern Africa, Egypt has the most cases, while in West Africa, Nigeria has the biggest outbreak. Cameroon is the leader in Central Africa, with 4,288 cases while Sudan leads the Horn of Africa region with 3,138 cases.
The global total, meanwhile, is rapidly closing in on 5.25 million.
Back in the US, the CDC said that US cases have ticked higher over the past day as cases climb 1.8%, compared with last week's 1.5%.
* * *
Update (1440ET): California has released its latest numbers, revealing a slight uptick in cases over the past day.
CALIFORNIA VIRUS CASES RISE 2.6%, ABOVE 7-DAY AVERAGE OF 2.37%
Meanwhile, earlier this afternoon, Dr Birx offered an assessment on where the US stands in terms of the virus.
* * *
Update (1430ET): The past week has seen more than its fair share of vaccine-related announcements, with a team of scientists from Oxford announcing plans to speed up human trials, while Dr. Fauci offered some more market-pumping positivity during a lunchtime interview with CNBC (notably, when asked about states pushing ahead with the reopening, he noted that so long as people follow social distancing recommendations, everything should be fine).
Adding another headline to the list: The Lancet has declared a Chinese vaccine candidate "safe" for human consumption.
Remember, establishing safety was touted as the key triumph of the Moderna-NIH study that the company issued a statement about earlier this week (after its CEO inadvertently referenced the trial results publicly on Friday).
Italy achieved a notable milestone today: conducting more than 75k+ COVID-19 tests in a single day.
And today's numbers from the UK…
* * *
Update (1225ET): In New Jersey, Gov Phil Murphy reported a 0.9% jump in new cases Friday, in-line with the 7-day average.
Hospitalizations and ICU admissions also continued to decline.
* * *
Update (1140ET): As the AP reveals that NY leads the nation in nursing home deaths (with some 5,300 recorded), Cuomo just expertly deflected from a burgeoning controversy over his decision to send COVID-19 patients back to nursing homes, helping to kickstart or aggravate some of the deadliest outbreaks. Cuomo has defended the decision as intended to ensure nursing home residents wouldn't left to just hang around hospitals, when, in hindsight, they probably should have been admitted.
CUOMO: SUPPORTS LEGALIZATION OF MARIJUANA PASSAGE
After dragging his feet on marijuana legalization for years (one of the biggest complaints of Cuomo's progressive critics is that after becoming one of the first states to approve medical marijuana, NY has basically given up on reform in that area), it looks like legalization is back on the agenda.
New COVID-19 cases in New York State reported Friday climbed by another 0.4% as the number of infections reported continued to slow, Cuomo added. "This is a level now that is lower than when we first began," he said.
Cuomo also announced his state would adopt the CDC guidance on HQX.
In another milestone: NYC has recorded 58 days without a pedestrian traffic death, the longest stretch since the city started tracking the numbers in 1983.
In Italy, meanwhile, the head of the Italian Medicines Agency, the national authority responsible for drug regulation in Italy, said Friday that a vaccine for the virus likely wouldn't be ready until next year.
AIFA director-general Nicola Magrini told reporters that studies of five or six vaccines are showing promise but "the reasonable time to think about a vaccine is next spring, next summer."
"I don't think there will be any vaccine for September available," Magrini said. "Let's hope they are developed by next year and let's hope there's more than one, and the production capacities are adequate."
* * *
Update (1115ET): Just in time for MDW, New Jersey Gov Phil Murphy just decided to raise the limit on public gatherings to 25 people, while his colleague, NY Gov Andrew Cuomo announced the start of a previously announced pilot program that allows pharmacists to administer coronavirus tests.
Watch Cuomo live:
* * *
Update (0955ET): GM has reportedly delayed plans to ramp up production at one of its Michigan plants next week due to a shortage of critical components from Mexico.
Instead of introducing another shift or two this week, GM will need to delay the production ramp until next week. Meanwhile, across the US, finding new American-made cars remains difficult as dealerships in some states have only just begun to reopen.
* * *
Update (0935ET): After a weeks-long delay, the Spanish government has finally started lifting lockdown conditions in the capital, Madrid.
Here's more on that from Al Jazeera:
Spanish authorities will lift part of the lockdown restrictions in Madrid on Monday after the pace of the coronavirus contagion in the region slowed down, the Madrid regional health department said.

The restrictions in Madrid are now the same as in most of the country that started phasing out the lockdown in early May.

Bars and restaurants in the capital will be allowed to reopen terraces and groups of up to 10 people will be allowed to meet.
Spain has seen daily COVID-19-linked deaths drop to ~100 a day or fewer over the past week as the country's strict lockdown has clearly helped quash what was once one of Europe's deadliest outbreaks.
* * *
Update (0920ET): Local press has reported that a major Chinese airline will re-start some flights from the US next month, the first stirring of what some expect will be a mini-revival in passenger travel in the coming months, even as most analysts believe it will take years for air traffic to return to pre-COVID-19 levels.
CHINA CAAC TO ALLOW SOME FLIGHTS FROM U.S. IN JUNE: 21ST HERALD
* * *
One of the most frustrating aspects of the coronavirus is how it seems to respond differently to the same basic strategies imposed by different governments. For example, in China, and across the US and Europe, lockdowns have coincided with sharp reductions in the spread of the outbreak.
But despite what has been repeatedly described as one of the most strict in the world, the rate at which new coronavirus infections are being confirmed has shown no sign of slowing after nearly 2 months (the lockdown started March 25). As we reported on Tuesday, the number of reported coronavirus cases in India crossed 100,000 earlier in the week, even as most parts of the country began to reopen businesses as India's lockdown entered a new phase.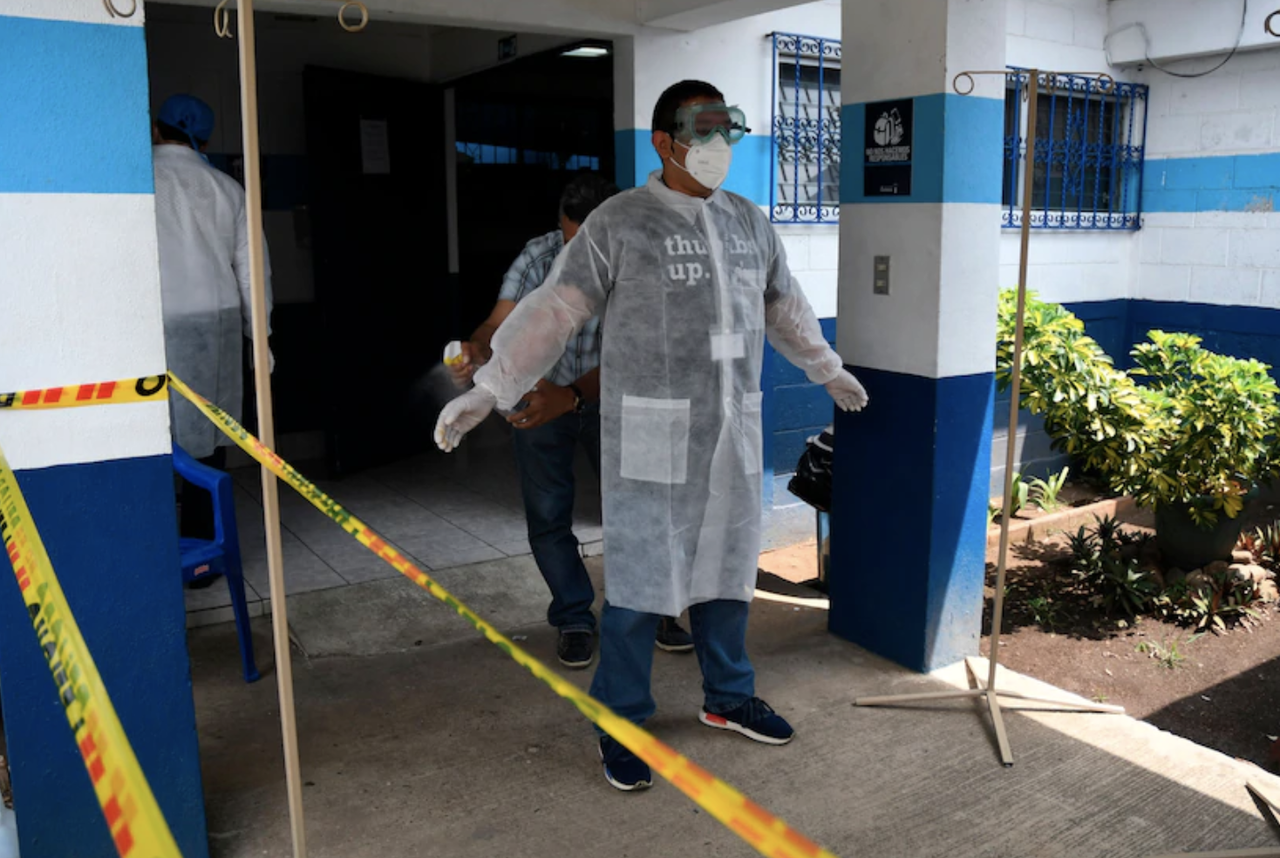 Three days later, India registered its biggest jump in coronavirus cases since the start of the outbreak, with 6,000 new cases as the country loosens a nationwide lockdown.
Additionally, India relaxed some of its travel restrictions on Friday to permit members of the Indian diaspora to reenter the country.
Meanwhile, in Russia, which is now home to the world's second-largest outbreak (behind only the US) has reported 150 new deaths, a record daily rise, taking the country's official national death toll from the virus to 3,249.
In another somewhat more lighthearted story from the world's second-worst-hit country, a nurse working at a hospital in Russia's central Tula region was suspended from her job for the mishap, which she says she didn't realize until it was pointed out by a colleague. Several high-ranking government officials have weighed in, arguing that the hospital should reverse the punishment, according to multiple media reports.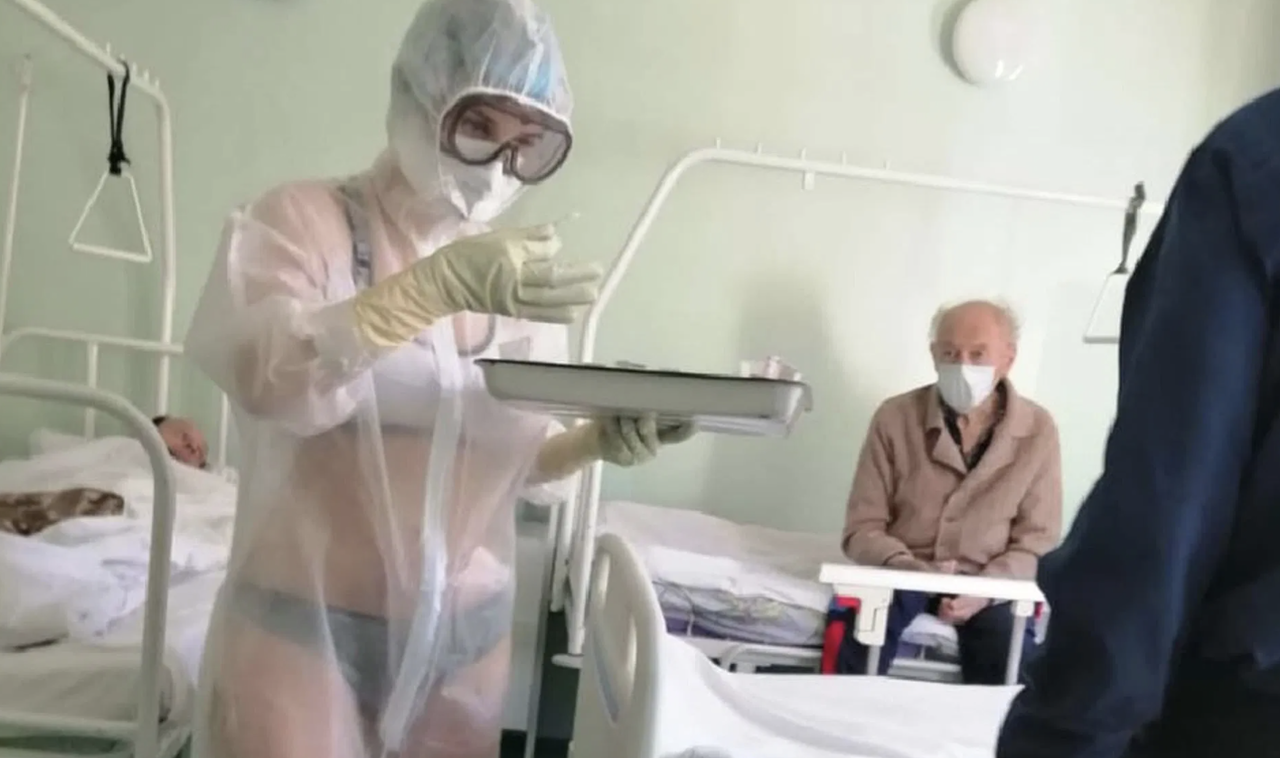 The UN warned on Friday that as the coronavirus spreads across Yemen, the country's health care system has, in effect, collapsed. Yemen will need emergency support from the international community to prevent yet another humanitarian crisis in country that, after Syria, has been among the most war-torn places in the world for a large chunk of the last decade.
Using data from Johns Hopkins, Al Jazeera developed a chart showing how the coronavirus pandemic reached the 5 million mark.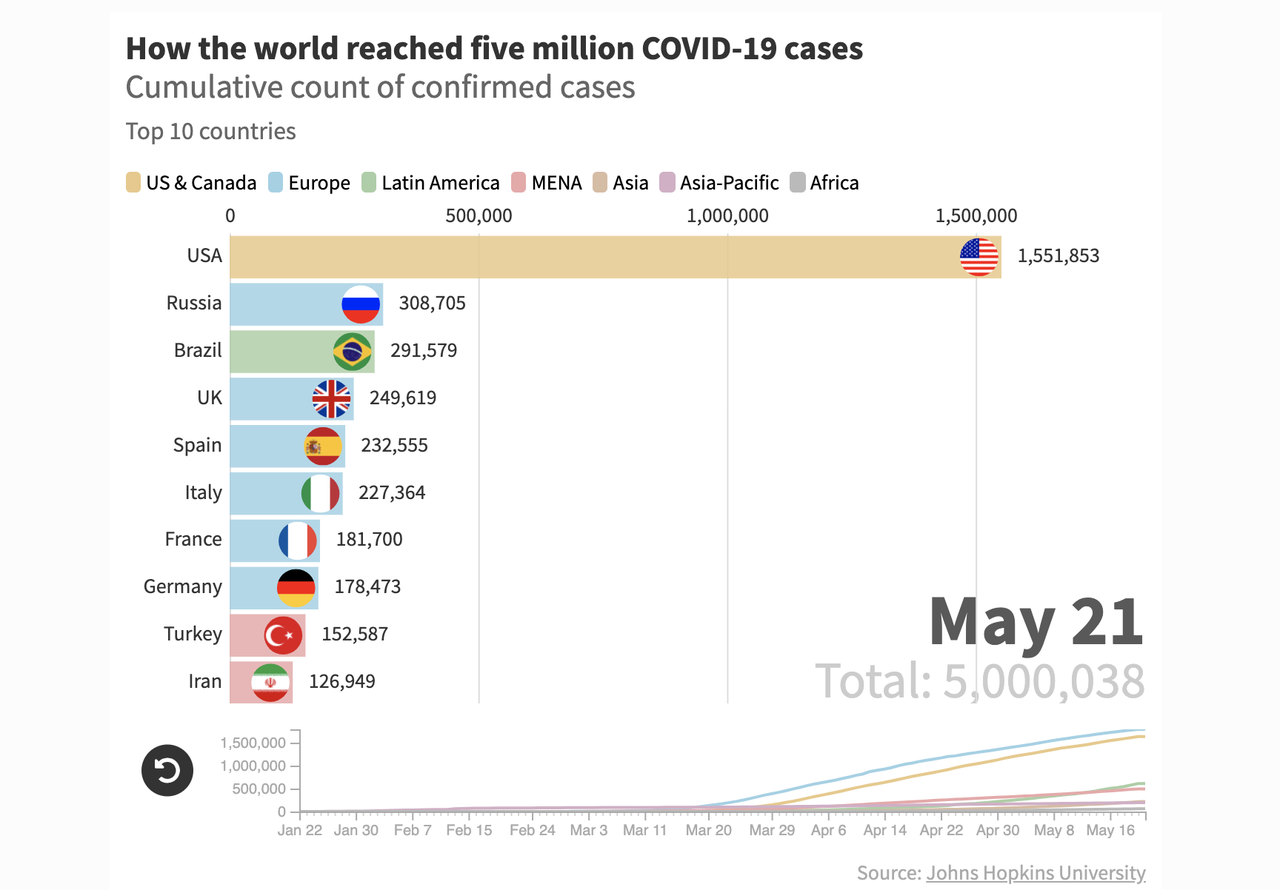 The number of new cases reported globally remained well above recent levels as Russia, Brazil and India pushed the number of new cases to a daily record, as outbreaks in the US and Europe slow while Russia and Brazil report unprecedented growth.
Additionally, Brazil has become the 6th country in the world to report more than 20,000 deaths from the coronavirus as interim Health Minister Eduardo Pazuello warned that while the level of infection had decreased in certain areas in capital cities, its spread across the rest of the country was "inevitable."
As EU member states slowly lift travel restrictions on neighbors, while the UK devises new quarantine restrictions for foreign travelers, Bulgaria has scrapped its ban on visitors from the EU, according to the country's health ministry.
Overly optimistic reports about preliminary vaccine trials have set off a handful of biotech pumps in recent days, to the delight of hedge funds that have piled into the sector, Oxford researchers, who have been among the most bullish in the world about the prospects for a vaccine in the near term, reported Friday that they have already immunized 1,000 people during the first phase of the trial, and that the research would be accelerated to begin recruiting the 10k volunteers they will need for the second stage of the study.
Despite reporting zero new coronavirus cases and deaths on Friday, Thailand's Center for COVID-19 Situation Administration proposed an extension of the country's state of emergency measures until June to allow more time for new easing measures to be adopted.
In the UK, BoJo's government has extended its mortgage payment holiday scheme for homeowners in financial distress for another 3 months. In Panama, health officials say 59 migrants stranded at the Panamanian Migration Center have tested positive for the virus.
Finally, Australia's largest state, New South Wales, has said restrictions imposed to slow the spread of coronavirus will be eased to allow cafes, restaurants and pubs to have up to 50 seated patrons, which should allow many smaller restaurants to move back to 100% capacity. The country also extended its ban on cruise ships for another 3 months, until Sept. 17.
And before we go, during his visit to a Ford factory in Michigan last night (where he infuriated the state's AG by refusing to wear a mask after repeatedly clashing with the state's Democratic governor), President Trump said that he wouldn't be closing down the country again if a "second wave" of the virus does hit.
The FDA on Friday announced plans to crack down on faulty antibody tests, publicly listed dozens of antibody tests that have not yet been proved to work, a major step in its efforts to regulate these exams.
Lockdownism or Tribulation Is Now Activated… Every political ideology has three elements: a vision of hell with an enemy that needs to be crushed,a vi
The World Is In Big Trouble, for Those That Believe We Will Go Back to Some Sense of Normal Life Here on Earth, You Will Be Sadly Disappointed, Seven and Half Years of Hell on Earth Which Began January 1, 2020
"Our courts oppose the righteous, and justice is nowhere to be found. Truth stumbles in the streets, and honesty has been outlawed" (Isa. 59:14, NLT)…We Turned Our Backs On GOD, Now We Have Been Left To Our Own Devices, Enjoy…
While Mainstream Media Continues to Push a False Narrative, Big Tech Has Keep the Truth From Coming out by Shadow Banning Conservatives, Christians, and Like-Minded People, Those Death Attributed to the Coronavirus Is a Result of Those Mentioned, They Truly Are Evil…
StevieRay Hansen
Editor, HNewsWire.com
Watchmen does not confuse truth with consensus The Watchmen does not confuse God's word with the word of those in power…
In police-state fashion, Big Tech took the list of accused (including this site), declared all those named guilty and promptly shadow-banned, de-platformed or de-monetized us all without coming clean about how they engineered the crushing of dissent, Now more than ever big Tech has exposed there hand engaging in devious underhanded tactics to make the sinister look saintly, one of Satan's greatest weapons happens to be deceit…
The accumulating death toll from Covid-19 can be seen minute-by-minute on cable news channels. But there's another death toll few seem to care much about: the number of poverty-related deaths being set in motion by deliberately plunging millions of Americans into poverty and despair.
American health care, as we call it today, and for all its high-tech miracles, has evolved into one of the most atrocious rackets the world has ever seen. By racket, I mean an enterprise organized explicitly to make money dishonestly.
All the official reassurances won't be worth a bucket of warm spit. The Globals are behind the CoronaVirus, It Is a Man-Made Bioweapon.
The 127 Faith Foundation: We do not solicit donations from "those on disability, on a fixed income, or those who cannot afford to give." Please Pray!
Or, make checks payable to:
The 127 Faith Foundation
PO Box 127
Pontotoc, TX 76869
The number of Orphans aging out of Child Protective Custody has grown at an alarming rate. The 127 Faith Foundation receives many requests each week to house them at our ranch. Our prayer is that the good people of our country will step up to the challenge and offer financial support for "the least among us." We need your help! StevieRay Hansen, Founder, The 127 Faith Foundation
We make every effort to acknowledge sources used in our news articles. In a few cases, the sources were lost due to a technological glitch. If you believe we have not given sufficient credit for your source material, please contact us, and we will be more than happy to link to your article.