Advisory: Be careful of what you read on social media. The algorithms used by these platforms have no regard for Biblical truth. They target your emotions to keep you engaged on their site so their advertisers can drop more ads. These platforms exist to enrich their stockholders. Consider God's promise to Believers in James 1:5, "If any of you lacks wisdom, you should ask God, who gives generously to all without finding fault, and it will be given to you."
Paula White Should Read The Bible: An obedient woman will not seek to rise up to a position in the Church that God has forbidden. Such a woman who becomes a pastor is just a rebellious, loud disobedient woman.
The only activity women are restricted from is teaching or having spiritual authority over men. This precludes women from serving as pastors to men. This does not make women less important, by any means, but rather gives them a ministry focus more in agreement with God's plan and His gifting of them.
"A woman should learn in quietness and full submission. I do not permit a woman to teach or to have authority over a man; she must be silent"
The Word of God proclaims, "A woman should learn in quietness and full submission. I do not permit a woman to teach or to have authority over a man; she must be silent" (1 Timothy 2:11–12). In the church, God assigns different roles to men and women. This is a result of the way mankind was created and the way in which sin entered the world (1 Timothy 2:13–14). God, through the apostle Paul, restricts women from serving in roles of teaching and/or having spiritual authority over men. This precludes women from serving as pastors over men, which definitely includes preaching to them, teaching them publicly, and exercising spiritual authority over them.
There are many objections to this view of women in pastoral ministry. A common one is that Paul restricts women from teaching because, in the first century, women were typically uneducated. However, 1 Timothy 2:11–14 nowhere mentions educational status. If education were a qualification for ministry, then the majority of Jesus' disciples would not have been qualified. A second common objection is that Paul only restricted the women of Ephesus from teaching men (1 Timothy was written to Timothy, the pastor of the church in Ephesus). Ephesus was known for its temple to Artemis, and women were the authorities in that branch of paganism—therefore, the theory goes, Paul was only reacting against the female-led customs of the Ephesian idolaters, and the church needed to be different. However, the book of 1 Timothy nowhere mentions Artemis, nor does Paul mention the standard practice of Artemis worshipers as a reason for the restrictions in 1 Timothy 2:11–12.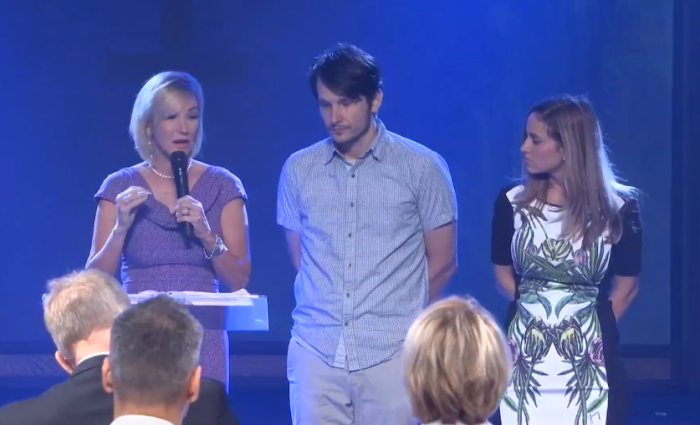 Paula White, a popular televangelist and spiritual adviser to President Donald Trump, has officially installed her son, Brad Knight, and his wife as the new senior pastors of New Destiny Christian Center in Apopka, Florida, which has been renamed City of Destiny.
White made the announcement to her congregants Sunday, explaining that the move was in line with a prophecy she received more than a decade ago from the church's founding pastor, Zachery Tims, who died accidentally on Aug. 14, 2011, in the W. Hotel in Times Square, New York, from "acute intoxication by the combined effects of cocaine and heroin."
"From the day that I came here, which was, you guys know the story. One day I'll share everything about how Dr. Zach, thank you, Dr. Zach, for the price you paid to be a founder and found this ministry and the faithfulness," White explained to church members prior to making the announcement.
"You know many people, elder knows this, but we go way, way back. I knew Dr. Zach in Baltimore and just the eagerness as a son. Prophetically he gave me a word prophet, that in 2005 I was in New York and he calls me, 'Ma, ma, where are you?' and I said 'I'm in New York.' 'Are you OK?' And he prophesies to me a word that wouldn't make sense in 2005. Writes it down. But it would make sense in 2019," she said. "And sometimes the prophetic like that it seems mysterious. It won't make sense at that moment. And everything that he prophesied would come to pass to bring this to this point. And I will share that in the fullness [of time]."
She then explained that the transition of leadership of the church had already been done legally because God had told her it was the right time.
"The Lord spoke to me very clearly and said, 'If you miss this moment, you will delay things. Do not miss this moment,'" White said.
"So today, I am officially installing Pastor Brad and Pastor Rachel as the senior pastors over the City of Destiny. Everybody stand up on your feet because this is God's plan. I am moving to what I call oversight pastor, but let me explain that. That is apostolic, but I just have not embraced the title though. … But as an apostolic overseer of the City of Destiny, today officially, it's all been done legally, officially, we are the City of Destiny. Welcome to your new beginning."
White, without elaborating on the specifics of the vision that was shared with her by Tims, went on to say that all the decisions they have made have been in line with Tims' vision.
"Every seed we've sown, every prayer we have prayed, everything we've done, Dr. Zach's vision. The vision that God continued through me and will continue through Tasha Brown and Rachel and all of us together Minister Greg, the vision continues. God is such a good God," she said.
She will continue to operate Paula White Ministries but will preach for her son as often as he needs her to. She noted that she has big plans to plant 3,000 churches and provide oversight for pastors as well as launching a university.
Affiliate Links
Last Days
"I believe that my call is to be that, to govern, I believe it's that to church plants, I believe it's that to pastors, so I'm excited. So under the City of Destiny, we'll be launching our university, we'll be launching a lot of good things, so you're going to see a lot of things come forth very, very quickly, just like you saw this come forth in six days. You're about to see a lot that God is going to bring forth very, very quickly," White said. Source
Paula White's ministry and career continued to expand. Known as the progeny of Reverend T. D. Jakes, considered the most well-known of the prosperity gospel preachers, Paula White began to pump out books like Move On, Move Up and You're All That. The books and her message struck a chord with many by combining positive psychology with Bible verses laced with triumphant imagery. Her popular Paula White Today, a Christian talk show and Hope For Today podcast launched the tiny, stiletto-heeled woman who preached, "Anyone who tells you to deny yourself is from Satan," into a selective group of America's most influential prosperity gospel leaders.
---
From Jim and Tammy Baker to Joel Osteen, prosperity preachers intertwine finances with holiness. Embracing the belief that the Bible verse John 10:10, "The thief comes only to steal and kill and destroy; I came that they may have life, and have it abundantly," is speaking about the worldly offerings of health and wealth, Paula White has found herself holding her own in the male-dominated world of Robert Tilton's and Kenneth Copelands. The fact that she lives extravagantly, including gifting her mentor T.J. Jakes with a Bentley, is no reason for spiritual scrutiny in this strain of Christianity. Monetary blessings are a sign of spiritual fitness.

Also known as the "Name-it-and-claim-it gospel," the prosperity gospel doctrine was formed by focusing on Biblical verses and stories that include the words or theme of abundance, blessings, and wealth. The origins of the movement are attributed to Oral Roberts and Kenneth Hagin, Jr. However, it was Frederick J. Eikerenkoetter II, known as Reverend Ike, who popularized it, especially among African-American Christians.
DISOBEDIENT WOMAN PASTORS
We are certainly in the last days before the return of the Lord Jesus. It seems anyone who can fall away from sound Biblical doctrine is doing so. People once thought to be faithful saints of the Lord are showing to all that they are not. Many pastors are also going apostate as they accept every heresy and false teaching in the name of increasing membership and the donation base.
Another growing trend in these last days of apostasy is the rise up of woman pastors. This practice is against the Bible and the sound teaching of the Scriptures. Years ago this was not an issue but in these last days of apostasy, rebellious women dare to assume the role of pastor for themselves.
This is nothing more than a rebellious, loud, disobedient, useless servant of God who presumes upon herself the office of pastor. Sadly their blind followers attend such a church and stroke the pride of such a rebellious woman. I wonder about any men who attend a woman pastored church. Are they also disobedient and rebellious to allow such a thing or are they just wimps with no intestinal fortitude to stand up for what is right for their family?
Affiliate Links
Brain Control
Any church with a woman pastor is already a deceived and liberal church and one to avoid.
With this introduction to woman pastors, let's look at what the Bible says about this issue.
MORE EASILY DECEIVED!
The first point I wish to make is the fact that women are more easily deceived than men. Here is what the Bible says:
1 Tim 2
11 Let the woman learn in silence with all subjection.
12 But I suffer not a woman to teach, nor to usurp authority over the man, but to be in silence.
13 For Adam was first formed, then Eve.
14 And Adam was not deceived, but the woman being deceived was in the transgression.
15 Notwithstanding she shall be saved in childbearing if they continue in faith and charity and holiness with sobriety.
I know rebellious pastor women don't like this thought, but in the fall Eve was deceived but Adam was not. This puts some restrictions on the ministry of women in the church. Since a woman is more easily deceived than a man, the last place they should be is a pastor or shepherd of the children of God.
Look at verse 11 above. Women are to learn in silence with all subjection. This happens during a church service. Women are not to be pastors. Instead, they are to sit in the congregation and learn.
Verse 12 states clearly that a woman is not to be placed in a position of teaching men. To do so would be to usurp the authority of a man within the God-ordained Church structure. Again the woman is to learn in silence. Obviously, a woman could not be a pastor as part of the job of a pastor is preaching and teaching. For a woman to do this to a congregation is to violate this verse and to usurp the authority from a man.
Verses 13 and 14 states very clearly that in the fall of mankind the woman was deceived but not the man. Satan succeeded in deceiving the woman and she sinned. Adam was not deceived, he willingly chose to sin. This danger remains even this day. Women are more easily deceived than is a man. As a result within the Church structure, the woman is to learn in silence. They are not to be raised to the position of preacher/teacher since they can be led astray more easily than can a man.
Let's look more closely at the fall of mankind. As you know in the garden Eve was deceived by Satan but Adam was not. As a result, the Lord said the following to the woman:
Gen 3
16 Unto the woman he said, I will greatly multiply thy sorrow and thy conception; in sorrow, thou shalt bring forth children, and thy desire shall be to thy husband, and he shall rule over thee.
Let's look closer at this verse because it relates to a woman being forbidden from being a pastor. The above verse shows the Lord speaking to the woman after she sinned. At this point, the Lord made the man the head of the wife. However, He did say that her desire would be to her husband. This means the woman would desire to rule over her husband and it would be a source of conflict in the relationship. Still, God has ordained that men have a leadership role in the family. An obedient woman needs to realize that there exists a desire for her to control and to usurp the authority of her husband and she must resist it.
Right now some of you may be saying the word 'desire' does not mean what I just said it means. Ok, let's look a bit deeper.
The same word 'desire' in the greek is used in the below verse:
Gen 4
7 If thou doest well, shalt thou not be accepted? and if thou doest not well, sin lieth at the door. And unto thee shall be his desire, and thou shalt rule over him.
In this verse the same greek word for 'desire' is used as in Gen 3:16 above. Here sin seeks to control Cain just as the woman in Gen 3:16 will seek to control her husband. To this very day a woman must fight against a desire to master and control her husband. This conflict can also be seen in rebellious ladies who dare to become pastors of a church. This is literally usurping the authority away from a man when they do this. The only sad thing is people actually follow such a rebellious lady and attend "her" church.
These verses alone end the discussion on women pastors and in theory, we could stop right here. But we will not as there is much more said in the Bible about women not being allowed to be a pastor.
Affiliate Links
Not a Victim – Overcomers
QUALIFICATIONS FOR LEADERSHIP IN THE CHURCH (MUST BE A MAN!)
Here are the classic verses describing the role of a pastor. The term bishop refers to the ministry of the pastor. Notice that these verses are all referring to a man:
1 Tim. 3
1 This is a true saying, If a man desires the office of a bishop, he desireth a good work.
2 A bishop then must be blameless, the husband of one wife, vigilant, sober, of good behavior, given to hospitality, apt to teach;
3 Not given to wine, no striker, not greedy of filthy lucre; but patient, not a brawler, not covetous;
4 One that ruleth well his own house, having his children in subjection with all gravity;
5 (For if a man know not how to rule his own house, how shall he take care of the church of God?)
6 Not a novice, lest being lifted up with pride he falls into the condemnation of the devil.
7 Moreover, he must have a good report of them which are without; lest he falls into reproach and the snare of the devil.
8 Likewise, must the deacons be grave, not double-tongued, not given to much wine, not greedy of filthy lucre;
9 Holding the mystery of the faith in a pure conscience.
10 And let these also first be proved; then let them use the office of a deacon, being found blameless.
11 Even so, must their wives be grave, not slanderers, sober, faithful in all things?
12 Let the deacons be the husbands of one wife, ruling their children and their own houses well.
13 For they that have used the office of a deacon well purchase to themselves a good degree, and great boldness in the faith which is in Christ Jesus.
Here are some further qualifications that also include elders in the church. Again all these verses refer to a man.
Titus 1
5 For this cause left I thee in Crete, that thou shouldest set in order the things that are wanting, and ordain elders in every city, as I had appointed thee:
6 If any be blameless, the husband of one wife, having faithful children not accused of riot or unruly.
7 For a bishop must be blameless, as the steward of God; not self-willed, not soon angry, not given to wine, no striker, not given to filthy lucre;
8 But a lover of hospitality, a lover of good men, sober, just, holy, temperate;
9 Holding fast the faithful word as he hath been taught, that he may be able by sound doctrine both to exhort and to convince the gainsayers.
In all the above verses we see God's pattern for leadership in His Church. The Lord has ordained men to be in the position of leadership and women to learn in silence with their husbands.
WOMEN SILENCE IN THE CHURCH
Here is another verse that stops women from being a pastor:
1 Cor 14
34 Let your women keep silence in the churches: for it is not permitted unto them to speak; but they are commanded to be under obedience as also saith the law.
35 And if they will learn anything, let them ask their husbands at home: for it is a shame for women to speak in the church.
The above verses are another restriction for women in the church. A woman is to sit in the church assembly and learn in silence. This prohibits a woman from assuming the role of a pastor and standing up to preach and teach in a mixed congregation. Always remember the fact we already covered that a woman is more easily deceived than a man. As a result of this fact, God has ordained roles for woman and for men. Within the structure of leadership of the Church, God has ordained men to be in the leadership positions.
THINK ABOUT THE FOLLOWING:
Nowhere in the Bible can it be found where a temple priest was a woman. That job was always done by a man.
A woman pastor also gains popularity as the apostasy of these last days grows. The more apostate the Church gets, the more popular the woman pastors become.
WHAT CAN A WOMAN DO?
Since a woman is prohibited from being in a leadership position in the Church, what can she do? Here is a ministry that I do not see at all! Yet such work is needed:
Titus 2
3 The aged women likewise, that they are in behavior as becometh holiness, not false accusers, not given to much wine, teachers of good things;
4 That they may teach the young women to be sober, to love their husbands, to love their children,
5 To be discreet, chaste, keepers at home, good, obedient to their own husbands, that the word of God be not blasphemed.
Older women can teach other women! A woman cannot teach in a mixed gathering with both men and women. However, a woman can teach and edify other women!
I would also say that a woman can teach children in Sunday school. This would include both boy and girl children. Source
CONCLUSION
In this article, we looked at why a woman cannot become a pastor. God has placed limitations on a woman as far back as the fall of man in the garden of Eden. We have shown that women have been restricted from leadership positions and the fact that a woman is more easily deceived than a man.
An obedient woman will not seek to rise up to a position in the Church that God has forbidden. Such a woman who becomes a pastor is just a rebellious and disobedient woman. I would hope that anyone who attends a liberal church of any kind would leave that place. Seek out a church with a pastor who has a love for the Lord Jesus and who seeks to please Him in his Church ministry. If you are attending a church with a woman pastor then I suggest you go elsewhere out of obedience to the Lord.
I'm aware that rebellious women will read this tract and get angry. These women are already deceived and have twisted the Bible to justify their rebellion. As a result, no Biblical teaching will influence such a person.
By leaving a rebellious woman pastor and attending a good church with proper leadership, you will be able to grow and mature in the Lord as you sit under solid Bible teaching.
Remember this warning from the Bible:
2 Tim 4
3 For the time will come when they will not endure sound doctrine; but after their own lusts shall they heap to themselves teachers, having itching ears;
The structure of 1 Timothy 2:11–14 makes the reason why women cannot be pastors perfectly clear. Verse 13 begins with "for," giving the "cause" of Paul's statement in verses 11–12. Why should women not teach or have authority over men? Because "Adam was created first, then Eve. And Adam was not the one deceived; it was the woman who was deceived" (verses 13–14). God created Adam first and then created Eve to be a "helper" for Adam. The order of creation has universal application in the family (Ephesians 5:22–33) and in the church.
The fact that Eve was deceived is also given in 1 Timothy 2:14 as a reason for women not serving as pastors or having spiritual authority over men. This does not mean that women are gullible or that they are all more easily deceived than men. If all women are more easily deceived, why would they be allowed to teach children (who are easily deceived) and other women (who are supposedly more easily deceived)? The text simply says that women are not to teach men or have spiritual authority over men because Eve was deceived. God has chosen to give men the primary teaching authority in the church.
Many women excel in gifts of hospitality, mercy, teaching, evangelism, and helping/serving. Much of the ministry of the local church depends on women. Women in the church are not restricted from public praying or prophesying (1 Corinthians 11:5), only from having spiritual teaching authority over men. The Bible nowhere restricts women from exercising the gifts of the Holy Spirit (1 Corinthians 12). Women, just as much as men, are called to minister to others, to demonstrate the fruit of the Spirit (Galatians 5:22–23), and to proclaim the gospel to the lost (Matthew 28:18–20; Acts 1:8; 1 Peter 3:15).
God has ordained that only men are to serve in positions of spiritual teaching authority in the church. This is not because men are necessarily better teachers or because women are inferior or less intelligent (which is not the case). It is simply the way God designed the church to function. Men are to set the example in spiritual leadership—in their lives and through their words. Women are to take a less authoritative role. Women are encouraged to teach other women (Titus 2:3–5). The Bible also does not restrict women from teaching children. The only activity women are restricted from is teaching or having spiritual authority over men. This precludes women from serving as pastors to men. This does not make women less important, by any means, but rather gives them a ministry focus more in agreement with God's plan and His gifting of them.
The people spreading concrete information on the dangers of globalism are accomplishing far more than those sitting around buying bitcoin or passing around Q-cult nonsense.
StevieRay Hansen
Editor, HNewsWire.com
Evil Exists So Spiritual Warfare Becomes Necessary!
MY MISSION IS NOT TO CONVINCE YOU, ONLY TO INFORM…
Evil men don't understand the importance of justice, but those who follow the Lord are much concerned about it. ~ Proverbs 28:5
Jesus come quick, there is nothing left in society that's sacred….
#spiritualwarfare #evil #christian #truth #bible #lawlessness #FalsePastor
The 127 Faith Foundation: We do not solicit donations from "those on disability, on a fixed income, or those who cannot afford to give." Please Pray!
Or, make checks payable to:
The 127 Faith Foundation
PO Box 127
Pontotoc, TX 76869
The number of Orphans aging out of Child Protective Custody has grown at an alarming rate. The 127 Faith Foundation receives many requests each week to house them at our ranch. Our prayer is that the good people of our country will step up to the challenge and offer financial support for "the least among us." We need your help! StevieRay Hansen, Founder, The 127 Faith Foundation
HNewsWire: Former Pfizer Executive Believes Vaccine Leak Was Intention,Satan Soldier, Wanna-be Doctor Bill Gates Has Stated That COVID-19 Was 'Pandemic One,' and the Next One…
Read More
We make every effort to acknowledge sources used in our news articles. In a few cases, the sources were lost due to a technological glitch. If you believe we have not given sufficient credit for your source material, please contact us, and we will be more than happy to link to your article.