Advisory: The editorial board of HNewsWire adopted the official policy to bypass many social media platforms. Some of these include: Facebook, Instagram, Twitter, Parler, and YouTube. We believe these companies are responsible for many of the spiritual ills our world faces today. In some cases, however, we have allowed our guest contributors to include content from their YouTube channel while we search for alternatives.
Goes Full Communist…
Pope Francis has claimed that conservative critics of his views on issues such as mass migration and climate change are performing the "work of the devil."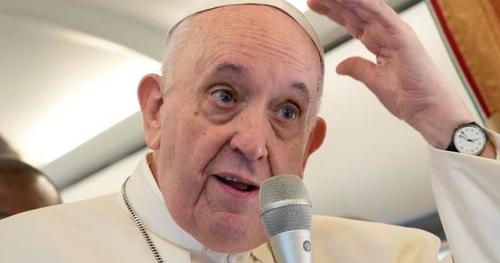 Many would argue to opposite to be the case.
In an interview with Jesuit magazine La Civilta Cattolica, the Pope said that after his recent surgery he is "still alive, although some people wanted me dead."
Speculation amongst prelates was rife that the Pope's real condition was worse than what was being reported, but this turned out not to be true.
"They were preparing the conclave (to elect a new pope). So be it. Thank God, I am well," said the supreme pontiff.
He also addressed criticism from American conservatives that his liberal views on almost every issue are eroding the Christian foundation of the Catholic Church, asserting that "turning back is not the right way."
"I personally may deserve attacks and insults because I am a sinner, but the Church does not deserve this. It is the work of the devil," he said.
However, as head of the Church, the Pope's personal views are undoubtedly leading it astray.
It's no coincidence that Cardinal Robert Sarah was removed as head of the Vatican's office for liturgy by the Pope after he warned that western civilization was living through its "mortal hour."
Sarah previously warned that the "west will disappear" as a result of mass migration, adding that "Islam will invade the world" and "completely change culture, anthropology, and moral vision."
Meanwhile, the Pope takes part in PR stunts to promote mass Islamic immigration to the west, including one in which he appeared with the Rwandan refugee responsible for killing a French priest and burning down a cathedral.
After Hungarian Prime Minister Viktor Orbán asked Pope Francis not to let Christianity "perish," the Pope responded by telling Hungarians that they should "extend their arms to everyone," referring to migrants and refugees.
Pope Francis even went so far as to all but excuse the actions of the Charlie Hebdo jihadist killers when he said that freedom of speech has limits, morally siding with the bloodthirsty fanatics who slaughtered the French cartoonists.
When he's not washing the feet of Islamic migrants to amplify the narrative that Christian countries should absorb millions of people from the Middle East and North Africa, the Pope is pushing globalist climate change propaganda.
Pope Francis wants to make "acts against the environment a sin," thereby elevating Mother Earth as some kind of new age deity, while also calling for global governance to fight climate change.
Last year, the Pope also offered his support for gay marriage, saying same-sex couples should be able to form "civil unions," a position you'll struggle to find sympathy for in the actual Bible.
The Pope has also done little other than tacitly support the targeting of pious Catholic priests by the church establishment for merely trying to uphold the faith, something Mel Gibson recently described as a "very deep sickness."
If your rhetoric serves to amplify the agenda that every truly satanic globalist is striving towards then it's not your critics who are doing the "work of the devil," it's you. Source: ZeroHedge
The propaganda machine is only getting louder and more aggressive. We're being prepped for something Really Big.
Only a few days after Pope Francis pushed for "the regeneration of existing institutions "and "global governance" because we are "in debt to nature itself, as well as the people and countries affected by human-induced ecological degradation and biodiversity loss."
Here we go again with more leftist propaganda for the Great anti-Christian Reset by the Jesuit Pope.
Pope Francis left the Vatican yesterday morning to celebrate Mass in the nearby church of the Holy Spirit in Sassia in the center of Rome where a group of prisoners and inmates were also present at the celebration as well as some so-called "refugees" from the Middle East.
So this was the ideal stage for a Communist/Globalist stunt by the Communist Pope.
During the Mass Pope Francis commented on Acts 4:32 that says: "All the believers were one in heart and mind.
No one claimed that any of their possessions was their own, but they shared everything they had."
In a statement that promotes Communism Bergoglio stated to a rather puzzled congregation that sharing ownership "is not communism, but it is pure Christianity."
The Pope obviously stated this not for the love for the Gospels or Jesus Christ's way of life, but in preparation of the infamous "Great Reset" announced last year by the World Economic Forum (WEF) and Klaus Schwab, who founded the WEF in 1971.
The projections of the WEF's "Global Future Councils," state that people would have to rent and borrow their necessities from the state, which would be the sole proprietor of all goods.
The supply of goods would be rationed in line with a social credit points system.
Shopping in the traditional sense would disappear along with the private purchases of goods.
Every personal move would be tracked electronically, and all production would be subject to the requirements of clean energy and a sustainable environment and this is what Pope Francis and the Catholic Church are promoting today.
In this nightmarish new world that the Pope and the New World Order are setting up for us, there would be no private ownership of houses, nor would anyone pay rent, because someone else will be using our free space whenever we do not need it!
A person's living room, for example, might be used for business meetings when one is absent, but in exchange you would have free access to transportation, accommodation, food, and all the things we need in our daily lives, but remember, you will own nothing!
So what do the Old Testament and the New Testament have to say about private property? As it turns out, quite a lot.
The Bible upholds the importance of owning and being able to use private property.
It is especially wrong to steal or to covet someone else's property. Strictly speaking, all property is owned by the Lord.
Moreover, the controversial passage in Acts 4:32 does not constitute an exception to this, as the early believers retained private property while being generous with their possessions.
They voluntarily shared what they had through what seems to have been a temporary arrangement not a permanent one like the Pope and his Davos friends are trying to impose on us because the Bible's central principles are consistent with a market economy, commonly called capitalism.
Furthermore, the Bible's central principles also contradict a centrally-planned economy, often referred to as socialism.
Capitalism is an economic system that largely allows markets to allocate scarce resources through prices, property rights, and profit/loss signals.
Socialism is a system under which the government owns the means of production.
The government uses coercive taxation and wealth distribution to allocate resources.
The government also makes decisions over property, prices, and production.
Incidentally, communism is a progression from socialism.
It is both a political and economic system that would abolish private property and give to individuals based on need, just like Pope Francis and WEF want.
Such a project is anti-Christian and in line with the coming age of the Antichrist.
Satan Five-Star General Pope Francis, Once Again, Calls For A New World Order And 'Universal Vaccines'…
In an April 4 letter he sent to the Spring 2021 virtual meeting of the World Bank and the International Monetary Fund (IMF), Pope Francis officially called for a new system of "global governance" and "universal vaccines" to cure the Wuhan coronavirus (Covid-19) and other pressing "problems."
The letter, which only mentions "God" once, talks about the pressing need to "confront a series of grave and interrelated socio-economic, ecological, and political crises."
It mentions vaccines three different times while segueing in and out of topics related to "climate change."
"We are, in fact, in debt to nature itself, as well as the people and countries affected by human-induced ecological degradation and biodiversity loss," Francis claims.
Replete with language that sounds as though it was ripped right from the pages of World Economic Forum (WEF) head Klaus Schwab's "Great Reset" manifesto, Francis' letter advocates for a "green financial agenda" to replace the current financial system.
Throughout his eight-year tenure as pope, Francis has addressed the WEF directly on four separate occasions.
He also allowed the Vatican to hold a roundtable event at WEF's annual Swiss conference site in Davos.
Francis would like to see "a justly financed vaccine solidarity" – meaning "equitable" vaccine distribution for the Chinese virus worldwide – in order to fulfill "the law of love and the health of all."
Francis also mentions in his letter the secular fraternity outlined in his recent encyclical Fratelli Tutti.
"Here, I reiterate my call to government leaders, businesses and international organizations to work together in providing vaccines for all, especially for the most vulnerable and needy," Francis writes.
Pope Francis Wants A One-World Government Now
Just prior to the letter's issuance, Francis issued a call for a "new world order," arguing that the world should operate under a single globalist system of governance.
"There remains an urgent need for a global plan that can create new or regenerate existing institutions, particularly those of global governance, and help to build a new network of international relations for advancing the integral human development of all peoples," he maintains.
Not once is Jesus Christ mentioned in Francis' letter, nor is the Roman Catholic Church. The letter's last line mentions "God" in a casual sign-off from the other topics that dominate its contents.
Under Francis' proposed "model of recovery" from the Chinese Virus, world governments should seek to generate "new, more inclusive and sustainable solutions to support the real economy … and the universal common good."
The world must not, Francis says, "return to an unequal and unsustainable model of economic and social life, where a tiny minority of the world's population owns half of its wealth."
One way world leaders can accomplish this, Francis says, is to eliminate the debt burden on the world's "poorest nations."
"Relieving the burden of debt of so many countries and communities today is a profoundly human gesture that can help people to develop, to have access to vaccines, health, education and jobs," he says.
According to Eric LeCompte of the Jubilee USA Network, 56 percent of all countries in the world are either already in a debt crisis or are on the verge of one.
African nations are suffering the most, with 14 of them vulnerable to default and nine others already in default or on the verge of it.
"Because of the debt trap and the pandemic, we're facing the worst losses in development in the last 50 years," LeCompte is quoted as saying. Read More
Update: 12/6/2020 Force is now the only rule remaining in deep state-controlled America. Everything else has collapsed. There is no free speech, no fair trial, no system of justice, no reasonable expectation of human rights anywhere, no fair elections, no honest news, no honest Wall Street operations, no real public education, no clean food, and threats from the elitist, the power structure that is hell-bent on bringing the New World Order into the reality of the sleeping masses, get woke or get yoked, the choice still lives in the people's hands. Next, the AntiChrist will appear with many empty promises, peace, and security, in reality, it's the yoking of mankind, We are in the Great Tribulations…
Source: HNewsWire humansarefree
PLEASE DO NOT POST HNEWSWIRE ARTICLES ON PARLER, FACE BOOK, REDDIT OR TWATTER SOCIAL MEDIA PLATFORM, WE ARE NOT COMFORTABLE WITH THEIR ANTI-CHRISTIAN — ANTI-AMERICAN NAZI PHILOSOPHY…STEVIERAY HANSEN
StevieRay Hansen
Editor,
HNewsWire.com
HYPER-REPROBATES…
Reprobate Doctrine. A Biblical doctrine that demonstrates in scripture, that God will turn people over to their vile lifestyles as a curse, blinding them to salvation in Jesus, giving them over to a devil's hell for eternity. A doctrine that I believe is completely Biblical and defined by the Apostle Paul in Romans 1 is unmistakably visceral language.
This is what their New World Order looks like, Democrats Lawmaker in California: 'legalize child prostitution' SACRAMENTO – Beginning on Jan. 1, police cannot arrest child prostitutes in the streets of California, except under limited circumstances. And dumb down people wonder why California is burning to the ground, poke God in the eyes enough times and his anger will start to show…
The propaganda machine is only getting louder and more aggressive. We're being prepped for something Really Big
The 127 Faith Foundation: We do not solicit donations from "those on disability, on a fixed income, or those who cannot afford to give." Please Pray!
Or, make checks payable to:
The 127 Faith Foundation
PO Box 127
Pontotoc, TX 76869
The number of Orphans aging out of Child Protective Custody has grown at an alarming rate. The 127 Faith Foundation receives many requests each week to house them at our ranch. Our prayer is that the good people of our country will step up to the challenge and offer financial support for "the least among us." We need your help! StevieRay Hansen, Founder, The 127 Faith Foundation
We make every effort to acknowledge sources used in our news articles. In a few cases, the sources were lost due to a technological glitch. If you believe we have not given sufficient credit for your source material, please contact us, and we will be more than happy to link to your article.