So Pfizer, Through Satan Soldier, Elitist Gottlieb, Used Twitter to Suppress the Truth in Order to Sell More Kill Shot Vaccines. When Will the Pfizer Brass Be Indicted? If a Normal, Everyday Person Did That? We'd Be In Trouble, "Jail"
SRH: Don't beat about the bush; this is a depopulation caused by artificial intelligence. Bill Gates's Kill Shot bioweapon! Our criminal justice system and the rest of the world are full with unbelievable hypocrisy.
When I was 34 years old, I spent six years in prison for passing fraudulent checks. These scum can lie, murder millions of people with an airborne hazardous bioweapon they created, and yet go free. All of us are in the Tribulation now; may God protect us. A fast return, Lord Jesus.
HNewsWire: In Sept. 2021, President Joe Biden declared a "pandemic of the unvaccinated," and blamed this on the roughly 80 million Americans who failed to get the COVID-19 shot.
However, by 2022, vaccinated people made up the majority of the population, with about 79 percent of adults having completed at least their initial shots.
The most recent Centers for Disease Control and Prevention (CDC) data now find the majority of adults dying of COVID-19 are vaccinated or boosted.
60 Percent of COVID-Related Deaths Among the Vaccinated
An alarming trend has become apparent: Vaccinated and boosted individuals account for a sharply increasing proportion of deaths from COVID-19.
Kaiser Family Foundation (KFF) showed in an analysis posted on the Peterson-KFF Health System Tracker, that about 4 in 10 COVID-related deaths were among the vaccinated or boosted by January 2022.
The most recent analysis of CDC data by KFF finds 6 out of 10 COVID-related deaths from April to August 2022 were among people with some level of vaccination.
According to KFF, this is due to a variety of factors relating to how many people were vaccinated earlier in the pandemic when the shots were first made available.
When the vaccines were first rolled out, people who received their initial series of injections represented only a small share of total deaths, because they were such a small number compared to the unvaccinated majority.
But that share was expected to rise as vaccinated people represented a growing share of the U.S. population. Ultimately, if everyone in the United States was vaccinated, then vaccinated people would represent 100 percent of COVID-19 deaths. The same would be observed among those who received a booster dose.
This is because some people who are up to date with vaccines will still get COVID-19, incidents which are considered "breakthrough infections." As the CDC states, COVID-19 vaccination is effective at preventing severe illness and death, but the shots are not perfect.
Vaccine Benefit Has Become Marginal
The rising share of the vaccinated population is only one factor and doesn't seem to explain all the increased deaths among vaccinated people over the last year.
KFF concluded that vaccination rates have only grown slightly during this time, yet the number of vaccinated people dying rose more steeply.
Another possible reason we're seeing increased deaths among the vaccinated is that even in 2021, one study showed vaccine effectiveness waned significantly over time for all adults.
This effect was most pronounced in the older age groups, particularly in those between 40- and 59-years-old, and in those 80 and older.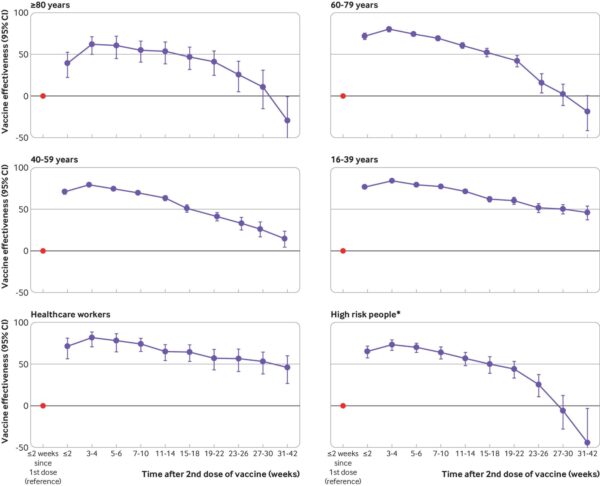 "The data is suggesting that at this point, with the vast majority of the population having had contact with either the infection or the vaccine, the effects of the vaccine are marginal," Dr. Jacob Teitelbaum, an expert in long COVID and post-viral chronic fatigue syndrome and fibromyalgia, told The Epoch Times.
According to an email revealed on Jan. 9, a Pfizer board member who formerly led the US Food and Drug Administration (FDA) asked Twitter to take action against a tweet properly pointing out that natural immunity is superior than COVID-19 immunization.
Satan Soldier, Scott Gottlieb wrote to Twitter CEO Todd O'Boyle on August 27, 2021, requesting that Twitter take action against a tweet by Dr. Brett Giroir, another former FDA commissioner.
"This is the kind of thing that corrodes. In this case, he makes broad conclusions based on a single retrospective research conducted in Israel that was not peer reviewed. "However, this tweet will go viral and get press attention," Gottlieb added.
Giroir said that natural immunity, or post-infection immunity, "is clearly better than vaccination immunity, by ALOT." He said that there was no scientific basis for requiring documentation of COVID-19 immunization if a person had natural immunity. "If there has been no prior infection? "Get vaccinated!" he said.
Giroir cited a preprint study from Israeli researchers, who discovered, after studying health data, that natural immunity gave superior protection than vaccination. Following peer review, the work was published in the journal Clinical Infectious Diseases.
The study "demonstrated that natural immunity gives longer lasting and greater protection against infection, symptomatic illness, and hospitalization caused by the Delta version of SARS-CoV-2, compared to the BNT162b2 two-dose vaccine-induced immunity," according to the researchers. The brand name for Pfizer's Kill Shot COVID-19 vaccine, which is the principal dose used in Israel, is BNT162b2.
According to journalist Alex Berenson, who was provided access to Twitter's internal data by CEO Elon Musk, Gottlieb's email prompted messages on Jira, Twitter's internal messaging system.
"Please review the previous FDA commissioner's report," O'Boyle wrote.
A Twitter analyst who analyzed the message decided that it did not break any disinformation guidelines, but Twitter nonetheless tagged it, stating that it was "misleading" and sending all users who read it to a link that would demonstrate "why health professionals suggest a vaccination for most individuals." The tag made it impossible for users to respond to, share, or like Giroir's post.
Gottlieb, Twitter, and Giroir, now the CEO of Altesa BioSciences, all declined to comment.
Yet Another Message
Gottlieb subsequently messaged O'Boyle again, this time mentioning a post by Justin Hart, a critic of lockdowns and a skeptic of COVID-19 vaccinations, according to Berenson.
Gottlieb said that "sticks and stones may break my bones, but a viral infection with a child fatality rate of >0% has cost our children almost three years of education."
COVID-19 presents negligible danger of death to young, healthy persons, according to research and statistics.
Satan Soldier Gottlieb did not explain why he intended to censor Hart, but his protest came only days before the United States government certified and recommended Pfizer's vaccine for children aged 5 to 11.
O'Boyle submitted the request to Twitter analysts, forgetting to reveal Gottlieb's links to Pfizer for the second time. The complaint resulted in no action.
"Scott has been the target of our ragtag band of analysts, campaigners, parents and fathers since April 2020, when he regularly called for school closures and lockdowns. "He doesn't like people challenging the narrative," Hart told The Epoch Times through Twitter.
Attempt to Ban Journalist
Gottlieb also attempted to have Berenson, a former New York Times writer who now writes for Substack, removed from Twitter, according to a message posted in 2022.
The message revealed that Gottlieb shared a blog post from Berenson to a Twitter employee, saying that Berenson calling Dr. Anthony Fauci arrogant was an example of why Fauci, the director of the US National Institute of Allergy and Infectious Diseases at the time, required a security detail.
Twitter suspended Berenson four days later, a day after Gottlieb spoke with Twitter employees, for allegedly breaking its COVID-19 disinformation policy.
Gottlieb stood by his conduct.
"I've expressed concerns about social media more generally," Gottlieb remarked on CNBC. "And I've done it in response to the threats that are being made on these platforms, as well as the incapacity of these platforms to police direct threats, physical threats against individuals, which are my worries about social media and what's going on in that environment."
"I am really worried about physical threats to people's safety and the folks who make such threats against individuals," he said.
Berenson stated that he had never threatened Fauci or Gottlieb and cited Gottlieb's remarks.
Berenson lambasted Fauci in the piece that prompted Gottlieb's email for declaring that "attacks on me are assaults on science" and for how he managed the US pandemic response.
Berenson was returned to Twitter as part of a settlement of a lawsuit he filed against the corporation in 2022. During discovery, Berenson got Gottlieb's email concerning Fauci's article. Prior to the settlement deal, a court determined that Berenson had a plausible claim that Twitter violated a policy of five strikes before banning the journalist.
The facts are that corporations at every level under the current administration see their opportunity to advance their positions in the power currently in play in America and around the world.The people will be the only way out of this death spiral. EVILThe forces at play know this, and it's why current world events Tribulation—theon are what they are.

Brazil, China, Europe, and America, as well as Canada, aren't aberrations.People sense they are being had at last and are pushing back.Elites will always seek more power and wealth.Like the proverbial scorpion, they can't help themselves.
That is very precise.
HNewsWire: Not Pfizer, but mRNA vaccines from both Pfizer and Moderna are to blame. Many mRNA vaccine recipients have had a variety of side effects, including early death and heart attacks, followed by a stent in their heart. Seeing these in individuals near to me has made me realize that regular booster doses, particularly with mRNA vaccines, are not a smart idea. Most vaccinations were administered without regard for the common circulating strains at the time. A similar situation exists today, in which people are given non-specific boosters with no purpose. We must comprehend that mRNA vaccines violate nature's rule by delivering a sequence into the host blood and instructing your cellular ribosomes to convert this sequence into a viral spike protein, which immunizes the host. Nothing is known about the amount of spike protein generated or where it travels or…
The first group of people to be hidden in attics and basements for fear of elimination, we're the German disabled. Next to follow were the minorities, including homosexuals. It was in this phase that a race war ensued and was quite effective. When political opponents tried to stop it, they were cleverly targeted and sent to the camps. Once political opponents were out of the way, and there was no one left to stop them, they began the Holocaust. To shift the wealth and fund their agenda. It may be a little fuzzy and hard to connect the dots, but it appears to be happening again. With Klaus Schwab, whose father had very close ties to the Nazi elite, at the helm. HNewsWire: It's Genocide': Family Alleges Ominous Conclusion in Seeking Answers to Their Daughter's Death Eight months after…
Pfizer says its timeline for approval could see the first doses shipped by the middle of next month. The US government has already agreed to pay Pfizer and BioNTech some $2 billion for 100 million doses of the vaccine, and the companies have struck similar deals with other companies. Pfizer is a New-York based Big Pharma company. It's known for its products like Advil, Viagra, Xanax and Zoloft. It was the second-largest pharmaceutical company in revenue in 2017. But the medical industry giant has had its share of legal troubles and scandal. This includes marketing fraud allegations and unapproved clinical trials. A "green light" from the FDA would cap the fastest vaccine development program in history. Typically, it takes years for scientists to approve a vaccine. A large swath of the population, including the most vulnerable patients, could be vaccinated…