Advisory: Be careful of what you read on social media. The algorithms used by these platforms have no regard for Biblical truth. They target your emotions to keep you engaged on their site so their advertisers can drop more ads. These platforms exist to enrich their stockholders. Consider God's promise to Believers in James 1:5, "If any of you lacks wisdom, you should ask God, who gives generously to all without finding fault, and it will be given to you."
Pfizer says its timeline for approval could see the first doses shipped by the middle of next month.
The US government has already agreed to pay Pfizer and BioNTech some $2 billion for 100 million doses of the vaccine, and the companies have struck similar deals with other companies.
Pfizer is a New-York based Big Pharma company. It's known for its products like Advil, Viagra, Xanax and Zoloft. It was the second-largest pharmaceutical company in revenue in 2017. But the medical industry giant has had its share of legal troubles and scandal. This includes marketing fraud allegations and unapproved clinical trials.
A "green light" from the FDA would cap the fastest vaccine development program in history. Typically, it takes years for scientists to approve a vaccine. A large swath of the population, including the most vulnerable patients, could be vaccinated by early April, according to an estimated timeline parroted by analysts and government officials.
Pfizer's submission will mark the first time the agency has reviewed an mRNA vaccine, which relies on a revolutionary new technique which essentially reprograms the body's genes to produce antibodies that will fight off COVID. During its Phase 3 trial, the Pfizer-BioNTech vaccine was administered to 19,000 subjects, and at least two months of safety data were collected.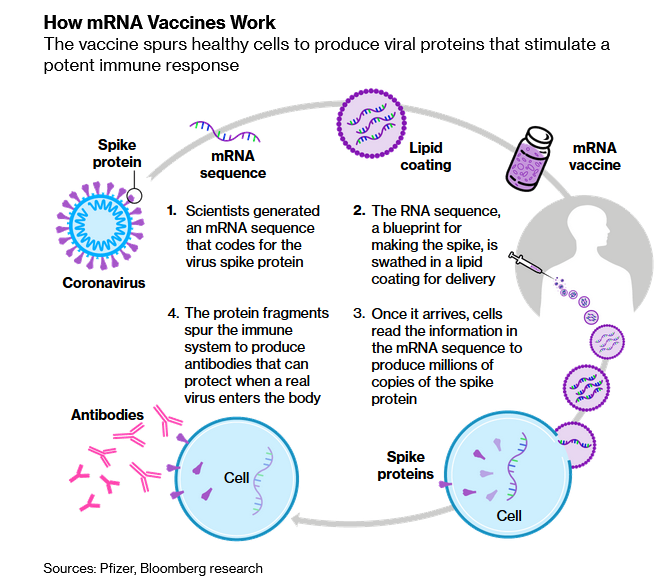 According to the British Daily Mail, Carrie, one of the 43,538 participants in Pfizer's vaccine trial, "said she suffered a headache, fever and aches all over her body, comparable to the flu jab, with the first one. But after the second these became 'more severe.'"
The New York Times emphasized on Monday, "The data released by Pfizer … was delivered in a news release, not a peer-reviewed medical journal. It is not conclusive evidence that the vaccine is safe and effective, and the initial finding of more than 90 percent efficacy could change as the trial goes on."
In fact, Pfizer's press release mentioned 43,538 participants enrolled in the study, with only "94 confirmed cases of COVID-19 in trial participants." This means that only 0.2 percent of participants were tested positive for the coronavirus.
Pfizer
Pfizer is a New-York based Big Pharma company. It's known for its products like Advil, Viagra, Xanax and Zoloft. It was the second-largest pharmaceutical company in revenue in 2017. But the medical industry giant has had its share of legal troubles and scandal. This includes marketing fraud allegations and unapproved clinical trials.
Pfizer is a pharmaceutical company that created many well-known drugs. Pfizer brands include Advil, Bextra, Celebrex, Diflucan, Lyrica, Robitussin and Viagra.
The Big Pharma company is also the mastermind behind many popular consumer products. Some of the company's biggest names include Chapstick and Preparation-H.
Pfizer got its start over 150 years ago. It's come a long way, evolving from a "one-stop-shop" to a multinational corporation.
Pfizer has had many triumphs. It discovered citric acid. It mass produces penicillin and vitamin C. But for all its successes, it has also seen its fair share of lawsuits and scandal.
Consumers have accused Pfizer of selling defective products. The U.S. government has charged the company with health care fraud.
Fortune magazine named Pfizer the world's most admired pharmaceutical company in 1997. But in 2017, a Reputation Institute report ranked Pfizer last among the top 17 drug makers for reputation.
What Is Pfizer?
Pfizer is a publicly-traded global pharmaceutical company headquartered in New York City. Its revenues reached $52.5 billion in 2017.
Pfizer makes Advil, Xanax, Depo-Provera, Neosporin, Lyrica and Dimetapp. It specializes in vaccines and cancer, heart and diabetes treatments. It also makes medicines for disorders of the endocrine (hormones) and nervous systems.
The shareholder-owned company operates in 180 countries. Its research headquarters are in Groton, Connecticut. It employs more than 96,000 people worldwide.FACT Pfizer manufacturers more than 350 different pharmaceuticals. Source: Pfizer Product List
Pfizer History
German-American cousins Charles Pfizer and Charles Erhart began Pfizer in 1849. Brooklyn was Pfizer's first home.
The company started as a manufacturer of fine chemicals. It operated out of one building. The stand-alone structure served as an office, laboratory, factory and warehouse.
As the company expanded, the headquarters moved to Manhattan in 1868. A separate warehouse opened in Chicago in 1882.
One of the company's first successful products was Santonin, a cure for intestinal worms.DID YOU KNOW?Pfizer discovered citric acid. The organic acid is in Coca-Cola, Dr. Pepper and Pepsi.Source: Pfizer's History
Pfizer was also known as the world's top producer of vitamin C. People use the vitamin as a defense against scurvy and the common cold.
In 1952, Pfizer had moved into eight new international locations. It also established its Agricultural Division, later known as Animal Health.
Pfizer acquired several other companies over the years. Many of these companies made billions for Pfizer with their established research and drug development.
Warner-Lambert was one of these companies. It's the original maker of Lipitor. Warner-Lambert merged with Pfizer in 2000.
Lipitor quickly grew to be the largest-selling pharmaceutical of any kind in history. It reached $9.6 billion in revenue in 2011.
Pfizer Products
Pfizer manufacturers and/or markets many well-known products. Studies link some of its products to serious side effects. The products prompted FDA warnings and lawsuits. Popular Pfizer Products and BrandsNexium24HROver-the-counter heartburn drug Prevnar 13Vaccine to prevent pneumonia AdvilNon-steroidal anti-inflammatory drug (pain reliever)Viagra Erectile dysfunction drugXanax Psychoactive medicine ZoloftSSRI antidepressant Lipitor Cholesterol medicine Chantix Smoking cessation drugBextraCox-2 inhibitor (pain reliever)Depo-Testosterone Testosterone replacement therapy drugEpiPenAuto-injector emergency allergy medicine Celebrex Non-steroidal anti-inflammatory drug (pain reliever)Zithromax Macrolide antibiotic (bacterial infections)Eliquis Anticoagulant (blood thinner)Protonix Proton pump inhibitor acid-reducer Prempro Hormone replacement drug therapy Effexor SNRI antidepressant
Pfizer Lawsuits and Settlements
Pfizer faces a growing number of lawsuits in 2018 involving some of its most popular drugs. In the past, courts dismissed thousands of lawsuits against Pfizer. The company also agreed to settle cases over illegal marketing and health care fraud. PFIZER SETTLEMENT AND FINE Pfizer set a record for the largest health care fraud settlement and the largest criminal fine of any kind with $2.3 billion in 2009.Source: U.S. Department of Justice
Protonix
People are suing Pfizer over Protonix. Protonix lawsuits say Pfizer failed to warn about the risk of kidney problems. In 2013, Pfizer agreed to pay $55 million to settle criminal charges. The U.S. Department of Justice said Wyeth promoted Protonix for unapproved uses in 2000 and 2001. Pfizer acquired Wyeth in 2009.
LEARN MORE ABOUT PROTONIX LAWSUITS
Prempro
Nearly 10,000 women filed Prempro breast cancer lawsuits against Pfizer. By 2012, Pfizer settled most of the claims for more than $1 billion.
Chantix
About 3,000 people filed Chantix lawsuits against Pfizer. They claimed Chantix caused suicidal thoughts and severe psychological disorders. In 2013, the company set aside about $288 million to resolve these cases. One case settled for an undisclosed amount just before trial in 2012.
Depo-Testosterone
More than 6,000 testosterone therapy lawsuits were pending in May 2018. The lawsuits say testosterone products caused strokes, blood clots and heart attacks.
LEARN MORE ABOUT TESTOSTERONE LAWSUITS
Effexor
A federal panel closed the consolidated Effexor litigation in 2013. Lawsuits claimed birth defects.
Zoloft
A judge dismissed Zoloft cases in 2016. Lawsuits included similar claims to Effexor XR. The judge did not disagree that Zoloft caused birth defects. But the judge concluded there was insufficient evidence to definitively link the two.
Eliquis
A judge dismissed a group of federal Eliquis cases in 2017. Injured patients continue to file severe bleeding claims in Delaware state court.
Lipitor
A judge dismissed Lipitor lawsuits in 2017. Women who took the drug filed lawsuits after developing Type 2 diabetes. There is currently an appeal pending.
Pfizer Drug Recalls
Pfizer has had to recall some of its popular products due to quality issues and poor packaging. Effexor XR and Prempro are two products affected by recalls.
Prempro
In 2013, Pfizer announced it was recalling five lots of Prempro. Prempro is a hormone replacement therapy drug. Routine testing revealed the strength of the drug was low.
Effexor XR
In 2014, Pfizer recalled two lots of its antidepressant drug Effexor XR. Tikosyn was discovered in an Effexor XR bottle. Tikosyn is one of the company's heart pills. Pfizer warned that the combination of the two different drugs could be deadly.
Pfizer Scandal
In 1996, Pfizer conducted an unapproved clinical trial. It involved children with meningitis in Nigeria, CBS News reported. The trials led to the deaths of 11 children. Dozens more were left disabled. PFIZER'S UNAPPROVED CLINICAL TRIAL The unauthorized trial involved tests on 200 children with Pfizer's antibiotic Trovan .Source: BBC News
Trovan is a drug severely restricted in use because of its potential to cause liver damage. Injury to the liver as a result of taking Trovan can lead to liver failure and death.
In 2011, Pfizer paid $700,000 to four families who lost children during the Trovan trials.
In addition, the company set up a $35 million fund for those affected by Trovan. Pfizer also agreed to sponsor health projects in Kano, Nigeria.
Source: HNewsWire drugwatch ZeroHedge HNewsWire HNewsWire HNewsWire HNewsWire
StevieRay Hansen
Editor, HNewsWire.com
Watchmen does not confuse truth with consensus The Watchmen does not confuse God's word with the word of those in power…
These Governors and Politicians Are Caught up in Their Own Destruction, the Plandemic of All Scamdemic Has Turned on Its Creators and Will Wreak Havoc…
As Time Goes on There Will Be a Lot of Politicians, Police Officers, Judges That Will Take Cover in Other Words They Are Going to Remain Neutral Out for Fear for Their Lives. You Are On Your Own, Prepare For The Worst, Pray for the Best –Tribulations Will Be Very Ugly
I Want Everyone to Know, Never Take Anyone's Word for the Gospel, Especially Revelations, Here's How It Works. When You're in the Word God Will Speak to You Through His Holy Spirit He Will Move You in the Direction He Wants You to Go. Please Stop Looking For That Individual Here on Earth That Has All the Answers, They're Not Here and That Confuse You.. That Includes Anything I Say, Always Test Every Spirit. Every Word That Is Uttered Out of Any Man's Mouth Must Be Verified Through the Holy Spirit… Stevieray Hansen
I Have Never Seen The Righteous Forsaken or Begging For Rain…
The World Is In Big Trouble, for Those That Believe We Will Go Back to Some Sense of Normal Life Here on Earth, You Will Be Sadly Disappointed, Seven Years of Hell on Earth Which Began January 1, 2020
We make every effort to acknowledge sources used in our news articles. In a few cases, the sources were lost due to a technological glitch. If you believe we have not given sufficient credit for your source material, please contact us, and we will be more than happy to link to your article.