Advisory: Be careful of what you read on social media. The algorithms used by these platforms have no regard for Biblical truth. They target your emotions to keep you engaged on their site so their advertisers can drop more ads. These platforms exist to enrich their stockholders. Consider God's promise to Believers in James 1:5, "If any of you lacks wisdom, you should ask God, who gives generously to all without finding fault, and it will be given to you."
From COVID-19 a Morally Bankrupt Town (Sin City) Go's Upside–Down, Who Is Next?…
250,000 Las Vegans Face Eviction Next Month 
Las Vegas is expected to become one of the focal points of the eviction crisis as nearly a quarter-million people could be removed from their homes in the coming weeks, reported AP News.
The Las Vegas Review-Journal reports a perfect storm of factors in Clark County including high unemployment, a high percentage of renters, collapsed travel and tourism industry, expiration of the state's eviction mortarium, and the end of federal unemployment benefits could result in an eviction wave beginning as early as next month.
Las Vegas research group Guinn Center and the COVID-19 Eviction Defense Project in Denver estimates about 250,000 people in Clark County, or approximately 10% of the population, are at risk of eviction in September.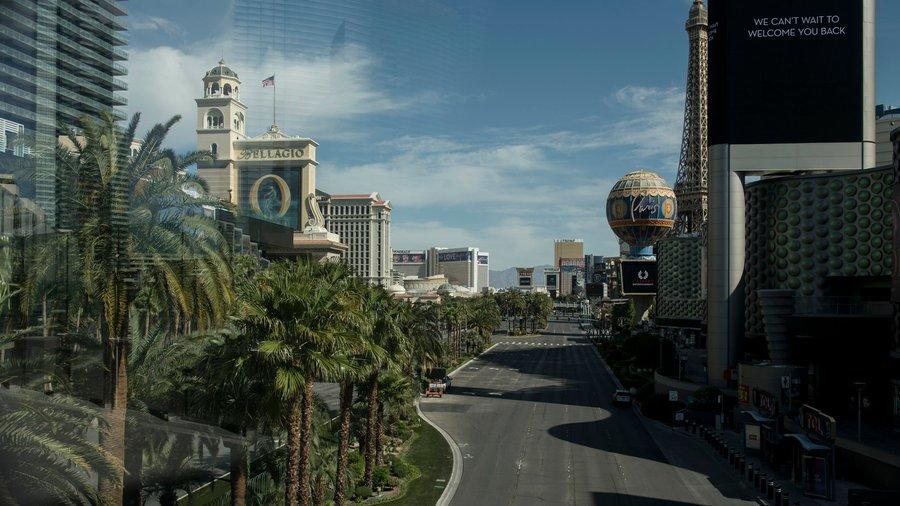 Nancy Brune, Guinn Center executive director, called the situation "a bad confluence of events."
Brune said the virus-induced downturn had severely damaged Las Vegas as fewer people are coming to gamble at casinos. Brune said 47% of households in the county are renters, of the renters, about 38% are currently unemployed.
The bust cycle of Las Vegas could linger for a couple of years as the city must shrink to survive.
Las Vegas economic analyst Jeremy Aguero recently warned, an economic recovery in the town could take upward of three years.
"Our economy is in recession," Aguero said, warning that the velocity of job loss today was much higher than the economic crash a decade ago.
We noted, in late April, certain casinos were transformed into food banks, with thousands of residents lined up outside.
As for the rest of the country, at least 40 million people are at risk of eviction, according to Aspen Institute think tank. President Trump signed an executive order a week ago to stop evictions, though that doesn't appear to solve the looming crisis among renters at risk of losing their homes.
Deuteronomy 28:21
Yahweh will make the pestilence cling to you until he has consumed you from off the land, where you go in to possess it…
As economists around the world try to make sense of the coronavirus pandemic's growth-destroying capacity, a team at Bankrate.com has devised a simple measure of 'economic hardship' to measure how much the outbreak in the US has harmed each state. BR's index comprises measures of unemployment and mortgage delinquencies (two critical signs of personal financial peril) to judge how the people of every state have fared since the outbreak began.
One interesting conclusion from the survey was the lack of correlation between COVID-19 cases and overall economic impact. New York will fare reasonably well in the coming months (though certainly industries like foodservice and hospitality may suffer), but the tourism-dependent economies of Hawaii and Nevada have been hit hard by the implosion of the tourism industry.
"States experiencing high unemployment will see mortgage delinquencies surge if unemployment remains elevated as forbearance periods expire," says Greg McBride, CFA, Bankrate chief financial analyst. "This year may see the worst for unemployment, but 2021 will likely bring the worst for mortgage delinquencies and defaults."
As China ups its orders of certain farm products, the long-suffering American farmers, who have struggled with low commodity prices, are seeing surprising resilience in unemployment and mortgage defaults. Nebraska had the best showing in BR's Housing Hardship Index, and Idaho has performed well. Neither saw their unemployment rate crack double-digit territory last month or today.
These five states fared the worst in May, according to BR's index (courtesy of BR.com).
Nevada. Its mortgage delinquency rate rose to 9.99 percent in May from 7.97 in April. Unemployment fell to 25.3 percent from 28.2 percent in April, for an overall reading of 35.29. Nevada also was the hardest-hit state in April.
Hawaii. Another tourism-dependent state, Hawaii saw its mortgage delinquency rate rise to 9.30 percent in May from 7.12 percent in April. Unemployment edged up to 22.6 percent in May from 22.3 percent in April, for an overall measure of 31.90. Hawaii remained No. 2 in Bankrate's hardship ranking.
Michigan. The long-struggling state had reported more than 6,100 deaths from COVID-19 as of June 30. Its delinquency rate rose to 6.59 percent in May from 5.70 percent in April. Unemployment dipped to 21.2 percent in May from 22.7 percent in April, for an overall reading of 27.79.
New Jersey. Another state hit hard by the coronavirus, New Jersey saw its delinquency rate jump to 10.49 percent in May from 8.81 percent in April. Its unemployment rate of 15.2 percent dipped down from 15.3 percent in April.
Rhode Island. Mortgage delinquency rates jumped to 8.41 percent in May from 7.27 percent in April. Unemployment was 16.3 percent.
Meanwhile, these are the five least-affected states.
Nebraska. The mortgage delinquency share is 6.12 percent, and the jobless rate is 5.2 percent.
Idaho. Its unemployment is a comparatively low 8.9 percent, and just 4.29 percent of mortgages are late.
Montana. Unemployment was 9 percent, and just 4.92 percent of mortgages were delinquent.
North Dakota. The unemployment rate was 9.1 percent in May, and the delinquency rate was 4.83 percent.
South Dakota. Its unemployment rate of 9.4 percent was well below the national average, as was the delinquency rate of 4.68 percent.
As one BR economist explained, the coronavirus outbreak forced a virtual shutdown of Nevada's economy.
Nevada has experienced a near-shutdown of its economy, which is driven by casinos, conventions, and concerts – all victims of the coronavirus. The state hasn't diversified its employment base much beyond tourism, and hospitality employment plunged 39 percent from April 2019 to April 2020, says Stephen Miller, an economics professor at the University of Nevada, Las Vegas.

"Things don't look very good here in Las Vegas," Miller says. "Leisure and hospitality was the worst-hit sector, and 30 percent of our employees in southern Nevada is in leisure and hospitality."

Las Vegas's vulnerable economy has scared off some real estate investors. For instance, Unison Home Ownership Investors, a company that takes equity shares in homes, says it won't do deals in Sin City in the near future. "A place like Las Vegas would just be far too risky for us to invest right now," says Brodie Gay, the company's vice president of research.

It's familiar territory for the Nevada real estate market, which was pummeled during the Great Recession. "Our recovery is going to be, like the last one, longer than the rest of the country's," Miller says. One saving grace, he hopes, is that many of Vegas' visitors can drive from California.
Fortunately for Hawaiians, the state, also heavily tourism-dependent, only suffered a glancing public-health blow from COVID-19. Nevadans haven't been quite as lucky. Meanwhile, its casinos, which only just reopened, are bracing for another closure order from the governor – literally their operators' worst-case scenario.
The World Is In Big Trouble, for Those That Believe We Will Go Back to Some Sense of Normal Life Here on Earth, You Will Be Sadly Disappointed, Seven and Half Years of Hell on Earth Which Began January 1, 2020
"Our courts oppose the righteous, and justice is nowhere to be found. Truth stumbles in the streets, and honesty has been outlawed" (Isa. 59:14, NLT)…We Turned Our Backs On GOD, Now We Have Been Left To Our Own Devices, Enjoy…
While Mainstream Media Continues to Push a False Narrative, Big Tech Has Keep the Truth From Coming out by Shadow Banning Conservatives, Christians, and Like-Minded People, Those Death Attributed to the Coronavirus Is a Result of Those Mentioned, They Truly Are Evil…
Source: HNewsWire ZeroHedge ZeroHedge HNewsWire
StevieRay Hansen
Editor, HNewsWire.com
Watchmen does not confuse truth with consensus The Watchmen does not confuse God's word with the word of those in power…
In police-state fashion, Big Tech took the list of accused (including this site), declared all those named guilty and promptly shadow-banned, de-platformed or de-monetized us all without coming clean about how they engineered the crushing of dissent, Now more than ever big Tech has exposed there hand engaging in devious underhanded tactics to make the sinister look saintly, one of Satan's greatest weapons happens to be deceit…
The accumulating death toll from Covid-19 can be seen minute-by-minute on cable news channels. But there's another death toll few seem to care much about: the number of poverty-related deaths being set in motion by deliberately plunging millions of Americans into poverty and despair.
American health care, as we call it today, and for all its high-tech miracles, has evolved into one of the most atrocious rackets the world has ever seen. By racket, I mean an enterprise organized explicitly to make money dishonestly.
All the official reassurances won't be worth a bucket of warm spit. The Globals are behind the CoronaVirus, It Is a Man-Made Bioweapon.
For those of you who care, Google and your favorite social media platforms have misled you, and now we all pay a heavy price for trusting the ungodly, Google and company, They knew exactly what they were doing, removing our history while preparing you to accept the New World Order playbook, Enjoy.
But realize this, that in the last days difficult times will come. For men will be lovers of self, lovers of money, boastful, arrogant, revilers, disobedient to parents, ungrateful, unholy, unloving, irreconcilable, malicious gossips, without self-control, brutal, haters of good, treacherous, reckless, conceited, lovers of pleasure rather than lovers of God, holding to a form of godliness, although they have denied its power; avoid such men as these.
Among them are those who enter into households and captivate weak women weighed down with sins, led on by various impulses, always learning and never able to come to the knowledge of the truth. Just as Jannes and Jambres opposed Moses, so these men also oppose the truth, men of depraved mind, rejected in regard to the faith. But they will not make further progress; for their folly will be obvious to all, just as Jannes's and Jambres's folly was also. Now you followed my teaching, conduct, purpose, faith, patience, love, perseverance, persecutions, and sufferings, such as happened to me at Antioch, at Iconium, and at Lystra; what persecutions I endured, and out of them all the Lord rescued me! Indeed, all who desire to live godly in Christ Jesus will be persecuted.
But evil men and impostors will proceed from bad to worse, deceiving and being deceived. You, however, continue in the things you have learned and become convinced of, knowing from whom you have learned them, and that from childhood you have known the sacred writings which are able to give you the wisdom that leads to salvation through faith which is in Christ Jesus. All Scripture is inspired by God and profitable for teaching, for reproof, for correction, for training in righteousness; so that the man of God may be adequate, equipped for every good work.
I solemnly charge you in the presence of God and of Christ Jesus, who is to judge the living and the dead, and by His appearing and His kingdom: preach the word; be ready in season and out of season; reprove, rebuke, exhort, with great patience and instruction. For the time will come when they will not endure sound doctrine; but wanting to have their ears tickled, they will accumulate for themselves teachers in accordance to their own desires, and will turn away their ears from the truth and will turn aside to myths. But you, be sober in all things, endure hardship, do the work of an evangelist, fulfill your ministry.
2 Timothy 3:1-4:5
According to the word of God, as Christians, we are living in difficult or perilous times. One of the greatest of those perils is the threat posed by false teachers. This site is a call to action for believers. The call to action is this: Trust(1) in the truthfulness and sufficiency of God's word. Submit(2) to His sovereignty over our lives. Study(3) His word with humility and fear. Test(4) those who call themselves Apostles or claim any other title of spiritual authority. Prove(5) your love for God by not fearing man, and warn those who do not know God whether or not they claim to be Christian. Expose(6) the lies that claim to be God's truth. Love(7) others sacrificially. Judge(8) with righteous judgment. Examine(9) yourself to see if you're in the faith. Endure(10) to the end.
HNewsWire: Christopher Wray, the director of the FBI, told lawmakers on Tuesday that since the war between Israel and Hamas began in October, the United……...
Read More
We make every effort to acknowledge sources used in our news articles. In a few cases, the sources were lost due to a technological glitch. If you believe we have not given sufficient credit for your source material, please contact us, and we will be more than happy to link to your article.