Advisory: Be careful of what you read on social media. The algorithms used by these platforms have no regard for Biblical truth. They target your emotions to keep you engaged on their site so their advertisers can drop more ads. These platforms exist to enrich their stockholders. Consider God's promise to Believers in James 1:5, "If any of you lacks wisdom, you should ask God, who gives generously to all without finding fault, and it will be given to you."
HNewsWire: 2 Timothy 3:1-5…

But understand this, that in the last days there will come times of difficulty. For people will be lovers of self, lovers of money, proud, arrogant, abusive, disobedient to their parents, ungrateful, unholy, heartless, unappeasable, slanderous, without self-control, brutal, not loving good, treacherous, reckless, swollen with conceit, lovers of pleasure rather than lovers of God, having the appearance of godliness, but denying its power. Avoid such people…
HNewsWire-"To kill with sword with famine and with pestilence"…
Fully Vaccinated Former SecState Colin Powell Dies From COVID Complications
Colin Powell, the first Black US secretary of state , has died from complications from COVID-19, his family said on Facebook.
"General Colin L. Powell, former U.S. Secretary of State and Chairman of the Joint Chiefs of Staff, passed away this morning due to complications from COVID-19," read a statement posted to his official Facebook page.

"He was fully vaccinated. We want to thank the medical staff at Walter Reed National Medical Center for their caring treatment. We have lost a remarkable and loving husband, father, grandfather and a great American."
Powell's leadership in several Republican administrations helped shape American foreign policy in the last years of the 20th century and the early years of the 21st.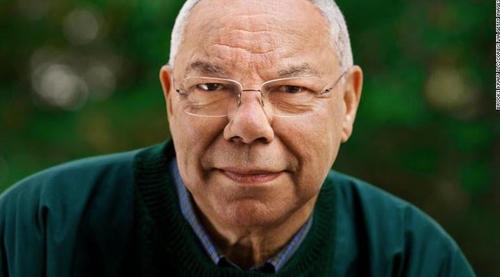 As CNN reports, his national popularity soared in the aftermath of the US-led coalition victory during the Gulf War, and for a time in the mid-90s, he was considered a leading contender to become the first Black President of the United States. But his reputation would be forever stained when, as George W. Bush's first secretary of state, he pushed faulty intelligence before the United Nations to advocate for the Iraq War, which he would later call a "blot" on his record.
Killing Innocent People in Iraq, He's Part of the Club, the Club of Satan Soldiers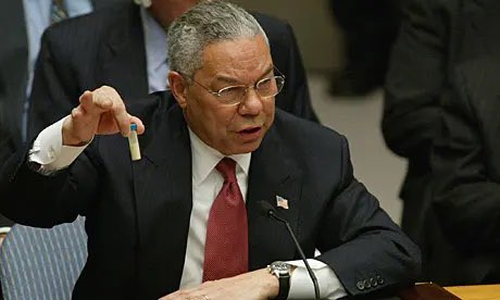 He was 84.
Former president Bush has issued a statement: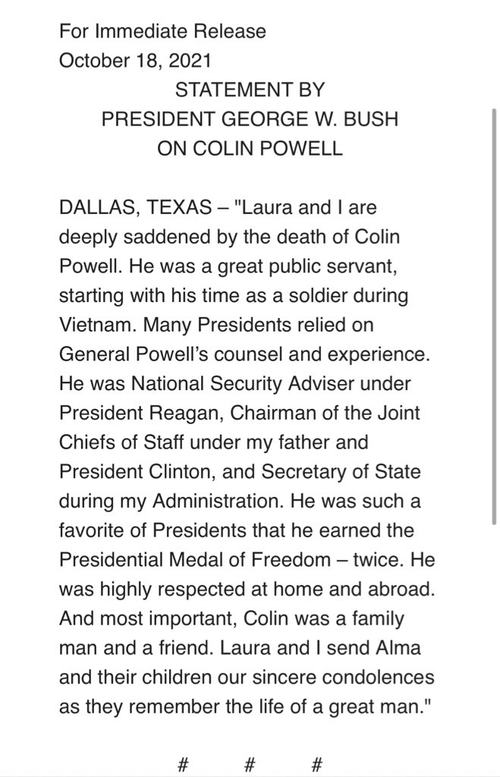 Of course, what the MSM wants to know is – had he received his booster?
To enforce the climate change carbon taxes, governments of the world will wield "swords" (i.e. government weapons) against the citizens. Understanding the environmentalist movement, and watching the governments of the world walk lockstep into the "APOCALYPSE"……
"Who are the four horsemen of the apocalypse?"

The four horsemen of the Apocalypse are described in Revelation chapter 6, verses 1-8. The four horsemen are symbolic descriptions of different events that will take place in the end times. The first horseman of the Apocalypse is mentioned in Revelation 6:2: "I looked, and there before me was a white horse! Its rider held a bow, and he was given a crown, and he rode out as a conqueror bent on conquest." This first horseman likely refers to the Antichrist, who will be given authority and will conquer all who oppose him. The antichrist is the false imitator of the true Christ, who will also return on a white horse (Revelation 19:11-16).
The second horseman of the Apocalypse appears in Revelation 6:4, "Then another horse came out, a fiery red one. Its rider was given the power to take peace from the earth and to make men slay each other. To him was given a large sword." The second horseman refers to terrible warfare that will break out in the end times. The third horseman is described in Revelation 6:5-6, "…and there before me was a black horse! Its rider was holding a pair of scales in his hand. Then I heard what sounded like a voice among the four living creatures, saying, 'A quart of wheat for a day's wages, and three quarts of barley for a day's wages, and do not damage the oil and the wine!'" The third horseman of the Apocalypse refers to a great famine that will take place, likely as a result of the wars from the second horseman.
The fourth horseman is mentioned in Revelation 6:8, "I looked, and there before me was a pale horse! Its rider was named Death, and Hades was following close behind him. They were given power over a fourth of the earth to kill by sword, famine, and plague, and by the wild beasts of the earth." The fourth horseman of the Apocalypse is symbolic of death and devastation. It seems to be a combination of the previous horsemen. The fourth horseman of the Apocalypse will bring further warfare and terrible famines along with awful plagues and diseases. What is most amazing, or perhaps terrifying, is that the four horsemen of the Apocalypse are just "precursors" of even worse judgments that come later in the tribulation (Revelation chapters 8–9 and 16).
According to Biblical scholars, there are four "horsemen" that represent four of the Seals prophesied in the Book of Revelation, which describes the complete destruction of human civilization as God's wrath is unleashed upon those who serve Satan. The fourth of these horsemen is known as "Death," and it is usually described as a horseman riding a "pale horse." But there's a key translation problem that's causing almost everyone to miss a bigger truth that needs to be pointed out.
The passage from Revelation (6:7-8) is typically translated like this: (English Standard Version)
And I looked, and behold, a pale horse! And its rider's name was Death, and Hades followed him. And they were given authority over a fourth of the earth, to kill with sword and with famine and with pestilence and by wild beasts of the earth.
However, I have done an in-depth analysis and learned this is a mistranslation. In the original Hebrew text, the color of the horse is not "pale" but rather chloros, the Greek word for "green,"( It is the environmental movement ) sharing the same word root as "chlorophyll," the molecule of photosynthesis for all green plants on our planet. The environmental movement has declared war on carbon dioxide, the "miracle" molecule of life which powers the photosynthesis process that requires chlorophyll (and produces oxygen as a byproduct of plant respiration). Carbon dioxide might even be called the "God molecule" since it is the very basis of nearly all food webs and living ecosystems on the planet. Yet the environmental movement has declared this "God molecule" to be a pollutant… and now promises to banish this molecule by dimming the sun with geoengineering efforts, literally "blocking the light" that powers all plant life on Earth.
As predicted in revelations, a collapse in the food supply will result in the immediate "famine" that are directly cited in the passage, followed by "pestilence" or disease. Indeed, if the Green New Deal now being pushed by elected officials were to become a reality, it would result in mass death, starvation, pestilence, and even economic destruction. It's interesting when you connect the dots, the masses are opposed to God's blueprint and therefore will bring destruction upon the earth intentionally. Me, I, mine, narcissists generation will bring total destruction upon God's people, only the chosen will survive, we live in evil times, dress appropriately, put on the full armor of God!….
HNewsWire- "All political language is designed to make lies sound truthful and murder respectable." Just look at some of our modern-day examples: torture is "enhanced interrogation techniques"; murder is "collateral damage"; the aggression initiation of war is a "pre-emptive strike"; the theft of taxpayers' money is a "bailout", and the theft of depositors' money in a bank is a "haircut" or "bail-in".In a blatant example of Newspeak, the New World Order controllers (through the psychiatric DSM V) have tried to rename pedophiles as "minor-attracted persons" and redefine pedophilia as "sexual orientation". This makes no sense since sexual orientation has to do with gender, not age, with whether you are attracted to males or females, not how old they are. There are even organizations (like B4UAct.org) which are claiming that pedophiles are being unfairly stigmatized for their feelings! Psychiatry, it should also be noted, has a history of inventing fictitious diseases such as ADHD (as admitted by its inventor on his deathbed by Leon Eisenberg).
2 Corinthians 4:8-11 New King James Version (NKJV)
8 We are hard-pressed on every side, yet not crushed; we are perplexed, but not in despair; 9 persecuted, but not forsaken; struck down, but not destroyed— 10 always carrying about in the body the dying of the Lord Jesus, that the life of Jesus also may be manifested in our body. 11 For we who live are always delivered to death for Jesus' sake, that the life of Jesus also may be manifested in our mortal flesh.
It is impossible to find anyone in the Bible who was a power for God who did not have enemies and was not hated.
Please help me help these kids(orphans) that are in trouble, PLEASE 80% of the book sales goes directly to https://www.the127.org
HNewsWire Radio
"It is better to be divided by truth than to be united in error. It is better to speak the truth that hurts and then heals, than falsehood that comforts and then kills. Let me tell you something, friend, it is not loved and it is not friendship if we fail to declare the whole counsel of God. It is better to be hated for telling the truth than to be loved for telling a lie. It is impossible to find anyone in the Bible who was a power for God who did not have enemies and was not hated. It's better to stand alone with the truth, then to be wrong with a multitude. It is better to ultimately succeed with the truth than to temporarily succeed with a lie. There is only one Gospel and Paul said, 'If any man preaches any other gospel unto you than that which we have preached unto you, let him be accursed."
Proverbs 31:8 (NIV)
Speak up for those who cannot speak for themselves,
for the rights of all who are destitute
MY MISSION IS NOT TO CONVINCE YOU, ONLY TO INFORM YOU…
The people spreading concrete information on the dangers of globalism are accomplishing far more than those sitting around buying bitcoin or passing around Q-cult nonsense.
StevieRay Hansen
Editor, HNewsWire.com
The Birth Pains Are Growing Stronger….
One of the signs of ruling class collapse is when they can no longer enforce the rules that maintain them as a ruling class. When the Romans started making exceptions to republican governance, it was a matter of time before someone simply decided the rules no longer applied to them. Perhaps the robot historians will consider Obama our Marius or Sulla. Maybe that person is in the near future. Either way, the rule of law is over and what comes next is the rule of men.
"Man will ultimately be governed by God or by tyrants." as in Nancy Pelosi (D-San Fran-feces)
Our government has been overthrown. As evidenced by Trump's capitulation on the border, his recent servitude to the GMO industry and his acquiescence to the warmongers, our President has been compromised. Our liberties are being eliminated one by one. Gun confiscation is next. The Constitution is gasping its last breaths. Our borders are destroyed and our culture has been turned upside down by every perversion known to man.
The watchman does not confuse truth with consensus. The Watchman does not confuse God's word with the word of those who happen to hold power at present, or with the opinion of the majority. This is because powerholders and the majority can fall victim to a lying spirit-and this means a power that actually seizes the majority of experts, the political leadership, and the public.
Everything is right on schedule and, now, the time is come to remove one of the final obstacles standing in the way of a New World Order: The United States Constitution – even if, over the course of many decades, it has already been greatly diminished by the B.E.A.S.T. system; or, more specifically, Bullshit Emerging As Strategic Totalitarianism (B.E.A.S.T.).
They are tolerant of everything except dissenting values and opinions — meaning, of course, they are tolerant of nothing that matters, only themselves."
Let Me Make This Abundantly Clear. (I Am Apolitical) While I Have a General Distaste for Electric Cars and Politicians No Matter the Party They Belong To, I Am Unashamedly Politically a Bible Believing Conservative Christian. I Have a Severe Distrust of Government. I Believe It Is the Most Inefficient and Ineffective Way to Accomplish Most Things. While I Strongly Disagree with Liberals/Progressives and Conservative on Most Political Issues, and While I Believe Liberals/Progressives and Most Politicians Are Misguided and Naive About What Big Government Will Eventually Result In, I Strive to Not Question Their Motives. At the Same Time, I Find Myself in Agreement with Conservative on Some Issues, and I Do Not Believe Electing Republicans Is the Answer to Everything. Sadly, the Main Difference Between Republicans and Democrats Is How Quickly They Want to Drive the Car Towards the Cliff. Put, I Do Not Believe the Government Is the Solution for Everything. I Do Not Place Any Faith, Trust, or Hope in Any Politicians to Fix What Is Wrong with the World. "Come Lord Jesus!" (Revelation 22:20)
The Watchman does not confuse truth with consensus. The watchman does not confuse God's word with the word of those who happen to hold power at present, or with the opinion of the majority. This is because powerholders and the majority can fall victim to a lying spirit-and; this means a power that seizes the majority of experts, the political leadership, and the public.StevieRay Hansen
Coronavirus, biblical truth, tribulation, antichrist, B.E.A.S.T, tribulation, end times, Electronic Prison, Birth Pains, the Land of the Free doesn't give a rat's-arse how they are perceived anymore.
Jesus chastised religious leaders in the first century for not knowing the time of His arrival. Will we make the same mistake today? Christ stated how His second coming would be preceded by global events signifying the end of our age. We may not know the day or the hour, but we can know the season!
"And it shall come to pass afterward, that I will pour out my spirit upon all flesh; and your sons and your daughters shall prophesy, your old men shall dream dreams, your young men shall see visions." (Joel 2:28.)
Education is useless without the bible (Daniel Webster)
"Courage is as "fear that has said its prayers."
Jesus come quick, there is nothing left in society that's sacred….
We make every effort to acknowledge sources used in our news articles. In a few cases, the sources were lost due to a technological glitch. If you believe we have not given sufficient credit for your source material, please contact us, and we will be more than happy to link to your article.