Advisory: The editorial board of HNewsWire adopted the official policy to bypass many social media platforms. Some of these include: Facebook, Instagram, Twitter, Parler, and YouTube. We believe these companies are responsible for many of the spiritual ills our world faces today. In some cases, however, we have allowed our guest contributors to include content from their YouTube channel while we search for alternatives.
CNN's Chris Cuomo Diagnosed With Coronavirus Flu
CNN anchor Chris Cuomo has been diagnosed with COVID-19 flu, the network said in a memo to employees on Tuesday.
"In these difficult times that seem to get more difficult and complicated by the day, I just found out that I am positive for coronavirus," Cuomo wrote in a message on Twitter.
CNN reports that Cuomo was most recently at CNN's offices in the Hudson Yards neighborhood of New York City last Friday. He anchored from his home on Monday and interviewed his brother, New York Governor Andrew Cuomo.
"I have been exposed to people in recent days who have subsequently tested positive and I had fevers, chills and shortness of breath," he wrote.

"I just hope I didn't give it to the kids and Cristina. That would make me feel worse than this illness!"
Cuomo said Tuesday that he is "quarantined in my basement" and will "do my shows from here."
"We will all beat this by being smart and tough and united!" he wrote on Twitter.

Source: ZeroHedge
Coronavirus ("Chinese virus") kills the oldest and has no respect for authority
Many of the most powerful people in the world are old, and coronavirus does not discriminate based on social status. Deaths are now hitting at high levels (not of death but of status), which can change the political conflicts of our world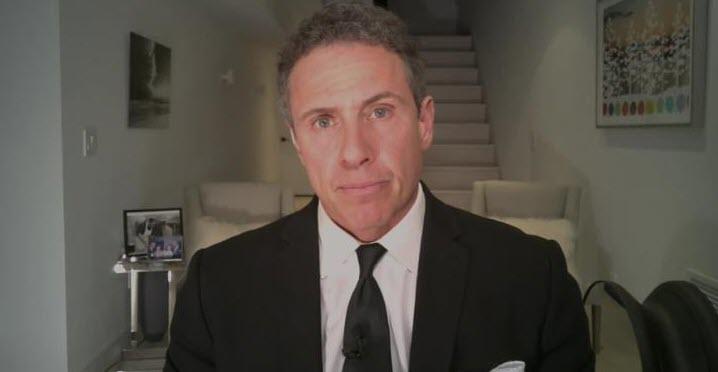 This is the third case of coronavirus involving CNN's workspace in New York City. Employees were notified of another case in mid-March.
You have been Mislead into thinking that God is an ever-merciful God and that He loves everyone. NO, not true. Society will be instructed to condone ungodly laws, people get this right, God hates perverted sexual acts and those that hurt children are especially condemned, and rewriting the Bible by the homosexual devious perverts will not change what God has deemed an abomination so you trans devils, sodomy degenerates, transsexual, feminism and demonic individuals that promote and practice pedophilia, which is an abomination in GOD's eyes. The family unit and the destruction of it will be at the root of everything. Once the family unit is Non-existent, society will fall; the removal of GOD's plan for humanity will be complete. For a short period of time, seven years and a half to be exact. PayDay…
Up-Date 3/26/2020 @ 5:07 PM CST...Kathy Griffin Hospitalized With "Unbearably Painful" Symptoms, Blames Trump
It has been almost three years since CNN fired Kathy Griffin for posing in a photo holding President Trump's bloody severed head. Now Griffin is in the hospital, bashing Trump on his coronavirus response, while she gets tested.
…Karma is a b*tch.

Griffin tweeted on Wednesday that she is in the "isolation wardroom" of a major US hospital with "UNBEARABLY PAINFUL symptoms." She took a jab at Trump on Twitter for lying about the number of coronavirus test kits.
"I was sent to the #COVID19 isolation ward room in a major hospital ER from a separate urgent care facility," Griffin tweeted Wednesday while criticizing the White House Coronavirus Task Force. "The hospital couldn't test me for #coronavirus because of CDC (Pence task force) restrictions. #TESTTESTTEST"
He's lying. I was sent to the #COVID19 isolation wardroom in a major hospital ER from a separate urgent care facility after showing UNBEARABLY PAINFUL symptoms. The hospital couldn't test me for #coronavirus because of CDC (Pence task force) restrictions. #TESTTESTTEST https://twitter.com/realDonaldTrump/status/1242824631230308353 …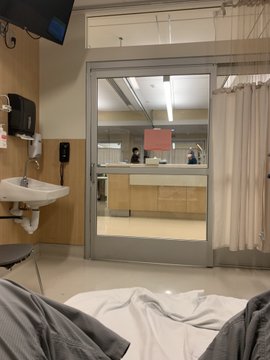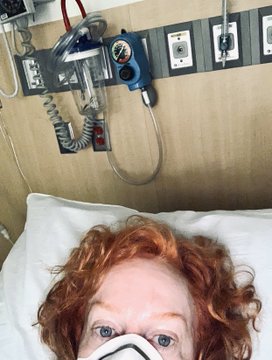 Donald J. Trump✔@realDonaldTrumpJust reported that the United States has done far more "testing" than any other nation, by far! In fact, over an eight day span, the United States now does more testing than what South Korea (which has been a very successful tester) does over an eight week span. Great job!47.7K2:22 PM – Mar 25, 2020Twitter Ads info and privacy38.1K people are talking about this
Griffin attached several pictures of herself to the tweet that showed the hospital room that she was staying in — while waiting for a test kit. The 59-year-old was also wearing a mask and had a higher probability of contracting the disease than a younger person.
Hours before her tweet, President Trump tweeted that his administration had done "far more 'testing' than any other nation, by far!"
"In fact," the president added, "over an eight day span, the United States now does more testing than what South Korea (which has been a very successful tester) does over an eight week span. Great job!"

Donald J. Trump✔@realDonaldTrump
Just reported that the United States has done far more "testing" than any other nation, by far! In fact, over an eight-day span, the United States now does more testing than what South Korea (which has been a very successful tester) does over an eight-week span. Great job!188K9:44 AM – Mar 25, 2020Twitter Ads info and privacy91.7K people are talking about this
If Griffin tests positive for the virus, she will join the ranks of Tom Hanks, Idris Elba, Daniel Dae Kim, Debi Mazar, Andy Cohen, and Nyle DiMarco as celebrities who have contracted COVID-19.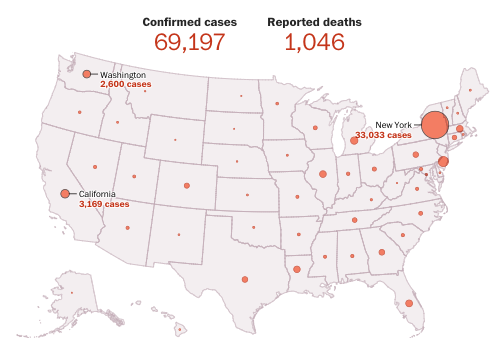 Nearly 69,200 Americans have tested positive for the virus as of Thursday, with 1,046 deaths.
Up-Date 3/22/2020 @ 8:07 PM CST… Apple Suffers "Doomsday" and Now The Corrupt World Leaders Take Cover…
Filth Celebrated Worldwide, Next, Chaos, and the Continue destruction
Up-Date 3/22/2020 @ 7:55 PM CST Harvey Weinstein Tests Positive For COVID-19…
Harvey Weinstein has reportedly tested positive for COVID-19 as the number of cases in Rikers Island, where he was until recently being held, explodes.
The news comes courtesy of a local New Jersey newspaper, citing contacts in the state prison system. The report was later picked up by the New York Post.
Due to his advanced age and allegedly poor health, Weinstein would probably be considered a 'high risk' patient, though the US still has plenty of available beds.
* * *
High-profile inmate Harvey Weinstein was transferred out of Rikers Island right as coronavirus cases have begun to explode at the infamous New York prison.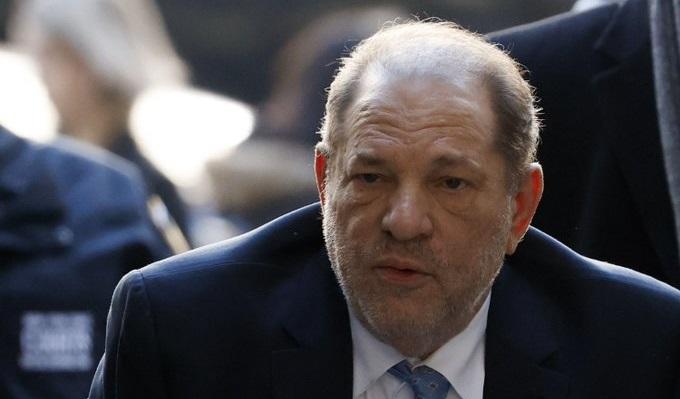 On Wednesday, the 68-year-old disgraced movie mogul was transferred to the maximum-security Wende Correctional Facility near Buffalo, according to state prison officials. Weinstein was sentenced to 23-years for rape and sexual assault earlier this month. According to Global News, the prison is likely a temporary stop for Weinstein – where he will be evaluated to determine which state prison is most appropriate to meet his medical, mental health, security, and other needs.
Meanwhile, COVID-19 cases at Rikers jumped from eight to 38 – with 21 inmates, 12 employees and five correctional health workers now infected, according to the New York Times citing the Board of Correction. There are also 58 inmates under observation.
Their solution? Let people go.
Board officials said there were also 58 inmates being monitored in the contagious disease unit up from 27 people on Tuesday.

A person familiar with the matter said a previously closed jails facility had been reopened to accommodate the growing number of inmates being placed into quarantine.

Dr. Robert Cohen, a member of the Board of Correction, said, "The most important thing we can do right now is discharge all of the people who are old and have serious medical issues — those people are likely to die from a coronavirus infection." –New York Times
On Thursday, the jail system's top doctor – Ross MacDonald – warned over Twitter "A storm is coming," and "we cannot change the fundamental nature of jail. We cannot socially distance dozens of elderly men living in a dorm, sharing a bathroom. Think of a cruise ship recklessly boarding more passengers each day."
Ross MacDonald@RossMacDonaldMD · Mar 18, 2020Replying to @RossMacDonaldMD
We will put ourselves at personal risk and ask little in return. But we cannot change the fundamental nature of jail. We cannot socially distance dozens of elderly men living in a dorm, sharing a bathroom. Think of a cruise ship recklessly boarding more passengers each day. 5/x
Ross MacDonald@RossMacDonaldMD
A storm is coming and I know what I'll be doing when it claims my first patient. What will you be doing? What will you have done? We have told you who is at risk. Please let as many out as you possibly can. end.7,6928:51 PM – Mar 18, 2020Twitter Ads info and privacy1,283 people are talking about this
MacDonald joins officials led by NYC Mayor Bill de Blasio who has been encouraging state courts and city district attorneys to release vulnerable inmates – or face a public health catastrophe.
As the Times notes, "Similar scenarios are playing out in jails and prisons throughout the state and across the country as correction staff members and inmates have tested positive for the virus. Two correction officers in upstate New York prisons, one correction officer in Westchester and an inmate in a Nassau County jail have been found to have the disease, as have two inmates in a federal prison in California."
"These are unprecedented times," said Queen's district attorney, Melinda Katz. "We are doing this in a truncated period of time."
That said, New York City public defenders and officials say that the process of letting inmates free has been held up by red tape – with questions over who can authorize their release, as well as concerns over public safety and where to send people once they're out.
"For everyone's safety, this decision cannot be rushed," said de Blasio spokeswoman Freddi Goldstein. "We need to determine both a public health risk and public safety risk."
Public defenders and advocates for inmates have called for sending home all inmates with pre-existing medical conditions, those over 50 and anyone jailed for a parole violation.

"It is a ticking time bomb," said Justine Olderman, executive director of the Bronx Defenders. "We're looking for bold action and leadership."

On Saturday, the Board of Correction, the city agency that serves as a watchdog over the jails, said that the number of confirmed coronavirus cases at Rikers had jumped from eight to 38 — 21 detainees, 12 jail employees and five correctional health workers. –New York Times
"The most important thing we can do right now is discharged all of the people who are old and have serious medical issues — those people are likely to die from a coronavirus infection," said Dr. Robert Cohen – a member of the Board of Correction. Source: Zerohedge HNewsWire
Top Cleric On Iran's Powerful Council Of Experts Dies Of Covid-19
Top Iranian clerics who are close to the supreme leader have increasingly been testing positive for Covid-19, and one senior cleric has just died from it. Multiple regional news outlets have reported the death Ayatollah Hashem Bathaei-Golpaygani Monday after he tested positive for coronavirus over the weekend, in the very first instance of a member of the powerful Council of Experts diagnosed with the virus.
The Council of Experts is the top clerical-government advisory body that chooses the country's supreme leader when the former dies or steps down.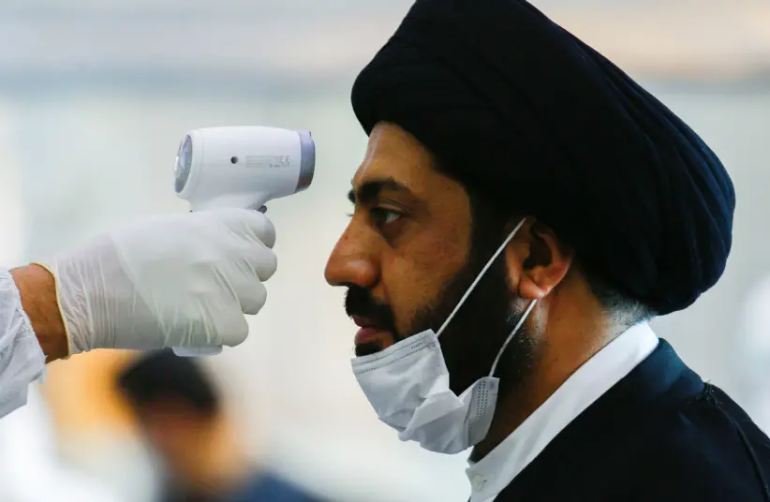 It's but the latest instance of the deadly virus appearing to come closer and closer to Ayatollah Ali Khamenei, the current supreme leader of the Islamic Republic.

The 79-year old Bathaei-Golpaygani had been rushed to a hospital in the city of Qom on Saturday. Mehr News Agency reported that he passed away Monday morning in the ICU.
Starting weeks ago top Iranian officials began catching the virus, and a top former ambassador to Egypt and the Vatican also died from it, as it's also increasingly penetrated the top ranks of the country's elderly powerful clerical establishment.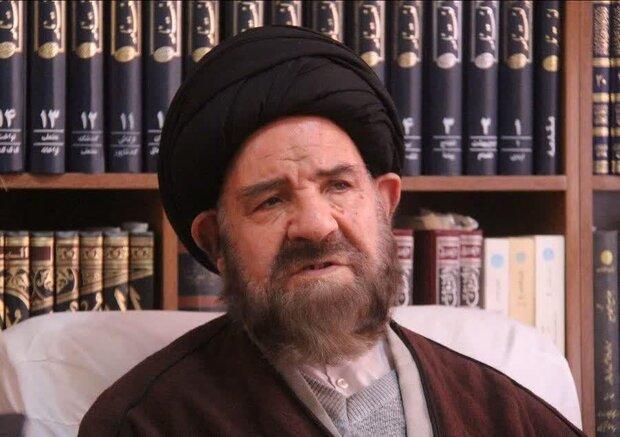 For example, 71-year-old cleric Mohammad Mirmohammadi died of the virus early this month. He was a member of the Expediency Discernment Council – also an important advisory body to Ayatollah Khamenei.
Meanwhile, hard-hit Iran's death toll has jumped overnight once again. Al Jazeera reports based on Iranian state sources:
Iran state TV says new coronavirus has killed another 129 people, pushing the death toll to 853 amid 14,991 confirmed cases.

"Our plea is that everyone take this virus seriously and in no way attempt to travel to any province," health ministry spokesman Kianoush Jahanpour said in a televised news conference.
"In the past 24 hours we had 1,053 confirmed new cases of coronavirus and 129 new deaths," a top health official, Alireza Vahabzadeh, stated Monday.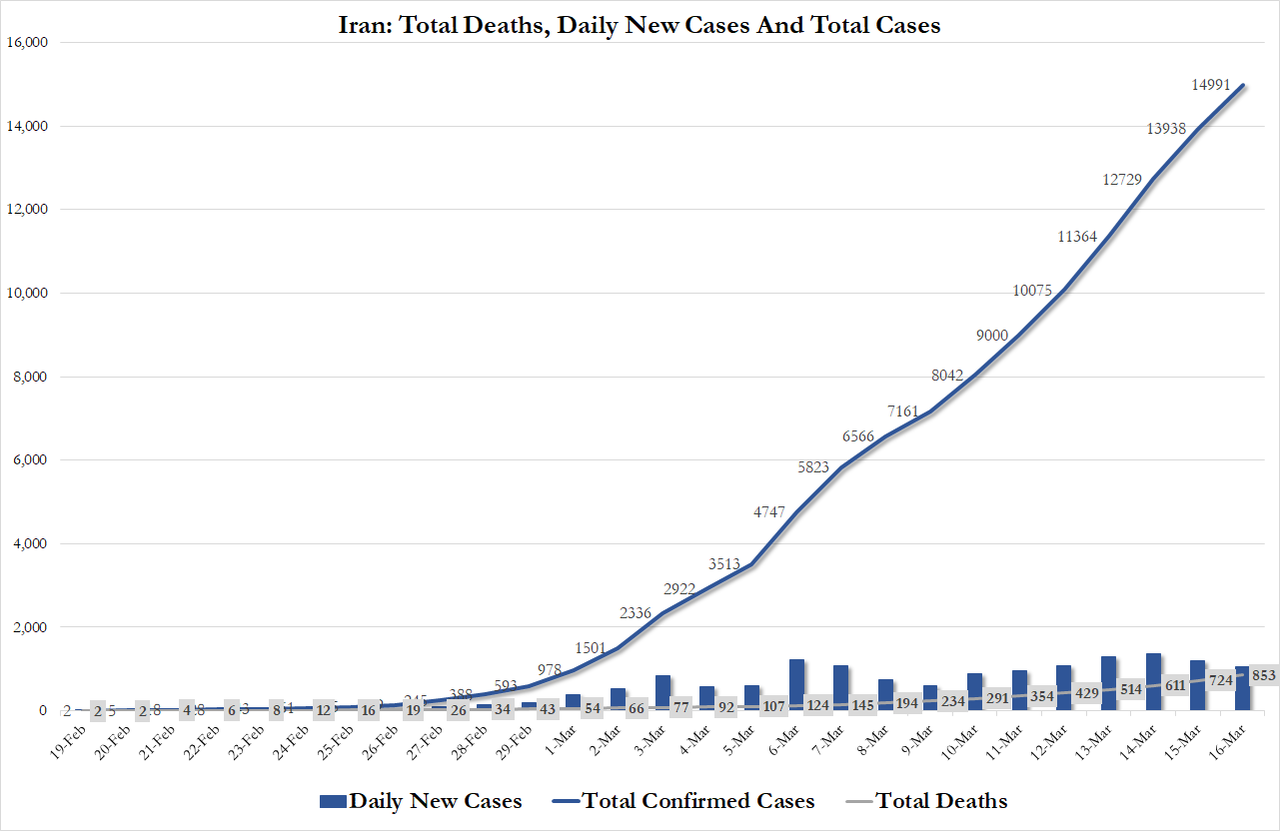 The city of Qom, where the latest top clerical death has occurred, is the country's main place of Shia pilgrimage and Iran's epicenter for the outbreak.
Initially, Qom's clerical leaders strongly resisted shutting down key shrines which attract millions of people per month on a religious pilgrimage. They've at times described the outbreak as the judgment of God and a "plague" from the West. But such rhetoric has naturally been less frequent these days as the virus continues to ravage the top layers of Iran's government.
Update (2015ET): Wedbush analyst Daniel Ives called the decline of iPhone sales in China a "doomsday type" like decline. Ives said the fall was an "unprecedented" drop and was "not surprising given the essential lockdown that most of China saw" in February.
Wedbush expects Chinese demand to come back online in the second half of the year.
We've explained that economic paralysis in China started in early February and continues to this day.
Alternative data first showed us the incoming economic crash developing in early February, only to be confirmed weeks later. Twin shocks plague the Chinese economy, which is a supply shock with manufacturers operating at less than full capacity, along with a demand shock, where consumers have been confined to their homes in forced quarantine, unable to spend.
So, on Monday morning, when new data from the China Academy of Information and Communications Technology (CAICT) reveals Apple smartphone sales in China were halved in February, this really shouldn't surprise ZeroHedge readers, considering they've been well informed about what would happen next.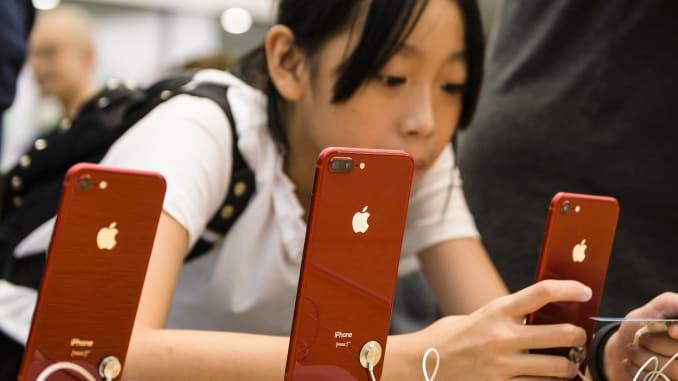 And it wasn't just Apple with plunging activity, all mobile phone brands operating in China saw shipments halved over the month.
CAICT said 6.34 million devices were shipped last month, down 54.7% from 14 million in the same month the previous year. This was the lowest level of February shipments since 2012 when the CAICT data first became available.
Android brands, including Huawei and Xiaomi, accounted for most of the drop, collectively saw shipments at 5.85 million units for the month, compared to 12.72 million units last year. Apple shipped 494,000 last month, down from 1.27 million in February 2019.
The collapse of the smartphone industry in China was described well in advance, where we explained China's smartphone shipments were expected to halve in the first quarter:
And while alternative data of China's economy continues to print without a heartbeat, recently confirmed by crashing state data, consumption woes will likely plague the smartphone industry for the full year. Source ZeroHedge
"I, the LORD, will punish the world for its evil and the wicked for their sin. I will crush the arrogance of the proud and humble the pride of the mighty. English Standard Version I will punish the world for its evil, and the wicked for their iniquity; I will put an end to the pomp of the arrogant, and lay low the pompous pride of the ruthless…
In police-state fashion, Big Tech took the list of accused (including this site), declared all those named guilty and promptly shadow-banned, de-platformed or de-monetized us all without coming clean about how they engineered the crushing of dissent. YOU ARE NEXT BIG TECH.
New Estimates Suggest Chinese Tech Shipments Are About To Crash
Now that Apple has opened the floodgates and made it entirely clear that China's economic collapse will slash revenue guidance on the year and lead to production woes through April, and on the slaughter of earnings downgrades from other top technology companies with significant operations in China could be imminent.
Evidence grows by the day of supply chains grinding to a halt as the second-largest economy in the world falters (as described here last week)…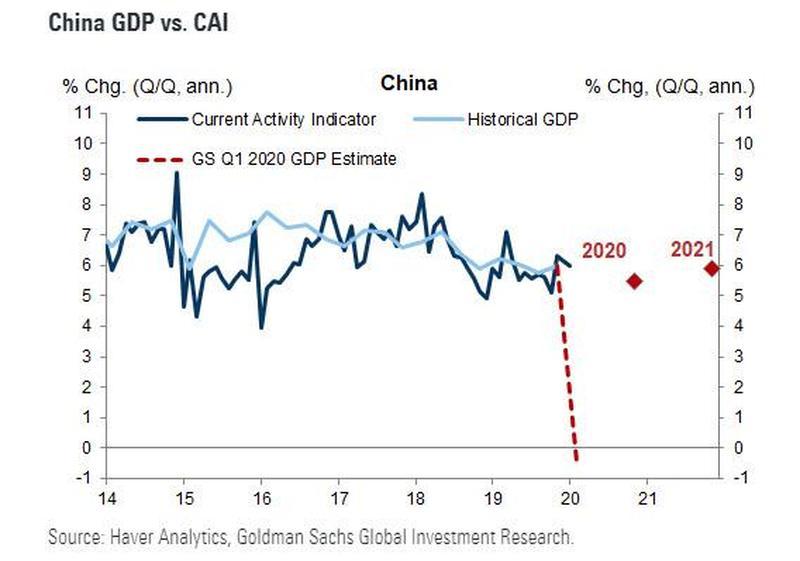 We've described how China's economic output remains frozen, and even if supply chains were able to restart, companies don't have enough capital to cover wages, or have delayed or stopped paying workers, suggesting that the Covid-19 outbreak has left businesses on the brink of disaster. Worse, workers can't freely move around the country, and many are subjected to travel restrictions and quarantines, which has forced a massive labor shortage.
This is creating a perfect storm that could lead to an extended period of depressed factory output, triggering future shortages of products destined for Eastern and Western markets, and even more ripples across global supply chains.
As we've routinely noted in the last several weeks, the most exposed sector to the continued crunch across Chinese factories is technology.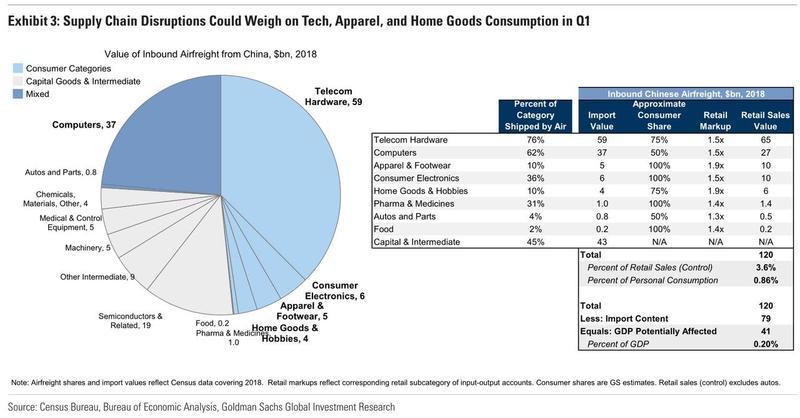 Putting what we've already summarized together, there's no way that full production can be seen by the end of this month or in early March, which means a massive reduction in shipments and product shortages are imminent. This will ultimately force many tech companies with exposure to China to revise their full-year earnings on the year.
TrendForce published a report earlier this week that serves as a preview of what's to come for technology shipments.
The research firm said shipments of smartwatches, smartphones, computers, monitors, TVs, video game consoles, smart speakers, and automobiles, will take a big hit in the first quarter.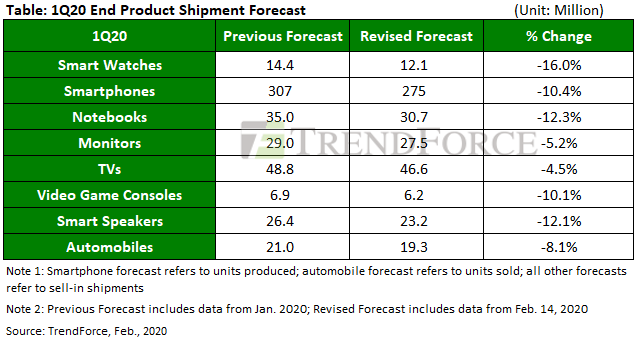 Here's what the firm said about shipments for smartwatches, smart bracelets, and TWS Bluetooth earphones:
"In spite of the projected mid-February work resumption date, work stoppages, labor shortages, and material shortages can bring about a decline in 1Q20 production volume, with deferred releases of new products originally scheduled for 1H20 release.

In terms of the Chinese market, Chinese-branded wearables are mainly aimed at domestic sales and therefore expected to suffer more losses in 1H20 compared to international brands. In particular, competitive-priced generic brands and new brands may be even more affected by the outbreak because component suppliers and production capacities are prioritized to fulfill orders from established brands first, and consumers will have reduced willingness to buy in the short term."
TrendForce said the virus outbreak is having a "high impact on the smartphone industry because the smartphone supply chain is highly labor-intensive. 1Q20 smartphone production is projected to decline by 12% YoY, making it the quarter with the lowest output within the past five years."
"Parts in the upstream supply chain, including passive components and camera modules, are also showing shortages, which can potentially continue to negatively affect smartphone production in 2Q20, if the outbreak is not contained by the end of February. Should the outbreak intensify, TrendForce considers market need to be the most important consideration in the long-term analysis of the smartphone industry. Because of the interconnectedness of the global economy, the progression of China's outbreak damages not only China's GDP, but also the overall global economy, leading to a reduction of consumer purchasing power and subsequently presenting a difficult challenge for the overall smartphone industry. 2020 smartphone production is projected to reach 1.381 billion units, a 1.3% decline YoY and the lowest output since 2016. Still, due to the outbreak's mercurial nature, it is entirely possible for 2020 smartphone production to fall below this forecast."
As for notebooks, LCD monitors, and LCD TVs, these supply chains have been "undoubtedly hit the most by the coronavirus outbreak."
"These companies lost precious working days after work resumption was postponed. After their production is resumed, on a whole, operators' work resumption rate is low. Besides, all types of materials and components are in shortage. Hence, productivity plummets. For TVs and monitors, their manufacturing processes and demand for materials are similar. Therefore, according to TrendForce, in 1Q20, the TV set shipment is predicted to fall from previous prediction (48.8 million units) to 46.6 million units because of the outbreak. The monitor set shipment is projected to decrease from previous prediction (29 million units) to 27.5 million units. To assemble a NB set requires complicated key components. At the current stage, NB's batteries, hinge, and PCB already experienced shortage or out of stock. This factor might cause some brands' shipment quantity to remarkably drop from previous prediction (35 million units) to 30.7 million units in 1Q20.

The pandemic not only negatively affected the production's supply chain, but it also hurts China's consumer confidence and reduces end-market demand in the short and long run, respectively. Considering the pestilence's potentially negative impact to China market's demand, TrendForce moved down the top 3 application categories' shipment scales for the year 2020. TVs' shipment scale was reduced from previous prediction (219.6 million units) to 218.0 million units, down by 0.7 percentage point. Monitors' shipment was reduced from previous prediction (125.8 million units) to 124.5 million units, down by 1.0 percentage point. Notebooks' shipment was moved down from previous prediction (162.4 million units) to 160.2 million units, down by 1.4 percentage points."
We expect a waterfall of negative earnings preannouncements to start for many technology companies with modest exposure to Chinese output. Apple's downgrade on Monday was only the beginning…
Wall Street has priced the stock market for perfection while ignoring China's virus crisis as one of the biggest shocks to hit the global economy since a decade ago.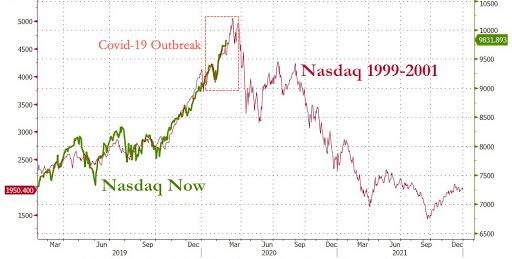 Is the virus outbreak in China about to pop the Fed-induced stock market bubble?
Coronavirus "Could Impact More Than 5 Million Businesses Worldwide"
When was the last time that we witnessed a disaster that severely disrupted the supply chains of over 5 million companies around the globe simultaneously? Looking back over the past couple of decades, I can't think of one. In recent days I have written a number of articles about the economic impact of this coronavirus outbreak, and what we have seen so far could be just the beginning. With each additional week that much of the Chinese economy remains at a virtual standstill, things are going to get even worse. Today, China accounts for approximately 20 percent of global GDP, but that doesn't tell the entire story. At this point, the rest of the world has become so dependent on Chinese exports that any sort of an extended shutdown for Chinese manufacturing would be a complete and utter nightmare for global supply chains. In fact, a brand new study that was just released by Dun & Bradstreet has concluded that the coronavirus outbreak in China "could impact more than 5 million businesses worldwide"…
The new coronavirus outbreak and subsequent shutdown of huge swathes of China could impact more than 5 million businesses worldwide, according to a new study.

A special briefing issued by global business research firm Dun & Bradstreet analyzed the Chinese provinces most impacted by the virus, and found they are intricately linked to the global business network.
Many people may assume that we could just "make these things somewhere else", but that isn't so easy.
New factories would have to be built, workers would have to be trained, etc.
And as Harvard Business School's Willy Shih has pointed out, there are "some things that are only made in China these days"…
There are some things that are only made in China these days, and not just the usual electronics and toys — consumer products — it's active pharmaceutical ingredients that go into pharmaceutical supply chains worldwide.
So what is going to happen if economic activity in China does not return to normal any time soon?
That is a very good question. Unfortunately, there will be shortages, and global supply chains will become incredibly strained.
According to the brand new study from Dun & Bradstreet that I mentioned above, 938 of the Fortune 1000 companies have at least a "tier 2" supplier in the region…
Dun & Bradstreet researchers found that at least 51,000 companies worldwide, 163 of which are in the Fortune 1000, have one or more direct or "tier 1" suppliers in the impacted region, while at least 5 million — and 938 in the Fortune 1000 — have one or more "tier 2″ suppliers.

The impact on businesses in China and around the world is already dragging down economic growth forecasts for the year.
In some cases, the breakdown of global supply chains will simply lead to higher prices for western consumers.
But in other cases there will come a point when certain products are not available at all. The following comes from Zero Hedge…
A new poll via Shanghai's American Chamber of Commerce (AmCham) discovered that 50% of US firms operating in China say shutdowns of factories have impacted their global operations due to the Covid-19 outbreak, reported Reuters.

About 78% of these firms warn that their staffing is currently short at the moment, which would prevent the resumption of full production, leading to massive shortages of products in the next several months for Western markets.
Massive shortages of products?
That doesn't sound good at all.
Hopefully this outbreak will start to fizzle out and such an ominous scenario will not materialize. But at this point even Apple is admitting that revenue will be well below expectations this quarter. In explaining this to the public, Apple cited a couple of reasons…
The first is that the worldwide iPhone® supply will be temporarily constrained. While our iPhone manufacturing partner sites are located outside the Hubei province — and while all of these facilities have reopened — they are ramping up more slowly than we had anticipated. The health and well-being of every person who helps make these products possible is our paramount priority, and we are working in close consultation with our suppliers and public health experts as this ramp continues. These iPhone supply shortages will temporarily affect revenues worldwide.
The second is that the demand for our products within China has been affected. All of our stores in China and many of our partner stores have been closed. Additionally, stores that are open have been operating at reduced hours and with very low customer traffic. We are gradually reopening our retail stores and will continue to do so as steadily and safely as we can. Our corporate offices and contact centers in China are open, and our online stores have remained open throughout.
Needless to say, U.S. financial markets are not responding favorably to this announcement.
But what is happening elsewhere is nothing compared to the economic nightmare that is unfolding inside of China right now.
Because of the virus, very few people even want to leave their homes. As a result, consumer spending has almost entirely disappeared.
In fact, one CEO claims that there is virtual "no domestic consumption" in China right now…
Alan Lim of E-Services Group says there is "completely no domestic consumption" now and "factories are, at best, this week at 25% production … you need approval by the government to say you [can] work."
Of course, it is entirely possible that what is taking place in China could start happening elsewhere if this virus continues to spread.
The total number of confirmed cases outside of China is rapidly approaching the 1,000 marks, and that isn't something to be extremely alarmed about yet.
But if that number continues to rise at an exponential rate, we will soon see a tremendous amount of panic all over the globe, and that will be extremely bad news for the entire global economy.
What a shocker – Apple cut guidance on a market holiday in the US.
The company issued a press release on Monday evening, admitting it does "not expect to meet the revenue guidance we provided for the March quarter" due to Covid-19 related issues.
Apple shares slid on pre-market Tuesday after the guidance cut, along with many of its suppliers, and the semiconductor industry as whole prints in a sea of red.
The guidance apple issued 19 days ago was nothing short of worthless and could leave many bag holders in the stock, as a correction could be nearing.
It wasn't hard to understand the supply chain issued developing across China after the virus forced Beijing to freeze at least two-thirds of its economy and quarantine 400-700 million people.
We mentioned on several occasions that Foxconn, the company that assembles iPhones across China, had idled factories due to government orders to contain the virus. It was mentioned that if Foxconn factories did not start ramping up production early last week, full production targets by the end of the month were unattainable, which would lead to product shortages.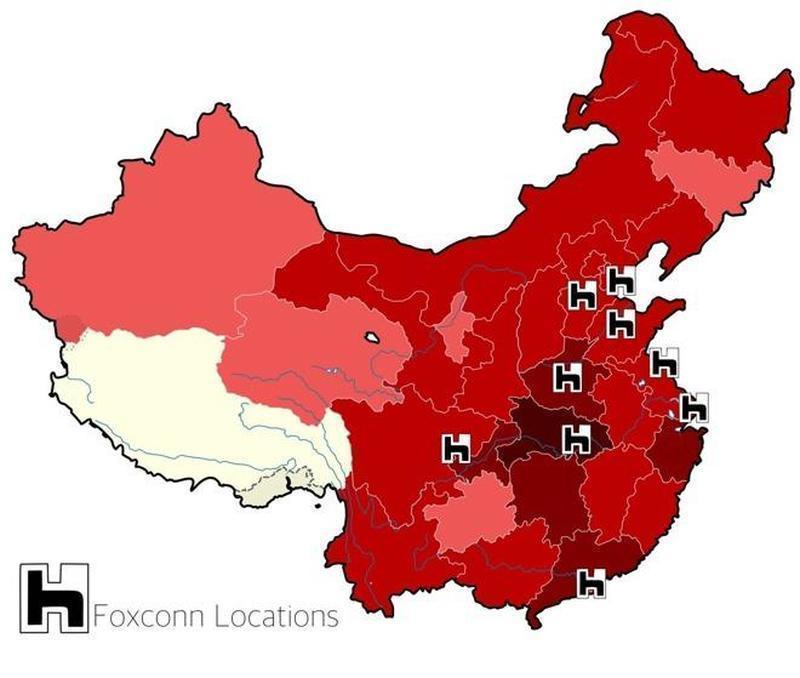 At the moment, 10% of Foxconn's workers in China have resumed production, while many other plants are closed. Foxconn denied the report last week.
"If one component factory stays closed and they're the only supplier, then everyone has to stop and wait. And if there are two suppliers and one is shut down, then we need the other to do more," a source with direct knowledge told Reuters.
It's now evident that iPhone and Airpod shortages could be imminent.
TrendForce Corp. said Apple could see a 10% decline in iPhone sales in 1Q, from 45.5 million to about 41 million units, due mostly because of factory shutdowns.
Stacy Rasgon, a Bernstein analyst, said Apple's supply chain woes would feed into the semiconductor industry as it would order fewer chips with lower production output.
"Maybe this is the wake-up call. I would be astonished if Apple is the only one," he said. "Every electronic supply chain runs through China in a big way."
We've outlined how S&P500 semiconductors and semiconductor equipment industry groups have 30% of revenue exposure to China and Hong Kong, thus being the most exposed industry to the virus crisis.
Illustratively, Goldman notes that if air freight from Mainland China falls by 50% in February and returns to roughly normal in March, forgone sales could reduce monthly retail control by as much as 1.8%. Assuming only half of these spending dollars are used to purchase other goods and services, February retail spending would be depressed by 0.9%, lowering Q1 consumption growth by 0.3% (qoq ar).
The good news, until last night at least, is that virtually no companies had disclosed an immediate adverse impact emerging due to Chinese supply chains, sparking some hopes that most if not all had found alternative supply chain substitutes to offset the Chinese crisis. However, with Apple's guidance cut, it now appears that US companies had merely hoped to delay as long as possible the guidance cuts. As a result, we now expect a waterfall of negative earnings preannouncements from most companies that have even a modest exposure to Chinese output, which also means that Q1 earnings are looking increasingly gloomy after the modest EPS rebound in Q4, which as we detailed previously was entirely on the back of the "Big 5" FAAMG tech mega-caps.
It's Coming: I will put an end to the pomp of the arrogant, and lay low the pompous pride of the ruthless. Signed GOD…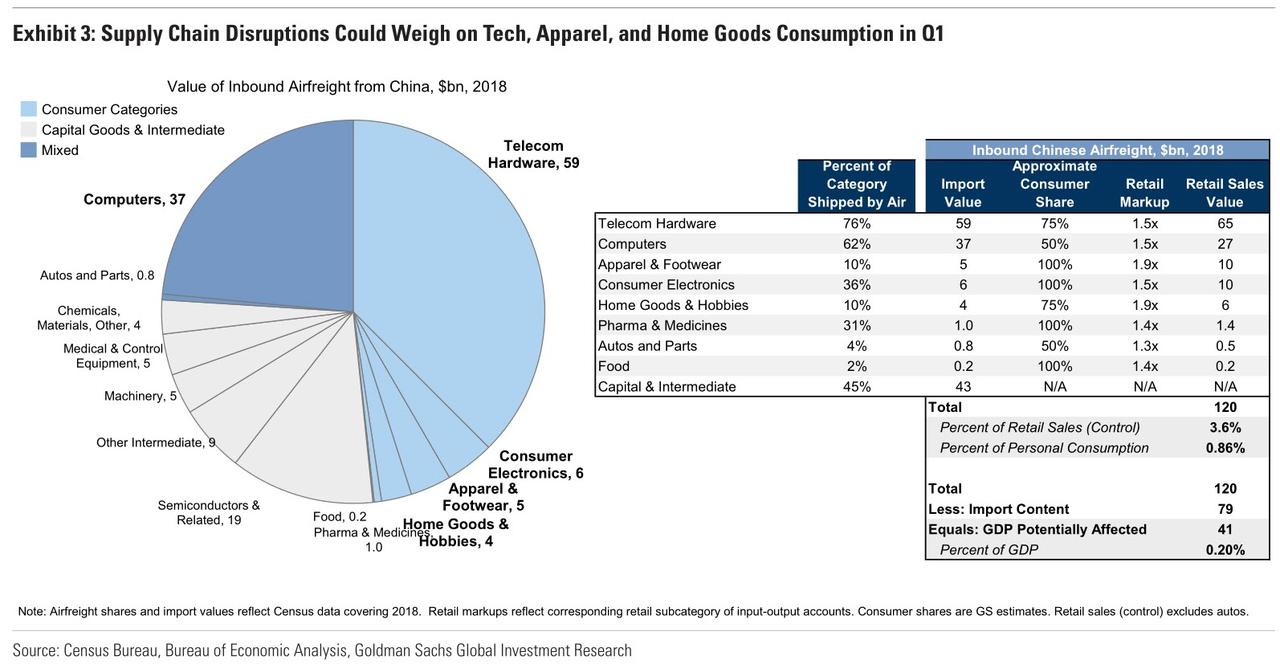 Now that Apple has broken the seal and made it abundantly clear that China's economic collapse which could push its Q1 GDP negative according to Goldman as the second-largest world economy grinds to a halt (as described here last week)…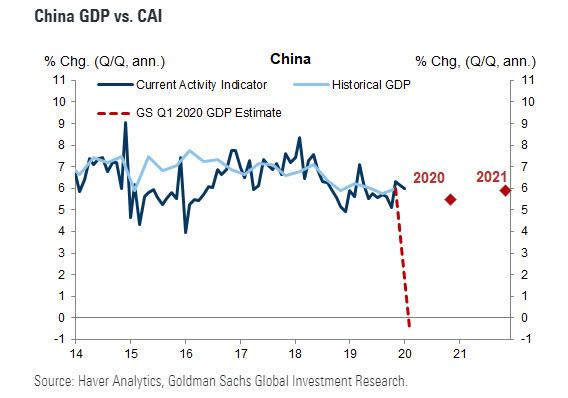 … will have an adverse impact on countless supply-chains, which in today's "just in time" delivery environment, are absolutely critical for keeping the global economy running smoothly (for a quick reminder of what happens when JIT supply chains stop functioning read our article from 2012 "Trade-Off": A Study In Global Systemic Collapse"), attention on Wall Street has turned to which other US sectors stand to be adversely impacted should the coronavirus pandemic not be contained on short notice and China's economy crisis transforms into a supply shock.
Conveniently, Goldman Sachs just did this analysis.
In a report looking at the impact of Chinese factory shutdowns on the US consumer, Goldman's Spencer Hill first looks at historical precedent and finds that a somewhat similar supply shock emerged in the winter 2014-15—a four-month labor dispute affecting West Coast ports— which appeared to meaningfully affect retail spending on consumer goods in the first quarter of 2015 (though snowy weather was likely a factor as well). This is shown in the chart below.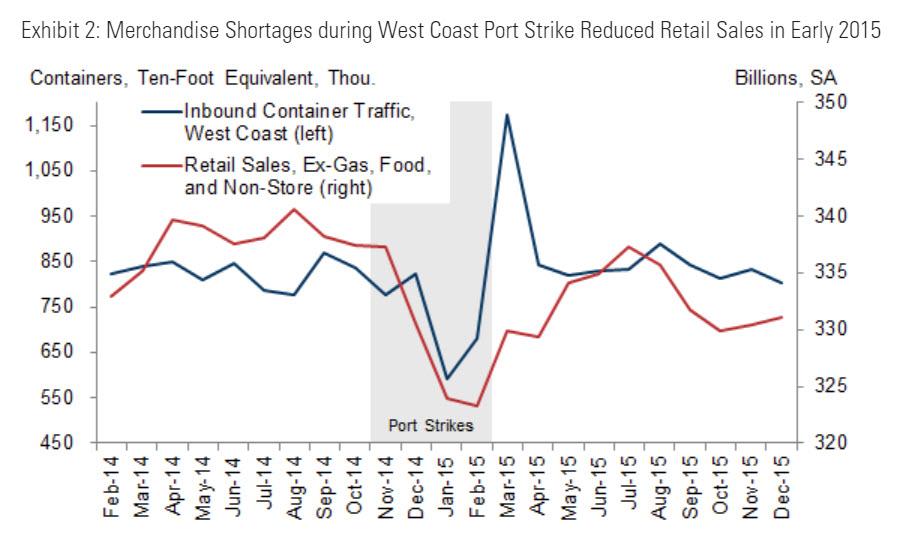 Indeed, the March 2015 Beige Book noted that consumer spending in the San Francisco Fed district would have been stronger "if not for delays receiving merchandise caused by labor disputes at West Coast ports."
Extrapolating this historical pattern, Goldman notes that "long shipping times to the US (generally 1 month or more by sea) imply the supply-chain effects of Chinese production shortfalls may not fully materialize until future quarters—at which point, above-trend Chinese production or import substitution from other counties could offset some of the impacts."
However, analyzing granular international trade data from the Census Bureau, Goldman finds that nearly a third of Chinese products arrive by air (by value, including over 75% of telecom hardware), with these goods representing 3.6% of US retail sales and just under 1% of personal consumption expenditures. The composition of these products (and their wholesale value) are shown in the left panel of the chart below and represent the sector most likely to be impacted as China remains paralyzed. Unsurprisingly, airfreight imports are skewed towards high-value, light-weight products such as smartphones, laptops, and consumer electronics, representing a perfect storm for a company such as Apple which is reliant on all three. Additionally, a significant share of apparel and footwear (10%) also arrives from China by plane.
To summarize, here are the sectors more at risk from a continued crunch across Chinese factories: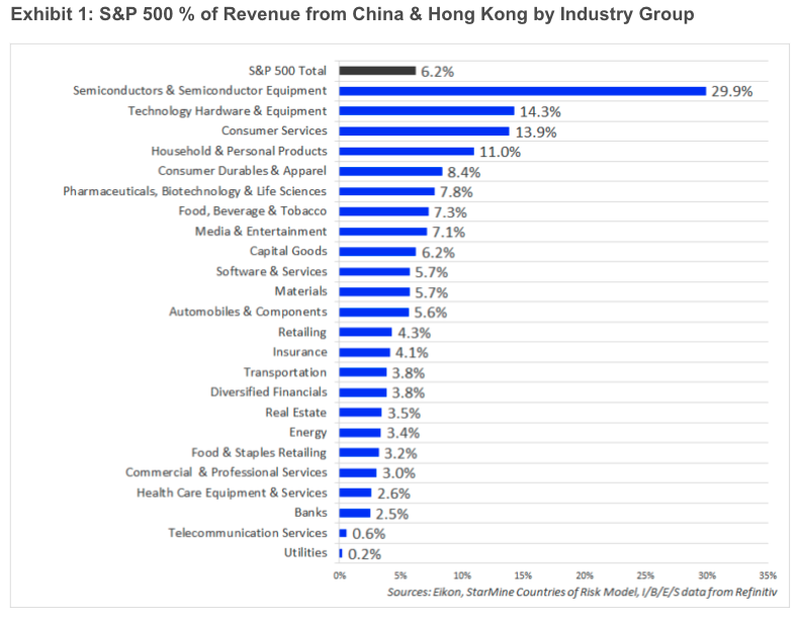 Shares of Apple suppliers, Samsung Electronics, Taiwan Semiconductor Manufacturing Co, and SK Hynix all fell in pre-market Tuesday.
Analysts at ANZ said San Diego-based Qualcomm was vulnerable to a supply chain disruption in China as some of its chips for network connectivity for iPhones might not be able to be delivered to Foxconn factories.
Broadcom Inc, Qorvo Inc, and Skyworks Solutions Inc. are other suppliers that could have severed supply chains in Asia.
Texas Instruments Inc. said it's too early to tell if its operations in China are damaged. The company provides battery charging chips for iPhones.
The Netherlands-based NXP Semiconductors is another supplier of the iPhone, has yet to comment on the virus impact.
Mike Fawkes, former supply chain manager for Hewlett-Packard, told Reuters that even if Apple wanted to change chip sourcing, it couldn't be done overnight. "They're stuck with China for some period of time," he said. "It's very hard when you're managing a big battleship like they are."
The virus impact is starting to be realized as the world's largest company now admits supply chain chaos will revise growth lower for the year.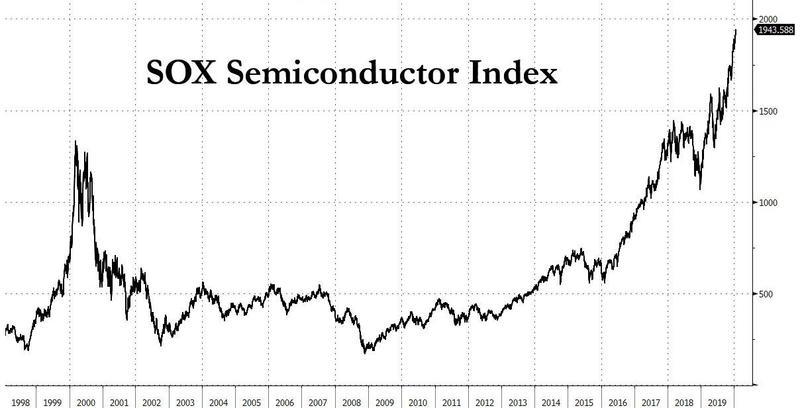 As for Apple's chip suppliers and the semiconductor industry as a whole, the bubble could be ready to deflate…
Surely Godwillcrushthe the heads of his enemies, the hairy crowns of those who go on in their sins. New Living Translation But God will smash the heads of his enemies, crushing the skulls of those who love their guilty ways…
MSM, High-Tech & Reddit Engaged in Heavy Censorship of Truthful News Sources
Source: HNewsWire ZeroHedge themostimportantnews ZeroHedge
StevieRay Hansen
Editor, HNewsWire.com
Google, No More Electronic Prison: You will see many changes on HNewsWire, one of those changes will be to eliminate Google Ads, the other difference, HNewsWire will NOT post videos on YouTube, it is no longer a question about overreach by the un-godly big tech tyrants. There is no question Big Tech can and will persecute any opposing opinion, they will demoralize, sideline truth seekers and those that speak the truth. The People's Blood is on big tech and mainstream media's hands. Censorship has NOT worked for thousands of years, their evil tactics will not work now, history proves me right, so we watch the drama play out between good (GOD) and evil ( Big Tech MSM ), God has never failed his people, and God will not fail this time…
StevieRay Hansen
The Un-Godly — Those That Suppress the Truth, the social media giants built multi-billion dollar empires by giving everyone a voice, but now that they have such a dominant position on the Internet they have decided that many prominent conservative voices should be completely silenced.
In order for sin to work, there has to be a "suppression of the truth."
The World leaders Are Having Trouble With The Truth, and The World Has been "Quarantined" Tribulation Is Here…
Question — Why Are These High-Tech Conglomerates Afraid of the Truth? The answer, Because They Know the American People Have Become Lazy, Like Sheep They Need a Leader and They Chose High-Tech, It Will Be the Downfall of This Country Unless the People Change Course or the Mindset of These High-Tech Elitists stop suppressing the truth. If the people don't wake-up, they will begin to live in the worst nightmare of their lives, "Lost Social Media Reality"…
The Birth Pains Are Growing Stronger….
One of the signs of ruling class collapse is when they can no longer enforce the rules that maintain them as a ruling class. When the Romans started making exceptions to republican governance, it was a matter of time before someone simply decided the rules no longer applied to them. Perhaps the robot historians will consider Obama our Marius or Sulla. Maybe that person is in the near future. Either way, the rule of law is over and what comes next is the rule of men.
"Man will ultimately be governed by God or by tyrants." as in Nancy Pelosi (D-San Fran-feces)
Our government has been overthrown. As evidenced by Trump's capitulation on the border, his recent servitude to the GMO industry and his acquiescence to the warmongers, our President has been compromised. Our liberties are being eliminated one by one. Gun confiscation is next. The Constitution is gasping its last breaths. Our borders are destroyed and our culture has been turned upside down by every perversion known to man.
The watchman does not confuse truth with consensus. The Watchman does not confuse God's word with the word of those who happen to hold power at present, or with the opinion of the majority. This is because powerholders and the majority can fall victim to a lying spirit-and this means a power that actually seizes the majority of experts, the political leadership, and the public.
Everything is right on schedule and, now, the time is come to remove one of the final obstacles standing in the way of a New World Order: The United States Constitution – even if, over the course of many decades, it has already been greatly diminished by the B.E.A.S.T. system; or, more specifically, Bullshit Emerging As Strategic Totalitarianism (B.E.A.S.T.).
They are tolerant of everything except dissenting values and opinions — meaning, of course, they are tolerant of nothing that matters, only themselves."
Let Me Make This Abundantly Clear. (I Am Apolitical) While I Have a General Distaste for Electric Cars and Politicians No Matter the Party They Belong To, I Am Unashamedly Politically a Bible Believing Conservative Christian. I Have a Severe Distrust of Government. I Believe It Is the Most Inefficient and Ineffective Way to Accomplish Most Things. While I Strongly Disagree with Liberals/Progressives and Conservative on Most Political Issues, and While I Believe Liberals/Progressives and Most Politicians Are Misguided and Naive About What Big Government Will Eventually Result In, I Strive to Not Question Their Motives. At the Same Time, I Find Myself in Agreement with Conservative on Some Issues, and I Do Not Believe Electing Republicans Is the Answer to Everything. Sadly, the Main Difference Between Republicans and Democrats Is How Quickly They Want to Drive the Car Towards the Cliff. Put, I Do Not Believe the Government Is the Solution for Everything. I Do Not Place Any Faith, Trust, or Hope in Any Politicians to Fix What Is Wrong with the World. "Come Lord Jesus!" (Revelation 22:20) SRH…
The Watchman does not confuse truth with consensus. The watchman does not confuse God's word with the word of those who happen to hold power at present, or with the opinion of the majority. This is because powerholders and the majority can fall victim to a lying spirit-and; this means a power that seizes the majority of experts, the political leadership, and the public.StevieRay Hansen
If you have a news scoop or an interesting story for us, please reach out at [email protected]
BIG TECH Censorship biblical truth, Prophecy, tribulation, antichrist, United Nations Revelation 17 the BEAST+ B.E.A.S.T, , end times, No More Electronic Prison, Birth Pains, MSM, High-Tech & Reddit Engaged in Heavy Censorship of Truthful News Sources, Leftists, President Trump, Project Veritas, revolution, SHTF, Civil War
The Land of the Free doesn't give a rat's-arse how they are perceived anymore.
The 127 Faith Foundation: We do not solicit donations from "those on disability, on a fixed income, or those who cannot afford to give." Please Pray!
Or, make checks payable to:
The 127 Faith Foundation
PO Box 127
Pontotoc, TX 76869
The number of Orphans aging out of Child Protective Custody has grown at an alarming rate. The 127 Faith Foundation receives many requests each week to house them at our ranch. Our prayer is that the good people of our country will step up to the challenge and offer financial support for "the least among us." We need your help! StevieRay Hansen, Founder, The 127 Faith Foundation
Dr. Jessica Rose has given another presentation based on her analysis of the CDC and FDA VAERS (Vaccine Adverse Event Reporting System) data. Dr. Jessica…
Read More
We make every effort to acknowledge sources used in our news articles. In a few cases, the sources were lost due to a technological glitch. If you believe we have not given sufficient credit for your source material, please contact us, and we will be more than happy to link to your article.