The United States Supreme Court Has Collapsed – There Is No Free Speech, No Fair Trial, No System of Justice, No Reasonable Expectation of Human Rights Anywhere, No Fair Elections
Soldiers of Satan Supreme Court Justices Reject Attempt by New York School Employees to Block Vaccine Mandate — The Supreme Court of the United States Has NOW Played a pivotal role – There is no such thing as free speech, no such thing as a fair trial, no such thing as a system of justice, no such thing as a reasonable expectation of human rights anywhere, and no such thing as fair elections.
HNewsWire- The Supreme Court has denied a petition by New York City school workers seeking to prevent them from being fired for failing to comply with a COVID-19 vaccination requirement.
A majority of justices dismissed the motion, which Justice Neil Gorsuch, a Trump nominee, had referred to the whole court.
As is customary in such instances, the voting makeup was not disclosed.
The city's Department of Education mandated COVID-19 vaccination for all workers in 2021, with limited exceptions for medical or religious reasons. Fifteen employees filed a lawsuit against the agency, saying that they were unlawfully suspended rather than given religious exemptions. The action alleged that the manner exemption petitions were processed violated the United States Constitution.
The employees petitioned the nation's highest court to intervene and provide a preliminary injunction while a circuit court panel deliberated whether to reverse previous rulings on the cases. The panel rejected requests to vacate the rulings on March 3, a plaintiffs' attorney informed the Supreme Court on March 3.
However, he argued that the rejection demonstrated why the nation's highest court should intervene, alleging that the court "fundamentally erred in requiring Applicants, rather than the government, to demonstrate that Applicants' religious accommodation denials are narrowly tailored to advance a compelling interest."
The justices disagreed and made their own rejection.
The lawsuit was re-filed after Justice Sonia Sotomayor's rejection of the plaintiffs in February. She is the New York-based justice designated to handle emergency cases.
"We were sure that the whole court would refuse this application," Nick Paolucci, a spokesperson for the New York City Law Department, said in an email to The Epoch Times.
"Neither the Second Circuit Court of Appeals nor the Supreme Court of the United States has ever said that our clients' First Amendment arguments are without merit. Rather than that, the vaccination mandate's legal challenge must go via the judicial system. We are returning to district court to amend the record," an attorney for the school employees said in an email to The Epoch Times.
"Our objective is to compel the New York City Board of Education to demonstrate the constitutionality of its vaccination requirement. We are certain that it will be unable to do so. Finally, the First Amendment ideas for which we are arguing must be confronted squarely, and we are convinced that triumph will follow."
In recent weeks, New York City authorities reversed some of its vaccination regulations, including one that required private firms to verify that clients had received the COVID-19 vaccine.
However, Mayor Eric Adams, a Democrat, has maintained the one for city employees, arguing that it is necessary to prevent future lockdowns, despite the fact that the effectiveness of all three vaccines available in the United States has declined in the aftermath of the Omicron virus variant's emergence.
The Supreme Court Has Rejected a Request for a Religious Exemption From the COVID-19 Vaccine Mandate.
A petition filed by Maine health care professionals to overturn the state's COVID-19 vaccination mandate was denied by the Supreme Court on February 22.
The Supreme Court declined to hear arguments for and against an appeals court judgment that upheld the mandate, which applies to all Maine health-care employees.
The writ of certiorari, or request to review a lower court judgment, was denied by at least six justices. The results of each justice's vote were not made public.
The Epoch Times quoted Matthew Staver, chairman of Liberty Counsel, the legal firm supporting the petitioners, as saying, "It's quite sad to see the court ignore this evident injustice." "We believed it was an excellent matter for the court to consider." There is a blatant conflict of interest here, as well as a clear violation of federal law."
Maine's Democrat governor, Janet Mills, announced the mandate in August 2021. She said that forcing employees to acquire the COVID-19 vaccination will "protect" health-care personnel, their patients, particularly the most vulnerable, and the health-care system's capability.
Shortly after, the state ceased granting religious exemptions to required vaccinations, citing the US Constitution and federal law as violations.
A plea for a preliminary injunction against the requirement was denied by Obama nominee U.S. District Judge Jon Levy, and his decision was supported by the United States First Circuit Court of Appeals. According to the CDC, immunizations help prevent COVID-19 infection, and the requirement was "narrowly tailored to serve the compelling interest of preventing the spread of this deadly infectious illness," according to Levy. He also determined that the health-care employees had not established that the requirement violated the Free Exercise Clause of the First Amendment, which the appeals court concurred with.
This triggered an appeal for relief to the country's highest court, which was denied in October 2021.
The petitioners subsequently filed a writ of certiorari,, requesting that the Supreme Court examine the lower court's conclusions. They claimed, among other things, that the appeals court determined that the availability of medical exemptions without regard for religious exemption petitions is a violation of the First Amendment.
In a response issued through government lawyers, Mills stated that the lower courts were correct in concluding that the mandate does not likely violate the First Amendment, describing the mandate as "not designed to infringe or restrict a particular religious practice" and "necessary to achieve herd immunity."
The petitioners were of a different mind. "Maine's vaccination mandate is neither neutral or broadly applicable since it allows nonreligious medical exemptions for nearly any reason but precludes anyone from seeking an identical exemption based on genuinely held religious views." Simply put, Maine's vaccination mandate cannot be considered neutral since it openly discriminates against religious exemptions while allowing the favored nonreligious, medical exemptions," they said in their final brief before the Supreme Court's ruling.
Soldiers of Satan Supreme Court Justices Reject Attempt by New York School Employees to Block Vaccine Mandate – The Supreme Court of the United States Has NOW Played a pivotal role – There is no such thing as free speech, no such thing as a fair trial, no such thing as a system of justice,…
Update: 11/2/21 Judicial Supremacism Has Failed This Country and Isn't There for Us in Our Time of Greatest Need. It's Time for Red States to Tell the Courts Where to Go.
Even someone as pessimistic about Republican-appointed judges as I am did not see this coming. It has become increasingly obvious that the majority of SCOTUS justices believe the government — federal or state — can control your body, regardless of the evidence, level of oversight and transparency, and violence it causes to the Constitution. But most court-watchers felt that the justices would at least uphold religious liberty exemptions from vaccine mandates based on endless case law.
Justices Barrett and Kavanaugh, however, have now placed the final nail in the coffin of freedom of conscience in the courts. They will never be there to protect human rights in blue states. As such, we must not let them or their sidekicks in the lower courts prevent red states from protecting rights where conservatives have control.
An American does not have a right to breathe freely without a mask and live a functional life without taking a risky injection, but those with gender dysphoria have a right to force a hospital to perform castration. Also, an individual has a right to insurance coverage for abortion but not for ivermectin or lifesaving COVID treatment. This is the America we now live in, thanks to Justices Barrett and Kavanaugh, based on several decisions they made over the past week.
In John Does 1-3 v. Mills, six of the high court's justices turned down an emergency request for an injunction from health care workers in Maine who had until last Friday to get injected or face termination. Maine did not accept any religious exemptions, in clear violation of numerous long-standing and recent Supreme Court decisions. This was the time and the case for any justice with a modicum of constitutional jurisprudence in his or her bones to grant an emergency injunction pending the merits of the case, but Justices Barrett and Kavanaugh turned down the request. This comes several months after Barrett turned down a request for injunction from a Seventh Circuit case involving Indiana University students being forced to get the injection.
As I pointed out in Fulton v. City of Philadelphia, better known as the Catholic Adoptions Services gay adoption case, Barrett and Kavanaugh helped water down what should have been a majority opinion stating that government can never place undue burdens on religious beliefs without strict scrutiny. Rather than doing so, Barrett stated that there was no need to go down the more categorical path because in that particular case, the city of Philadelphia was already subject to strict scrutiny because it offered other exemptions from the gay adoption mandate, so it should have applied them to Catholic Adoption Services. Fast-forward five months and we have Maine offering medical exemptions but not religious exemptions, yet Barrett has no problem contradicting her prior opinion.
"As the Court's opinion today explains, the government contract at issue provides for individualized exemptions from its nondiscrimination rule, thus triggering strict scrutiny," wrote Barrett in a bizarre concurrence joined by Justices Kavanaugh and Breyer. That Barrett could ignore the plight of these workers when they were fighting against a violation of their conscience at the risk of losing their jobs is quite unconscionable. CMS Medicare data that was presented during the lawsuit showed disturbing signals about a massive number of excess deaths and injuries resulting from blood disorders likely related to the shots.
Which brings us to Roman Catholic Diocese of Albany v. Lacewell, in which the same six justices denied certiorari in a case requiring Catholic employers to cover abortions in insurance plans. In addition, Barrett and Kavanaugh joined the liberals in allowing a lower court ruling to stand in Dignity Health, Inc. v. Minton, a case in which California was forcing a Catholic hospital to perform a hysterectomy on a woman who believes she is a man.
So at a time when hospitals are allegedly denying basic human care and blocking lifesaving COVID treatment while forcing patients to take a drug that induces kidney failure, someone can demand that religious hospitals offer castration or mutilation operations.
Let's not forget that earlier this year, the same justices denied cert in Arlene's Flowers, a case where a private florist shop was being forced to service a gay wedding ceremony.
So, let's get this straight. Barrett and Kavanaugh believe that even the government, not to mention a private entity, can deny service for not getting a dangerous injection or not wearing a mask, yet even a small business cannot deny service for a particular event (not the person) that patently violates his or her religious beliefs?
We've heard a lot of talk about the "right" of all major monopolies within an entire industry to work together with and at the behest of the federal government to box out entire groups of people from service or employment for not getting a shot — all in violation of the Nuremberg code. Yet, at the same time, people with religious objections have no "private business" rights to adhere to their religion.https://playlist.megaphone.fm/?e=BMDC1772641610
Indeed, Kavanaugh and Barrett are either radicals in disguise or they so badly want to show the left they are "impartial" that they are willing to shred the Constitution and flip basic fundamental rights on their heads.
Either way, it has become self-evident that people in blue states do not have rights. But what about the red states? What about those states where we are seeking to ban mandates that violate religious conscience and bodily integrity? Well, the left is taking those laws straight to court and is often winning. These same judges who won't grant relief to those being forced to get shots will suddenly grant "relief" to businesses and perhaps even the federal government so they can force others to get the shots or wear a mask. The same businesses that can't turn down gay wedding services, even though customers can go to 50 other places for services, will obtain the right to collude to box out those who don't get a dangerous shot from living a functional life across the board. Reference
Force is now the only rule remaining in deep state-controlled America. Everything else has collapsed.
Supreme Court Responds To Claims That Roberts Screamed At Other Justices Over Texas Election Lawsuit
A spokesperson for the U.S. Supreme Court disputed a report that claimed Supreme Court Chief Justice John Roberts shouted at the eight other justices in a room in the high court, urging them not to the Texas election lawsuit against four other key states.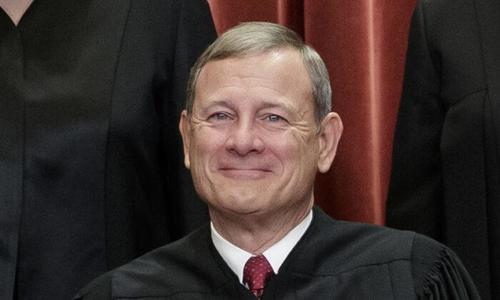 As guidance, the court "has been conducting its conferences remotely by phone since March when the building closed due to the pandemic," a Supreme Court spokesperson told The Epoch Times via email on Friday in response to a question about the claim.
The statement contradicts what a GOP Texas elector, Matt Patrick, said earlier this week, claiming that an anonymous person said that "the Justices went into a closed room" to determine whether to take the Texas lawsuit that was eventually dismissed. Then, according to the elector, "When the Texas case was brought up he said he heard screaming through the walls as Justice Roberts and the other liberal Justices were insisting … afraid of what would happen if they did the right thing."
The claim first appeared on Hal Turner's website, sourcing an alleged "clerk for one of the [Supreme Court] justices." It is unclear where Patrick obtained his information.
"The Justices met in a closed and sealed room, as is standard," Turner's website said, citing the alleged Supreme Court whistleblower.

"Usually it is very calm, however today we could hear screaming all the way down the hall. They met in person, because they didn't trust telephonic meeting as secure. Chief Justice Roberts was screaming, 'Are you going to be responsible for the rioting if we hear this case?'"
The U.S. Supreme Court is seen in Washington on June 13, 2005. (Mark Wilson/Getty Images)
According to the Supreme Court's website, the justices have not met in person for months in the midst of the CCP virus pandemic.
"The Court will hear all oral arguments scheduled for the November and December sessions by telephone conference. In keeping with public health guidance in response to COVID-19, the Justices and counsel will all participate remotely. The oral arguments are scheduled to begin at 10 a.m. On days when more than one case will be heard, there will be a three minute pause before the second case begins," the court's website says.
Another Republican elector in Texas entered information about the alleged Supreme Court argument during the Electoral College meeting on Monday, Dec. 14, suggesting the other GOP electors should not rely on "hearsay."
"Sending a message like this to a body of legislators or judicial officers is not going to get the attention you want to get. Nobody knows what happened in that conference room on purpose. Hearing yelling, the triple hearsay, quadruple hearsay now about what is going on in that room, you cannot make your decision on that basis," the other elector, Jim Pickle, said.
The Supreme Court, since Dec. 11, has drawn significant criticism from President Donald Trump and other Republicans for not taking up Texas Attorney General Ken Paxton's lawsuit, saying essentially that majority of the court's justices showed a lack of moral character for not hearing the case in light of alleged election fraud.
"Now, you have the Supreme Court that really just decided, it seems like, on a political whim to not hear this case when clearly you have the interests of 80 million American voters whose votes were disenfranchised based on the corruption, based on the ignoring the rules in these states," Trump attorney Jenna Ellis told Newsmax.
"How they could pass on this is shocking. I think it's morally outrageous."
No Functioning Markets, No Equal Protection Under the Law… You are Basically on Your Own…
Pray that the Christians in America will have the blinders removed from their eyes and that they will be filled with boldness for truth
In several places in America now, you can call 911 and the police will never show up if your property is in or near a Black Lives Matter terrorist zone, which are now de facto "police no-go zones" on U.S. soil.
In America, there are no functioning markets. Prices of stocks and bonds are set entirely by Federal Reserve money printing and interest rate manipulations. (Many people think b/c the stock market is doing well that everything's OK.) Rational investing has been obliterated. Market-driven price discovery is a distant memory. Economic collapse is imminent.
In America, voting for change doesn't work. Rioting for change gets you everything you demand. That's because the politicians ignore the voters but adore the rioters.
In America, there is no equal protection under the law. When a group of violent terrorists seize your city, the "leaders" (the mayor and governor) will order police to evacuate, leaving you to fend for yourself against terrorist rule. (But they want you to turn your guns in to them.)
In America, free speech has been annihilated. The left-wing fanatics who run the tech giants now decide which views are "offensive," and those voices, websites and platforms are all banned while their own radical left-wing propaganda is allowed to flourish.
In America, there is no political leadership whatsoever. The Democrats are traitors and the Republicans are feckless, compromised, spineless lose-o-crats who are utterly incapable of asserting even an inkling of leadership or the assertion of the principles they (falsely) claim to represent.
In America, the U.S. government will print money and pay you to not work, then brain dead U.S. Senators (like Mitch McConnell) will wonder why small businesses can't find workers who want to give up their enormous unemployment benefits and get a job that pays less than what people are collecting from the government. Only in America would the government pay people to avoid working, then panic as the economy craters because the labor pool has disappeared.
SCOTUS GUILTY OF TREASON SEDITION
Source: HNewsWire ZeroHedge HNewsWire HNewsWire HNewsWire
StevieRay Hansen
Editor, HNewsWire.com
Watchmen does not confuse truth with consensus The Watchmen does not confuse God's word with the word of those in power…