"The Worst Is Yet To Come" Pestilence Is Lethal, Its Not The Flu Bro
Featured Story HNewsWire: Millions of people have succumbed from the mRNA shots being given to halt COVID, according to prominent physician Dr. Peter McCullough. And teenagers – especially boys – are more in danger of being hospitalized for the vaccine than they are for COVID, he said. The culprit is myocarditis, an inflammation of the…
Up-Date: 9/9/21` @1:05 AM CST... "pale horse" of the "Four Horsemen of the Apocalypse" with pestilences and plagues ...
How Will La, San Fran, Portland, and Seattle Control the Spread of Corona-virus With Their Massive
Homeless Populations?
Most rational people understand that even in normal times, leaders who allow tens of thousands of people to live in squalor on the streets of their cities are irresponsibly putting citizens at risk in terms of crime and sanitation alone.
(Article by Jon Dougherty republished from TheNationalSentinel.com)
But when you throw a good, ol' pandemic into the mix, the potential for an unmitigated health disaster is downright likely.
As local Democratic leaders in California, Oregon, and Washington state demand that the Trump administration steps up its response to the widening coronavirus outbreak, their homeless policies have led to the creation of thousands of mini-camps full of desperate people living in Petri dishes filled with feces, urine, drug needles, and trash.
In other words, conditions that more resemble those in Medieval times when the spread of disease due to a combination of filth and close contact was rampant.
During his Fox News program Friday evening, host Tucker Carlson and Seattle-area talk radio host Jason Rantz noted that while there is no direct epidemiological link — yet — between filthy homeless conditions and the spread of coronavirus, it's clear that such large homeless populations living closely in squalid conditions make it much easier to spread it cities like Los Angeles, San Francisco, Portland, and Seattle.
Rantz noted that the arrival of coronavirus ought to be a wake-up call for the local Democrat leaders and the citizens of these cities that their homeless policies need to change.
"I am growing increasingly concerned. The more we hear about what we need to do to make sure the coronavirus doesn't spread seems to make sense to me because I live in a home where I have access to hand sanitizer, soap, and water. Homeless people do not," he said.
Noting that he and Carlson talked last week about the where homelessness and the coronavirus might "intersect," Rantz recounted an incident in Seattle a day earlier in which a homeless person diagnosed with the virus was quarantined by health officials in "an isolation sight."
But the man wound up leaving self-quarantine, walked across the street, allegedly robbed a convenience store, then hopped a bus and disappeared.
"That is a problem," Rantz said, noting that Democrat leaders in these cities have so far not come up with a plan about how to protect the public from infected homeless persons who may also have additional behavior health problems like depression and addiction.
"So in other words," Carlson noted, "if you allow your society to fall apart as they have in Los Angeles and Portland and Seattle when a crisis comes, it might collapse completely."
Watch:
Read more at TheNationalSentinel.com NewsTarget HNewsWire
Texas Gov. Abbott has declared a state of disaster, Italy Reports Largest Jump In Deaths, Disney Halts Production On All Live-Action Films: Virus Updates
France has reported another spate of coronavirus deaths...
FRANCE REPORTS 79 CORONAVIRUS DEATHS, FROM 61 ON THURSDAY
...As has Saudi Arabia...
SAUDI ARABIA DETECTS NEW 24 CASES OF CORONAVIRUS, BRINGING THE TOTAL TO 86 IN THE KINGDOM - STATE NEWS AGENCY SPA
...Texas Gov. Abbott has declared a state of disaster.
TEXAS GOVERNOR ABBOTT DECLARES STATE OF DISASTER
* * *
Update (1350ET): As states from New York to Maryland to Ohio active the national guard to help with the virus response, the Pentagon said it expects to have 1,000 troops on the ground in various states by the end of the day Friday.
Barbara Starr✔@barbarastarrcnn
National Guard expects to have 1,000 troops on duty by end of the day in various states...all-state activated: Nat Guard announces.43912:29 PM - Mar 13, 2020Twitter Ads info and privacy387 people are talking about this
Meanwhile, in one of the biggest hits to the entertainment industry reported so far, Disney has announced that it's halting the production of all its live-action films over coronavirus concerns - though it stipulated that no members of the cast or crew have been infected.
Via CNBC:
"While there have been no confirmed cases of COVID-19 on our productions, after considering the current environment and the best interests of our cast and crew, we have made the decision to pause production on some of our live-action films for a short time. We will continue to assess the situation and restart as soon as feasible," the company said in a statement.
Impacted films include: "The Little Mermaid," "Shang-Chi and the Legend of the Ten Rings," "Home Alone," "The Last Duel," "Nightmare Alley," as well as "Peter Pan & Wendy" and "Shrunk."
Across the US, more cases are being reported on Friday. New York State is now the coronavirus-case leader in the US as the number of cases jumped 30% overnight to 421. The governor also revealed that his daughter is now under "precautionary" quarantine.
"How could I protect my daughter? Why didn't I protect my daughter? Because it's impossible. It's impossible."
Earlier, Cuomo announced that New York will begin its first "drive-thru" testing center in New Rochelle, still the largest cluster in the state. He also said he has no plans to close schools.
The CDC hasn't yet updated its national figures, but at last count, but across the US, there have been 41 confirmed deaths and 1,701 confirmed infections, with many more of both likely still untested.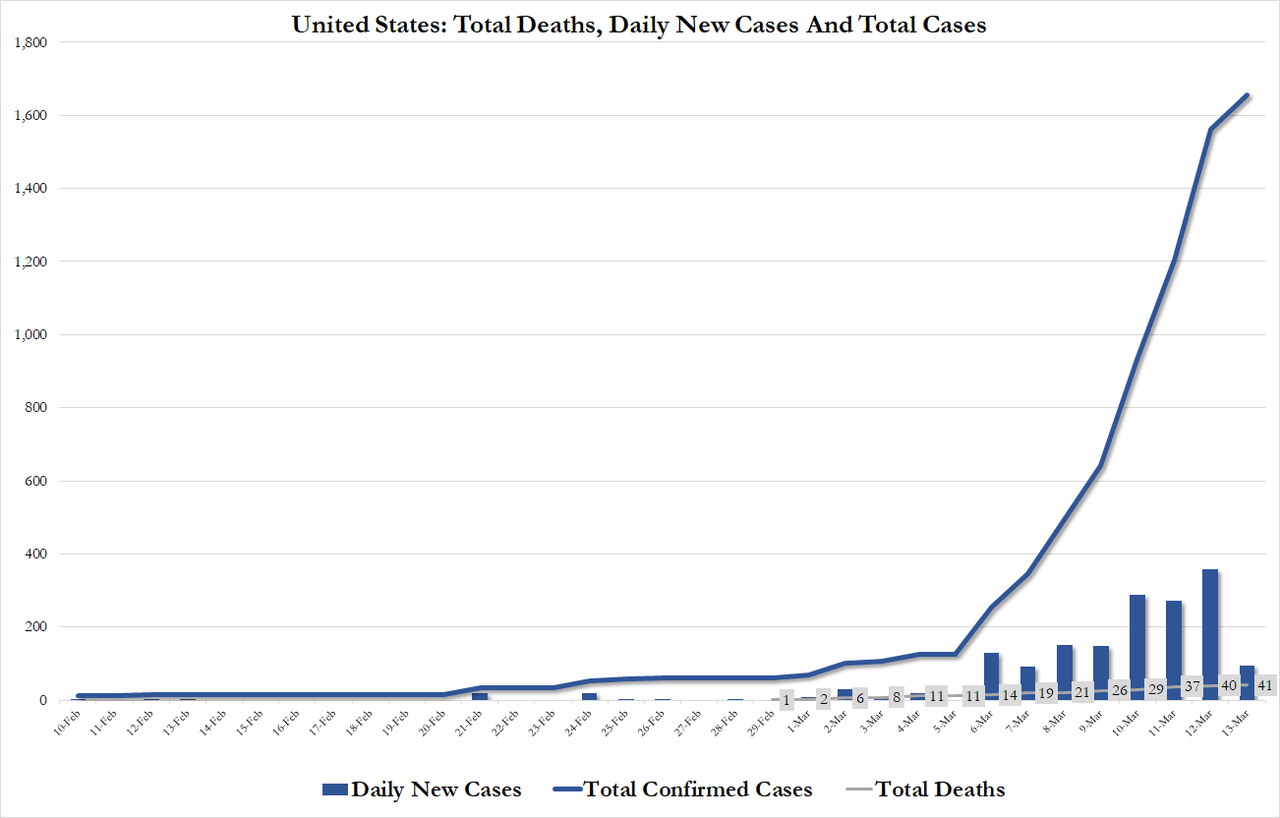 Alabama confirmed its first case a little over an hour ago, bringing the virus to 28 states and Washington DC, as well as Puerto Rico and many of the US's other territories.
President Trump is speaking at 3pmET, where he may declare a national emergency, while Nancy Pelosi goes on at 2 pm.
* * *
Update (1340ET): For at least the second time in the last week or so, Italy has reported its largest single-day jump in deaths since the country's coronavirus crisis kicked into overdrive at the end of last month. Officials reported on Friday that the country had counted 250 deaths on Thursday, bringing its total to 1,266
The number of new confirmed infections soared by more than 2,500 to 17,660.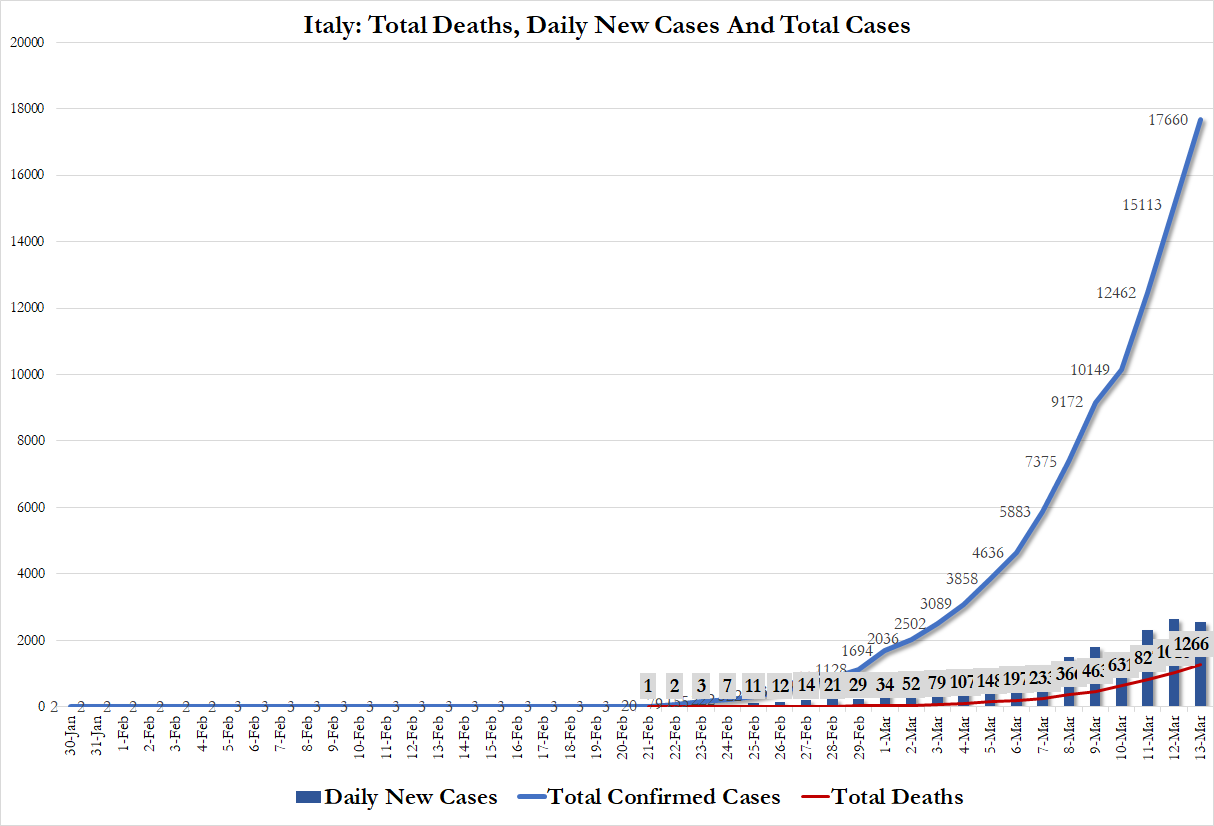 Italy also reported 181 new recoveries and 175 new cases in serious condition, for a total of 1,439 recovered and 1,328 in serious condition.
It's beginning to seem like each day, Italy's outbreak is breaking new grim records. The outcome has been in some cases almost unfathomably tragic, as we reported earlier.
Offering a critical moment of levity, a clip of Italians singing songs in their windows has gone viral on social media.
As China recovers and Italy falters, a team of doctors from China arrived in Italy earlier to help with the outbreak as China tries to return the favor of western aid. They've reportedly brought respirators and other medical equipment to aid in the effort.
CoronaVirus Updates@COVID19Update



Nine medical experts, mostly from SW #China's Sichuan, arrived in #Italy with 31 tons of supplies.
In 2008, Italy sent 14 doctors who helped treat some 900 patients after a massive earthquake hit Sichuan. "We, people from Sichuan, want to return the favor".#coronavirus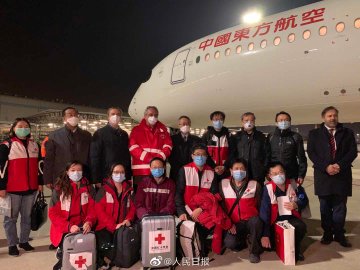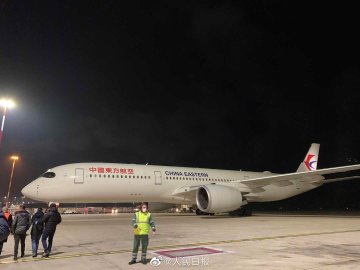 1,5811:23 AM - Mar 13, 2020Twitter Ads info and privacy488 people are talking about this
* * *
Update (1310ET): Organizers of the London Marathon have canceled the race, which was scheduled to be held on April 26.
That's six weeks out, though given it's such a large event, it's understandable.
During a noon press conference, Canadian PM Justin Trudeau promised to help Canadians with a large fiscal stimulus package, and he insisted he understood the financial stresses of everyday Canadians while promising to help them with child-care and other expenses.
Update (1215ET): Los Angeles Unified School District, which, with 600,000 students, is the second-largest district in the country behind NYC, has canceled school for two weeks because of the coronavirus. A few miles south, the San Diego Unified School District (student pop: 120k+) has also decided to shutter schools. The decisions were announced in a joint statement
The #LAUSD- @sdschools joint statement does not say when schools might re-open. pic.twitter.com/8ej8z8m1CW— Kyle Stokes (@kystokes) March 13, 2020
On the political front, now that Joe Biden is safely ahead in the delegate count, Louisiana on Friday decided to delay next month's primary
Next month's Louisiana Primary has been postponed, according to WAFB-TV, the CBS affiliate in Baton Rouge. @Louisiana_sos Kyle Ardoin is set to speak at 11:30 to discuss the COVID-19 impact on elections in the state https://twitter.com/WAFB/status/1238493311876435969 …WAFB✔@WAFBBREAKING: Louisiana will postpone next month's Presidential Preference Primary due to coronavirus concerns.510:56 AM - Mar 13, 2020Twitter Ads info and privacySee Brad Cesak's other Tweets
During Friday's press conference, WHO Director-General Dr. Tedros Adhanom Ghebreyesus said that Europe is now the unquestioned epicenter of the coronavirus outbreak. Notably, Dr. Tedros made this statement on the same day that his home country, Ethiopia, reported its first case, along with two other African economic powerhouses, Kenya, and Ghana. We can't help but wonder, once the outbreaks in Europe and the US start to peter out, might Africa be next? Dr. Tedros said Europe has earned this position because it has "more reported cases than the rest of the world combined, apart from China."
Over in mainland China, 15 new coronavirus cases were recorded on Thursday, continuing a weeks-long trend of falling numbers. It's becoming increasingly clear that, even if China's numbers were never really trustworthy, to begin with, the infections are slowing.
Of those, six were allegedly imported from overseas, giving China more grist to justify its own travel restrictions.
Hubei province, where the coronavirus pandemic began back in December, reported only 8 cases, its lowest number since the very beginning of the outbreak in December and early January.
Meanwhile, as more states temporarily ban large events, Massachusetts just announced that it is prohibiting gatherings of 250 people or more due to the virus's spread.
In France, the workers at the Louvre have voted to close the museum again, this time indefinitely, until the outbreak subsides.
* * *
Update (1140ET): Economists with RBC declared earlier that a recession is coming later this year for Canada as the country suffers from the "one-two punch" of supply/demand shock and falling oil prices, projecting that the pace of GDP growth will slip to just 0.8 percent in the first quarter.
And as the country's PM enters quarantine and awaits test results (which he might announce at a press conference set to start in 15), Bloomberg reports that Finance Minister Bill Morneau has hinted at fiscal stimulus measures to complement the billions of Canadian dollars in liquidity that the central bank is injecting into the system.
Meanwhile, NYC declared that it's preparing to set up its first "drive-thru" coronavirus testing facility, following in the footsteps of the Mayo Clinic in Minnesota.
* * *
Update (1120ET): It looks like we've just learned what President Trump plans to announce at this afternoon's press conference. Media reports are claiming that the White House is planning to declare a national emergency.
Dozens of cities and states have already declared emergency status to open up access to more money that can be used to fight the virus.
But Trump's declaration would invoke the Robert T. Stafford Disaster Relief and Emergency Assistance Act - more commonly known as "the Stafford " - and use it to speed up the government response.
The G-7 has just confirmed that it plans to hold a video conference on Monday to discuss a coordinated response between all of its leaders.
This morning, the EU declared that it believes it's "very likely" that 2020 growth could be "below zero". Given that Italy is the Continent's worst-hit economy, EU Commissioner Urusula von der Leyen, confronting her first official crisis as the head of one of several committees of bureaucrats in charge of the trade bloc, said the commission stands ready to help Italy with whatever it needs.

AFP news agency✔@AFPReplying to @AFP


VIDEO: President Ursula von der Leyen says the European Commission is "absolutely ready" to help Italy with "whatever is necessary" to overcome the challenge of the #coronavirus5110:17 AM - Mar 13, 2020Twitter Ads info and privacy47 people are talking about this
* * *
Update (1105ET): Clearly eager to make up for Wednesday night's disastrous performance in the Oval Office, President Trump has announced plans to hold another press conference at 3 pm ET.

Donald J. Trump✔@realDonaldTrump
I will be having a news conference today at 3:00 P.M., The White House. Topic: CoronaVirus!97.8K9:55 AM - Mar 13, 2020Twitter Ads info and privacy52.9K people are talking about this
After Trump's last performance, some are pushing for the White House to make Dr. Fauci the official federal government spokesman on all things crisis related.
.@repmarkpocan's charge for #COVID19 response.
"4. Please re-read Point 3."

5210:09 AM - Mar 13, 2020Twitter Ads info and privacySee Meg Tirrell's other Tweets
Canadian PM Justin Trudeau will hold a press conference at noon, presumably to discuss the situation with his wife and the fact that he likely has also contracted the virus, as people infecting their spouses has been a common occurrence during the outbreak, especially during the early days.
Of course, no matter what Trump does at this point, his critics will simply question why he didn't do it sooner.
This morning, the EU declared that its official growth projections for 2020 would
* * *
Update (1030ET): A flashing-red headline from BBG just declared that Spain is announcing a national state of emergency over the outbreak, as the number of confirmed cases in Madrid soars amid a rash of deaths.
Socialist Spanish PM Pedro Sanchez said that he isn't ruling out the possibility that there will be more than "100,000 cases of coronavirus in Spain" as early as next week.
Trudeau plans to address the nation at noon ET, presumably to discuss the situation with him and his wife. In the mean time, the Canadian Parliament has been suspended for the time being.
Brazil's government denied these rumors last night, but reports have persisted, and now the Guardian is reporting that Brazilian President Jair Bolsonaro has tested positive for Covid-19. His communications secretary tested positive earlier this week, raising questions about whether President Trump and VP Pence were exposed.
However, Bolsonaro's son has denied the reports that his father tested positive, and is claiming that the results haven't yet been released.
Switzerland is reportedly planning to reintroduce "checks" at all borders, after blocking Italians from entering earlier this week, as infections inside the country have started to accelerate.
Update (1022ET): The most prestigious golf tournament in America has just postponed play because of the coronavirus outbreak.
The 2020 Masters Tournament has been postponed due to "ever-increasing risks associated with the widespread coronavirus," Augusta National Golf Club announced.
"Respecting the health and well-being of everyone associated with these events and the citizens of the Augusta community, the 2020 Masters Tournament, the Augusta National Women's Amateur and the Drive, Chip and Putt National Finals have been postponed," Chairman Fred Ridley said in a statement.
Statement from Chairman Ridley:
"Considering the latest information and expert analysis, we have decided at this time to postpone @TheMasters, @anwagolf and @DriveChipPutt National Finals."
Full details at http://masters.com/en_US/news/articles/2020-03-13/2020_masters_tournament_postponed.html …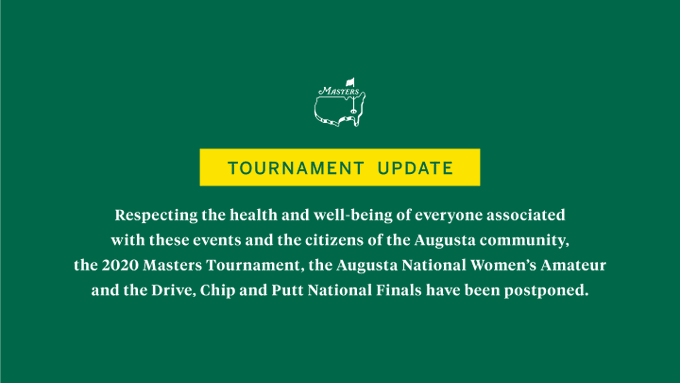 4,2309:00 AM - Mar 13, 2020Twitter Ads info and privacy4,991 people are talking about this
The tournament was initially scheduled for April 9-12. It's not clear when play will begin.
The Boston Marathon has also been postponed until Sept. 14, according to a statement from its organizers.
* * *
It's been another crazy morning around the world as more sports leagues suspended play and governments - most notably Germany - pledged to whip out their credit cards and spend whatever might be necessary to soften the economic blow, a chorus of reassurance that has helped to drive markets back to limit-up.
Following reports last night that Arsenal's manager and a Chelsea player had both tested positive for the virus, the Premier League decided during an emergency meeting Friday morning that it would suspend play. Now, the Champions League, Premier League, and Europa League have all been suspended because of the virus.
Indian Public health authorities confirmed the first virus-related death in the world's second-most populous country on Friday. Fewer than 100 cases have been confirmed across the country, and dozens who came into contact with the man have been quarantined. But the government's inability to safely quarantine and treat the now-deceased patient was hardly encouraging.
After closing its border with Italy, Austria has canceled international flights to/from Spain, France, and Italy and is reportedly weighing a wider border closure. Nearby, the Czech Republic is planning to close its borders, and people won't be allowed to leave the country. In the Balkans, Slovakia has closed its borders completely.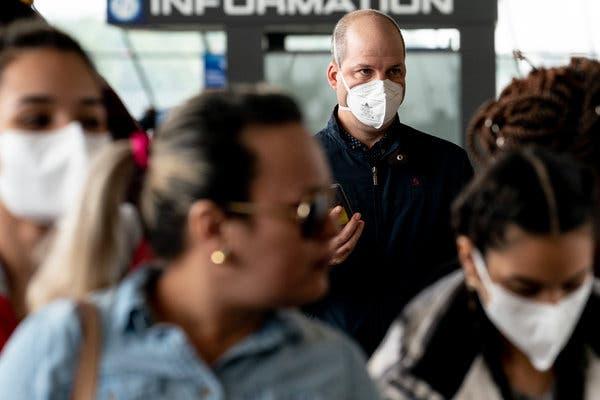 The FDA has launched a 24/7 hotline for patients worried about their infection status. In Washington, President Trump and VP Mike Pence have both decided not to be tested, in accordance with their physicians' advice since neither are showing symptoms, despite both having come into contact with the infected or potentially infected.
After we reported yesterday that Trump shook hands and ate dinner with a Brazilian official who turned out to be infected, the Washington Post reports that an Australian government minister who just tested positive for the virus met with Ivanka Trump and AG William Barr, as well as a handful of other Washington officials.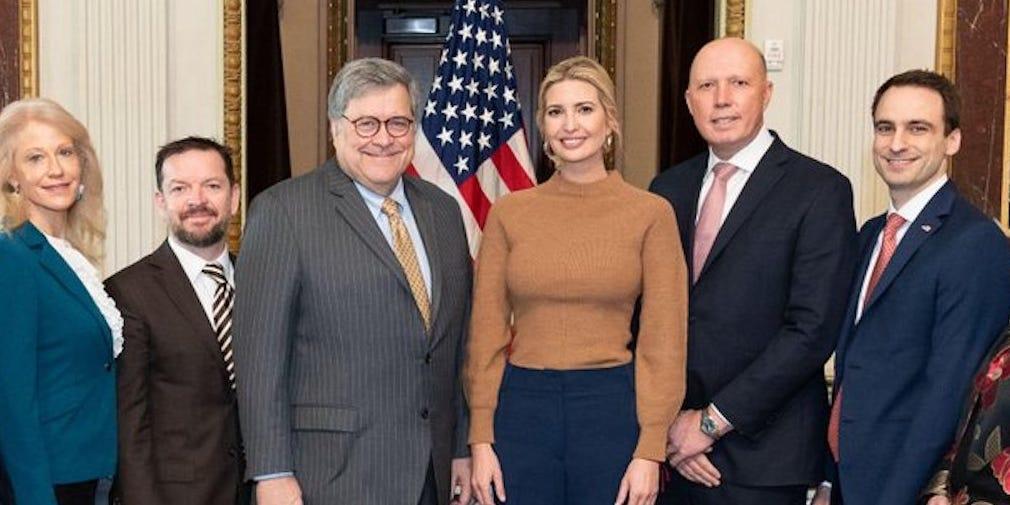 In a statement, Aussie Minister Peter Dutton said that he woke up on Friday morning "with temperature and sore throat" and was "subsequently tested for COVID-19." Dutton was advised by Queensland Health that his tests returned positive on Friday afternoon. Dutton had met with Trump, Barr, Counselor to the President Kellyanne Conway and Director of the Domestic Policy Council Joe Grogan in Washington a week ago when Aussie PM Scott Morrison visited the White House for the first time.
As individuals try to gauge their infection risk, scientists have found that the coronavirus can stay infectious for days on some surfaces. Researchers have also now confirmed that the coronavirus can be contagious in the body before symptoms appear.
Across the US, nearly every state has diagnosed at least one case of the virus, while more than 1,600 cases of the virus are being treated across the US, including at least one patient in nearly every state and the District of Columbia. At least 41 deaths have been reported in the country as public life appears to be grinding to a halt.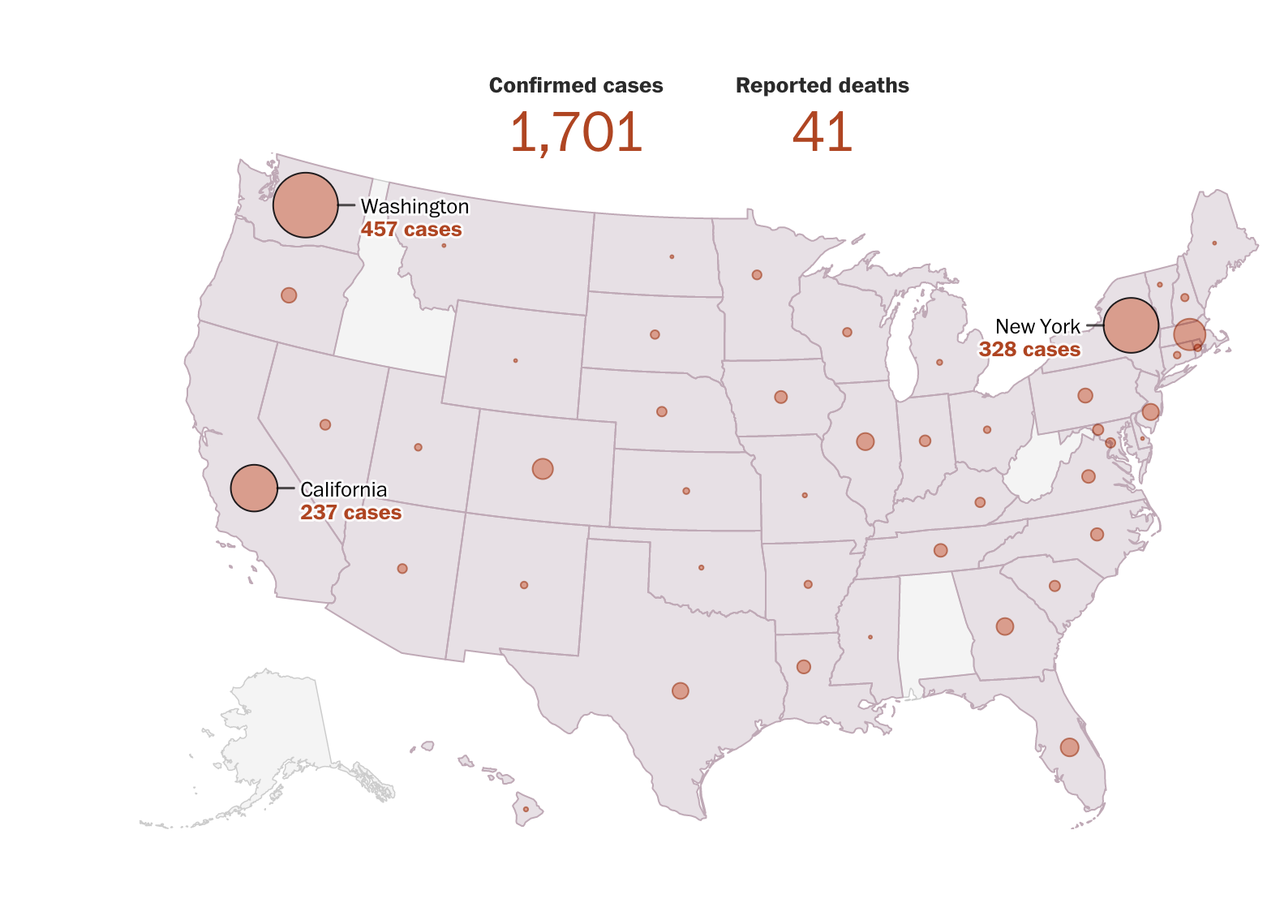 Washington DC has joined Seattle and Houston in closing its schools, while Michigan, Mexico, and Oregon followed Maryland and Ohio by shuttering their schools. These closures will take effect Monday, and last until the end of March, or beginning on April.
"We are going to do what we have to do. We are in a crisis," Ohio Gov. Mike DeWine said. Closures in Ohio will begin at the close of classes Monday and run through at least April 3, DeWine said. "It may be a lot longer."
"This is a necessary step to protect our kids, our families, and our overall public health," said Michigan Gov. Gretchen Whitmer in a statement released on Friday.
In New Mexico, Ryan Stewart, the state's public education secretary, described the closures as a "proactive measure" to limit the potential community spread of the virus.
And while Oregon had worked hard to keep schools open, student absences and issues with staff have made it "impossible to functionally operate schools," Gov. Kate Brown.
Kentucky stopped short of a mandatory order and "recommended" that schools should be closed. In California, Sacramento and San Francisco have also closed schools.
Meanwhile, back in China, all 42 Apple stores have reopened.
After Trump's "misstatements" on Wednesday helped trigger one of the worst trading sessions on Wall Street since the crisis, the White House announced a series of steps on Friday aimed at boosting the availability of coronavirus testing, one of the most heavily-criticized aspects of the government's response.
According to WSJ, a new, high-speed coronavirus test has been granted emergency approval by the FDA in a desperate attempt to expand testing capacity for the pathogen.
To facilitate testing, the FDA has created a 24-hour emergency hotline for laboratories having difficulty getting materials or finding other impediments to running tests, according to announcements early on Friday. The FDA has also authorized more private labs in NY State to conduct the tests, per CNN.
Officials also announced they would be doling out nearly $1.3 million in federal money to two companies trying to develop rapid Covid-19 tests that could have accurate results within an hour.
In Italy - not Iran - the president of the Medical Guild of Varese, Roberto Stella, has died of coronavirus at the age of 67. Stella died on Tuesday in Como, Italy, after being hospitalized following his diagnosis. He's the first high-level public health official in Italy to succumb to the virus.
In a statement, Italy's National Federation of Doctors and General Practitioners mourned Stella's death. They added that they hope the government will take notice of the dangers Italian doctors and nurses are facing.
"He was the example of the capability and hard work of family doctors," Silvestro Scotti, national secretary of the federation, said about Stella.
Spain has emerged as the strongest contender for the 2nd-worst outbreak in Europe in what was until recently a three-way contest with France and Germany. Last week's International Women's Day March helped expedite the outbreak, according to city officials in Madrid, who are begging Spain's federal government for some assistance.
In Boston, the JFK Presidential Library and Museum is closing immediately after two employees attended a conference last week where other attendees had confirmed cases of coronavirus, it said in a statement.
One of the largest livestock exhibitions and rodeos in the world will close early due to novel coronavirus fears, according to Houston city officials, who announced Friday that the city's major Livestock Show and Rodeo will close earlier. It had been scheduled to run until March 22.
Trump Bans All Travel From Europe For 30 Days; Tom Hanks Infected; NBA Suspends Season: Live Updates...
Following President Trump's decision to ban all travel from Europe to the US for 30 days, The State Department has issued a Level 3 Global Health Advisory, urging Americans to reconsider travel abroad:

Global Level 3 Health Advisory – Reconsider Travel
The Department of State advises U.S. citizens to reconsider travel abroad due to the global impact of COVID-19.

Many areas throughout the world are now experiencing COVID-19 outbreaks and taking action that may limit traveler mobility, including quarantines and border restrictions.

Even countries, jurisdictions, or areas where cases have not been reported may restrict travel without notice.

For the latest information regarding COVID-19, please visit the Centers for Disease Control and Prevention's (CDC) website.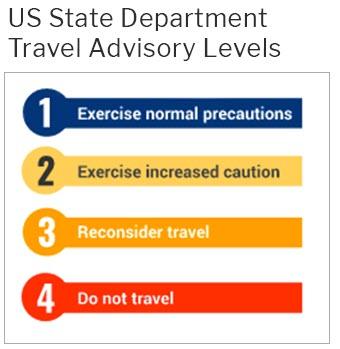 UPDATE on coronavirus (#COVID19) testing in the UK:
As of 9 am 12 March 2020, a total of 29,764 people have been tested:
29,174 negative
590 positive
8 patients who tested positive for coronavirus have sadly died.
The digital dashboard will be updated later today.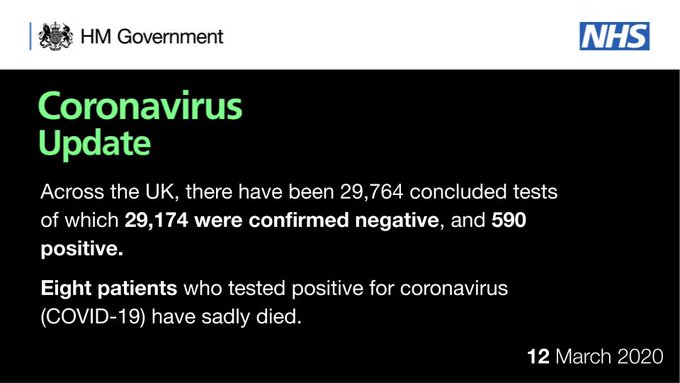 Summary:
WHO declares Covid-19 is a pandemic
President Trump declares a travel ban from all European countries (not the UK)
Tom Hanks, wife announce they have the Coronavirus
NBA suspends all games until further notice
Utah Jazz player Rudy Gobert has tested positive for coronavirus.
LA confirms first death
Seattle schools close for two weeks
Italy closes stores
MGM says guest at Vegas's 'The Mirage' tested positive
Denmark closes schools, will send 'non-critical' public employees home to work
New Jersey case total climbs to 23
Juve player Daniele Rugani
DC Mayor declares public health emergency
The congressional doctor says up to
Cuomo confirms 39 new cases in NY, raising total to 212
The first death in Indonesia
Confirmed cases in France top 2,000
Washington State to ban events over 200
Details of the cruise line industry's 'health and safety proposal' leak
'Waffle House' employee in Atlanta confirmed
The UK reports 7th death
Chicago cancels St. Paddy's Day parade
NY sends in National Guard
IADB cancels meeting in Colombia as the virus spreads across Latin America
Mnuchin says the first part of virus stimulus plan will be ready in 2 days
Utah reportedly planning to shut public college and university campuses
Dr. Fauci warns virus 10x more deadly than flu and could infect millions if not handled early
Australia passes A$18 billion stimulus package
Seoul says 99 cases tied to call center
FEMA evacuates Atlanta office over coronavirus scare
3 Boeing workers test positive
Washington DC advises cancellation or postponement of all gatherings with more than 1,000 people
Harvard to prorate room and board for students
US cases surpass 1,000
UK Health Minister catches the virus
Ireland, Bulgaria, Sweden report first deaths
Connecticut declares state of emergency
UK total hits 456 following largest daily jump on record (83 new cases)
Global cases pass 120,000
South Korea reports a new outbreak in a call center
Japan reportedly planning to declare a state of emergency
* * *
Update (2130ET): Tom Hanks and his wife, Rita Wilson, have tested positive for the coronavirus during a trip to Australia, he said in a Wednesday Instagram post.
Hello, folks. Rita and I are down here in Australia. We felt a bit tired, like we had colds, and some body aches. Rita had some chills that came and went. Slight fevers too. To play things right, as is needed in the world right now, we were tested for the Coronavirus, and were found to be positive.

Well, now. What to do next? The Medical Officials have protocols that must be followed. We Hanks' will be tested, observed, and isolated for as long as public health and safety requires. Not much more to it than a one-day-at-a-time approach, no?

We'll keep the world posted and updated.

Take care of yourselves!
Hanx!
In separate news, Utah Jazz All-Star Rudy Gobert tested positive for coronavirus; "sources say Gobert is feeling good, strong and stable — and was feeling strong enough to play tonight."
That, however, maybe the last game Gobert plays in for a long time: moments later the NBA announced it would suspend the season until further notice.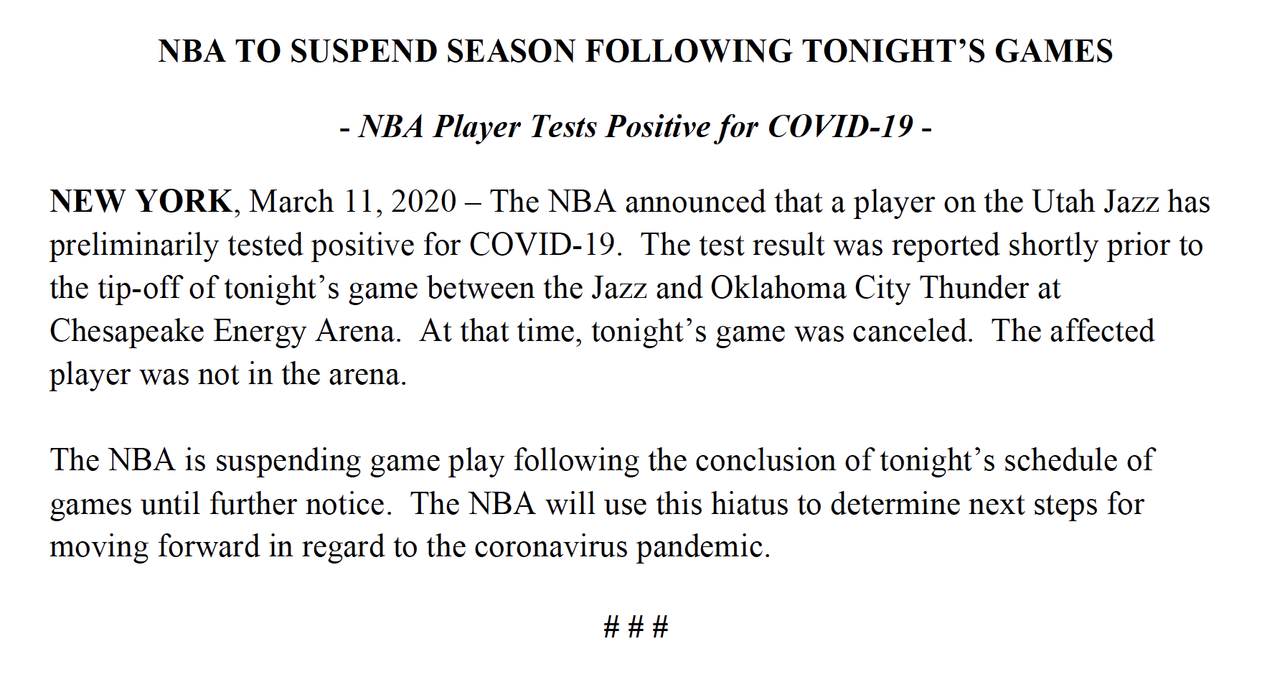 Update (2110ET): President Trump has ordered a complete travel ban from European nations for the next 30 days (beginning at midnight on Friday). The ban does not include the United Kingdom.
Speaking from the Oval Office, Trump called the coronavirus a "horrible infection" and said he was addressing the nation to talk about the "unprecedented response to the coronavirus outbreak."
Additionally, Trump laid out his plans for taking emergency action to provide relief for those suffering financial hardship due to the virus.
The President also said health insurance companies had agreed to waive all co-payments for coronavirus treatments and extend insurance coverage to cover coronavirus treatments.
* * *
Update (1950ET): As states around the country mull whether to follow Washington and shutter their schools, we've received a reader tip claiming that Utah Gov Gary Herbert will announce on Thursday at 9 am MT that the state is shutting down all its public campuses of higher education. A press release will follow. The official date and duration are not known at this time.
Again, that's according to an as-yet-unconfirmed tip, so treat it accordingly.
Of course, if this is accurate, that's just another ~20,000 college kids about to go on an extended, cut-rate spring break.
Update (1937ET): Seoul has just confirmed that 99 cases have now been tied to an outbreak at a call center in Seoul's Guro district, one of the busiest and most crowded parts of town. Low paid workers commuting from far away helped pass the infection along their route, creating another outbreak just as South Korea was getting the outbreak in the city of Daegu under control.
Seoul Mayor Park Won-soon made the announcement early Thursday in Seoul. It's unclear whether these constitute new, or already counted cases.
Australia just announced an A$17.7 billion stimulus package to bolster its economy against the fallout from the virus, joining what's becoming a growing list of developed countries that have acted more quickly than the White House to address that aspect of the crisis.
To be sure, the Trump administration deserves credit for swiftly working out a compromise with Democrats to pass an $8.3 billion spending package that increases funding for the CDC, FDA and the other agencies within DHHS, dole out money to the states, buy vaccines when they're available and $1.25 billion for "international activities."
* * *
Update (1820ET): Juventus, a football club based in Turin, a city in Piedmont situated just outside Italy's initial exclusion zone, just confirmed that center-back Daniele Rugani has tested positive for the coronavirus, though it's not yet clear who.
Update (1635ET): NJ Governor and former Goldmanite Phil Murphy just announced 8 more cases in the state, bringing its total to 23. The state has also confirmed its first case of "community spread".
Governor Phil Murphy✔@GovMurphy
UPDATE: We now have 8 more presumptive positive cases of #COVID19 in New Jersey.
• 3 female cases, 5 male cases
• 4 cases from Bergen County, 2 cases from Middlesex County, and 2 cases from Monmouth County
• Range in age from 17- to 66-years-old8841:26 PM - Mar 11, 2020Twitter Ads info and privacy589 people are talking about this
Governor Phil Murphy✔@GovMurphyReplying to @GovMurphy
Current #COVID19 statewide stats:
• Presumptive Positive Tests: 23
• Negative Tests: 57
• Tests in Process: 20
• Persons Under Investigation: 37
• Deaths: 1
For regular updates: http://nj.gov/health 4401:26 PM - Mar 11, 2020Twitter Ads info and privacy189 people are talking about this
Governor Phil Murphy✔@GovMurphyReplying to @GovMurphy
We've received $14 million in federal grants from @CDCgov to assist in our ongoing efforts to contain the spread of #COVID19. We're working around the clock with our local, state, and federal partners to protect the health of New Jerseyans.2451:26 PM - Mar 11, 2020Twitter Ads info and privacy80 people are talking about this
Watch the rest of the press conference below courtesy of 10 Philly:
In other news, the NCAA's annual "March Madness" basketball tournament games in Ohio will be played in front of empty crowds, with only essential staff present and "limited family attendance," NCAA President Mark Emmert said in a statement: Source ZeroHedge HNewsWire

In Matthew 24:6, Jesus Christ prophesied that one of the factors that would characterize the imminence of his Second Coming would be "pestilences" on the earth. Religious analysts have commonly linked Revelation 6:8 "pale horse" of the "Four Horsemen of the Apocalypse" with pestilences and plagues (with paleness being a common symptom of severe illnesses). The coronavirus, spreading very rapidly in China and to many other nations as well due to human travel, is looking more like it may become just such a pestilence as prophesied in the Bible. This has the potential to be far worse than swine flu, SARS and other illnesses that became limited pandemics. Even the dreaded Ebola virus has not become a globe-girdling pandemic, as it tends to kill its victims so quickly that it "burns out" locally if reasonable actions are taken by the world community to prevent its spread. The coronavirus appears to be something new and unusually deadly.
Pestilence is typically a contagious disease, in the Biblical accounts, it is a judgment of God on a particular group of people. Is the coronavirus a biblical "pestilence?" It certainly has the potential to become one as it could spread around the globe as the Spanish flu virus did in 1918. It may take a coordinated shut-down of the global economy to stop it from globally spreading everywhere. It can spread easily in airplanes where there are closed environmental systems where the air is recirculated for all occupants of the airplane to breathe. If one passenger (or crew member) has the disease, all on the plane will be exposed to it.
"They have blown the trumpet, even to make all ready; but none goeth to the battle: for my wrath is upon all the multitude thereof. The sword is without, and the pestilence and the famine within: he that is in the field shall die with the sword, and he that is in the city, famine and pestilence shall devour him." Ezekiel 7:14-15
And the first went, and poured out his vial upon the earth, and there fell a noisome and grievous sore upon the men which had the mark of the beast, and upon them which worshipped his image. Revelation 16:2
Coronavirus disease (COVID-19) has infected nearly 80,000 people and killed at least 2,619 since December. As the epidemic sweeps through China with large outbreaks in Italy and South Korea, many fear the virus was foretold by the Christian Bible.
Dr. Fauci Warns "Worst Is Yet To Come": Coronavirus Is "10x More Lethal Than The Flu," Could Infect "Millions" Of Americans
Summary:
The first death in Indonesia
Washington State to ban events over 200
'Waffle House' employee in Atlanta confirmed
Chicago cancels St. Paddy's Day parade
NY sends in National Guard
IADB cancels meeting in Colombia as the virus spreads across Latin America
Mnuchin says the first part of virus stimulus plan will be ready in 2 days
Dr. Fauci warns virus 10x more deadly than flu and could infect millions if not handled early
FEMA evacuates Atlanta office over coronavirus scare
3 Boeing workers test positive
Washington DC advises cancellation or postponement of all gatherings with more than 1,000 people
Harvard to prorate room and board for students
US cases surpass 1,000
UK Health Minister catches the virus
Ireland, Bulgaria, Sweden report first deaths
UK total hits 456 following largest daily jump on record (83 new cases)
Global cases pass 120,000
South Korea reports a new outbreak in a call center
Japan reportedly planning to declare a state of emergency
* * *
Update (1220ET): Three Boeing workers have tested positive for the virus, the company said. Though Boeing offered few details, we suspect the employees are probably based in Washington State, where Boeing builds its planes.
In Washington DC, authorities are recommending the cancellation or postponement of all "non-essential" gatherings over 1,000.
As students leave campuses around the country either heading back home or hunkering down finish their classes online, Harvard just announced that it would "pro-rate" students' room and board.
* * *
Update (1220ET): With the committee in charge of the Tokyo Olympic Games reportedly planning to suggest that the games be delayed, more images of the coronavirus fears' impact on international travel are circulating online. Check out this.
Update (1200ET): The CDC has released its latest batch of "confirmed" US figures: 29 deaths, 987 cases, and cases confirmed in 39 states as of 10 pm last night.
U.S. CDC - 39 STATES HAVE REPORTED CASES AS OF MARCH 10 AT 4 PM ET VS PREVIOUS REPORT OF 36 STATES
U.S. CDC - 29 TOTAL DEATHS DUE TO NEW CORONAVIRUS AS OF MARCH 10 AT 4 PM ET VS 25 DEATHS AS OF the PREVIOUS REPORT
U.S. CDC REPORTS ITS COUNT OF 987 CASES OF NEW CORONAVIRUS AS OF MARCH 10 AT 4 PM ET, VS PREVIOUS REPORT OF 696 CASES
Around the world, the virus has produced many "isn't it ironic?" moments, and we just got another in the US when FEMA announced that it would close its Atlanta office after an employee was exposed to the virus.
FEMA ATLANTA OFFICE CLOSED AFTER EMPLOYEE EXPOSED TO VIRUS
Over in the UK, a total of 456 people have tested positive for coronavirus in the UK as of 9 am on Wednesday, up from 373 at the same point on Tuesday, the Department of Health said. The jump of 83 new cases is the largest daily jump yet, following the previous 'largest daily increase' by only a few days.
Six have died in the UK and tested positive for the virus. Over in Ireland, authorities reported their first death on Wednesday. A 66-year-old Bulgarian woman also succumbed to the virus in the Balkan state, marking the first death there as well.
After the UK Health Minister Nadine Dorries tested positive for the virus and started showing symptoms on Thursday, the same day she attended an event with the prime minister. Though the UK has elected to keep parliament open, Dorries and a Labour lawmaker who may have been exposed via a meeting with Dorries have decided to self-quarantine.
UK Chief Medical Officer Catherine Calderwood stressed that "we are still in the containment phase" despite an increased number of Covid-19 cases.
She said: "We have identified the first case of community transmission in Scotland which is unrelated to contact or travel. This was identified through our enhanced surveillance scheme.
Sweden has reported its first death from the coronavirus today, with a hospital in Stockholm saying an elderly patient had died in intensive care. Belgium has reported its first three deaths, with 314 cases of coronavirus. Ivory Coast has confirmed its first case of coronavirus, a 45-year-old Ivorian man who had recently traveled to Italy, the health ministry said in a statement. Denmark confirmed a batch of new cases, raising its total to 442.
While Washington State is apparently planning to ban all events with over 250 people, Washington DC has advised citizens to avoid such gatherings.
While
* * *
Update (1150ET): Rencap's Charlie Robertson points out that it took 5 days since the first indication of human-to-human transmission happening at a wide scale in the US, and if our numbers track Germany's, we should have 3,000 cases confirmed by Friday, and 6,000 by Monday.
Though that rate could double if many new clusters are discovered.
It took 5 days for the number of US #coronavirus cases to get to 1k, within the predicted range. The US tracking Germany with 6-day lag implies 2K cases tomorrow, 3k by Friday, nearly 6k by Monday. It could be double this if clusters are found as Korea did in late February https://twitter.com/RencapMan/status/1235972847744552962 …Charlie Robertson@RencapManPretty amazing - I'm expecting 1,000 to 10,000 cases in the US before the end of next week https://twitter.com/jnordvig/status/1235943573864042499 …7610:34 AM - Mar 11, 2020Twitter Ads info and privacy65 people are talking about this
* * *
Update (1100ET): With another day of non-stop breaking news headlines about the outbreak as it spreads across the US, Europe, and Latin America, we've been having troubled to keep up.
Switzerland reported 148 new cases of coronavirus on Wednesday, with 645 cases in total, 58 cases in Zürich and 78 cases in Geneva.
Indonesia, an Asian nation that didn't report its first case until more than a month after the global outbreak began reported its first death linked to the virus on Wednesday as well.
National Guard troops have been deployed to a Health Department command post in New Rochelle. Chicago has followed San Francisco and canceled its St. Patrick's Day Parade. In NYC, schools will not close, but parent-teacher conferences will be held via phone.
An employee at a 'Waffle House' in Metro Atlanta (Cherokee County) has tested positive for the virus, raising fears about a mass outbreak in Georgia. The store has been closed and 12 employees are quarantining and will continue for a few more days.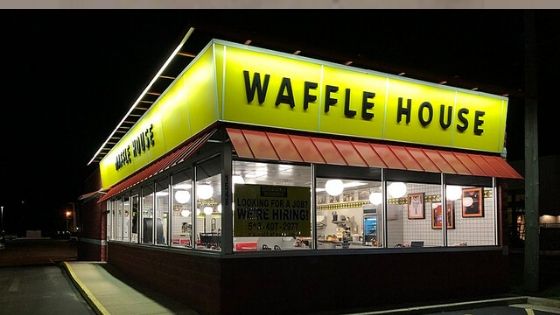 Everything is right on schedule and, now, the time is come to remove one of the final obstacles standing in the way of a New World Order: The United States Constitution – even if, over the course of many decades, it has already been greatly diminished by the B.E.A.S.T. system; or, more specifically, Bullshit Emerging As Strategic Totalitarianism (B.E.A.S.T.).
StevieRay Hansen
Editor, HNewsWire.com
The Bill and Melinda Gates Foundation Have NOT Got The Memo Yet, "Pestilences" Has No Cure
"America has become China on Steroids" Set Down and SHUT-UP, Our Social Media Platforms (Reprobates) Continue to Hide the Truth From the American People, by Shadow Banning Alt News Sources. The Blood of the People Is on Their Hands…
This day is here-- get ready, the virus WILL spreads throughout the US and Europe, governments will respond the same way China's government has; martial law and full-blown concentration camp culture. This would lead to civil war in the US because we are armed and many people will shoot anyone trying to put us into quarantine camps. Europe is mostly screwed. The establishment then suggests that paper money be removed from the system because it is a viral spreader. China is already pushing this solution now. Magically, we find ourselves in a cashless society in a matter of a year or two; which is what the globalists have been demanding for years. Everything goes digital, and thus even local economies become completely centralized as private trade dies. "AntiChrist Is On His Temporary Thorne"
StevieRay Hansen
The truth is that all of the warnings of alleged 'conspiracy theorists' have turned out to be correct The word translated "pestilence" is often translated as "plague" or "disaster" …
There is a March to death and social media is leading the charge, they are withholding the truth about the coronavirus, You are Marching lockstep into the death spiral…
This now Godless Nation, or this now nearly Godless nation, has built, upon the provably false foundations of Darwinism, Freudianism and Marxism, a "new" house, made out of falsehood piled upon falsehood, stacked up and leaning on supports of falsehood. It is a house of cards. This newly Godless nation is a virtual insane asylum built and run by lunatics. The lies and falsehoods never end. All of them, without exception, insist on federal government regulation, restriction, taxation, control, monitoring, more bureaucracy, more bureaus and departments, more people working for the government, less in the private sector, and general migration of power from the people to the central government.
Just trying to count the lies that are now generally accepted axiomatic truths in the dumbed-down public square can test your adult judgment and patience. The ice caps are melting. The polar bears are drowning. Oil is running out. Oil is polluting the planet. SUVs are causing global warming. Silly little legislated light bulbs can save the planet. Plastic going into landfills is dooming the planet. If you don't get your flu shot you're going to die. The American Constitution is causing children to die. Heterosexuality is perverse (it must be because homosexuality is natural.) This problem - whatever it is - is too big for anyone but the federal government to solve. This problem - whatever it is - is too big for just one federal government to solve.
All problems - including non-problems invented for political reasons - become simple if you put God back into the equation. A thing is either right, or it is wrong; a statement is either true, or it is false.
Today you will hear and see and read government-sponsored, tax paid commercials for such things as, getting your little children vaccinated against the HPV venereal disease, which is transmitted by any skin contact in the genital area. Now, why would your little children need such an inoculation unless they were being taught in school to seek skin contact in the genital area? That would be a sin. Remember? Once upon a time little children, if they were taught anything at all about sex, what they were taught was chastity and sexual purity.
StevieRay Hansen, Pestilence, revelations, disobedience, biblical, food shortage, biblical prophecy, Triblution, CDC, coronavirus, Hospitals, infections, outbreak, pandemic, Public Health, virus