Advisory: Be careful of what you read on social media. The algorithms used by these platforms have no regard for Biblical truth. They target your emotions to keep you engaged on their site so their advertisers can drop more ads. These platforms exist to enrich their stockholders. Consider God's promise to Believers in James 1:5, "If any of you lacks wisdom, you should ask God, who gives generously to all without finding fault, and it will be given to you."
CDC, China, Dr. Fauci, The Scarf Lady and Those Players Involved in the Coronavirus Man-Made Bio Weapon— There's No Doubt That It Was Released Intentionally…
Li-Meng Yan, A Chinese virologist (MD, PhD) who worked in a WHO reference lab and fled her position at the University of Hong Kong, has published a second co-authored report, alleging that SARS-CoV-2, the virus which causes COVID-19, was not only created in a Wuhan lab, it's an "unrestricted bioweapon" which was intentionally released.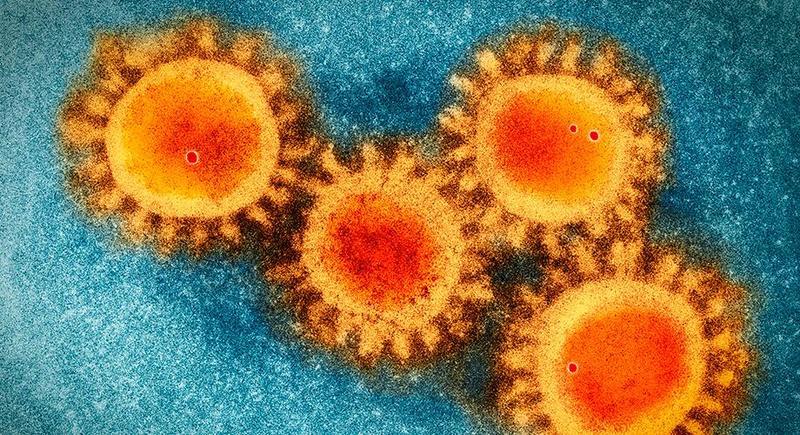 "We used biological evidence and in-depth analyses to show that SARS-CoV-2 must be a laboratory product, which was created by using a template virus (ZC45/ZXC21) owned by military research laboratories under the control of the Chinese Communist Party (CCP) government," reads the paper.
SARS-CoV2 is a product of laboratory modification, which can be created in approximately six months using a template virus owned by a laboratory of the People's Liberation Army (PLA). The fact that data fabrications were used to cover up the true origin of SARS-CoV 2 further implicates that the laboratory modification here is beyond simple gain-of-function research.

The scale and the coordinated nature of this scientific fraud signifies the degree of corruption in the fields of academic research and public health. As a result of such corruption, damages have been made both tot he reputation of the scientific community and to the well-being of the global community.
The report also claims that the RaTG13 virus which Wuhan "Batwoman" Dr. Zhengli Shi and colleagues say they obtained in bat feces in 2013 (and which is 96% identical to SARS-CoV-2), is fraudulent and also man made.
Since its publication, the RaTG13 virus has served as the founding evidence for the theory that SARS-CoV-2 must have a natural origin. However, no live virus or an intact genome of RaTG13 have ever been isolated or recovered. Therefore, the only proof for the "existence" of RaTG13 in nature is its genomic sequence published on GenBank.
The report goes on to say that the RaTG13 genome could easily be fabricated, and that "an entry on GenBank, which in this case is equivalent to the existence of an assembled viral genomic sequence and its associated sequencing reads, is not a definitive proof that this viral genome is correct or real," and that the process for sequencing DNA itself "leaves room for potential fraud."
If one intends to fabricate an RNA viral genome on GenBank, he or she could do so by following these steps: create its genomic sequence on a computer, have segments of the genome synthesized based on the sequence, amplify each DNA segment through PCR, and then send the PCR products (may also be mixed with genetic material derived from the alleged host of the virus to mimic an authentic sequencing sample) for sequencing.The resulted raw sequencing reads would be used, together with the created genomic sequence, for establishing an entry on GenBank. Once accomplished, this entry would be accepted as the evidence for the natural existence of the corresponding virus. Clearly, a viral genomic sequence and its GenBank entry can be fabricated if well-planned.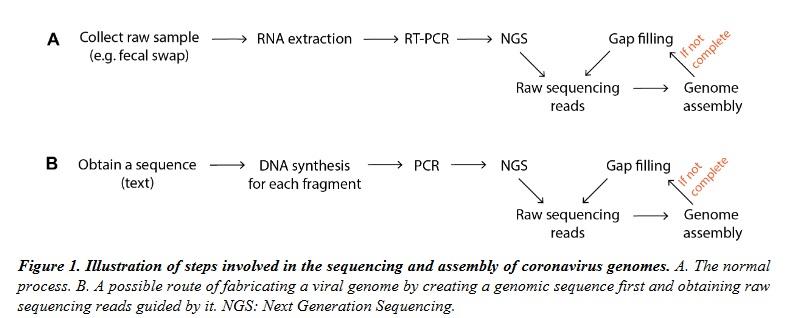 RaTG13 has 'multiple abnormal features,' according to the report. For starters, it's claimed that it was a fecal sample – yet just 1.7% of the raw sequencing reads are bacterial, when fecal swab samples are typically 70-90% bacterial. Second, the genomic sequence for RaTG13 contains segments of non-bat origin, including fox, flying fox, squirrels and other animals.
What's more, China destroyed all evidence of RaTG13. "No independent verification of the RaTG13 sequence seems possible because, according to Dr. Zhengli Shi,the raw sample has been exhausted and no live virus was ever isolated or recovered. Notably, this information was known to a core circle of virologists early on and apparently accepted by them."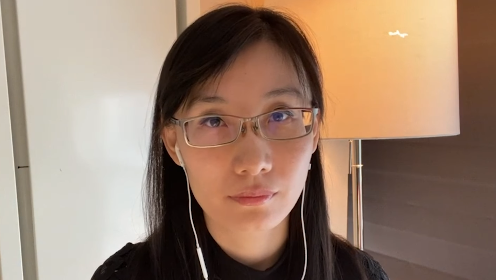 Meanwhile, another coronavirus which shares a '100% nucleotide sequence identity with RaTG13' – RaBtCoV/4991 – on a 'short, 440-bp RNA-dependent RNA polymerase gene segment.'
RaBtCoV/4991 was allegedly discovered by Shi and colleagues in 2012 and published in 2016, and colleagues have been asking if it's the same virus as RaTG13.
Given the 100% identity on this short gene segment between RaBtCoV/4991 and RaTG13,the field has demanded clarification of whether or not these two names refer to the same virus. However,Dr. Shi did not respond to the requestor address this question for months. The answer finally came from Peter Daszak, president of EcoHealth Alliance and long-term collaborator of Shi, who claimed that RaBtCoV/4991 was RaTG1327.
Three suspicious facts
First, it makes no sense that 'Batwoman' Shi and her team wouldn't have conducted whole genome sequencing of RaBtCoV/4991 before 2020, as it was suspected in the deaths of miners who suffered from severe pneumonia after clearing out bat droppings in a Chinese mineshaft.
Given the Shi group's consistent interests in studying SARS-like bat coronaviruses and the fact that RaBtCoV/4991 is a SARS-like coronavirus with a possible connection to the deaths of the miners, it is highly unlikely that the Shi group would be content with sequencing only a 440-bp segment of RdRpand not pursue the sequencing of the receptor-binding motif (RBM)-encoding region of the spike gene. In fact, sequencing of the spike gene is routinely attempted by the Shi group once the presence of a SARS-like bat coronavirus is confirmed by the sequencing of the 440-bp RdRpsegment25,32, although the success of such efforts is often hindered by the poor quality of the sample.
"Clearly, the perceivable motivation of the Shi group to study this RaBtCoV/4991 virus and the fact that no genome sequencing of it was done for a period of seven years (2013-2020) are hard to reconcile and explain."
Meanwhile, genomic sequencing of RaTG13 was conducted in 2018.
Second, why did Shi delay publication on RaTG13 until 2020 when it's got a Spike protein that can bind with human ACE2 receptors?
…if the genomic sequence of RaTG13 had been available since 2018, it is unlikely that this virus, which has a possible connection to miners' deaths in 2012 and has an alarming SARS-like RBM, would be shelfed for two years without publication. Consistent with this analysis, a recent study indeed proved that the RBD of RaTG13(produced via gene synthesis based on its published sequence) was capable of binding hACE2
Third, there has been no follow-up work on RaTG13 by Shi's group.
Upon obtaining the genomic sequence of a SARS-like bat coronavirus, the Shi group routinely investigate whether or not the virus is capable of infecting human cells. This pattern of research activities has been shown repeatedly. However, such a pattern is not seen here despite that RaTG13 has an interesting RBM and is allegedly the closest match evolutionarily to SARS-CoV-2
Direct genetic evidence proving RaTG13 is fraudulent
Yan's group closely examined the sequences of specific spike proteins for relevant viruses – specifically comparing mutations, and found that the spike genes of SARS-CoV-2 and RaTG13 do not contain evidence of natural evolution when compared to other coronaviruses which naturally evolved.
A logical interpretation of this observation is that SARS-CoV-2 and RaTG13 could not relate to each other through natural evolution and at least one must be artificial.If one is a product of natural evolution, then the other one must be not. It is also possible that neither of them exists naturally. If RaTG13 is a real virus that truly exists in nature, then SARS-CoV-2 must be artificial.
More:
It is highly likely that the sequence of the RaTG13 genome was fabricated by lightly modifying the SARS-CoV-2 sequence to achieve an overall 96.2% sequence identity. During this process, much editing must have been done for the RBM region of the S1/spike because the encoded RBM determines the interaction with ACE2 and therefore would be heavily scrutinized by others.
The paper concludes: All fabricated coronaviruses share a 100% amino acid sequence identity on the E protein with ZC45 and ZXC21
Evidence herein clearly indicates that the novel coronaviruses recently published by the CCP-controlled laboratories are all fraudulent and do not exist in nature. One final proof of this conclusion is the fact that all of these viruses share a 100% amino acid sequence identity on the E protein with bat coronaviruses ZC45 and ZXC21, which, as revealed in our earlier report1, should be the template/backbone used for the creation of SARS-CoV-2. Despite its conserved function in the viral replication cycle, the E protein is tolerant and permissive of amino acid mutations. It is therefore impossible for the amino acid sequence of the E protein to remain unchanged when the virus has allegedly crossed species barrier multiple times (between different bat species, from bats to pangolins, and from pangolins to humans). The 100% identity observed here, therefore, further proves that the sequences of these recently published novel coronaviruses have been fabricated.
Unrestricted bioweapon?
Yan notes that while it's not easy for the public to accept that SARS-CoV-2 is a bioweapon due to its relatively low lethality, it indeed meets the criteria of a bioweapon.
In 2005, Dr. Yang specified the criteria for a pathogen to qualify as a bioweapon:
It is significantly virulent and can cause large scale casualty.
It is highly contagious and transmits easily, often through respiratory routes in the form of aerosols. The most dangerous scenario would be that it allows human-to-human transmission.
It is relatively resistant to environmental changes, can sustain transportation, and is capable of supporting targeted release.
All of the above have been met bySARS-CoV-2: it has taken hundreds of thousands lives, led to numerous hospitalizations, and left many with sequela and various complications; it spreads easily by contact, droplets, and aerosols via respiratory routes and is capable of transmitting from human to human, the latter of which was initially covered up by the CCP government and the WHO and was first revealed by Dr. Li-Meng Yan on January 19th, 2020 on Lude Press; it is temperature-insensitive (unlike seasonal flu) and remains viable for a long period of time on many surfaces and at 4°C (e.g. the ice/water mixture).
What's more, COVID-19 spreads asymptomatically, which "renders the control of SARS-CoV-2 extremely challenging."
"In addition, the transmissibility, morbidity, and mortality of SARS-CoV-2 also resulted in panic in the global community, disruption of social orders, and decimation of the world's economy. The range and destructive power of SARS-CoV-2 are both unprecedented."
"Clearly, SARS-CoV-2 not only meets but also surpasses the standards of a traditional bioweapon. Therefore, it should be defined as an Unrestricted Bioweapon."
Once the Honest Hard-Working People Learn the Truth About COVID 19, There Will Be Hell to Pay for the Politicians, Dr. Fauci, the Who Organization , Bill Gates and All of His Associates That Mastermind the Releasing of the Coronavirus…
Hours after her unceremonious Twitter ban for, we assume, presenting evidence that SARS-CoV-2 was created in a Wuhan lab, Chinese virologist Dr. Li-Meng Yan appeared on "Tucker Carlson Tonight," where she told the Fox News host that the virus is a "Frankenstein" which was designed to target humans which was intentionally released.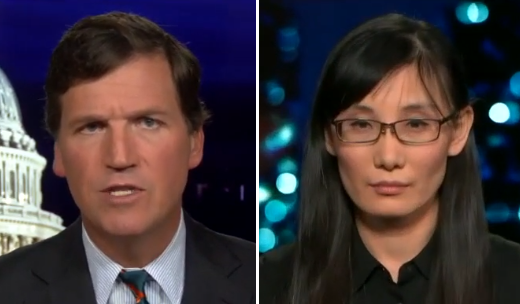 Dr. Yan Life is in Danger
"It could never come from nature," she Yan – an MD/PhD who worked with coronavirus at the University of Hong Kong
"There is evidence left in the genome" – which Yan detailed in a 26-page scientific paper co-written with three other Chinese scientists. "They don't want people to know this truth. Also, that's why I get suspended [from Twitter], I get suppression. I am the target that the Chinese Communist Party wants disappeared."
When Carlson asked her why she believes the virus made it's way out of the Wuhan lab, Dr. Yan said "I worked in the WHO reference lab, which is the top coronavirus lab in the world at the university of Hong Kong. And the things I got deeply into such investigation in secret from the early beginning of this outbreak – I had my intelligence through my network in China, involved in the hospitals, institutes and also government."
"Together with my experience, I can tell you – this is created in a lab."
Dr. Yan fled Hong Kong on April 28 on a Cathay Pacific flight to the United States. She believes her life is in danger, and that she can never go back home.
"The reason I came to the U.S. is because I deliver the message of the truth of COVID," Yan told Fox News in July.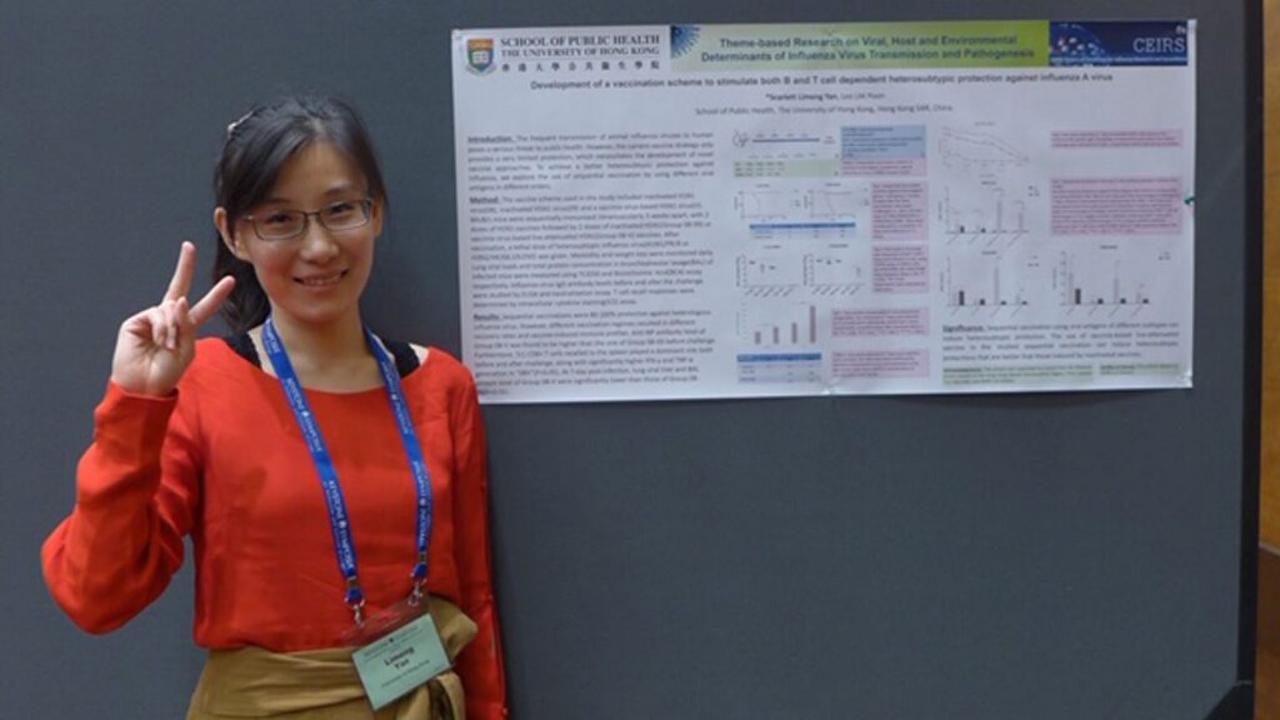 As we reported at the time:
Yan said that discussion between colleagues in China about the disease took a sharp turn after "doctors and researchers who had been openly discussing the virus suddenly clammed up." Contacts in Wuhan went completely dark and others warned not to ask them about the virus – telling Yan "We can't talk about it, but we need to wear masks."
"There are many, many patients who don't get treatment on time and diagnosis on time," said Yan, adding "Hospital doctors are scared, but they cannot talk. CDC staff are scared."
She said she reported her findings to her supervisor again on Jan. 16 but that's when he allegedly told her "to keep silent, and be careful."

"As he warned me before, 'Don't touch the red line,'" Yan said referring to the government. "We will get in trouble and we'll be disappeared."

She also claims the co-director of a WHO-affiliated lab, Professor Malik Peiris, knew but didn't do anything about it.

Peiris also did not respond to requests for comment. The WHO website lists Peiris as an "adviser" on the WHO International Health Regulations Emergency Committee for Pneumonia due to the Novel Coronavirus 2019-nCoV.

Yan was frustrated, but not surprised –Fox News
"I already know that would happen because I know the corruption among this kind of international organization like the WHO to China government, and to China Communist Party," said Yan. "So basically… I accept it but I don't want this misleading information to spread to the world."
WHO denies that Professor Malik Peiris directly works for the organization, telling Fox in a statement "Professor Malik Peiris is an infectious disease expert who has been on WHO missions and expert groups – as are many people eminent in their fields," adding "That does not make him a WHO staff member, nor does he represent WHO."
Read the rest of the report here.
The World Is In Big Trouble, for Those That Believe We Will Go Back to Some Sense of Normal Life Here on Earth, You Will Be Sadly Disappointed, Seven Years of Hell on Earth Which Began January 1, 2020
"Our courts oppose the righteous, and justice is nowhere to be found. Truth stumbles in the streets, and honesty has been outlawed" (Isa. 59:14, NLT)…We Turned Our Backs On GOD, Now We Have Been Left To Our Own Devices, Enjoy…
While Mainstream Media Continues to Push a False Narrative, Big Tech Has Keep the Truth From Coming out by Shadow Banning Conservatives, Christians, and Like-Minded People, Those Death Attributed to the Coronavirus Is a Result of Those Mentioned, They Truly Are Evil…
Source: HNewsWire ZeroHedge HNewsWire HNewsWire HNewsWire HNewsWire HNewsWire
StevieRay Hansen
Editor, HNewsWire.com
Watchmen does not confuse truth with consensus The Watchmen does not confuse God's word with the word of those in power…
In police-state fashion, Big Tech took the list of accused (including this site), declared all those named guilty and promptly shadow-banned, de-platformed or de-monetized us all without coming clean about how they engineered the crushing of dissent, Now more than ever big Tech has exposed there hand engaging in devious underhanded tactics to make the sinister look saintly, one of Satan's greatest weapons happens to be deceit…
The accumulating death toll from Covid-19 can be seen minute-by-minute on cable news channels. But there's another death toll few seem to care much about: the number of poverty-related deaths being set in motion by deliberately plunging millions of Americans into poverty and despair.
American health care, as we call it today, and for all its high-tech miracles, has evolved into one of the most atrocious rackets the world has ever seen. By racket, I mean an enterprise organized explicitly to make money dishonestly.
All the official reassurances won't be worth a bucket of warm spit. The Globals are behind the CoronaVirus, It Is a Man-Made Bioweapon.
When the economy reaches an inflection point, the unsustainable will finally start to fall apart, The collapse of one crucial mechanism soon spreads across…
Read More
We make every effort to acknowledge sources used in our news articles. In a few cases, the sources were lost due to a technological glitch. If you believe we have not given sufficient credit for your source material, please contact us, and we will be more than happy to link to your article.